Sunday June 24th, 2001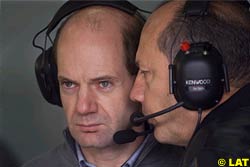 Dennis Hits Out at Mag
McLaren boss Ron Dennis revealed his anger at some of the reporting in the press over the Adrian Newey affair in a press conference before the race, but initially sent his criticism in the wrong direction. "I am bitterly disappointed with the reporting in F1 Racing," said Dennis to its shocked editor who had asked a question on the situation.
"There are many things that are absolutely not true and there was tremendous exaggeration on a number of issues. What I would say is, I've said it to Bernie, I've said it to the publisher, that the pitch of the magazine, in my opinion, is designed to be, and positioned to be, a magazine that positively reflected on Formula One."
At this point the editor pointed out that Dennis was talking about the official 'F1 Magazine' publication, not 'F1 Racing', and after an apology that returned the smile to the editor's face, Dennis continued. "I am not against the media and I am not against freedom of speech, but both myself and several team owners over several issues, the reportage of a range of accidents in the magazine that preceded the Melbourne race, the reportage of Paul Morgan's tragic death, and the reportage of this issue is in my opinion tasteless, often inaccurate, and not a positive reflection on Formula One. There's ways to say things and there's ways to tell the truth, and in my opinion their way is the wrong way."

The Colour is Fine, Says Mercedes Boss
DaimlerChrysler (owners of Mercedes-Benz) board member Jurgen Hubbert was overlooking the McLaren team at the engine supplier's home Grand Prix, and made no effort to conceal his displeasure at the team's form saying that very few things are right at the Woking-based outfit at the moment.
"Everything apart from the colours and tyres needs to be improved - car, engine, aerodynamics, team, organisation and drivers," he said. "I have spoken to the team for six or seven hours over the weekend, and I hope they've now understood."

A Visit from the Ministry
Germany's Home Secretary, Otto Schily was in the Formula One paddock on race day to pay a visit to some of his country's great exports. And it was a successful day for the home talent as Schily was able to present the winner's trophy to triple world champion Michael Schumacher, who had enjoyed a battle with brother Ralf in the early part of the race. He visited Sauber, among other teams, to meet up with young up and coming star Nick Heidfeld as the German heroes, which also include Jordan's Heinz-Harald Frentzen, bid for glory in front of the home crowd.

Crowded Out
Fans flooded into the Nurburgring circuit to cheer on Germany's home-grown Schumacher stars in one of their two home races, and there was an estimated 150,000 fanatical supporters lining the banks of the racetrack in the Eifel mountains for raceday. Cars queued for hours as tailbacks stretched back over 12 kilometres from the circuit but the ever-keen supporters were rewarded for their patience with a classic early battle and a home win from their hero Michael. The traditional atmosphere was ever present as firecrackers blasted out of the crowds, but the only difference this year was that they were not drenched out with rain as temperatures rose to 23 degrees.

Bouncing Button
Rumours surrounding the future of Jenson Button were bounding around the paddock on raceday in the latest tale of intrigue in Formula One. Flavio Briatore is thought to be on the way from Benetton to Asiatech, but there are rumours that he is trying to move his contracted drivers all around the paddock. Jenson Button, struggling in his second year of Formula One, is thought to be talking to Jaguar and Toyota, as Briatore looks to line one of his men up for a seat with Renault next year.
Jarno Trulli and Fernando Alonso are both on the Briatore books, but Trulli has said he does not want to go to Benetton and will not race for a team he does not want to be with. Alonso, meanwhile, is believed to be firmly at Minardi for next year, and team boss Paul Stoddart said: "We categorically have Fernando for next year and in year three his contract reverts to Renault."
---