Monday June 25th, 2001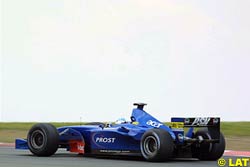 Despite increasing rumours about a possible switch to Asiatech engines next season, Alain Prost has admitted he has no plans to ditch their Ferrari units in 2002.
The Prost team have been rumoured to be interested in the Asian power units following Arrows announcement on Sunday that they will not continue with them next year.
The French outfit are thought to be happy with the Ferrari engines, but apparently they are too expensive for Prost and the Asiatech option looks certainly cheaper. However, Prost admitted he is satisfied with the Italian engines and, right now, there are no plans to switch to Asiatech.
"Formula One has plenty of rumours," Prost was quoted as saying by Sportal. "We have a deal with Ferrari, we are very happy with Ferrari, they are doing a good job for us so there is no point to change.
"We will see if there is something different in the next two weeks but at the moment we don't plan to change. I will do a statement very quickly to tell what is happening."
---