by Dieter Rencken, South Africa
Atlas F1 Magazine Writer
This week's rumours and speculations
Fresh from the Formula One paddock

JORDAN AND MIDLAND
At last a sign that the Midland Group is semi-serious about entering Formula One. Of course, few doubted that the company would, somehow, in some form, grace future grids, but the hype emanating from certain quarters led some to question whether its executives and consultants really understood the a business environment which so effortlessly snapped the commercial backs of the likes of Tom Walkinshaw and Alain Prost.
When Alex Shnaider announced his intention of taking his industrial conglomerate into the world's most expensive sport, he would not, he said, be taking over an existing team. "All the other teams come with a heavy price tag and they have baggage," the Russian-born multi-billionaire explained in Shanghai in the run up to China's first Grand Prix. "This way we start with a clean sheet of paper and it's much easier…"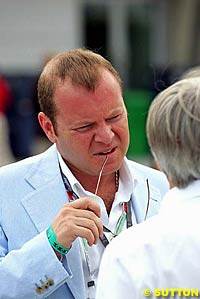 Entry season was given as 2006, and Trevor Carlin, of the eponymous, all-conquering Formula Three team, named as Sporting Director, with former Jordan (and Stewart/Jaguar) Technical Director Gary Anderson pencilled into the organisation structure. Dallara would, said, Midland F1, design and develop the chassis, and engines, it was speculated, could be customer Ferrari units.
At the time of the announcement, though, at least three outfits were negotiable – Jaguar Racing (complete with Cosworth and Pi Research), Jordan and Minardi – all of which qualified for full Concorde benefits. Why, then, this column questioned on various occasions, go 'clean sheet'?
Midland would, The Weekly Grapevine said, be obliged to lodge (in cash or kind) securities equalling $48m were it to enter the FIA Formula One World Championship before end-2007, plus forfeit any transport benefits and all shares of television revenues for at least three years should it join as a green shoot operation. Better to purchase outright an existing, cash-strapped outfit and reap the benefits immediately, the Grapevine suggested. Only then, the article concluded, would Formula One know that Midland was serious about (and totally understood) its entry into Formula One.
In the interim, of course, Jaguar went to Red Bull after protracted hardballing on both sides, and Jordan negotiated long and hard with a consortium led by Christian Horner's championship-winning Arden F3000 outfit. The Arden bid came to naught after wildly differing valuations were placed on Jordan Grand Prix by the respective parties, and Eddie Jordan, it seemed, was in for a longer 2005 season than even its 19-odd races suggest. At the time, despite whispers that Midland was engaged in talks with Jordan Grand Prix, Jordan, a 50,1% shareholder, stated that all negotiations for the sale of Jordan Grand Prix were off.
Then, ten days ago, came strong rumblings that Midland Group was close to finalising a deal, and, on Monday, confirmation of "a contract" happened by way of a Jordan media release which confirmed "the future takeover of Jordan" and that "the team will compete in the 2005 Formula One World Championship under the name Jordan Grand Prix and the cars will be known as Jordan Toyota EJ15s". Further information was available from, believe it or not, "the Jordan Ford Press Office".
But, accuracy has never been a Jordan hallmark, so setting aside that slip, of greater import are the words "future takeover", and, it seems, these were missed by most headline writers, who variously trumpeted "Jordan announce takeover by Midland Group" and "Jordan sale signed" and such like.
Sources in Canada, where Shnaider bases himself when not on his own Bombardier plane to the network of companies which provide Midland with its $3bn annual turnover, indicate the naturalised Canadian has not (yet) done anything of the sort; merely that he has bought the 49,9% held by Merrion Capital – an Irish stockbrokerage, having bought the holding from merchant bank Warburg Pinctus 18 months or so ago, which in turn acquired its share from Eddie Jordan for $60m in 1998 - when only perceived dotcom values exceeded those of Formula One teams.
In the mean time Jordan Grand Prix have suffered through a raft of rather strange management decisions, not least the firing of Heinz-Harald Frentzen and that botched attempt to sue Vodafone over a verbal deal a High Court judge found never was. In October, a senior Gallagher tobacco company source informed the Grapevine that its Benson and Hedges sponsorship of Jordan would not continue in 2005, and, during the Brazilian Grand Prix a former Jordan driver suggested on international television that the team would be closing their doors "on Monday".
None of this contrived to make (Eddie) Jordan's life any easier, and, after Horner cried off, (in favour of a Sporting Director appointment at Red Bull Racing) rumours circulated that Jordan, which, allegedly, have yet to receive their first running engines from Toyota, would not make Melbourne. The team's only salvation, short of their majority owner pumping even more of his own fortune into the business, was a rapid tie-up with Midland.
But, now that Jordan Grand Prix have the mighty Midland (semi) behind them, they can face the future with renewed vigour, and all the loyal troops, whose Christmas trees must have brought only temporary cheer, can look forward with a sense of hope unknown in the building opposite Silverstone's main gate. Why, the first running Toyota engines can now be supplied, and their accommodation in the back of a brace of the EJ14 chassis completed. Then the business of roll-out and testing can begin.
The first Toyota-powered Jordan EJ14 (the Japanese company agreed to supply engines on condition that none of its branding be carried) is due to be officially unveiled in a heated tent on Moscow's Red Square on February 25, where and when newly-appointed Managing Director Collin Kolles – another former F3 team boss – Anderson and Carlin will meet (or remeet, as the case may be) the Formula One media. Then it's off to Australia and the following next 18 races.
Shnaider holds, literally, high hopes for the team. "We are planning to use Russian aerodynamic experts and engineers ... they are specialists involved with MiG (fighter jets) and Sukhoi (Russian aircraft manufacturer) ... anything from our group of companies that can help," he told the Toronto Star on Monday.
But, first he needs to acquire the remaining 50,1% from Eddie Jordan, and, as three banks have discovered, in Formula One circles, "ownership" and "control" can be mutually exclusive terms… Once achieved, we will know for sure that 36-year old Alex Shnaider is serious about Formula One.

FERRARI, AND THE REST
That last week's announcement by Formula One's three Fs – FIA., FOM and Ferrari – was met with collective shock is proven by the time it took team bosses (and the GPWC) to react. On Friday GPWC chairman Juergen Hubbert implored the nine remaining teams not to be hasty, but offered no real solutions to counteract what is widely accepted as a mortal blow to the aspirations of the breakaway manufacturer body.
"Ferrari's wish to extend the agreement until 2012 has no impact on the current commercial arrangements," said the former Mercedes man, "and I am confident that GPWC can demonstrate it can create an environment of fairness for our sport, different from that which appears to result from Ferrari's unilateral decision to enter into a private agreement with the commercial rights holder and the FIA." A reaction, yes, but, no solution.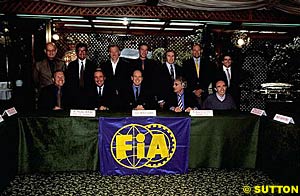 On Monday, though, McLaren's Ron Dennis gave the first lucid comment, reiterating that the proposals have no bearing on present arrangements (for the remaining nine teams), which remain in force until end-2007. Then came the rub: "That's probably not been the case with Ferrari. I presume they have had some financial inducement to enter into some sort of agreement sooner but that's certainly not as I understand it a situation that exists with any of the other teams and certainly not McLaren." Okay, no solution, either, but a deeper look at the matter.
Immediately thereafter, but in a separate development, Ferrari, stung by suggestions that they had sold out GPWC, of which ailing parent Fiat was a founder member, put out a release proclaiming they had, at the end of July 2004, advised GPWC in writing that they intended engaging in dual-stream negotiations – with GPWC and Bernie Ecclestone's FOM group. The absence of any rebuttal from Hubbert seemingly correlates this, but stops short of explain why Ferrari President Luca di Montezemolo consistently suggested GPWC held the upper hand through its more generous proposals and greater transparency, nor why GPWC let Ferrari into its deepest secrets despite notice of possible defection.
Crucially, the closing paragraph of Ferrari's document appears to both contradict and confirm Dennis' interpretation of the situation. "As a result of what was established in the agreement announced on the 19th of this month, the new version of the Concorde Agreement will come into effect from 2005 on the revenues owed to the signatories thereof."
So, a) Concorde runs until 2007 for all others, but from 2005 for Ferrari; b) it is all about money; c) somehow Ferrari have contrived to squeeze money out of Ecclestone ahead of the 2008 kick-in date; and d) McLaren and the rest are not included in the bonanza.
Ecclestone, immediately after the signing, was confident that the majority of remaining teams would fall in line by the time his circus left for Melbourne at the end-February. "The people I have spoken to are happy – about four or five of them," he said. But, if that was the way it was planned, it is not the way it has panned.
Certainly not yet: they met with Formula One's commercial rights holder on Tuesday at a Heathrow hotel, and, if anything, Ferrari was even further marginalized than it had been after the Group of Nine agreed a Cost Saving Initiative in Brazil at end-October. There, led by Ecclestone and Paul Stoddart, they agreed a raft of cost-cutting plans, including the adoption of a 24-day test limit, to be implemented at selected circuits only. Ferrari countered with a distance-related cap (per tyre manufacturer), which would see it see it run at least treble the distance permitted Michelin's teams.
But, back to the present. During Tuesday's meeting, from which Ferrari were excluded and to which the FIA was not invited, Ecclestone seemingly, strangely sided with the teams against his own document, Maranello and the sporting body. A 30-day test cap, up by six days at the insistence of Honda, was agreed, and they further agreed to leave Ferrari as sole signatory of the "prolonged' Concorde.
In addition, the FIA was petitioned for a postponement of Friday's planned technical proposals meeting – pending market research into F1, commissioned by Ecclestone – and suggested that commercial and technical matters be wrapped up together. Less haste and more consideration was the message, and one certainly in line with the approach outlined by newly-appointed BAR-Honda CEO Nick Fry in his exclusive interview with Atlas F1 last week.
Where does this leave Ferrari? They have stated they will adopt cost-cutting measures of their own, which will save about "15 staff'. But, ask cynics, just how much can retrenchment of some espresso servers save? That Ferrari, with their dollar-based/Euro-expensed contracts, are desperately short of cash is well-known, and, with Fiat having announced losses of €8bn for 2004, no longer has no big shoulder to lean on. Without the immediate availability of FOM's additional revenues (estimated at $100m), believe some, Formula One's jewel could well have major flaws even before the season starts.
Ecclestone, thus, could have a problem: Ferrari's statement implies he owes them "from 2005", for which read "immediately". But, Ecclestone has failed, so far, to snare the nine signatures he needs to make stick Concorde until 2012. In the interim, GPWC is going ahead with proposals for its opposition series, intending to present them during February. Finally, a judge has set a return-to-court-date of 10 May for Speed Investments versus Bernard Charles Ecclestone and Formula One Administration, with the trio of banks now baying for blood after Ecclestone is alleged to have increased, in his favour, the share capital of jointly owned companies.
If that goes against Ecclestone/FOA/FOM, and should it transpire that he had exceeded his authority (as a representative of a 25% shareholder) or that he had not gained the express approval of Speed, where would that leave Concorde; more specifically, Ferrari? The Italian squad said a week ago that they had signed the prolongation (of Concorde) to "put out a strong message of stability for the future of Formula One". When all is said and done, it hardly looks that way. Maranello, though, are to be admired for their staunch conviction that, of all ten teams, they alone are marching in step.
---
© 1995-2005 Kaizar.Com, Inc. . This service is provided under the Atlas F1
terms and conditions
.
Please
Contact Us
for permission to republish this or any other material from Atlas F1.