Thursday March 8th, 2001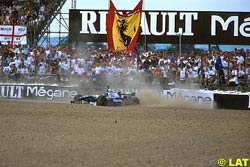 The Silverstone circuit looks set to be ready to replace the standard gravel traps with high-friction asphalt after this year's British Grand Prix.
After securing the race for the next fifteen years, the British track will undergo a massive redevelopment which could see the introduction of asphalt run-offs.
Gravel traps are used in every Grand Prix circuit, with the exception of Monte Carlo, but they've been under the spotlight in the past, and they were under scrutiny again last weekend following Michael Schumacher's accident, in which his Ferrari was launched into a double-flip after hitting a gravel trap sideways.
"The high-friction asphalt means that the cars slide, but are retarded," said Jackie Stewart, president of track owners BRDC, in Motoring News. "Thereís no question that in Schumacherís accident he went in sideways and dug into the gravel, tipping him over.
"When we re-plan Silverstone it will almost certainly be using the new asphalt, and I think other circuits will follow suit faster than people think."
---