The F3000 Champion

Born on the 4th of April 1980, Bjorn Wirdheim's interest in motor racing grew out of following his father's progress in the GT Series around Europe at a young age. He started karting at the age of 10, was the Swedish Formula Ford champion at 17, progressed through Formula Palmer Audi to the German Formula Three championship, took pole and third overall at the Macau Grand Prix, finished as rookie of the year and fourth overall in his first year of Formula 3000 in 2002, before taking three poles, six fastest laps and two wins on the way to claiming the championship this year, with two rounds remaining.

Formula 3000 champions don't pop up fully formed overnight - they're grown over time. Drivers almost never win the championship in their first year, and Wirdheim is no exception to the rule. In Formula Three, a driver can win right out of the box because of the vast differences in chassis and engines, but F3000 is a control series – the cars are effectively the same across the grid, and the range of drivers moving up means that experience counts.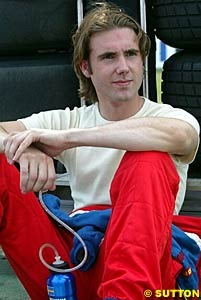 "It takes a while to get to Formula 3000," Wirdheim says. "You normally go from Formula Three to Formula 3000, and I think you gain a lot of experience, not only of the European circuits but also because it's a quite difficult car to drive.
"It's necessary to have one year learning [in F3000], and it's been a little bit easier for me this year than it was last year because we went straight into qualifying last year – we now a free practice session first. The circuit was usually quicker in the first two or three laps in qualifying and then it would go a second or so slower because of the Formula One rubber. But now there is a free practice, so it makes it a little bit easier for the newcomers."
The raison d'etre of Formula 3000 is to put as many fast young kids together in the same cars in front of the Formula One paddock and let them fight it out. In a control series the quickest guy usually wins, and with it being on many of the same circuits as the main show it allows the drivers to learn the tracks at the same time as they show their abilities in a car halfway between those in F3 and F1, albeit without the technical tweaks of either.
"Well I think for sure you want to learn more than you learn in F3," Wirdheim states, "because in F3 you can change a lot more things on the car and you are free to develop the aerodynamics and so on. So I think for that reason F3 might be better, but on the other hand F3 is a more powerful car and there was a huge difference the first time I drove a F3000 car compared to a F3 car - it's half the power of a Formula One car. I think if they could increase the power and make it a little bit cheaper to rent the engine then it should be a better alternative."
And the cost of the series is the biggest problem for any young driver trying to get into Formula One. "At this moment it's far too expensive. Fortunately I made a deal with Christian (Horner, Arden team boss) last year that if I score more than 25 points and finish better than fifth in the championship he would reduce the budget for this year - if it wasn't for that then I wouldn't have been able to continue. So I think it's far too expensive at the moment. I know they're trying to do something about it - they're trying to get some other manufacturers to provide engines at a better price."
With only sixteen cars currently on the grid, it's clear to see that the economics have kept the hopefuls away from F3000, with many running into the arms of alternate series. "It's a lot cheaper to run in other formulas," Wirdheim says. "For example, the Nissan World Series. Those cars are not as quick as the F3000 cars but they're still good cars. And then there's the Renault V6, although that's not really on the same level."
But how much weight does the F3000 championship give a young driver trying to break into Formula One? Everyone has a different answer to this, but Wirdheim see it thus: "It should give you more than winning the F3 championship. In F3, it's unlimited testing – you can test as much as you want – but it's not like that in F3000. In F3000 you are very limited; we did six days before the start of the season, and we did two hours of testing at Snetterton, and that's it. That's why it's so important to do a learning year before challenging for the title in the second year.
"Apart from the official six days before the season, we're allowed fourteen hours of running with the engines, and it's quite expensive if you do a lot of mileage with the engines, so we've only done two hours and there's no more testing." Which brings it back to being all about the driver, and how he adapts to the changing conditions on the day, to his ability to show he can win despite the limits placed on him.
The factor that separates Formula 3000 from the other similarly powered series is that if a driver gets it right, he does it in front of the Formula One paddock. "I think one of the best things is that it gives you quite a lot of credit if you win the championship," Wirdheim states, "because people recognise that it's a difficult formula to win, and then also because it's held before the Grand Prix all the people in the Formula One paddock know what I've done this season, which is good for me."
But is it enough? The list of F3000 champions is littered with drivers who have failed to make any impact on the big game, with only Juan Pablo Montoya having scored more than one Formula One win to date. Wirdheim is realistic enough to know that winning the championship is no guarantee of Formula One success: "I have a few tests lined up at the moment, Formula One tests, and if I do well enough there I'm sure there will be an opportunity to go for a race seat. But it's not enough to prove that you're a good driver - you have to prove that you're an extremely good driver, in all areas.
"I'm happy, because at least I get a chance to prove myself, and then we'll just have to wait and see what happens. But I don't have the financial backing I need to be sure to get the seat in Formula One, and that's not the way I want to enter Formula One either – in that case I'd rather go and do something else.
"So the next step would be Formula One or CART, and if you're a good driver in F3000, like Sebastien Bourdais - and what he has done this year [in CART] has generated a lot of interest in F3000 from the CART teams - if you prove to be a good driver in F3000 then there's a big possibility you can get a free seat in CART. But it's not a guarantee for getting into Formula One."
Ultimately F3000 needs to raise its profile – it's not enough to rely on running in front of the Formula One teams and hoping they notice. Substantial changes need to be made to improve the series, and ultimately the chances of the drivers graduating into the big league.
"I would make it the official feeder series to Formula One, so you have to do it to get into Formula One," Wirdheim says. "And I would make sure to lower the costs and try to get backing from a manufacturer to supply cheap engines, and maybe also to change the chassis to make it more cost efficient, because at this moment spares are really expensive – the car is really cheap, but the spares are just too expensive!
"I think it could be done for sure, because if you get backing from a car manufacturer to supply engines for the car at a good price it would be a lot better, and then there would be more drivers. The third thing would be to allow the teams to develop the cars a bit more, so you could change the wings and everything." Because a little technical know how couldn't hurt when trying to get into Formula One.

---
© 1995-2005 Kaizar.Com, Inc. . This service is provided under the Atlas F1
terms and conditions
.
Please
Contact Us
for permission to republish this or any other material from Atlas F1.