The F3000 Team Boss

Christian Horner formed Arden Motorsport in 1997 as a one-car team to allow him to compete in that year's Formula 3000 championship. Growing into a two-car operation the following year, with Horner stepping out of the cockpit and into management at its conclusion, Arden has steadily grown since that time. Following their win in the Euro 3000 constructors' championship in 2000, Arden took both championships in Formula 3000 in 2002, although Tomas Enge's championship was later revoked after a positive drug test. This year the team has already won the drivers' championship with Bjorn Wirdheim, and is in a strong position to follow up with the constructors' title.

Getting the man on the street interested in Formula 3000 is a tough sell – it used to be that the junior category to Formula One was Formula Two, and anyone interested in seeing the stars of tomorrow would know where to look. With an increasing number of series available, and with confusion surrounding the series as it stands, Horner thinks it's time for a change.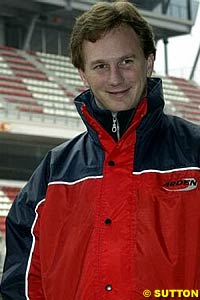 "As far as the people's minds are concerned, I think the confusing factor about Formula 3000 is its name," he starts. "Your average man in the street understands where Formula Three is in relation to Formula One, but when faced with Formula 3000 will raise the question where does that fit - is it above, below or whatever.
"I think the best thing that can be done in the interim is to address the name and rebrand it to Formula Two, which would state where it was in the motorsport pecking order. Obviously Formula Two existed successfully for many, many years and petered out when costs escalated out of control and there were two manufacturers who were competing vehemently against each other. Formula 3000 has obviously been established for eighteen years but maybe now is the perfect time for a rebranding of the name."
There's more to the series success or failure than just the name, of course. "In terms of what can it do to make Formula One look at it more closely, I think Formula One do look at it in the driver that I both represent from a team and managerial point of view (Bjorn Wirdheim). His performances this year have opened doors in Formula One, and in any other championship they wouldn't have opened the same doors because he's competing at ten Grands Prix under their noses, with every European event this year, so the positive issue is that it's associated with Grand Prix weekends and plays an important role in that. I think maybe seventy percent of the current F1 drivers have come through Formula 3000 at some time in their career.
"The downside is that the costs are high for what we have at the moment, which is a 450bhp car; the engine costs are too high, and the chassis costs are too high. In a competitive marketplace we need to be competitive with other formulas, and what we need to see is the formula clearly ahead of its rivals in performance, promotion and cost. I think if that were to be addressed through natural process there would only be one formula that fed Formula One."
The problem that keeps being pointed out in Formula 3000 is the lack of any technical learning for the drivers - the regulations are so tight that there is little that the drivers can do to affect the setup of the car. "It would be good if there was a variance of aerodynamic packages maybe, high downforce and low downforce configuration," Horner agrees, "but what it does teach them is to look at themselves and extract the most out of themselves.
"In our case, Bjorn Wirdheim has been with us for two years, and the car that he was running at Hockenheim is probably a whole of front wing different compared to last year, but he's going at most circuits a second quicker. It's coming from himself - he's forced to extract the most from the tyres, the most out of the car, the most out of the package that he has, and it really disciplines the drivers immensely because they don't have any excuses to hang their hat on.
"I think if we had a quicker car, if we had a bigger engine with softer tyres and a pitstop and a bit more downforce for the car, you're automatically going to go a bit quicker, maybe different brakes. The biggest difference when drivers get out of this car and step into a Formula One car is the braking capacity. So they're all things that would improve what we currently have, and I think there are moves afoot to address this for the future. So I don't think there's anything wrong with what the formula is - the only thing that it lacks is some promotion."
Promotion is the bete noir of every junior motor racing series in the world. The junior categories, including Formula 3000, are the cradle that supports tomorrow's Formula One stars, but there is little interest outside of real motor racing aficionados. Money always has to be found to allow people to go racing, but one step removed from the Formula One circus perhaps this money could be found within the industry. "For me I think it's just a great shame that we've got a tremendously valuable spot here on the Grand Prix calendar - Porsche pay for their spot but we don't, we're here at the generosity of Bernie Ecclestone to allow the formula to be here.
"What would be great would be to see a manufacturer recognise the value of this slot, badge or label the formula, which would in turn reduce costs, introduce a prize fund, and with all of the marketing hype that goes with a manufacturer programme that would automatically deal with the media side of things, because at the moment there's no media representative for this championship really. And it just needs that kick, that push forward on it, and it lends itself perfectly for a manufacturer to get involved.
"And it would be right for a manufacturer to have recognition; the benefit of that is that if they'd supported in previous years they could already have the marketing tool by now that Montoya would have stood on the podium eight times or whatever it was, Heidfeld the same, all the other guys, Alonso, Justin Wilson, it goes on and on and on really. The benefit you would think is logical, and it would be great to see it happen."
There really needs to be a bigger show to keep people's interest in the series, though. As recently as 1999, Nick Heidfeld took the championship from a field of over forty drivers, and with the grid dwindling to sixteen at present, this is clearly a problem that needs to be resolved. "Well I think there's two or three teams that are actively showing interest in coming into the championship – maybe as early as the next race at least one of them will make it. What can be done to encourage them? The current prohibitive side to it is there's only one more year left on the current specification – maybe if that specification was changed in advance of 2005, or maybe extended, it would be something to persuade a team to invest in the short term in equipment that wouldn't be potentially obsolete in twelve months' time."
Away from the racing, Horner believes that the FIA does not use the championship as much as it could; with the number of changes made to Formula One each year it makes sense to test them elsewhere first, and F3000 would be a willing test pilot. "If I was the FIA I'd say okay, to race in Formula One you've got to achieve an international A licence through our international Formula Two championship" he laughs, "although unfortunately I don't think that's feasible. And, if I was the FOM, I'd use Formula 3000 to compliment Formula One more.
"There's sixteen or seventeen Grands Prix a year, and there's twenty five circuits; why not use us in addition to the ten or twelve races a year - our season's very short - why not send us to Bahrain a year early, or China a year early, to make sure that they can host, promote and run an event prior to the big boys coming into town? We could have run the HANS system a year in advance and addressed any of the early problems there. We could have run a different qualifying format, we could run the Handford rear wing to see if that improved racing. It could be used as a test bed in certain respects for Formula One.
"And what I think could be more beneficial to Formula One - not just from a driver's perspective as a training ground but as an engineer, as a technician, as a truck driver - is the format of the race weekend. It would be great to see the F3000 race on a Sunday morning – ideally the new drivers take two years because of the relative lack of running time they get during the race weekend, and if there was a little more running time, and maybe if we were to introduce a pitstop into the race so that more strategy came into play, then the teams could be more involved in that as well. And I think it would address the learning curve the drivers are faced with before they go into Formula One."

---
© 1995-2005 Kaizar.Com, Inc. . This service is provided under the Atlas F1
terms and conditions
.
Please
Contact Us
for permission to republish this or any other material from Atlas F1.