The F3000 Rookie

Born August 6th 1981, Tonio Liuzzi was bitten by the karting bug at an early age. Beginning his karting career in 1992, he won the Italian championship the following year and pushed up through the ranks, winning races in the various karting categories before claiming the European karting championship in 1999, the world championship in 2001 (in which year he narrowly missed the German Formula Renault title at the last round), with a stint in German Formula Three (and a one-off test drive for BMW Williams) leading to his debut in Formula 3000 this year, where he is now the rookie of the year.

After a successful junior career Liuzzi needed to consider his next move, and with his manager Peter Collins he chose to come into Formula 3000. It was a good choice, as he is currently battling for second in the championship in his debut year, following in the footsteps of Nick Heidfeld and Juan Pablo Montoya who both managed the feat.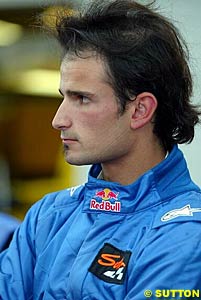 "I think it was really the best choice we could have done," Liuzzi avers. "After last season in Formula Three we had a really good experience with one of the best teams in Germany, and after that I thought Formula 3000 was the best category for me because I saw it was really competitive, it's on the weekend with Formula One – I thought it was the best choice.
"The category is really good, and this new car they developed this year is a really well balanced car and better than the one before. I think there is a really good level overall, the cars are all more or less the same, so you can have a big chance to show what you can do in this category. I saw last year in F3 that if you don't have the right combination of car and engine it was really hard to win. I think this category shows your best potential."
Liuzzi is sold on the potential of Formula 3000, although not blind to its flaws, and he rates it the toughest category he's raced in, as well as the most useful: "being in the weekend with Formula One helps a lot, and you have more or less the same cars, the same engines, the same chassis, so you have only to work on the set up of the car. It's good that we're with Formula One, and we hope that they look at us.
"The races are really long and they teach you a lot, because they are half the distance of a Formula One race - 150km - and after Formula One it is the longest race in single seaters. You also have to be really fit because even in the new car the steering is really heavy. You need a lot of fitness and strength because it's an endurance race – thirty laps – these types of tracks are not easy, and if you are under pressure you will feel it a lot. The first time I raced in Imola I was thinking I was ready physically, but the race was really tough.
"The worst part is that there are not that many cars because of the price of the series. I think the teams and the manufacturer charge too much – we are with Formula One and it's really an important category, but if you look at the other three litre categories they are less expensive, even if they have a similarly developed car – the Super Nissan is cheaper, and Dallara did a really good job with the car. I think they just used the potential too much, and they put the price so high, and I think it is just this that is making Formula 3000 go down a bit."
Liuzzi is one of the few drivers in the Formula 3000 paddock to have already driven a Formula One car, and it was his test with Williams that led him to realise the necessity of F3000. "We need something because there is too big a step from Formula Three to Formula 3000 because of the difference in power – the Formula Three does not breathe, and the Formula 3000 you start to feel the power because there is a lot of torque, the top speed, and it's really nice to drive. When I drove it the first time I felt a lot the power, because when you jump in a higher category you feel it straight away, and it was really nice.
"I think at the end of the day Formula 3000 is a good medium step between Formula Three and Formula One. I always remember my Formula One test like a dream, because sometimes I don't realise I did it and I have to look at my pictures and say 'oh shit, that was me!'
"When I sat in it and put on my helmet I was really excited, went out and for half a lap was quite slow, a bit of throttle, and after that I went on the throttle and I went flat out on a straight. The car went second third fourth fifth and I wasn't able to keep the car straight - the car was right and left and I thought 'whoa - I can't drive this!' - it was like a crazy horse and I wasn't able to keep it straight; I couldn't imagine how the corner was going to be!
"The power was amazing - the car was driving me around as well and it was really strange. But in Formula One, with all the electronics around, it gives you a lot of confidence. The Williams was really comfortable, and after three or four laps I was already feeling confidence, I wasn't scared of the speed, was sure of the brakes.
"But the first two or three laps were incredible – I wasn't sure I could drive the car, and my head was like speeding in someway and I thought it was too much. But soon everything becomes normal. And when I drove Formula One it was the same feeling as when I changed from F3 to F3000, the same feeling for the first few laps after which it was becoming natural."
Unlike some of his contemporaries in the paddock, Liuzzi is not convinced that horsepower is the be all and end all for Formula 3000. There are moves afoot to increase the power of the cars, make them 'more relevant' to the Formula One experience, and most feel it would be an improvement, but there is more required than to just stick a larger engine on board. "For sure it is what everyone is trying to do, to increase the speed and power is the idea for the future, to put an engine of 650hp - it would be great for us.
"I think Lola can work to make a better car – I think this one is good, but they can work to make more grip, and maybe from Avon to get better tyres. We had a race where there was a difference in the second set of tyres, and this can make you unconfident because you never know what set of tyres are a bad one, there could be a bigger selection.
"But I don't think we need a stronger engine, because this one is good enough for the show and a good race – for sure I would like to have an 800hp engine to be closer to Formula One because that's the dream for everyone, but of course it would be even more expensive and we don't need it at the moment."
Liuzzi has had a good first year in Formula 3000, and expectations will be high for him next year. At the moment he is shutting this out, concentrating on the things that F3000 can teach him in his driving, preparing himself for what he hopes lies ahead in his career.
"F3 and F3000 teach things, but in Formula One you can never go sideways on the throttle. Formula 3000 teaches you to drift a lot, and the techniques to do this, and in Formula One you need all this experience and then you are ready to know which is the best way to drive Formula One because it's really technical in some ways - in a corner you have a lot of downforce but the corner speed is really quick so you have to be really technical, put the tyres in the right place, the apex in the right place. The traction control works really often and sometimes it's not good that it works, so you have to find the way to not let it work when you don't need it.
"I think Formula 3000 helps you a lot in the reflexes, how to drive the car drifting sideways, because there's a lot of real power; you don't have traction control so you can let it drift for twenty, thirty metres, and I think this helps a lot. And also in the physical condition, because after Formula 3000 you are nearly ready for Formula One, apart from the neck which you need to work a lot, because the Formula One car is really light compared to the Formula 3000 car. In Formula One you have traction control, and in Formula 3000 when you are over the limit you have a car that goes sideways, and if you go sideways in Formula 3000 you lose time so you find the small line not to cross."
From the bulk of evidence he's learnt where that line lies. Liuzzi clearly loves his involvement in the series – about the only change he sees as vital would be a change in the timetable, something that would make sense to the overall racing weekend from the perspective of the fans.
"I think for sure they have to change the system of the weekend," Liuzzi concludes, "the spectators are interested because of Formula One so maybe they could have switched with the Porsche (Supercup) – I don't think Porsche is at the same level as Formula 3000. They are good and important drivers, but I think because we are single seater in some ways we are more important to create the new talent of Formula One. I think they could put the Formula 3000 race on Sunday just before the Formula One race. And for sure work out a way to reduce the price."

---
© 1995-2005 Kaizar.Com, Inc. . This service is provided under the Atlas F1
terms and conditions
.
Please
Contact Us
for permission to republish this or any other material from Atlas F1.