The F3000 Driver Manager

Growing up as a motor racing fan in Sydney, Australia, Peter Collins took any work that would allow him to further his involvement in the sport, including time as a press officer at the Warwick Farm circuit. Moving to the United Kingdom via a spell in California working with Dan Gurney's AAR team, he moved swiftly through the ranks, working as team manager for Lotus (where he brought in a young Nigel Mansell), Williams, and Benetton (where he brought in BMW, Gerhard Berger and Johnny Herbert) before taking over Team Lotus (where he hired Mika Hakkinen). Since the closure of the team, Collins has worked in driver management, consultancy for a variety of teams, and he is currently a writer for F1 Magazine as well as Vitantonio Liuzzi's manager.

Peter Collins is a big believer in Formula 3000, and it shows. He talked his driver Vitantonio Liuzzi into the series, a move that it starting to show dividends, and he thinks it will only improve despite the relative decline in the series recently.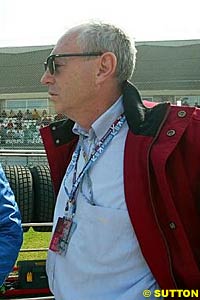 "I actually think it's in a healthier state than people realise," Collins starts, "because, yes, the numbers are down on last year, one team has fallen away this year, but you have to look at motorsport with a global view - this year was the first year I think in the history of the Indianapolis 500 where they struggled to get 33 cars, and that's the one race in the world where there's never a struggle to get sponsors. So when you have only 33 drivers entering to run in the 500 you know that there's a global economic problem in the motorsport industry.
"Formula 3000 has survived this year, and I think it's actually produced some good racing and some good talent. Part of Formula 3000's historical problem is that it was conceived as a drivers' formula where there was a level playing field, so equal engines, tyres, chassis, and it's suffered a little bit because people with a vested interest in creating legends of their own, like F3 teams and engineers, will tell you that Formula 3000 is rubbish because it's not technical. It is actually just as technical and difficult to make your 3000 car better than a F3 car because you're not actually allowed to make any different parts.
"Formula Three teams like the idea of being able to manufacture their own parts and add little tweaks here and there, but the reality is from my experience working in F3 and F3000 with various drivers is that the F3 teams don't actually have as deep an understanding of the aerodynamics as a F3000 team, because in F3000 if you don't understand aerodynamics you don't get the points.
"I actually think it's a very good formula, and if you look at it in terms of the performance capability it's a 400+ horse power V8 engine, it's a 550 odd kilo car, reasonable level of downforce and grip, and it's the equivalent of a driver going to Formula One in the early eighties, so it's fantastic training. And I think if you ask some of the Formula One teams they'll say, yeah, it provides a level of power training that you don't get in F3. I think F3 at 200hp to Formula One at 950hp today is just too big a step."
The biggest question for young drivers is how relevant is the series to getting into Formula One, which is after all the ultimate goal. There are a few series around which are comparable, but Collins doesn't see them as being in the same league as Formula 3000.
"Renault V6 is a long way away - they're around 350bhp, and the car is ten seconds slower at Monaco and Barcelona, so to me it's not even in the same range. Formula Nissan I think is not bad, but in all honesty those formulas tend to attract the drivers who can't afford to be in this arena. To win at this level, or even to be in the top six in Formula 3000 you've got to be bloody good – it's tough – you've only got to look at the qualifying times in Germany.
"If you actually go through the teams there's a lot of drivers who got to Formula One through Formula 3000, and there's actually quite a few who created their careers through Formula 3000. [Juan Pablo] Montoya was nothing in F3, just another driver who won a couple of races in the championship.
I was a bit skeptical before this year, but I know for example with Vitantonio Liuzzi was apprehensive about doing Formula 3000 because he thought the F3 car was great, it had a lot of grip in the quick corners and it had a lot of feeling, but after he'd done a few tests in Formula 3000 he said this is a very difficult car to drive really fast; to drive it really fast you have to drive it really, really well, and if you work hard you don't find a few hundreds like you do in F3, you get big chunks of time; you can find half a second in a corner.
"So for me that was a very relevant comment – if you drive these cars well you'll get the time, if you don't you won't, and that's what it should be about. I believe it should be a drivers' formula, not an engineer's formula, which is what F3 has become, and who makes the nicest replacement roll bars or uprights or rockers – the difference is production."
Most people put the cost of running in Formula 3000 as the biggest problem with the series, and the lack of cars at present seems to indicate this. Collins, however, feels that it's money well spent. "I think that it needs to be a little more spicy; it needs a bit more grip, a bit more power, needs more revs, and more cars would be better certainly but that is symptomatic of the current economic climate.
"The real price for Formula 3000, a sensible budget would be about 850,000 euros – that's not massively expensive when you consider a ten round F3 series with two races at each event is around 650,000 euros. It's not a massive difference, not for what you get, not for when you're racing at a Grand Prix. With F3000 you race at Monaco with a powerful car, big car, heavy car, which is fantastic preparation for an F1 Grand Prix, and better than you'll get anywhere else."
Not that there is nothing he would improve if he could – no motor racing series is perfect, or even claims to be. "I think there are things that can be done – if the costs can be reduced, which is possible, if there could be somebody who took a financial interest in it and supported it and promoted it that could help, and I think there's potential to make the whole thing more appealing to young drivers.
"Unfortunately, I think one of the main problems is that few people get the real story of what Formula 3000 does give you – nobody talks about the exposure in front of the Formula One teams. I know from experience what it's like, how they react to what they see on the televisions at the circuit, and I guarantee you they won't watch another race between the Grands Prix. So it's the only race they'll watch apart from the Grand Prix, so that a fantastic advantage. It's very difficult for people to understand the importance and the value of competing at a major sporting event and the atmosphere, and the psychological pressure that brings – you only prepare for that by actually experiencing it, so it's the ideal situation.
"And it's a level playing field, and for me that is one of the most important things, particularly this year with the European (F3) championship which now has a constructors' cup, and you have Mercedes, Opel, Mugen and Toyota developing factory engines – is that going to develop the best driver necessarily? If you've got one engine that's fantastic - the guys on that engine are going to be the guys that are doing the winning, and what does that say about the other guys? Does that mean they're not good drivers? They shouldn't progress? It doesn't, does it?
"A feeder formula in motorsport should be about producing the best driver. I'm a great believer in karting, where even a private entry can get very good quality equipment and can compete strongly, and skill shows. Formula BMW – incredibly equal opportunity. Last year in the series in Germany there was not one protest – that means that everyone accepts there's no way of cheating the car, and there was some fantastic racing.
"So for me control formulas are the most sensible thing because you're limiting the variables – okay, you've still got an engineer and a team involved, but you've taken a lot of the variables out and it's down to the driver and the rapport he builds up with his race engineer, how good the guy is and the chemistry between them, and that's what you've got to learn to go racing anyhow. So I think for me it comes down to the fundamentals – an even playing field, fantastic circuit experience, environment experience, connection with people who are operating at the top level."

---
© 1995-2005 Kaizar.Com, Inc. . This service is provided under the Atlas F1
terms and conditions
.
Please
Contact Us
for permission to republish this or any other material from Atlas F1.