The F3000 Pundit

Simon Arron is the voice of Formula 3000 – he is the FIA's official interviewer at the F3000 post-qualifying and post-race press conferences. He regularly covers Formula 3000 for Motosport News, does translation work for the FIA and other clients, is the editor of the Grand Prix Year annual, and is a freelance motorsport journalist with clients including the Daily Telegraph and The Times.

"I think Formula 3000 is suffering generally at the moment," Arron plainly states, "simply because motor racing is supposed to have a pyramid structure, with the chaff being sorted out as guys move up from Formula Ford, Formula Three or whatever, and you're supposed to have something sitting below Formula One which is an academy for guys for the future. At the moment you've got Formula One with twenty cars, and you've got Formula Nissan V6, you've got Formula Renault V6, you've got Formula 3000, and you've got the Italian based Formula 3000, so there's a dilution across the board – you've got four categories at about the same levels attracting different drivers.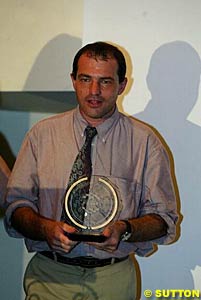 "And if you took the top five or six drivers from each of them you could have a healthy 24 car grid in Formula 3000 – it was only 1999 when there were 42 cars and twenty odd teams in F3000, and now there are eight teams, sixteen drivers, and some of them are struggling and changing drivers every second or third race. Partly through circumstance you have a glut of powerful 450bhp style championships, a lot of it through the economic downturn. It's not as healthy as it's been – when it started there were between fifteen and twenty cars on the grid, and it's currently at its lowest ebb competitively since then; not a great thing.
"That said, I do think there are some very good drivers doing it, and I do think it's the training formula for the Grand Prix stars of tomorrow. It is ultra competitive, there is no mechanical advantage to be had, it is the shop window for the drivers because they can't do anything to the cars - the only fluctuating factor is the drivers. It's the same as the other formulas out there, but this one supports the Grand Prix; the drivers get the chance to experience the discipline of a Grand Prix weekend and see how the whole Grand Prix structure works ten or twelve times a year. They get that opportunity, and they learn the Grand Prix tracks. So it's got a hell of a lot going for it."
But the obvious problem is there are only twenty cars currently competing in Formula One, and the odds are overwhelming that most of the incumbents will stay, leaving the Formula 3000 drivers out in the cold. "The problem is that in the late eighties you had 35 people in Formula 3000, and eight of them would graduate to F1 at the end of the year – they may have graduated into back of the grid teams but they'd still graduate - and they'd get the opportunity that Justin Wilson's had at Minardi this year, or that Mark Webber had at Minardi last year, or Fernando Alonso had at Minardi in 2001. There were far more opportunities back then, but that was simply a sort of square peg round hole thing, it was simple mathematics - there were 48 grand prix cars to target.
"Now there are only twenty seats, and drivers do hang around a lot longer than they used to - and part of that is the sport has become safer so there are far fewer injuries or worse, and careers do tend to go on longer. I don't know how many countries currently have a top level Formula Ford or Formula Renault championship, but if you multiply that by however many, there are at least 400 or 500 kids who are between 16 and 20 who think they can make it into one of these twenty seats, and it just doesn't fit – they're doing well if they get up half a million pound level and that's the end of that. It's just simple maths at the moment as much as anything."
Which leaves the obvious question of why do the drivers bother if there is no light at the end of the tunnel? Beyond a love of motorsport, there has to be something for a young hopeful to aim towards. "I would like to see the governing body organise something – the Formula 3000 guys have organised a prize this year to go out and test a ChampCar, and not all of them want to go to CART but it's something, and they regard it as a worthwhile prize because up until this season a CART seat was something that was worth having.
"It'd be nice to see the FIA or the FOM or whoever arrange an end of season F1 test for the top three in the championship, or even just the championship winner – just something that is a guarantee. I don't see how there is a feasible way of creating a conduit to take the top guys – you can't just guarantee the champ here into Formula One, because there are commercial interests; nice though it would be, it's not a practical proposition.
"But I can't believe it's too difficult for the FIA or the FOM to persuade the top three teams during the test period or during the test ban to make a one or two day exemption for them to make an offer to the leading Formula 3000 drivers. It's something that gives a kid the opportunity to do a proper job under proper testing conditions, maybe with a test driver there as well, as a benchmark."
What about the cost of competing in F3000? "It is expensive – without having a commercial partner it's very difficult," Aaron says. "Having just one supplier of everything does keep things cheaper than it would be with two supplies – it just does.
"The spares thing would be cheaper because Dallara would say 'we can do the spares cheaper and spares would cost x' and Lola would come in and say 'buy our chassis because spares will cost x less 10%' - that would help drive some of the costs down, but at the same time the costs involved with windtunnels and development costs and whatever is going to increase massively. Whereas at the moment Lola has a car which is not 100% spot on, but it doesn't matter if everyone has got the same car. And that's in a 50,000 UK pounds car whereas back in 1995 in the old Reynard and Lola cars they cost something like 120,000 pounds, and that was eight years ago. I think that tells you the benefits of having a control chassis formula, and it's the same with tyres.
"The spares are expensive but the cars are cheap, so don't damage it and it won't cost much to fix it. I do think the control thing is quite good - I was against the idea a few years ago but now I've come to believe that it does make life easier for anyone watching it because if they have the same kit then the one component that makes the most difference is the one wearing gloves and a crash helmet, and therefore if he wins eight out of ten races he's probably the best – it aught to be a good shop window for the Formula One teams because the teams can't buy a technical advantage. If this is the ultimate 'spend whatever you want' formula then fine, but before you do get there I think you need to cap costs just to keep things as realistic as possible.
"I think the championship has all the strengths at the moment – they just have to fine-tune it. And by that I mean the F3000 people themselves. Getting more commercial investment might be a pipedream really but obviously everyone would like to see a commercial backer because it would make life easier.
"Nissan boast about being competitive and spectacular and say look at all the Formula One drivers they've got. But they're failed Formula One drivers, they're failed Formula 3000 drivers, it's a field of people who are all outrageously quite good but they're not on the way up, they've been close to Formula One or into Formula One at the back but fallen off the ladder, and they're not going to get back up there by doing Formula Nissan. I know for Justin (Wilson) it was a salvation there, but for him it was better than sitting at home playing PlayStation.
"But the ideal target is to get F3000 back up to what it was in late eighties / early nineties when you had thirty odd cars and they were all driven by guys who had an impeccable track record, one or two rich Italians excepted. This year you can look at someone like Liuzzi and there's something of a spark about him, and Wirdheim is obviously very, very good, but there aren't that many in the championship that people are saying 'oh wow' about – there are maybe three or four that people might say have potential to be good, strong Formula One drivers. In 1988 or 1989 you could probably identify sixteen or eighteen people in the top twenty who, if given the right break, had the ability to become a Formula One driver, and a good strong solid Formula One driver."

---
© 1995-2005 Kaizar.Com, Inc. . This service is provided under the Atlas F1
terms and conditions
.
Please
Contact Us
for permission to republish this or any other material from Atlas F1.