The F1 Team Boss

David Richards' first love was rallying – he watched stages of the RAC Rally as a child and was smitten. While studying to be an accountant he entered the British National Road Rally championship as a co-driver, winning the title in its first year. Seeing this as his future he went professional, joining Lancia and the Ford, winning the World Rally Championship (WRC) as co-driver to Ari Vatanen in 1981. He quit the sport at the end of the year to form David Richards Autosport (later Prodrive), first as a sponsorship consultant and then as a team owner in rallying. Over the years his team won the Middle Eastern Rally Championship, the first WRC win for a privateer team, the British Touring Car Championship for BMW, the WRC Driver's title (with Colin McRae, in 1995) and three WRC manufacturer's titles for Subaru. In 1997 he was appointed CEO of Benetton Formula, quitting the next year after failing to persuade the team to sell shares to Ford, bought the rights to exploit the WRC in 2000, and took the role of CEO at British American Racing in late 2001.

David Richards is the only team owner in the Formula One paddock who has ever promoted a race series (the World Rally Championship), and as such if any of the ten men currently controlling teams understands the problems of the junior category it's him. In addition to this, he has helped Christian Horner's Arden team throughout its history, with their headquarters nestling in a section of Prodrive's large complex in Banbury, Oxfordshire. Further to this, BAR has recently announced that they are testing both Bjorn Wirdheim and Townsend Bell, teammates at the aforementioned Formula 3000 team, with an eye to the future and to gauge their abilities.

DC: How do you see Formula 3000 – what is the state of it from your perspective?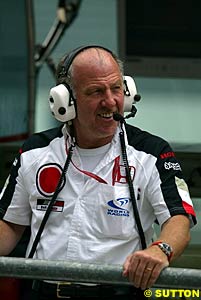 David Richards: "The problem with Formula 3000 is that it's a fairly expensive series to get into – it has the benefits obviously of appearing alongside the F1 Grand Prix, on the right tracks and everything, but when you compare it to some of these single makes series now, -the new Renault series or even the Nissan world series - you do have to wonder where it really fits in on the spectrum of things.
"I've been one who's advocated for many years that it should be a condition to get a superlicence that you have to do a year in Formula 3000, and you're actually on the same tracks there. Because it's very hard today for us as teams to compare where the real talents of drivers are when you're looking at them right the way through from like the junior BMW series through the Nissan world series through Renault and then Formula 3000, and where are the real talents of those people? But if you actually did have a situation that everyone was forced into one formula before they could get into Formula One it would be a great advantage for us all."
DC: What would you say are the strengths of Formula 3000 as it stands at the moment?
Richards: "Well, clearly the venues and the equality of the cars. But I haven't, to be honest, followed the technical side as much as I should do, although people tell me that there are other formulas that actually are far more relevant in terms of their learning if you like towards Formula One."
DC: So I guess the technical side of things would be the biggest disadvantage?
Richards: "I don't know if it's the biggest disadvantage – it's probably the overall cost of it at the moment – you can't get away from that."
DC: As a Formula One team boss, how much would you look at Formula 3000 with an eye to bringing someone onto the team?
Richards: "Oh, very much – you can't get away from the fact that every Saturday afternoon we see them flashing past our garage! And so it's on our doorstep and you do have the opportunity of meeting them, so that's a relevant point. And we do have a very close association with Arden, who's a 3000 team we set up and started with Christian (Horner). So we follow it with interest, but likewise we follow a lot of other series with interest as well. "
DC: Because they race in front of you ten times a year, how close are the Formula 3000 guys to Formula One? Do they come and knock on your door, do you go and talk to them…
Richards: "We see them a lot, and there's a lot of transfer from the test programmes for Formula 3000 drivers as well, so obviously of all the series it would have to be closest, albeit some of the manufacturers have their own linkage with their series – BMW with their programme, Renault with theirs and so on. For us, where we have no other feeder series through Honda, F3000 is of the more natural routes if we were to look at a driver for a test programme to put someone in."
DC: You ran the World Rally Championship – what do you think Formula 3000 could do to improve the promotion of their series?
Richards: "You know you can't summarise that in one sentence – it's a lot of activities you'd need to do around it, whether it's the promotion of television coverage of it through to the individual personalities that are involved in it. You have to ask the question, who is promoting Formula 3000? And if you answer that, you answer the question for yourself."
DC: Interestingly, there is more promotion of Formula 3000 on the American Speedvision television network than Formula One, which is different to anywhere else.
Richards: It's because Townsend Bell is driving in F3000, I would suggest – he's the link there, and the promotion is around the individual driver, and if there was an American driver in Formula One I think the situation would be reversed. It really is around the following of the individual drivers."
DC: Put yourself in the position of the person at the FIA or FOM who is responsible for the overall package of Formula 3000 – what would you do to promote Formula 3000 as a series itself and also tighten the links between it and Formula One, which is the obvious goal for the drivers?
Richards: "Well as I said the first thing I would do is make it a condition of entry into Formula One; that you'd have to do a season in Formula 3000 before entering F1. I think that would actually direct people into that way and add value to Formula 3000 straightaway. And I think that would precipitate a lot of the other promotional activities around it."

---
© 1995-2005 Kaizar.Com, Inc. . This service is provided under the Atlas F1
terms and conditions
.
Please
Contact Us
for permission to republish this or any other material from Atlas F1.