---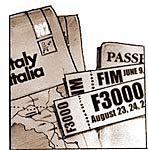 Elsewhere in Racing
Updates from the Rest of the Racing World
---
By Mark Alan Jones and David Wright, Australia
Atlas F1 Magazine Writers
Advice: The points tables for most series covered by Elsewhere In Racing are available here. Individual series are linked to their corresponding points table after each report.
IRL
What Team Orders?
Helio Castroneves looked upset after the Toyota Indy 300, but he didn't really have cause to. The first 198 laps of the race mattered not. With two laps to go the two Penske Dallaras went into turn one seperated by the smallest margin. Hornish ranged up on Castroneves outside but going down the back straight the Brazilian blocked, sliding upwards and squeezing his American teammate, Into the last lap, Hornish uncharacteristically ducked down the inside of turn one, and Castroneves had no defence. Down the back chute he tried Hornish's trick to be greeted with his own response and Hornish defended vigorously.
Half a lap later Hornish became the first driver in the long history of Team Penske to win his debut race with the team.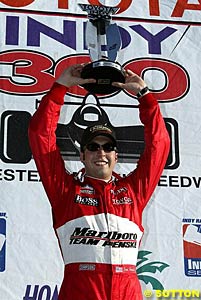 The first race of the new season brought a qualifying surprise as Buddy Rice would lead the field around to the green in the Team Rahal GForce. Alex Barron would share the front row with Tomas Scheckter and Dario Franchitti filling the second row. At the start Rice did not throw away his position and leapt strongly while Tomas Scheckter jumped quickly from the second row to take second position from Alex Barron. Hornish was quickly into the groove and scythed his way through from his poor qualifying position to take third from Tony Kanaan on lap 6. In another two laps he had Scheckter as well.
Rice and Hornish would battle for the lead up until the first yellow on lap 32. The entire field pitted. The big mover in the pack, Helio Castroneves, got best service in the pits, his Penske team launching him out of the pits in the lead from Hornish, Scheckter and Scott Dixon. Almost immediately after the green the race went yellow again after Mark Taylor hit the wall in turn four in the second Panther Racing Dallara.
Rice dropped off the leaders at this point, having cut a tyre on the wreckage of the accident. At the green Dixon quickly forced his way into second and fought with Castroneves for the lead, until Hornish reclaimed second on lap 55. With no more cautions, the second stint came to an end under green flag conditions. Scheckter pitted first on lap 83, pointing to the Chevrolet being a thirstier engine than Honda or Toyota.
Dixon lost control of his car pitting on lap 89, hitting the pit wall entry, badly damaging the rear of his car and bringing out the yellows, allowing the remainder of the field a free pit stop. Castroneves now led from Rice, who was slightly out of sequence, Hornish, Darren Manning and Robbie Buhl. Those cars saving their second pit stop were rewarded quickly for their gamble as the yellows emerged almost immediately as contact between Franchitti and Kosuke Matsuura sent the Scot spinning into the wall and out of the race. Matsuura got out of shape, possibly slipping on the painted line at the base of the banking, forcing his car to drift upwards and into Franchitti.
At the green Rice now led the field again, from Buhl, Dan Wheldon, Manning and Barron, finally having an impact on proceedings after his disappointing start. Buhl was unable to hold back Wheldon on the restart, and Rice was even less resistance. On lap 126 the yellows were out again. Manning and Barron touched with Barron then sliding into the wall making heavy contact. The field pitted en masse again. Bryan Herta and Scott Sharp stayed out and took the lead, while Wheldon stalled and dropped down the order. Herta led the way at the restart, but Scheckter was running through the pack, leading the gun cars forward.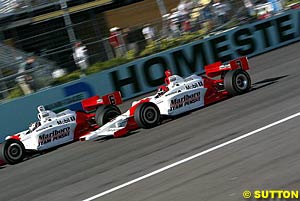 A cut tyre brought a swift end to Herta's lead leaving Scheckter in the lead while Hornish looked for a way by Buhl. The final stops began on lap 178 under green, and again Scheckter was first in. As the stops were completed, the Andretti Green team sent Wheldon back out without changing tyres and into the lead. The Penske duo pitted together and drag raced out of the pits behind Wheldon with Tora Takagi in close company. The Japanese driver moved into third with 15 laps to go, passing Castroneves, while Hornish took on Wheldon. Castroneves got a run going, swept by Takagi and dived inside of Hornish, while Hornish climbed out on Wheldon's outside. They went three abreat briefly with Castroneves emerging in the lead from Hornish. The Penskes quickly gapped Wheldon and Takagi and fought the remaider of the race.
Takagi hung onto the back of Wheldon for fourth with Scheckter catching the pair as the laps wound down but not getting close enough to attack. Manning drove a consistent race into sixth ahead of the unlucky Rice. Kanaan was next ahead of Sharp and Buhl.
With Castroneves getting the two lap leadership points, Hornish leads his teammate by eight points heading into round two, the Copper World Indy 200 at Phoenix International Raceway in three weeks' time.
Result of Indy Racing League, Round 1 of 16, Toyota Indy 300, Homestead-Miami Speedway, Florida, United States:

Pos  Driver              Team
 1.  Sam Hornish         Team Penske Dallara-Toyota
 2.  Helio Castroneves   Team Penske Dallara-Toyota
 3.  Dan Wheldon         Andretti Green Racing Dallara-Honda
 4.  Tora Takagi         Mo Nunn Racing Dallara-Toyota
 5.  Tomas Scheckter     Panther Racing Dallara-Chevrolet
 6.  Darren Manning      Chip Ganassi Racing GForce-Chevrolet
 7.  Buddy Rice          Team Rahal GForce-Honda
 8.  Tony Kanaan         Andretti Green Racing Dallara-Honda
 9.  Scott Sharp         Kelley Racing Dallara-Toyota
10.  Robbie Buhl         Dreyer & Reinbold Racing Dallara-Chevrolet

Standings: Sam Hornish Jr 50, Helio Castroneves 42, Dan Wheldon 35, Tora Takagi 32, Tomas Scheckter 30, Darren Manning 28, Buddy Rice 26, Tony Kanaan 24, Scott Sharp 22, Robbie Buhl 20 etc.
Superbikes
Toseland On Top
A win in race one and a second in race two has James Toseland on top of the standings in the World Superbike Championship after the first round of the season at Valencia, following on from his third place in the standings in last year's title race. The two riders who finished ahead of him are in MotoGP, so Toseland's performance didn't come up as a great surprise, but he still had to do it and did so in style.
Toseland won race one despite some early starring performances by Spaniard Sergio Fuertes and Foggy Petronas's Troy Corser in the damp conditions at the start of the race. While Fuertes faded back from the lead as the race ran on, Corser's day ended more spectacularly after an attempted passing move ended up with him having a moment and ending the race in the gravel after being forced to throw his bike down.
Toseland took the lead on lap four and was never headed, though a determined charge by Pierfrancesco Chili saw him within a couple of seconds of Toseland at the finish, while Steve Martin's great top three ride came to an end with two laps to go when his engine expired. Foggy Petronas's day was somewhat brighter with Chris Walker claiming third on the team's other bike.
The second race was more straightforward than race one. Noriyuki Haga took an early lead and steadily opened a small gap over Toseland lap by lap, the duo finishing the race in that order. Elsewhere Steve Martin was able to take the podium position he was cruelly denied in race one, but only after having to fight Chili over the closing laps.
While Toseland had a near perfect weekend, his teammate Regis Laconi had the opposite. After claiming pole in Superpole by over a second, he crashed on his installation lap for race one. He just made it to the grid for the start of race one, only to dump his bike (again) at turn two of lap one while leading! Race two wasn't much better, with the chain coming off the sprockets early on lap one, making the day a complete disaster.
Result of World Superbike Championship, Round 1 of 11, Communitat Valencia, Spain:


Race One

Pos  Rider                  Motorcycle
 1.  James Toseland         Ducati 999F04
 2.  Piefrancesco Chili     Ducati 998RS
 3.  Chris Walker           Foggy Petronas FP1
 4.  Marco Borciani         Ducati 999RS
 5.  Leon Haslam            Ducati 999RS
 6.  Gianluca Nannelli      Ducati 998RS
 7.  Garry McCoy            Ducati 999RS
 8.  Sergio Fuertes         Suzuki GSX 1000R
 9.  Horst Saiger           Yamaha YZF R1
10.  Jiri Mrkyvka           Ducati 998RS

Race Two

Pos  Rider                  Motorcycle
 1.  Noriyuki Haga          Ducati 999RS
 2.  James Toseland         Ducati 999F04
 3.  Steve Martin           Ducati 999RS
 4.  Piefrancesco Chili     Ducati 998RS
 5.  Chris Vermeulen        Honda CBR 1000RR
 6.  Garry McCoy            Ducati 999RS
 7.  Chris Walker           Foggy Petronas FP1
 8.  Marco Borciani         Ducati 999RS
 9.  Leon Haslam            Ducati 999RS
10.  Mauro Sanchini         Kawasaki ZX10

Standings: James Toseland 45, Pierfrancesco Chili 33, Noriyuki Haga and Chris Walker 25, Marco Borciani 21, Garry McCoy 19, Leon Haslam 18, Steve Martin 16, Chris Vermuelen 15, Sergio Fuertes 12 etc.
Upcoming Events Calendar
March 6 - V8 Supercar Non-Championship Event, Albert Park, Australia
March 7 - NASCAR Nextel Cup, Round 3 of 36, UAW-DaimlerChrysler 400, Las Vegas Motor Speedway, Nevada, United States
March 12 - World Rally Championship, Round 3 of 16, Rally Mexico
March 14 - NASCAR Nextel Cup, Round 4 of 36, Atlanta Motor Speedway, Georgia, United States
March 20 - V8 Supercar Championship Series, Round 1 of 13, Clipsal Adelaide 500, Adelaide Street Circuit, Australia
March 20 - American Le Mans Series, Round 1, Sebring 12 Hour, Sebring International Raceway, Florida, United States
March 21 - NASCAR Nextel Cup, Round 5 of 36, Darlington Raceway, South Carolina, United States
March 21 - Indy Racing League, Round 2 of 16, Phoenix International Raceway, Arizona, United States
---
© 1995-2005 Kaizar.Com, Inc. . This service is provided under the Atlas F1
terms and conditions
.
Please
Contact Us
for permission to republish this or any other material from Atlas F1.