---
Australian GP Facts, Stats & Memoirs
---
By Marcel Schot, the Netherlands
Atlas F1 Magazine Writer
When has the Formula One grid had as many Italian drivers as the upcoming Grand Prix? Which drivers finished on the podium for the first time and Melbourne? And what happened this week in motor racing history? Marcel Schot brings the answers and more anecdotes on the season-opening Grand Prix

With every new season, there's always changes on the grid. Drivers change teams, old faces disappear, new faces appear or re-appear. The first race of 2004 sees no less than six new faces. Heinz-Harald Frentzen, Jacques Villeneuve, Ralph Firman, Antonio Pizzonia, Justin Wilson and Jos Verstappen have made place for Felipe Massa, Takuma Sato, Giorgio Pantano, Christian Klien, Gianmaria Bruni and Zsolt Baumgartner. What's rather remarkable is that half of the new faces aren't really new: Massa and Sato return after a year of testing, while Baumgartner returns after a debut in last year's Hungarian Grand Prix.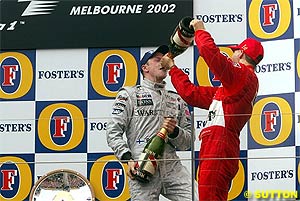 This means there are only three real rookies this year. Pantano joins Jordan after having finished third in the Formula 3000 championship. Bruni joins Minardi as the number three in the Italian Euro 3000 series. Klien joins Jaguar as the vice champion of the European Formula Three series and winner of the prestigious Marlboro Masters. Three drivers, three different series, no champions. This immediately prompts the question whether these guys aren't making the step into the big league too soon.
On the other hand, a Championship in another series is no guarantee for success in Formula One. Looking at the twelve drivers that secured a Formula One seat without any experience in the past three years, it's clear that their last season before Formula One doesn't necessarily say everything. The CART experience of Cristiano da Matta and Juan Pablo Montoya raised expectations, while Kimi Raikkonen's limited yet stunning experience in single seaters was watched closely as his superlicense initially was a temporary one.
The arrival of Pantano and Bruni also means that the number of Italian drivers is up to four again for the first time since 1999. This also means that for the first time since the 1993 Portuguese Grand Prix, the Italian representation will be the biggest. On several occasions since then, mainly the 1999 season, there were as much Italians as the other biggest nation, but never were there more Italians than any other nation.
With four Italians, three Brazilians, three Germans, two Britons and single drivers from Colombia, Finland, Spain, Japan, Australia, Austria, Franca and Hungary, Formula One reached a staggering 14 nationalities for the opening round of 2004. This is the highest number of nationalities since the 1989 Spanish Grand Prix. However, that race had a field of 38 drivers against the 20 of today. The last time before 1989 that a grid consisted of 14 nationalities was as far back as the 1982 Dutch Grand Prix.
On the other hand, the smallest number of nations involved in Formula One - Indianapolis 500 and semi-boycotted races aside - is five, at the 1951 Belgian Grand Prix (a field of only 13 cars) and 1953 Argentinean Grand Prix (another small field of 17 cars). The smallest number of nations in the last twenty years was at the 1990 Italian Grand Prix. 14 Italians, 7 Frenchmen, 4 Brazilians, 3 Britons, 2 Japanese, a Belgian, an Austrian and an Australian meant only eight nationalities were present on the grid.
Two of a Kind
Two drivers have scored their first podium finish in Melbourne. In 1996 Jacques Villeneuve did it in his first race and six years later Kimi Raikkonen did it in his first race for McLaren.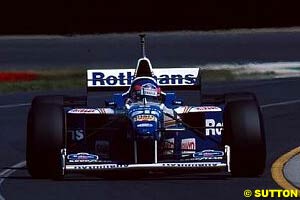 Odd as it may sound, Villeneuve's first podium finish was a disappointment. The Canadian came to Formula One with high expectations: he won the Indianapolis 500 and the CART series the year before, and he is, after all, the son of one of the most loved drivers of all time, Gilles Villeneuve. However, that didn't appear to bother him. In his very first race Villeneuve qualified on pole position.
Once the race got underway, he maintained his position, with teammate Damon Hill following closely. For a while it appeared that Villeneuve was going to score a sensational debut victory. Unfortunately, with just five laps to go, the Canadian had to let his teammate past. Villeneuve's Williams car had developed an oil leak and only slowing down would allow him to finish the race. The gap ahead of Ferrari's Eddie Irvine in third was almost a minute, so Villeneuve was able to finish the race in second. After the race the young driver was realistic, saying: "it is annoying that you have to slow down that way to end up second, but second for a first race is great and I am very happy about that."
For Kimi Raikkonen is first podium finish in Melbourne came together quite differently. For Raikkonen the burden was called Mika Hakkinen. He came to McLaren as the replacement for the double World Champion and the next big thing from Finland.
Qualyfing saw Raikkonen post a respectable fifth time, behind both Ferraris, Ralf Schumacher's Williams and teammate David Coulthard. At the start, both Ferraris left the grid slowly, which eventually led to a massive collision between Rubens Barrichello and Ralf Schumacher at the first corner. Unfortunately for Raikkonen, his car got slightly damaged and he had to pit for a new nose. However, thanks to the safety car that was deployed, Raikkonen only dropped to eleventh.
As the safety car returned to the pits after five laps, the young Finn was wide awake and made his way past Alex Yoong and Jacques Villeneuve in the first lap. The next lap he passed Mark Webber and the lap after that Pedro de la Rosa. Another lap later Raikkonen was back in fifth, when he passed Takuma Sato and saw Jarno Trulli crash. The crash of the Italian also meant the safety car was again deployed, allowing Raikkonen to fully make up the time he had lost in the pits earlier.
Just as the safety car pulled into the pits, race leader David Coulthard missed the last corner before start/finish straight, allowing five drivers past him. As the race got underway again, Raikkonen made his way past Eddie Irvine into third. From there on things were easy for the young Finn. Irvine dropped back further and further, making sure Raikkonen had absolutely no pressure from behind and could concentrate on finishing the race in third.
This week in history
On March 6th 1971 Mario Andretti scored his first Formula One win. After having started out with Lotus late in 1968 and having driven rather unsuccesfully with March in 1970, Andretti switched to Ferrari at the beginning of the 1971 season.
When the season got underway in Kyalami, South Africa, the Ferraris were initially some distance behind Jackie Stewart in the Tyrrell. However, in the second practice Clay Regazzoni and Mario Andretti showed what they were capable of. They claimed the first two positions, but in the end qualified third and fourth behind Stewart and Matra driver Chris Amon.
Andretti lost two places at the start due to an even worse start by Stewart, who got away slowly and dropped behind the America. On the next lap, however, Stewart passed Andretti, demoting him to seventh place. Three laps later Andretti was back in sixth, when his teammate Jackie Ickx ran into problems and another three laps later Andretti passed Emerson Fittipaldi, when the Brazilian's engine problems started to show. However, soon after that it was John Surtees who overtook Andretti.
Nevertheless, Andretti was getting into his rhythm and by the time the race was halfway he was up into third. Shortly after the halfway point it was Andretti overtaking Surtees again, as the Englishman suffered from a gearbox problem. Until four laps from the end it didn't look as if the Ferrari driver could win, as Denny Hulme was still some five seconds ahead. However, just as the win for the McLaren driver seemed secure, his suspension gave way and he had to make a pitstop, handing Andretti the win.
---
© 1995-2005 Kaizar.Com, Inc. . This service is provided under the Atlas F1
terms and conditions
.
Please
Contact Us
for permission to republish this or any other material from Atlas F1.