Carmakers Bank on New Models
Armed with an array of new models, the world's automakers are aiming to charm thrifty European motorists at next week's Geneva car show and kickstart a long-awaited recovery in the region's auto market. But as manufacturers increasingly trim prices and offer profit-eroding incentives to nurture wilting demand, they must also reassure investors and industry analysts in the Swiss lakeside city they are not sacrificing margins to prop up sales.
"The mood is likely to be cautious," said Commerzbank analyst Robert Ashton. "There are worries over European sales volumes and now concerns about pricing are growing too."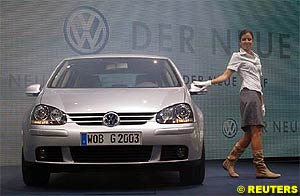 Most carmakers are boasting that a welter of new models will lure consumers back into showrooms and power growth this year, with Germany's car giants alone launching an unprecedented 57 new models, according to the country's auto association. Many of the key new money spinners have already been unveiled or are set to stay under wraps until later this year. But industry experts are keen for a glimpse of Renault's new mini multipurpose vehicle -- the concept version of a new car based on its small and curvy Clio.
General Motors's Opel unit will be trumpeting the imminent arrival of its radically overhauled Astra, launched in September in Frankfurt and due to go on sale in March, in a direct challenge to Volkswagen's more expensive Golf. France's PSA Peugeot Citroen will also be centre-stage as it seeks to revive a dowdy lineup and flagging sales with its revamped 407 large saloon.
And Italy's Fiat, pumping out new crowd-pleasers to return to profit after tumbling deep into crisis over the last two years, will pull back the curtain on the "Trepiuno", a new concept version of its most famous brand, the tiny Cinquecento. Fiat Auto's new Chief Executive Herbert Demel will also make his first official appearance at the show.
Price Pain
But carmakers can launch new models till they are blue in the face and still make little money without a pickup in demand, which was shaken last year by the war in Iraq, weak economic growth and poor consumer confidence.
Car sales in the region dipped 1.6 percent in January, dashing hopes for a quick recovery this year, and some executives predict only flat or slightly brighter sales in 2004 in western Europe, which has lagged the improving U.S. market. The car industry accounts for four percent of the European Union's gross domestic product and reflects the wider economy and in particular consumer confidence.
More worrying than sales figures was news that Europe's biggest carmaker Volkswagen was already offering incentives on its recently launched new Golf range, which sent shudders through the sector and cranked up fears over a potential U.S.-style price war that could stymie profit growth.
"It's not full-on panic, but there's definitely a lot of concern," said Kepler Equities analyst Patrice Solaro. "Volumes are not good, pricing is looking dodgy and competition is fierce."
As if shaky demand and pricing pressure was not enough, European carmakers must also contend with fierce competition from Japanese rivals, who are chipping away at the market with well-priced cars adapted for local tastes.
Japanese and Korean carmakers -- led by the world's No. 2 carmaker Toyota -- boosted sales by around 20 percent in January and are keen to keep seizing market share by cracking the all-important diesel market.
European firms are likely to hit back at Geneva by trumpeting plans to expand further afield into high-growth markets such as eastern Europe and China, as they aim to keep sales rising amid tougher competition in their largely saturated home markets.
PSA will be showing a new version of its top-selling Peugeot 307 which will be built and sold in China, as Europe's second-biggest carmaker aims to double capacity in the world's fastest growing major car market by 2006.
Written by Rebecca Harrison

Porsche, VW Recall SUVs
Germany's Porsche has recalled 22,158 Cayenne sports utility vehicles due to wiring problems, while Volkswagen says 6,500 of its Touaregs have also needed fixing.
Both vehicles, built on the same platform, had a fault that could lead to a cable fire beneath the instrument panel, but there had so far been no known accidents as a result of the problem, Porsche said last Friday.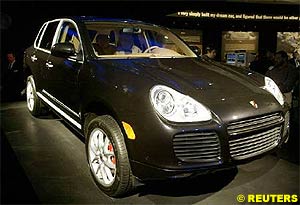 A spring in the handbrake risked damaging wiring below, a spokesman for Porsche said, adding that the recall by the sportscar maker was voluntary and purely a precautionary measure following long-running tests.
All 22,158 Cayennes produced between its launch in October 2002 and July 2003 will have to return to the workshop, including 11,355 sold in the United States where the chunky but sprightly off-roader has proved particularly popular.
Porsche said that all owners of the car, which like VW's Touareg has a foot-operated parking brake, had been informed and that the cable could be relocated relatively easily.
The National Highway Traffic Safety Administration in the United States said on its Internet site that the vehicle's main wiring harness had been incorrectly routed which could lead to the failure of electrical systems and in extreme cases a fire.
Volkswagen said that since the end of January it had informed 6,500 European owners of the same problem with its Touareg, which Europe's biggest car maker developed together with Porsche.
In the United States VW said that the problem had been spotted as early as last summer, ensuring that while 620 Touaregs were affected, most were altered before delivery and only 60 vehicles had to be returned to the workshop.
VW said at the time of the U.S. recall last August that the re-routing of the cable should take about 20 minutes and could be carried out at customers' homes or offices given the small number involved.
Written by Alexander Huebner

Honda Recalls 440,000 Civics and Insights
Honda is recalling about 440,000 of its Civic and Insight small cars after discovering they are prone to sudden low-beam headlight failures, federal safety regulators say.
"An unexpected loss of low beams could result in a crash," the National Highway Traffic Safety Administration said in a posting on its website on Tuesday.
It said 2001-2002 model year Civics and 2000-2002 Insights were subject to the recall, which was prompted by overheating in the headlight switch. The Insight was the first gas-electric hybrid car sold by Honda in North America.
Honda, Japan's second-largest automaker, told NHTSA in a letter late last month that no accidents or injuries had been linked to the headlight malfunction.