by Dieter Rencken, South Africa
Atlas F1 Magazine Writer
This week's rumours and speculations
Fresh from the Formula One paddock

THE MINARDI WAY
For a team which last scored points at the 2002 Australian Grand Prix (with home boy Mark Webber's fine fifth place in his debut race), the mood at the launch of the Wilux Minardi-Cosworth PS04B on Wednesday afternoon at Pete's Bar within the confines of the Melbourne circuit sure was upbeat. (In fact, dig deeper, and you find that Webber punctuated a drought lasting from the 1999 European Grand Prix...)
"We have made good progress over the winter, but we have to be realistic here - so have the others," Stoddart said at the launch. "We will only know exactly where we stand," he continued, "on Friday." Asked what his 2004 expectations were, he was adamant that the team could score "a handful of points, hopefully starting with one here in Melbourne on Sunday."
So much for hopes; what about substance?
To underline his mood, Paul Stoddart announced not one, not two, not three but four testers for the Arrows A23/Minardi hybrid - which, in the words of the chain-smoking Australian "draws on the best of the Arrows design and evolution of our PS02/03 concepts."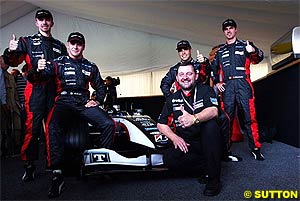 As expected, Italy's Gianmaria (Gimi) Bruni and Zsolt Baumgartner (Hungary) are signed for race duties, with Belgian Bas Leinders nominated as Friday tester - but more of this appointment later. Portugal's Tiago Monteiro, who scored a ChampCar pole and ten top ten finishers in 2003 with Fittipaldi Racing, will dovetail his Formula Nissan (with 2003 British F3 champions Carlin Motorsport) racing with non-Friday testing, whilst Melbourne-born Stoddart is due to give his compatriots, Formula Three racers Wills Davison and Power, seat fittings in the run up to this weekend in preparation for tests before Imola.
Whilst PS04B resembles last year's black racer, there are distinct A23 overtones to the aero bits and airbox - not at all surprising considering that Stoddart bought up at liquidation auction the bulk of Tom Walkinshaw's fallen F1 operation. Even the 72° V10 Cosworth, chosen, in view of the one-engine-per-driver rule introduced for this season, for its proven reliability (and, if, the term can be applied to a two-car season lease arrangement costing upwards of $10m, for its affordability), was a straight fit in both chassis designs. So, all-important engine 'issues' should not be a factor come race weekends.
Dubbed CR-3L (for long life), the engine should ensure 800 kilometres (a full race weekend's worth) between rebuilds, but the team was rather coy as to whether it has a stock of CR-3S (for short life) engines about - with the penalty for changing power units after qualifying is relegation to the back of the grid, Minardi can well afford to build engine swaps into its race strategies.
Unique to Minardi is a structured 'time share sponsorship' package via main sponsor Wilux. The Dutch shower and bath supplier has taken certain sponsorship spaces on cars and drivers, whilst guaranteeing income from others. These will then sell on a single-race basis to territorial sponsors. So, Minardi has its full budget, and if the scheme works, Wilux should reduce its financial exposure whilst retaining its prime spots; if not, it simply increases its identification and benefits thus.
Silver linings, though, often come with clouds attached, and, whilst the one-engine rule may well suit Minardi more than others, some aspects of the 2004 regulations are less welcome. Leinders, for example, no longer qualifies for a Superlicence, despite a pedigree which includes the 1998 German F3 championship, three years in F3000 and consecutive third places in the 2002/3 Formula Nissan championships. In short, his qualifications are beyond their shelf life.
"It is an issue we have to sort out with the board London," admitted the wiry aviation entrepreneur, "and something we were aware of when we signed Bas. The deal just came together very quickly. But, I've known Bas from his and our F3000 days, and have always known he was made for higher things.
"This is the problem with the new regulations," Stoddart explained. "To get a Superlicence a driver needs to do a full race distance, and that costs money. Lots of it. Last year, when no Superlicence was required for Friday testing, Gimi (Bruni) was able to get a race distance together, now it needs running away from Fridays. So it is an expense small teams can ill afford."
Stoddart is adamant Minardi deserves a place in Formula One, though. "On Sunday there will be six former Minardi drivers in the Grand Prix, and I was so proud on that Italian Grand Prix Sunday last year after Marc Gene had to sub for Ralf Schumacher, and we had eight current or former Minardi drivers on the grid. That is, I'm told, a record."
Another area of the regulations that irks the Minardi Team Principal is the question of traction control, and he is threatening to rescind his support for the gizmo unless the five engine manufacturers make available a supply of "reasonably priced, affordable engines as per the original agreement."
"It's a simple business matter. They agreed to supply affordable engines, and we (Minardi and Jordan) agreed to allow traction control on that basis. Now they have gone back on their word, so can I..." But, hasn't the FIA stated traction control is basically impossible to police?
"I don't want to speak for Max (Mosley, FIA President), who is more than capable of speaking for himself, but I think he means that it will need resources to police (traction control), and that takes time. So, if I withdraw my support, it does not mean that traction control is banned immediately, it will take time (to introduce)."
So, when, then? "I would say a ban could be in place by Imola."
Stoddart, though, is adamant that he is not begging or 'whinging'. "We are fully funded for 2004, but whatever we save on engines we can put into Research and Development. So, I'm not begging, merely being adamant that we had an agreement, and that it has not been stuck to."
The removal of private Friday testing, too, is expected to impact negatively on the team, as will the change to two-run qualifying on Saturdays. The former means teams outside the Fast Four may run third cars on Fridays without any reduction in private testing, whilst the latter means the like of Jos Verstappen's provisional (Friday) pole at Magny-Cours last year can be no more.
So, nine teams have now officially launched their 2004 designs - the exception being McLaren, which this season races basically an updated version of last year's intended car. The ultimate irony is that many in the paddock believed that there would be nine teams launching for 2004, but for totally wrong reasons. Minardi has proved them wrong for all the right reasons.
---
© 1995-2005 Kaizar.Com, Inc. . This service is provided under the Atlas F1
terms and conditions
.
Please
Contact Us
for permission to republish this or any other material from Atlas F1.