---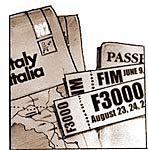 Elsewhere in Racing
Updates from the Rest of the Racing World
---
By Mark Alan Jones and David Wright, Australia
Atlas F1 Magazine Writers
Advice: The points tables for most series covered by Elsewhere In Racing are available here. Individual series are linked to their corresponding points table after each report.
Rally
Solberg's Rocky Road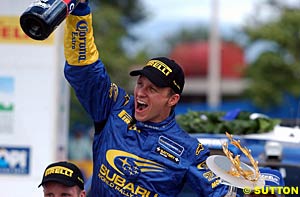 Marcus Gronholm took up the early lead after the Thursday night public special stage from Solberg and Carlos Sainz, with Manfred Stohl sitting in fourth place on the short stage in his own Peugeot 206. Once out on the open stages Sainz dropped away as Harri Rovanpera, Francois Duval and another private 206 of Daniel Carlsson came forward. A great run on Stage 4 saw Solberg drive past both Peugeots to take the lead for the first time.
For the rain had arrived. Unexpected rain on a few tarmac events saved Solberg's championship last year, and here again the Pirellis shone in the increasingly muddy conditions. Once in the lead Solberg consolidated, racing away from the field. Rovanpera briefly bent his steering, but the team had second and third comfortably held, until two spins and a poor tyre choice tumbled Gronholm off the podium and behind Ford's Francois Duval.
Solberg's minute lead blew out to 90 seconds on Leg Two until a brake problem left him with only the handbrake to slow the car for most of the longest stage of the rally, reducing his lead to the overnight advantage of just under a minute. Sebastien Loeb climbed gradually into third place on Leg Two, within ten seconds of Rovanpera. Condemned to the role of road sweeper on Friday, the Citroen's recovery on leg two hinted perhaps he could have taken the fight to the fleeing Solberg. Duval sat just behind this battle, but already the gap from Duval to the field had blown out to well over three minutes. Gronholm by now was gone after wrecking the left rear corner of the Peugeot on a rock.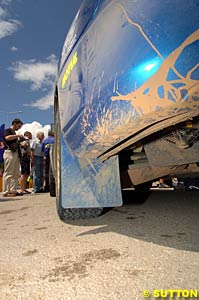 Starting Leg Three Solberg's lead was now just 28 seconds, tantalisingly close for Rovanpera and Loeb. A lack of mudguards on the Impreza after a service cost him thirty seconds, and a conservative drive to victory was gone. Try as they might, neither Loeb nor Rovanpera could make an impression. Loeb pushed hard and after Stage 17 the gap to Rovanpera was three seconds; four after SS18 and 0.3 after SS19. But Rovanpera could not hold the Citroen, and third would be the Peugeot driver's reward as Loeb claimed second. Duval finished over a minute behind in fourth.
Loeb's teammate Sainz stayed in touch with the leaders on Leg One but his rally all but ended after damaging the suspension badly. Sainz continued but with the majority of three stages until service, the Citroen lost ten minutes per stage and any chance of taking points back to France.
Of the second Subaru, Mikko Hirvonen was in seventh place, attacking Gilles Panizzi on Leg Two when a rock wrecked the car on SS15. He fared better than Ford's Markko Martin, who paradoxically finished the rally. The Focus had slid down a bank on Leg One, too far to be receovered in time to continue. The car was repaired overnight after it was retired, then was back into the fray as a non-competing trial of the controversial Max Mosley-inspired 'Super Rally' system which could see each of a rally's three days being treated as a separate rally for 2005.
With each of the four big teams having to retire a car (or almost in Citroen's case as Sainz soldiered on for Manufacturer's points) it was an opportunity for Mitsubishi or the returning Skoda to score points. Dani Sola was out early though. Slowed by suspension damage, his rally was ended by a crash, though not into a stationary object, but as a stationary object as former Skoda driver Roman Kresta collided with the Lancer, putting them both into retirement. Sola repaired and rejoined under the Super Rally concept to do some car, and as it turned out, driver testing.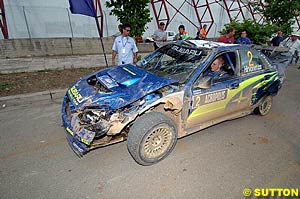 Panizzi drove on, well into the points late in Leg Three, before engine problems dropped him from sixth to tenth, but still claimed four vital championship points. Skoda got both of their Fabias to the finish, but only after retiring on Leg One. Armin Schwarz retired officially with broken suspension after SS2, while a fire put paid to Toni Gardemeister on the final Friday stage.
Privateers filled the points, with Bozian Racing's Daniel Carlsson collecting another big points haul for fifth place with Production WRC competitor Manfred Stohl driving a WRC Peugeot 206 into sixth place ahead of Ford's Janne Tuohino. Local racer Aris Vovos in another Focus took the last point.
Once again Solberg and Loeb sit in the top two places, Loeb now five points clear of his 2003 rival. Martin is nine points from the lead with Gronholm now starting to lose touch, just as he did last year.
Result of World Rally Championship, Round 6 of 16, Acropolis Rally, Greece:

Pos  Driver/Co-driver                    Car
 1.  Petter Solberg/Phillip Mills        Subaru Impreza WRC 2004
 2.  Sebastien Loeb/Daniel Elena         Citroen Xsara WRC
 3.  Harri Rovanpera/Risto Pietilainen   Peugeot 307 WRC
 4.  Francois Duval/Sephane Prevot       Ford Focus RS WRC 04
 5.  Daniel Carlsson/Mattias Andersson   Peugeot 206 WRC
 6.  Manfred Stohl/Ilka Minor            Peugeot 206 WRC
 7.  Janne Tuohino/Jukka Aho             Ford Focus RS WRC 02
 8.  Aris Vovos/El-Em                    Ford Focus WRC 03
 9.  Antony Warmbold/Gemma Price         Ford Focus RS WRC 02
10.  Gilles Panizzi/Herve Panizzi        Mitsubishi Lancer WRC 04

Standings: Sebastien Loeb 43, Petter Solberg 38, Markko Martin 34, Marcus Gronholm 24, Carlos Sainz and Francois Duval 19, Harri Rovanpera, Mikko Hirvonen and Janne Tuohino 10, Daniel Carlsson 6 etc
FIA Rebuffs Peugeot Boss For 'Inflammatory Comments'
Rallying's governing body rebuffed Peugeot team boss Corrado Provera on Friday after he condemned his team's disqualification from last month's Cyprus Rally.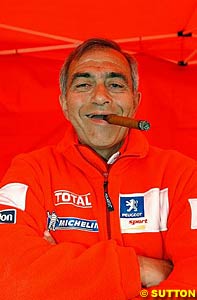 The International Automobile Federation (FIA) said in a statement that it had noted Provera's comments and repeated that the French team, stripped of victory in the event, had used an illegal engine part.
"Rather than making unfounded and inflammatory comments regarding the consequences of using such an illegal component, Mr Provera should address the management failings which allowed such a component to be used in the first instance," it said. "Perhaps he should also explain why a non-homologated component was fitted if it gave no competitive advantage."
The FIA also said it would have been unfair to other competitors if decisive action had not been taken "in response to the use of a clearly illegal component".
Cyprus would have been Peugeot's first success of the year but Finland's Marcus Gronholm lost the win and the lead in the championship after the team was ruled to have used a non-standard water pump component.
Provera told reporters at the Acropolis Rally, the first event since Cyprus, on Thursday that he considered the punishment excessive and "the shame cast upon Peugeot is unacceptable."
"We gained no performance advantage so to be excluded is too heavy," the Autosport website quoted him as saying. "People may think we did something against the law, they may think that we cheated."
Peugeot report provided by Reuters
MotoGP
Rossi Wins Restarted Italian Grand Prix
By James Eve
Home favourite Valentino Rossi mastered championship leader Sete Gibernau and the weather to win a rain-interrupted MotoGP race at the Italian Grand Prix on Sunday.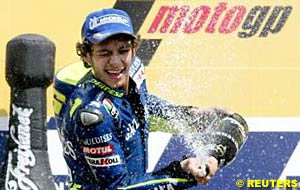 With six of the 23 laps remaining, rain halted the event. Following the re-start Rossi on his Yamaha briefly dropped back to fifth, but cut through the field to the cross the line comfortably ahead of his main championship rival. Rossi was timed at 12 minutes 06.803 seconds for the last six laps with Gibernau on 12:07.164 and Italy's Max Biaggi on 12:08.343.
The victory was the five-times World Champion's third in a row at Mugello and helped him close the gap in the overall standings. Gibernau leads the championship on 86 points, 10 more than Rossi, who has moved ahead of Biaggi on 72. Rossi's victory also ended Honda's 11-year stranglehold on the Italian title.
"It was an incredible race and an incredible feeling to win in front of all these fans," Rossi said. "It was like I had to win two races -- one in the dry, then in the wet."
Rossi made a superb start from third on the grid, reaching the opening corner first ahead of Biaggi and Ducati's Loris Capirossi. Briefly, the home fans were tantalised with the possibility of a repeat of last year's clean sweep, when Rossi led Capirossi and Biaggi across the line, but Capirossi, who has struggled with Ducati's new bike, dropped off the pace.
Pole-sitter Gibernau, who had won the previous two rounds in Spain and France, made a poor start, falling back to eighth before working his way through the field. On the seventh lap he squeezed past third-placed Biaggi on the tight righthand bend at the end of Mugello's long straight. His progress to the front, however, was hampered by inspired riding from Makoto Tamada until mechanical failure forced the Japanese rider to retire on lap 13.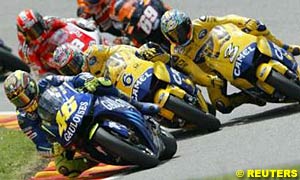 After the rain stoppage with Rossi leading, the re-started race nearly produced an upset when, with three laps to go, unfancied Ducati rider Ruben Xaus led former world superbike champion Troy Bayliss and Honda's Alex Barros. Rossi, however, regained the lead as Gibernau got stuck behind Bayliss. The Spaniard, a wet-weather specialist, snatched second on the penultimate lap but by then Rossi had built up a one-second cushion.
"I made a very bad start at the beginning of the race, but caught Valentino and then thought I could take the lead, but like other times this year the weather has decided a race," said Gibernau. "I think my last lap was the fastest, but it wasn't enough to catch Valentino."
Earlier, Kawasaki's Shinya Nakano escaped serious injury when his tyre blew halfway down the straight on lap 12, bucking him off the bike at around 300 kph.
Argentina's Sebastian Porto on his Aprilia held off the challenge of championship leader Randy De Puniet of France and Spain's Daniel Pedrosa to grab his second career win in the 250cc race. In the 125cc category, home rider Roberto Locatelli recorded his first win in nearly four years to slash Andrea Dovizioso's lead by 12 points. Dovizioso, who finished the race in fourth, has 76 points, three more than Locatelli.
Result of World Motorcycle Championship, Round 4 of 16, Mugello, Italy:

Pos  Rider                 Motorcycle
 1.  Valentino Rossi       Yamaha M1
 2.  Sete Gibernau         Honda RC211V
 3.  Max Biaggi            Honda RC211V
 4.  Troy Bayliss          Ducati Desmosedici
 5.  Ruben Xaus            Ducati Desmosedici
 6.  Alex Barros           Honda RC211V
 7.  Norick Abe            Yamaha M1
 8.  Loris Capirossi       Ducati Desmosedici
 9.  Marco Melandri        Yamaha M1
10.  Shane Byrne           Aprilia 

Standings: Sete Gibernau 86, Valentino Rossi 76, Max Biaggi 72, Alex Barros 48, Carlos Checa 36, Colin Edwards 33, Loris Capirossi 28, Nicky Hayden 27, Troy Bayliss 23, Marco Melandri 22 etc.
Report provided by Reuters
NASCAR
Martin Survives Dover Demolition Derby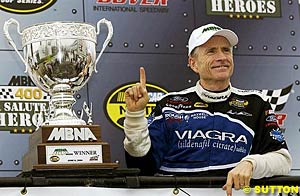 Mark Martin ended a two year winless streak at Dover, though it was a race he probably wasn't expecting to win. Tony Stewart seemed to be well placed until a pit miscue, and then Kasey Kahne seemed on his way to his maiden victory before a patch of oil ended his day. And this doesn't even include the 18 car pileup that occurred in between Stewart's miscue and Kahne's crunch into the wall. The driver who benefitted most of all in all the mayhem was Dale Earnhardt Jr, who ended the race in third place after dodging all the other action, extending his lead over Jimmie Johnson, who was taken out in a crash, to 98 points, while Matt Kenseth moved past Jeff Gordon to third place a further 81 points back despite both drivers ending the day with dead cars.
Jeremy Mayfield sat on the pole with Ryan Newman alongside, Mayfield taking the lead as the race got underway but the first caution of the day came out soon after on lap 13 when Casey Mears spun coming off turn four. The race restarted on lap 19, Brian Vickers taking the lead down the backstretch after the restart before Mayfield took the lead back on lap 26. The caution was out again on lap 31 as NASCAR threw a competition caution as there had been extensive rain which had changed track conditions.
Most of the field pitted, but seven cars stayed out, having pitted at the first caution, Jeff Burton the new leader. The race restarted on lap 38 but was back to caution a lap later when Kurt Busch spun Elliott Sadler, Sadler then collected by Brendan Gaughan. Back to green on lap 45, Burton leading the way but he was soon passed by Tony Stewart on lap 49 who had made good use of his fresh tyres to make his way up through the top ten to the very front, Mayfield making his way forward as well, to be second behind Stewart as they completed 100 laps of the 400 lap event.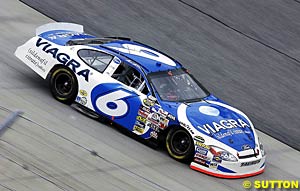 Jeff Burton, who was the leader when the race went back to green, was just about to be lapped when a debris for caution came out on lap 109. In came the field for pit stops, Stewart leading Mayfield, Newman, Jeff Gordon and Kasey Kahne out the other end. Racing resumed on lap 115 with Mayfield passing Stewart for the lead on lap 119, Stewart taking the lead back 32 laps later. The next caution wasn't far away, coming out on lap 159 when Joe Nemechek spun after contact from Terry Labonte.
More pit stops ensued, with Stewart leading Jimmie Johnson, Newman, Mayfield and Busch at the restart on lap 165. During this run Kasey Kahne made steady progress, moving up to second place as Stewart continued to lead the way. The next caution came out on lap 223 when Jeff Gordon lost a right front tyre and slammed the turn two wall, ending his day, which saw sections of the crowd stand and cheer(!) Once more the pits were busy, Stewart holding onto the lead ahead of Johnson, Kahne, Rusty Wallace and Newman. It was back to racing on lap 231 but not for long, the caution back out three laps later for debris on the track.
Back to green once more on lap 238, Kahne continuing to press forward, taking second from Johnson on lap 248, Johnson losing third to Kahne's teammate Mayfield on lap 264. Lap 300 saw Rusty Wallace suffer a flat tyre, forcing him to pit early. But the rest of the field wasn't far behind, making green flag stops from around lap 315 onwards. Leader Stewart miscued on his first attempt to pit, losing time and the lead as he rejoined the track before making it the next time around. Soon after Ryan Newman began to pit but was also going too fast, Newman spinning, hitting the 'commit' cones and hitting the water-filled plastic barrels at the end of pitlane.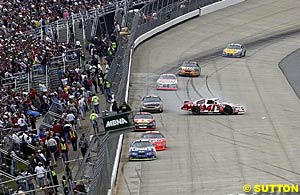 Newman then ran out of fuel while waiting for the pits to open and so had two other cars push him around to get to his pit, still pitting before they opened, with some other cars also making stops when they finally opened. Newman made additional stops to repair the damaged bodywork, an extra man also coming over the wall at one stage, and during one of these stops he ran the 'stop' sign at the end of pit lane. For all these infractions, he was held a lap. This led to a long argument about which lap he was on - the lead lap, or one lap down? Lap after lap for about 15 laps the cars continued around under caution, with the only hold up seeming to be this dispute.
Eventually it was determined he was a lap down and racing got back under way on lap 346, Mayfield starting in the middle of the pack but leading Kahne, Jimmie Johnson and Mark Martin, with Stewart leading four other cars at the tail of the lead lap in front of Mayfield at the restart but behind him in the race order. Mayfield got boxed in in traffic allowing Kahne and Johnson to get past off turn two, just before in front of them all hell broke loose as Dave Blaney and Michael Waltrip made contact, spinning Blaney in front of most of the field.
Cars went everywhere, with Jimmie Johnson, Dave Blaney, Jeremy Mayfield, Greg Biffle, Ricky Rudd, Kevin Harvick, Ryan Newman, Michael Waltrip, Sterling Marlin, Ward Burton, Jeff Burton, Robby Gordon, Casey Mears, Rusty Wallace, Jamie McMurray, Jeff Green and Brian Vickers involved. Somehow Kahne weaved through the spinning cars and avoided it all, but for second placed Johnson his day was over, while third placed Mayfield fell off the lead lap as he got bogged in the grass. The race was put under caution initially before it was red flagged to clean up the mess.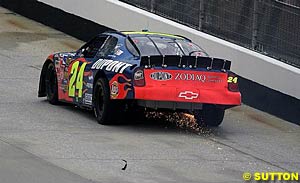 Eventually the red flag was lifted, with the race restarting on lap 355 with Kahne leading Mark Martin, Stewart, Matt Kenseth and Burton, these five the only cars still on the lead lap! It was back to caution on lap 375 for debris from Rusty Wallace's car after Wallace cut another tyre down. Kahne and Martin stayed out but the rest of the lead lap cars pitted for tyres. The race went back to green on lap 381, Kahne continuing to hold off Martin and Stewart when Casey Mears began to smoke coming through turn four. When Kahne got there fifteen seconds later he discovered a slippery track, Mears having dropped oil onto the track, Kahne spinning hard into the turn four wall, with Kenseth also smacking the wall hard, ending both of their days, with a couple of other cars also involved.
This brought out a caution, followed by a red flag to clean up the oil. The race eventually got back to green on lap 391, with a single file restart. Mark Martin led Tony Stewart, Jeff Burton, Dale Earnhardt Jr and Scott Riggs at the restart, the only five on the lead lap, and that was how it stayed to the chequer.
Result of NASCAR Nextel Cup, Round 13 of 36, Dover Downs International Speedway, Delaware, United States:

Pos  Driver              Car
 1.  Mark Martin         Ford Taurus
 2.  Tony Stewart        Chevrolet Monte Carlo
 3.  Dale Earnhardt Jr   Chevrolet Monte Carlo
 4.  Jeff Burton         Ford Taurus
 5.  Scott Riggs         Chevrolet Monte Carlo
 6.  Michael Waltrip     Chevrolet Monte Carlo
 7.  Terry Labonte       Chevrolet Monte Carlo
 8.  Jeremy Mayfield     Dodge Intrepid
 9.  Scott Wimmer        Dodge Intrepid
10.  Kevin Harvick       Chevrolet Monte Carlo

Standings: Dale Earnhardt Jr 1963, Jimmie Johnson 1865, Matt Kenseth 1784, Tony Stewart 1767, Jeff Gordon 1709, Kurt Busch 1648, Elliott Sadler 1646, Bobby Labonte 1642, Kevin Harvick 1632, Ryan Newman 1596 etc.
DTM
Paffett Penalised, Ekstrom Ecstatic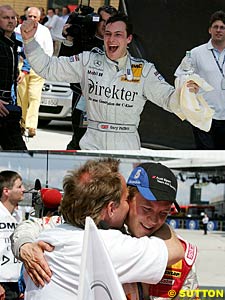 Young Mercedes-Benz emerging star Briton Gary Paffett was cruelly robbed of victory at the Lausitzring after climbing from his car at the end of the race. DTM post-race rules state that the driver must stay in the car and drive directly to Parc Ferme where car and driver can be weighed, and a 1.5 litre fuel sample can be taken.
While his AMG team have appealed the result, the new race winner is Mattias Ekstrom, and he claimed his second victory in as many starts for Team Abt Sportsline. The AMG squad took some honour home, with Christijan Albers and troubled reigning champ Bernd Schneider filling the podium.
Mercedes was the pace of a wet qualifying session, with Albers and Jean Alesi fastest in practice ahead of Ekstrom. Into Superpole everyone was set to gamble on what to do and how to drive. The track dried as the session progressed and times dropped markedly. It was dry enough for slicks for the last three cars, allowing Albers, Alesi and Ekstrom to keep their positions. Peter Dumbreck was fourth in the Phoenix Vectra.
Ekstrom raced into the lead for the first turn ahead of Albers, while a fast starting Gary Paffett was quickly up through the field, taking second from Albers on the second lap. Lap five saw the pitstops begin and Ekstrom led a large portion of the field straight into the pits, including Paffett and Albers.
The Sportsline crew put Ekstrom back on the track in first but Paffett was immediately on the attack. The battle was put on hold as both took their second stops, again with Paffett breathing down Ekstrom's neck. After seven laps Paffett took Ekstrom into turn one and raced away to head for the chequer, and a trophy that would later be given to someone else.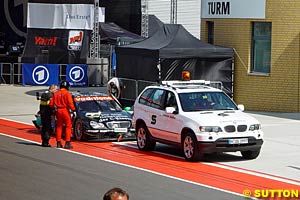 Ekstrom now had to deal with Albers. The two swapped paint several times, but Ekstrom held firm to take second, which later became the win. Schneider came home third ahead of '02 champion Laurent Aiello in the Phoenix Vectra. Alesi followed home Aiello, less than a second behind Aiello. Emanuele Pirro was a lonely sixth, while Marcel Fassler took seventh at the last moment after Martin Tomczyk spun on the last lap.
Ekstrom's win puts him into a shared championship lead with Albers, the pair now well ahead of everyone else, with Paffett despite his disqualification holding third, with less than half of the points of the leaders.
Result of Deutsch Tourenwagen Masters, Round 4 of 10, Lausitzring, Germany:

Pos  Driver              Team
 1.  Mattias Ekstrom     Abt Sportsline Audi A4 DTM
 2.  Christijan Albers   Vodafone AMG Mercedes-Benz C Class
 3.  Bernd Schneider     Vodafone AMG Mercedes-Benz C Class
 4.  Laurent Aiello      Team Phoenix Opel Vectra GTS V8
 5.  Jean Alesi          AMG Mercedes-Benz C Class
 6.  Emanuele Pirro      Team Joest Audi A4 DTM
 7.  Marcel Fassler      Team Phoenix Opel Vectra GTS V8
 8.  Manuel Reuter       Team Holzer Opel Vectra GTS V8
 9.  Christian Abt       Abt Sportsline Audi A4 DTM
10.  Tom Kristensen      Abt Sportsline Audi A4 DTM

Standings: Christijan Albers and Mattias Ekstrom 34, Gary Paffett 15, Jean Alesi 12, Martin Tomczyk 11, Tom Kristensen and Bernd Schneider 10, Laurent Aiello 9, Timo Scheider 8, Emanuele Pirro 5 etc
Le Mans
Chasing Audi
In 1999 a BMW prototype won Le Mans. That was the last time the Grand Prix of Endurance and Efficiency has not been commanded by Audi. After three years of domination by the factory backed Joest team, last year the privateer Audi teams were hampered slightly by Audi's wish that their sister team Bentley have as clear a run as possible at the 2003 race. Now as a reward for years of patience, the three Audi privateer teams now can fight the race out amongst themselves.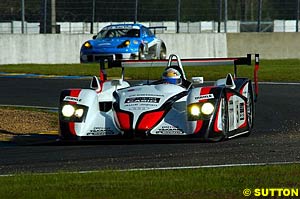 Audi Sport UK heads into the race the strongest, with the support of full time sports racing team Veloqx, they are the best equipped both in mechanical and human technology with driver line-ups of Allan McNish, Frank Biela and Pierre Kaffer in one car, Jamie Davies, Johnny Herbert and Guy Smith in the other. The American Champion Racing team have a driver line-up equal to either of the British teams in JJ Lehto, Marco Werner and Emanuele Pirro, but don't quite have the resources, while ever that little bit further behind is the Japanese Audi from Team Goh. Goh have perhaps sensed an opportunity and in Seiji Ara, Dindo Capello and Tom Kristensen have the strongest team they have ever fielded.
Is it harsh to dismiss the rest of the prototypes so thoroughly? It seems so but long experience at La Sarthe has proven otherwise, although the pace of the Reynard-inspired IRM 04S entered by Zytek Engineering had been quite promising. David Brabham, ever leading the Audi opposition at Le Mans and Andy Wallace will be joined by a third driver in the fastest non-Audi from the April test day. The rest of the prototype ranks is an eclectic mix of new cars and older well-developed ones. The teams from Pescarolo Sport, Racing For Holland, Zytek Engineering will fight out the minors, with the two MGs entered by RML & Intersport and the Rollcentre Dallara-Judd capable of joining the fight with luck and reliability. The others represent some of the odd, like the diesel and alcohol-powered cars, and the ageing Panoz and Reynard-VW turbo.
The small prototype class feels different this year after the realignment in classes, and now seems more forgotten than ever. With the MGs and Reyanrd moved into P1 class, P2 will be fought over by the Courage outfit and the ever hopeful WR turbos. Three other Courages are listed for Epsilon and Belmondo along with an American Intersport Lola in a class likely to only number six cars after withdrawals.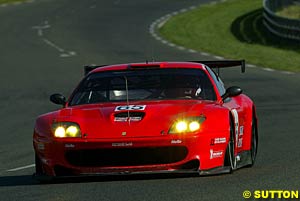 Just as bad numerically, GTS however have four strong teams to make up the numbers. The perrenial factory-backed Chevrolet Corvette team faces Ferrari-equipped opposition from Britain, France and the US in Prodrive, Larbre and Barron Connor. While Barron Connor has the newer 575M model, the Prodrive team has expereince and the best driver list in the class, including 1995 World Rally Champion Colin McRae making his major circuit racing debut. Expect this battle to rage all night.
In GT, Porsches dominate as much as ever with eleven of Stuttgart's finest entered, led by the pair of RSRs of Freisinger Motorsport. The defending champs are vulnerable though with one car significantly better than the other this year, and the teams from Orbit, White Lightning and Seikel ready to pounce. However the depth of strength in the Porsches isn't what it has been in recent times, and the best equipped rival to Freisinger looks like the Ferrari 360s from JMB and Risi Competizione. There is another Ferrari from long-time Porsche team Cirtek and the usual class oddities in the Morgan Aero 8 and a pair of TVR Tuscans fielded by perpetual non-conformists Chamberlain Motorsport.
Entry List For 72nd Grand Prix of Endurance and Efficiency, Le Mans, France:

P1 Class

No  Drivers                                 Car
 2  JJ Lehto/Marco Werner/Emanuele Pirro    Champion Racing Audi R8
 4  Christian Vann/Benjamin Leuenberger/    Taurus Sports Racing 
    Didier Andre                            Lola B2K/10 Judd 
 5  Seiji Ara/Rinaldo Capello/              Team Goh Audi R8
    Tom Kristensen
 6  Martin Short/Rob Barff/Joao Barbosa     Rollcentre Racing 
                                            Dallara LMP2001 Judd
 7  Rocky Agusta/Almo Copelli/              Spinnaker Dallara 
    Sylvain Boulay                          LMP2001 Judd
 8  Allan McNish/Frank Biela/Pierre Kaffer  Audi Sport UK Audi R8
 9  Hiroki Kato/Ryo Michigami/Ryo Fukuda    Kondo Racing Dome  
                                            S101 Mugen-Honda
10  Phil Andrews/Calum Lockie/              Taurus Sports Racing 
    Chuck Goldsborough                      Lola B2K/10 Caterpillar
11  Patrick Bourdais/Jean Luc-Blanchemain/  Panoz Motor Sports 
    Roland Berville                         Panoz Esperante GTR1 Elan
14  Robbie Stirling/Werner Lupberger        Team Nasamax Reynard 01Q Judd
15  Jan Lammers/Chris Dyson/                Racing For Holland 
    Katsutomo Kaneishi                      Dome S101 Judd
16  Tom Coronel/Justin Wilson/              Racing For Holland 
    Ralph Firman Jr                         Dome S101 Judd
17  Sebastien Bourdais/Nicolas Minassian/   Pescarolo Sport 
    Emmanuel Collard                        Courage C60 Judd
18  Soheil Ayari/Erik Comas/                Pescarolo Sport
    Beniot Treluyer                         Courage C60 Judd
20  John Nielsen/Casper Elgaard/            Lister Racing 
    Jens Reno Moller                        Lister Storm LMP Chevrolet
22  Andy Wallace/David Brabham              Zytek Engineering
                                            IRM-Reynard 04S Zytek
25  Thomas Erdos/Mike Newton/Nathan Kinch   Ray Mallock Limited
                                            Lola B160 MG
27  Jon Field/Duncan Dayton/Larry Connor    Intersport Racing
                                            Lola B160 Judd
29  Jean Luc Maury-Laribiere/               Noel Del Bello Reynard
    Jerome Policand                         2KQ Volkswagen
88  Jamie Davies/Johnny Herbert/Guy Smith   Audi Sport UK Audi R8

P2 Class

No  Drivers                                 Car
24  Yojiro Terada/Patrice Roussel/          Rachel Welter 
    Olivier Porta                           WR LM2001 Peugeot
31  Jonathan Cochet/Jean Marc Gounon/       Courage Competition 
    Christophe Tinseau                      Courage C65 JPX
32  Bill Binnie/Clint Field/                Intersport Racing 
    Rick Sutherland                         Lola B2K/40 Judd
33  Marc Goossens/Jean-Philippe Belloc/     Courage Competition
    Alexander Frei                          Courage C65 JPX
34  Lucas Lasserre/Xavier Pompidou/         Epsilon Sport
    Jean-Christophe Boullion                Courage C65 JPX
35  Renaud Derlot/Gunnar Jeannette/         Epsilon Sport
    Jean-Paul Dayrault                      Courage C65 JPX
36  Richard Balandras/Yann Goudy            Gerard Welter
                                            WR LM2004 Peugeot
37  Paul Belmondo/Claude Yves Gosselin/     Paul Belmondo Racing
    Marco Saviozzi                          Courage C65 MG

GTS Class

No  Drivers                                 Car
60  David Hallyday/Anthony Kumpen/          Force One Racing
    Bruno Besson                            Pagoni Zonda
61  John Bosch/Danny Sullivan/Thomas Biagi  Barron Connor Racing
                                            Ferrari 575M Maranello
62  Mike Hezemans/Angel Daniel Barde/       Barron Connor Racing
    Jean-Denis Deletraz                     Ferrari 575M Maranello
63  Ron Fellows/Johnny O'Connell/Max Papis  Corvette Racing
                                            Chevrolet Corvette C5-R
64  Olivier Gavin/Olivier Beretta/          Corvette Racing
    Jan Magnussen                           Chevrolet Corvette C5-R
65  Darren Turner/Colin McRae/              Prodrive Racing
    Rickard Rydell                          Ferrari 550 Maranello
66  Alain Menu/Peter Kox/Tomas Enge         Prodrive Racing
                                            Ferrari 550 Maranello
69  Christophe Bouchut/Patrice Goueslard/   Larbre Competicion
    Olivier Dupard                          Ferrari 550 Maranello

GT Class

No  Drivers                                 Car
70  Jean Rene de Fournoux/Jaime Melo Jr/    JMB Racing Ferrari 360 Modena
    Stephane Daoudi
72  Luc Alphand/Christian Lavieille/        Luc Alphand Adventures 
    Philippe Almeras                        Porsche 996 GT3-RS
75  Ian Khan/Nigel Smith/Tim Sugden         Thierry Perrier
                                            Porsche 996 GT3-RS
77  Haruki Kurosawa/Kazuyuki Nishizawa/     Choroq Racing Team
    Manabu Orido                            Porsche 996 GT3-RSR
78  Jim Matthews/Dave Warnock/Paul Daniels  PK Sport
                                            Porsche 996 GT3-RS
80  Adam Sharpe/Neil Cunningham/Steve Hyde  Morgan Works Race Team
                                            Morgan Aero 8
81  Lars Erik Nielsen/Ian Donaldson/        The Racers Group
    Gregor Fisken                           Porsche 996 GT3-RSR
83  Gabrio Rosa/Peter van Merksteijn/       Seikel Motorsport
    Alex Caffi                              Porsche 996 GT3-RS
84  Anthony Burgess/Philip Collin/          Seikel Motorsport
    Andrew Bagnall                          Porsche 996 GT3-RS
85  Stephane Ortelli/Timo Bernhard/         Freisinger Motorsport
    Romain Dumas                            Porsche 996 GT3-RSR
86  Alexei Vasiliev/Nikolaj Fomenko/        Freisinger Motorsport
    Robert Nearn                            Porsche 996 GT3-RSR
87  Leo Hindery/Marc Lieb/                  Orbit Racing
    Mike Rockenfeller                       Porsche 996 GT3-RS
89  Bob Berridge/Gareth Evans/              Chamberlain Motorsport
    Chris Stockton                          TVR Tuscan 400R
90  Jorg Bergmeister/Patrick Long/          White Lightning Racing
    Michael Petersen                        Porsche 996 GT3-RSR
92  Franck Mountain/Rob Wilson/             Cirtek Motorsport
    Hans Hugenholtz                         Ferrari 360 Modena
95  Ralf Kelleners/Anthony Lazarro/         Risi Competizione
    Matteo Bobbi                            Ferrari 360 Modena
96  Laurence Tomlinson/Nigel Greensall/     Chamberlain Motorsport
    Jonathan Coleman                        TVR Tuscan 400R

Upcoming Events Calendar
June 12 - Le Mans 24 Hours, Le Mans, France
June 12 - Indy Racing League, Round 5 of 16, Texas Motor Speedway, Texas, United States
June 13 - World Motorcycle Championship, Round 5 of 16, Catalunya, Spain
June 13 - NASCAR Nextel Cup, Round 14 of 36, Pocono Raceway, Pennsylvania, United States
June 13 - V8 Supercar Championship Series, Round 5 of 13, Barbagallo Raceway, Australia
June 13 - British Touring Car Championship, Round 5 of 10, Mondello Park, Northern Ireland, Great Britain
June 13 - World Superbike Championship, Round 6 of 13, Silverstone, Great Britain
June 20 - NASCAR Nextel Cup, Round 15 of 36, Michigan International Speedway, Michigan, United States
June 20 - Champ Car World Series, Round 4 of 14, Portland International Raceway, Oregon, United States
June 20 - British Formula 3 Championship, Rounds 11 & 12 of 24, Castle Combe, Great Britain
June 25 - World Rally Championship, Round 7 of 16, Rally of Turkey
June 26 - Indy Racing League, Round 6 of 16, Richmond International Raceway, Virginia, United States
June 26 - World Motorcycle Championship, Round 6 of 16, Assen, The Netherlands
June 27 - NASCAR Nextel Cup, Round 16 of 36, Infineon Raceway, Sears Point, California, United States
June 27 - Deutsche Tourenwagen Masters, Round 5 of 9, Norisring, Germany
June 27 - FIA GT Championship, Round 6 of 11, Donington, Great Britain
June 27 - American Le Mans Series, Round 2 of 9, Mid-Ohio, United States
June 27 - European Touring Car Championship, Round 6 of 11, Donington, Great Britain
June 27 - European Formula 3 Championship, Round 5 of 9, Norisring, Germany
June 27 - World Series by Nissan, Round 4 of 9, Zolder, Belgium
June 27 - British Formula 3 Championship, Rounds 13 & 14 of 24, Donington Park, Great Britain
June 27 - European Formula 3000 Championship, Round 4 of 10, Monza, Italy
---
© 1995-2005 Kaizar.Com, Inc. . This service is provided under the Atlas F1
terms and conditions
.
Please
Contact Us
for permission to republish this or any other material from Atlas F1.