Road test: Audi Hits A6
I'm standing here looking at Audi's all-new A6 and can't get past its controversially bold new front grille design.
It's bugging me. It looks like something, but what? After a couple of minutes, it finally hits me. The grille bears a disturbing resemblance to Derren Brown's hypnotic beard.
I push this thought out of my mind and find that actually, it works. All the controversy that the new maw has attracted seems misplaced. In the metal it's hard to see what the fuss is all about - it looks bold and, yes, it's attractive. Something that can be said for the whole car in fact: in profile the new A6 goes for a contemporary yet conservative style that is both sporty and serene.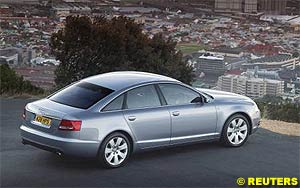 The next thing that strikes me is just how big the A6 has become. Like every car these days, the new generation is longer and plumper than before, but the A6 takes the art even further. Not only is it longer and wider than before, it is now longer and wider than anything else in its price bracket. Actually it's pretty much the same size as the old Audi A8 and its boot is in fact even larger than the current A8's.
Classic Formula
Although it is all-new from the ground up, the A6 remains true to the classic Audi formula - it's either front-wheel drive or quattro four-wheel drive. Probably the most important news comes in the engine department, with three new V6 powerplants. There's an entry-level 177bhp 2.4 V6, a 256bhp 3.2 FSI V6 and a 225bhp 3.0TDI diesel V6. If you want a V8, you can still order a mighty 335bhp 4.2 V8 version.
Audi had no 2.4 engines available for test but I was extremely impressed by the larger V6 engines. The 3.2 FSI petrol V6 is very eager, with a 0-62mph time of merely 6.9 seconds in front-wheel drive guise, which comes with a manual 6-speed transmission. If you want quattro four-wheel drive you get a six-speed Tiptronic semi-automatic gearbox, and despite the extra weight and the slushbox, the 0-62mph time is still only 7.1 seconds. Yet the 3.2 is remarkably economical, posting a 28.2mpg overall figure.
Easily the most impressive engine, though, is Audi's new 3.0TDI V6 diesel. This common-rail diesel boasts massive torque. Incredibly, its 331lb ft (450Nm) of torque comes in as low as 1400rpm, which is only just above tickover. Plant your right foot down and there is no lack of 'go' - the TDI gets to 62mph from rest in only 7.3 seconds and goes on to 150mph. This amazing engine is more unlike a diesel engine than anything else I've ever driven. While it is incredibly refined, it has a glorious sporty-sounding V6 rumble. Rev it up and there's really no difference in the sound it makes compared to Audi's V6 petrol alternative.
Orchestral Sound
Refined. That sums up the A6 experience in one word. Buyers in the executive segment expect a comfortable ride and the A6 is at the top of the heap, with serene forward progress. Noise suppression is also among the best in the business: I couldn't detect any tyre noise at all and, even at autobahn speeds, there was precious little wind noise. Audi has let some of the sound of its engines intrude into the cabin but only, I suspect, because they sound so good. The V6 and V8 units have the aura of an orchestra in full symphonic gush.
The A6 is also supremely comfortable. Audi has carved itself an enviable reputation as the king of the cabin. The old A6 was absolutely the best-crafted car in its class, so the new one has a tough act to follow. Initial impressions are favourable, with that battleship feel of solidity to the dashboard. Closer inspection reveals that, shockingly, some of the plastic actually feels like plastic, however, which seems a bit off-course for Audi.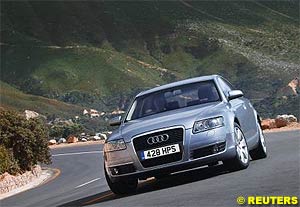 The big question for me was, has Audi made the A6 fun to drive? I ask this because the old-shape A6 was uneventful and not remotely fun to drive. Even the 480bhp RS6 somehow conspired to be a dull drive. Sad to say that, although it is a big advance, the new A6's chassis is hardly any more entertaining. While the BMW 5 Series drives like a pro on a hole-in-one frenzy, the A6 always seems to be overcoming a handicap - which of course it is. You simply can't engineer sharp handling into a front-drive chassis when a car is this big and this powerful. Adding quattro four-wheel drive into the equation makes very little difference. It's not that the A6 is bad to drive - indeed its levels of grip are extremely impressive - it's just that it doesn't give you the level of feedback you'd like. Blame the steering with its over-light assistance for that.
In terms of spaciousness, the new A6 is the big boy in town. Being wider and longer, it boasts even more room front and back than before. For two rear passengers, it's a limousine back there, although the centre seat area is so hard and so affected by the centre tunnel that a third rear occupant is virtually out of the question. With 546 litres of luggage space, your boot is bigger than many MPVs.
Festive Cheer
As usual with Audi, equipment levels look like Christmas has arrived early: all models get a 10-speaker CD hi-fi, split climate control, cruise control, electric handbrake, multi-media screen, rain sensor and servo-assisted bootlid closing. Safety is paramount, with standard EBD, traction control, active front head restraints and head airbags.
As I said, the star of the range is the 3.0 TDI V6 but there will be other diesel engines arriving soon. Probably the most popular engine choices of all will be the smaller-capacity diesels due later this year: a four-cylinder 2.0TDI (140bhp) arrives in September, followed by a 2.7TDI (177bhp) in December. There will also be a seven-speed CVT transmission option. The old-shape A6 Avant estate continues for the remainder of this year but expect a new-shape A6 Avant to appear by 2005.
So, the new A6 is bigger and it's better. It scores bullseyes many key areas - refinement, spaciousness, performance, economy and value for money to name but a few. It looks great, it's much better to drive than the old A6 and it features some great engines, especially the new 3.0TDI V6 diesel. If it has shortcomings, they are minor: the steering is not as good as BMW's and some aspects of the cabin lack the A1 feel of the outgoing A6. But let's not decry from a fabulous all-round effort that beats the best in many areas and runs the opposition very close in most others.

A New Car for 5,000 Euros?
A new car for 5,000 euros (3,330 pounds) - too good to be true?
Definitely not, says France's Renault, which is poised to launch a cheap no-frills Logan sedan for poorer countries this year as it chases new markets in a bid to swell annual sales to four million vehicles by 2010.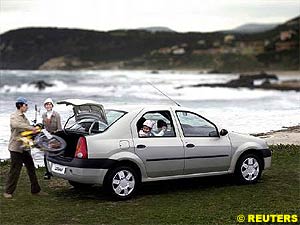 Analysts are more sceptical, and some argue that despite rock-bottom labour costs at its revamped factory in Romania, Europe's fourth biggest car maker will make little money on the bargain-basement model.
"I will salute Renault if it manages to do it," said Stephen Cheetham, autos analyst at Sanford C Bernstein. "But it seems like growth at the expense of profit."
In contrast to Renault's push four years ago into South Korea, where it bought up a new Samsung factory and began producing cars almost immediately, its Romanian venture has been a slow, arduous process.
Renault has spent some 1.2 billion euros on developing the Logan and transforming its once-decrepit Communist-era Mioveni plant in southern Romania into a modern factory about to break even.
It inherited the factory -- now just a year behind its French factories in terms of efficiency -- when it took control of the loss-making Romanian brand Dacia in 1999 with a view to turning it into the standard bearer for the Logan.
This year Renault will phase out production of the boxy Dacia 1310, launched over three decades ago, and start making the Logan for sale at home and for export to eastern Europe and the Middle East.
Cheap Labour
Executives transferred to Mioveni from Renault plants in France and Spain in 1999 describe a crumbling building, rusting machinery, and a bloated workforce making sub-standard vehicles and taking spine-chilling safety risks for bonus pay.
"People said it would take us 10 years, not five, to get here," said Jean-Michel Aime, who arrived from Renault France as executive director, quality in 1999. "We might not be Renault's top plant but at least we've arrived in the industrial age."
Despite revamped stamping lines, a new assembly workshop and the arrival of on-site suppliers like France's Valeo and U.S.-based Johnson Controls, there is one thing that takes visitors to the factory back in time -- the number of workers.
Renault has axed half its staff but the factory still produces fewer cars per employee than any of its other plants, with lines of men and women lifting sheet metal onto the stamping machines by hand -- a job done by robots in France.
While Dacia concedes it must do better to meet internal targets, it also notes that with wages at just 150 euros a month -- roughly the national average but less than a tenth of what a typical Frenchman earns -- there is not much incentive to modernise.
"This is nothing like Renault's ultra-modern factories in France in terms of automation," Simon Valin, Dacia executive director, manufacturing told Reuters. "Why would we install expensive robots when labour is so cheap?"
Back to Basics
If Renault is going back to basics with its manufacturing methods, it shows in the product -- the Logan is unashamedly basic, even if Renault insists it meets all the same quality and safety standards as a new Megane or Clio.
The car is a departure from trends in western Europe, where car makers have been inventing ever-new niche segments and packing cars with gadgets and freebies to grab market share in a crowded, cut-throat market. Expansion is crucial for Renault, which has no presence in the United States or Japan and, like other European mass carmakers, is struggling to boost margins faced with increased competition from Asian manufacturers and flat demand closer to home.
Renault hopes the Logan, which starts at 5,000 euros and will be sold in eastern Europe, Turkey, the Middle East, Latin America, Russia, China and possibly India, will account for around a fifth of the company's sales by 2010.
Chairman Louis Schweitzer said a "conservative target" would be to sell 700,000 vehicles a year by 2010, with production starting in Russia, Morocco, Colombia next year and Iran and probably China after that.
Analysts laud Schweitzer's vision in buying Dacia and revamping it on schedule. They concede that unlike other attempts by carmakers to design a "world car", the Logan is well geared to its markets. But given the cost of raw materials and the risk of wage inflation as manufacturers flock east, it is unclear if it will actually make Renault any more money. There is also a risk over whether it will sell.
Schweitzer has said margins on the car should be around five percent -- roughly in line with the firm's average -- but he has not said by when.
Executives in Romania declined to comment on the Logan's margin, but Valin told Reuters he expected Dacia to boost its barely positive operating margin to 4.5 percent next year -- a figure analysts said was encouraging.
"There's no doubt there are enough people out there who would like a car but can't afford one at 10,000 euros, so the concept of a world car is fairly credible," said Robert Ashton, autos analyst at Commerzbank. "Now we just need to see whether they can get enough people to fork out 5,000 euros."