The Circuit de Gilles Villeneuve in Montreal hosts the Canadian Grand Prix. The circuit is temporary, on a man-made island, leading to it starting dirty and benefiting from rubber being laid down over the course of the weekend. A good lap here requires a strong engine, and brakes that will stand frequent drops from full speed to take the chicanes and hairpins; mechanical grip is important through the slower corners, and consistent torque a real benefit for accelerating down the straights. Aerodynamics will be set up in a medium to low configuration: too much downforce makes defending a position on the straights impossible. There is some chance of thunderstorms on race day, but the rest of the meeting is expected to be dry.
Analysis
Whilst last season's race was clearly a two-stop affair, the options are less clear cut this year. The circuit is particularly tough on brakes, and the fuel loads required for a single stop would exacerbate the problem considerably. Heavy fuel loads are tough on tyres, make for a difficult qualifying, and leave the car vulnerable to being passed by a lighter car on the long straights. However, if the car doesn't deteriorate (unlikely, as brake wear is a real problem), for a number of teams it would offer the best theoretical time to complete the race distance.
With the increased pitlane speeds, the penalty for a three-stop approach is negligible, so any team which is marginal on tyres or brakes is going to opt for this strategy; however, to make it work, the driver will have to be flat out all race, and not spend too long held up behind slower drivers. A short first stop should also result in a good qualifying position, which lends weight to the option. Last season's preferred two stops approach offers a good compromise between the three and one stop options. Adding to the complexity, a long history of Safety Car periods in the race could be an influencing factor in selecting strategy.
A threat of thunderstorms on Sunday has the second tier Bridgestone runners looking optimistic: they believe their wet weather advantage is intact, and it would be a useful opportunity to score points against the Michelin-shod teams.
A number of drivers have shone here in recent years, and more have come to grief – the Wall of Champions frequently proving a prominent cause of retirement, as those most predisposed to sitting the car on the limit catch the wall as they push too hard on the final chicane: likewise, drivers under pressure to perform in order to retain their seats often come to grief here. It would be a surprise if it didn't play a part this year.
The Ferraris are expected to perform well in Canada, making the most of a racing advantage that has led to six wins in the first seven events – though the circuit's emphasis on a powerful engine should offer BAR some hope of closing the gap and keeping them honest. Renault's excellent aerodynamics and tyre preservation should offer them a chance to score two more points finishes, and BMW will be looking to show their engine has not fallen too far off the pace.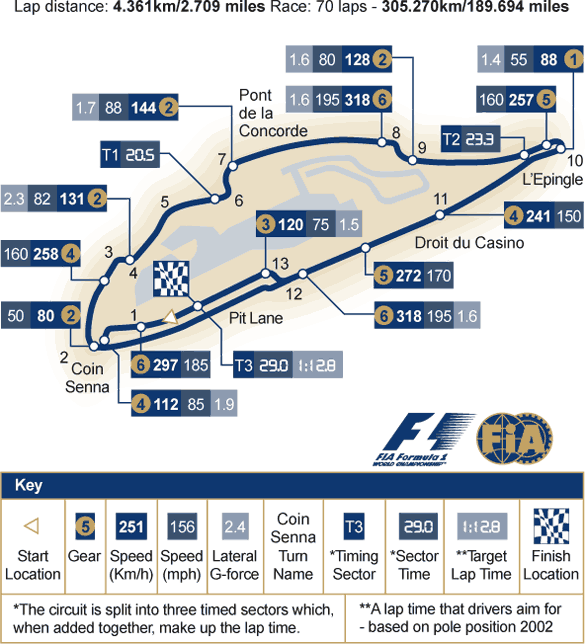 Team by Team
Ferrari
Ferrari's GP Preview Quotes
Ferrari head to Canada as clear favourites, following Schumacher's dominant performance at the Nurburgring. The team arguably has the best package, with a strong engine and tyres that outperform over the race distance. Changes to the aerodynamics for the low downforce circuit are not expected to change anything.
With Barrichello's performance often failing to match his teammate in qualifying, the team are likely to repeat their strategy of putting more fuel in the Brazilian's car, and letting him run a different race. Unlike in Spain and at the Nurburgring, however, at this circuit it could play to his advantage, provided the additional fuel doesn't compromise the brakes.
The team have to be looking at BAR as their main contender for the weekend, though few would be surprised to see Williams or Renault getting involved before the race is ove. But Ferrari will be disappointed not to win this race, probably with both cars on the podium.
Williams
In recent years, Williams have gone to Montreal knowing that the power of their BMW engine is a real boost to their aspirations. Unfortunately, this season the unit is arguably not the pick of the crop, and the issues they are facing with their chassis are not going to help matters much, either.
In its current incarnation, the car appears to have an excess of flex, and would benefit from a reduction in weight to increase the ballast available for balancing the car; it is difficult to balance, however, when properly dialled in, it is quick. Williams' low downforce package is relatively strong, and they are looking for a good weekend – a podium finish is possible, though Ferrari are expected to be very fast, and BAR shouldn't be slow.
Juan Pablo Montoya should have a good weekend, though he going to struggle to outperform Ralf Schumacher, who scored a compelling pole last year, and was quick in the race, even if it was inadequate to beat his brother.
McLaren
McLaren's GP Preview Quotes
Despite the debut of their new chassis in testing, McLaren are not expected to be running it in Canada. Whether this is because it is not as quick as expected, unreliable, or just too unknown is a subject for speculation, but the general consensus holds that until the Mercedes engine gets a boost, the new chassis will offer relatively little gain at power circuits like Canada and Indianapolis.
The widely advertised horsepower shortage from the Mercedes unit is expected to be exposed in Montreal, though the cars' aerodynamics should help to minimise the shortfall. Kimi Raikkonen had a poor qualifying last year, spinning off at the second corner, whilst David Coulthard had his own issues; however, both put in solid race performances, with Raikkonen demonstrating that it is possible to score points, as he started from the back on a single stop strategy.
McLaren hope to give Renault a run for their money, but have a weather eye on Toyota and Sauber here, as they look to leverage their superior engine power.
Renault
Last season, Renault surprised their rivals by qualifying well, then racing strongly, despite a widely recognised horsepower shortage. Whilst some of that performance came from the benefit of getting in some dry running on Friday, courtesy of the Heathrow agreement, when their competition was only able to run in the wet, there was little doubt that the team had a good handle on the track from the outset.
This season, whilst the Renault engine is not the class of the field, the aerodynamics and chassis are, and the engine is not too far off the pace either. Furthermore, the team has a real handle on Michelin's tyres, so they are expecting to be relatively strong over the full race distance: look to see them making up places as other teams brakes or tyres wear. In Montreal, the team expect to take points away from Williams and push BAR, scoring with both cars, though Ferrari are probably not within their grasp.
BAR
Montreal is a circuit BAR have been looking forward to, and Honda have targeted it with an evolution of the engine that should give their challenge a real boost. Whether it will be enough to knock Ferrari off the top of the podium remains to be seen, but this is a real opportunity for the team to do well.
For this race, qualifying is not quite as important as elsewhere, as their engine should offer the chance to make up places; however, losing time doing so would be seriously detrimental to any chance of winning, so BAR are looking for good qualifying performances from their drivers. Don't be surprised if they are particularly short fuelled in order to achieve it. Given a strong start to the race, and a hot race day, the team believe that they have a package that can take the race to Ferrari, though there is some question over whether both new-evolution engines will make the finish.
Last year, Jenson Button's weekend was not up to his normal standards, though some of this could be explained by it being his return after a huge accident in Monaco; however, on this years form, he is expected to perform strongly. Similarly, Takuma Sato is going from strength to strength with the team, and if he stays out of the wall, should also have a strong weekend.
Sauber
With Ferrari power driving them, and recently intensified work with Bridgestone, Sauber are confident in their role as the second best Bridgestone runner, and look to make the most of their horsepower in Canada. Although he had a torrid time last year, Giancarlo Fisichella normally puts together a good weekend in Canada, whilst Felipe Massa finished ninth in his only appearance there, despite an extra stop for speeding in the pitlane.
Whilst the circuit should be well suited to their powerful engine, the team are expected to find qualifying on Bridgestone tyres tougher than the Michelin shod competition. The rubber is well suited to a full race distance, but is not expected to perform so well on the initial lap; taking the fuel out to get a better qualifying position is an option, but the tyres greatest strength is race distance durability, so this could prove an expensive option on race day.
Jaguar
With a new step to their Cosworth CR6 engine, a revised low downforce package and brakes, Jaguar are heading to Montreal anticipating a step forward in performance. Last season, Mark Webber qualified sixth, and the team are hoping the package will be enough to enable their drivers to get in to the top ten this time around: the track is relatively easy to learn, so Christian Klien should be able to get on the pace fairly quickly.
Come race day, there is still a question over both the reliability of the engine, and the wear rate of the tyres. Getting both cars to the finish is expected to be a real compromise between performance and reliability.
Toyota
Having one of the best engines in the field should offer Toyota a chance to raise their game a little in Canada: they are looking to cleanly beat Jaguar, and are looking to take the race to Sauber and McLaren. However, whilst their engine is class of the field, the chassis needs some work, so it will be tricky establishing a balance that stops them losing too much time in the corners.
Olivier Panis has always gone well here, and Cristiano da Matta enjoys a lot of support from the crowd; if the front four teams run in to any trouble, they will be looking to score points.
Jordan
After their last Silverstone test, Jordan are hoping that Montreal could prove a happy hunting ground, despite their arguably inadequate engine. At the test, the team tried new tyres that have excellent heat characteristics, and should improve their performance. Some of the tyre wear problems have been addressed, and this greater understanding should lend itself to improved race pace.
The bottom line, however, is that the team are hoping Michelin missed a beat, or that rain affects play – particularly considering Nick Heidfeld ran well here in wet practice last year – as they are really pushing the line between getting almost enough power from the engine to be competitive, against it lasting the race distance.
Minardi
There is little Minardi can look forward to from Canada, except a long and difficult weekend. Their drivers are inexperienced, and could have an exciting time with the Wall of Champions; their engine is out-dated and de-tuned; their chassis is effectively three years old. Unless it rains – and probably even if it does – there is little chance for them to compete effectively with their rivals here.
The drivers are expected to continue their on track rivalry: Zsolt Baumgartner has now qualified ahead of his teammate at the last two events, so Gianmaria Bruni will need to get back on top of his game to return normal service.
Flashback 2003
The circus arrived in Canada last season with Raikkonen and McLaren Mercedes holding a slender lead in both Championships, after the Finn earned second place in Monaco, with Michael Schumacher third. Montoya had just won that race, and Williams looked like they were coming back together as an outfit.
Qualifying
Tyres proved to be a big factor for most of the weekend: Bridgestone clearly holding an advantage in wet conditions, whilst Michelin's hot weather superiority - particularly on the opening lap - was plain to see.
Surprising just about everyone with his continued run of form, Ralf Schumacher took his second successive pole. A clean lap with a balanced car on Michelin tyres put him half a second clear of the second placed Montoya. His lap was imperfect, but with BMW power on an engine track, sufficient to come in a tenth under Michael Schumacher's time.
The defending World Champion had been exceptional during the wet Friday sessions, but had no answer to Michelin in the dry: his lap was not helped by overshooting the first corner. Nevertheless, whilst never threatening to be fastest, Schumacher's form was solid.
Benefiting from the Heathrow Agreement, Renault made the most of their extra dry-weather running from Friday to have the car properly set up. Come qualifying, this was translated into a sold grid position by Alonso, who arrived fourth, a thousandth slower than the Ferrari ahead: Barrichello was a tenth behind in fifth, having properly locked up his tyres into the first corner.
Mark Webber continued to demonstrate Jaguar's one lap form was excellent with a committed lap to hold sixth, whilst Panis made the most of Toyota's improved handling and strong engine to place seventh. Jarno Trulli's eighth place was good, considering he was second on to the track, and in the spare care.
Further back, McLaren were well off the pace, with Coulthard making a mistake on the final lap that dropped him to eleventh, and Raikkonen at the back after spinning out in the second corner.
Race Highlights
Race day dawned sunny and bright, in contrast to the rain from the previous days, which saw the track temperature rise over thirty degrees by the start. Raikkonen started from the pitlane - with new tyres put on when the race started.
When the lights went out, Ralf Schumacher made a solid start, whilst Schumacher drew alongside Montoya on the way down to the corner – however, the Columbian held his nerve, driving round the outside of Schumacher in the first corner, reclaiming second place. Barrichello was not so clever, running into Alonso in a tussle for fourth at the second corner and losing his front wing. Meanwhile, Pizzonia ran into Trulli, losing his wing and puncturing the Renault's tyre.
At the end of the first lap, Montoya span at the last corner, dropping down to fifth: it was a simple mistake, but led to some racing as he soon re-passed Webber for fourth and eventually Alonso for third.
Montoya was the first to stop, on lap 19, followed by Webber. Ralf made his stop a lap later, freeing Michael to run in clear air. The World Champion promptly set fastest lap and pitted where, despite being stationary for two seconds longer than his brother, he returned to the track ahead of the Williams. Alonso, meanwhile, inherited the lead, until his stop on lap 26. He rejoined in fourth, ahead of the single stopping Raikkonen.
Raikkonen's one stop strategy demonstrated how marginal the tyres were when he lost a tread – fortunately right before the pits, so stopping was not costly.
Michael Schumacher led Ralf and Montoya, with Alonso comfortably in fourth place. The Columbian pitted on lap 45, where a dangling wing mirror was removed, and Michael stopped on lap 48. Ralf stayed out for two more laps, but was not able to pass his brother.
On his last set of tyres, Michael did not look so competitive, but Ralf was unable to find a way past. Montoya soon closed up to his team mate, and held station. For the last five laps, Alonso was behind Montoya, but was never looking like making an attempt to pass.
Ferrari won the race, despite the clearly faster overall pace of Williams, and now led the Championships.
Points paying positions - pitstops
1. M.Schumacher Ferrari 2
2. R.Schumacher Williams-BMW 2
3. Montoya Williams-BMW 2
4. Alonso Renault 2
5. Barrichello Ferrari 2
7. Raikkonen McLaren-Mercedes 1
6. Webber Jaguar-Cosworth 2
8. Panis Toyota 2
Classified : 11 from 20 starters
Fastest lap: Alonso, 1:15.040