---
Power Broker:
Exclusive Interview with Mario Theissen
---
By Biranit Goren, Italy
Atlas F1 Editor in Chief
With a long term contract between BMW and Williams that underlines integration between the engine supplier and the Grove outfit, BMW's Motorsport Director Dr. Mario Theissen is a growing power and a man on a mission. He's already got the engine revving as high as it should, and he's not too worried who will drive for Williams next year. There's just one thing that concerns him at the moment - and it's whether the concept of their package was wrong all along or not. "I hope to find out soon," he tells Biranit Goren, but refuses to write off their Championship chances just yet. Exclusive for Atlas F1

When BMW's Motorsport Director Dr. Mario Theissen is asked in the paddock, how are you feeling? he responds with the same answer, accompanied by a nervous smile: "Ask me on Sunday afternoon." In the last two Grands Prix, in Monaco and at the Nurburgring, there was little doubt how Theissen was feeling when each race was over.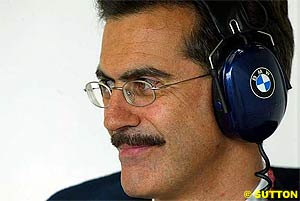 Having challenged for the 2003 Constructors' Championship all the way to the final round of the season and having lost the title primarily due to retirement woes, 2004 was going to be the year where BMW-WilliamsF1 take on the battle from the word Go. Prior to the season's start, virtually every pundit in Formula One predicted the Grove-based outfit will clinch the manufacturers' title for the first time in seven years and give their German engine partners their first Formula One World Championship since 1983.
Seven races into the current season, however, and Williams are fourth in the standings - behind old rivals Ferrari, but also behind Renault and BAR.
And if last year, around about the same time of the season, Williams had turned around their fortunes with a first win in 20 years at the Monaco principality, this year Juan Pablo Montoya finished the race in fourth and a lap behind Renault's winner Jarno Trulli. Could it get any worse? It certainly didn't get better at the Nurburgring, where the Colombian collided with his teammate Ralf Schumacher on the opening lap, effectively taking him out of the race, and finished yet again a lap behind the winner - this time in eighth position.
Theissen, understandably, isn't thrilled about the team's current predicament, although he does put a positive spin on the situation, stating that "it's an interesting challenge for someone in charge, on the management side, and obviously for the leading engineers as well, to think about how to fix that - or, better said, how to improve the performance of our car in a way that we can challenge for the top position."
Prodded more gently to point out why Williams are not doing well, the German - no slouch in his profession, it must be said - dryly points the finger at the team's pre-season preparations, suggesting that perhaps they took the wrong direction in chassis design.
"You need to go back to the winter tests," he explains. "Everybody in the team was quite positive about the development over the winter of the new car. The FW26 worked well from the first test; the new engine, the P84, has been very satisfying so far, and the data clearly showed an improvement over last year's package - tyre-side as well. But we just found out that Ferrari has found a bigger step, and obviously so have two other teams, who had quite a lot of room for improvement. They caught up with us and that's basically what happened.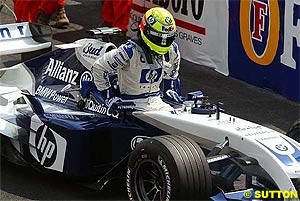 "Having realized that, we increased the effort and development. Obviously we had a development programme scheduled throughout the season, but we intensified this and now we are in a situation like last year - in a working phase, waiting for the improvements to come to the track and really improve the performance of the car."
Q: Last year, you managed to turn around your fortunes in Monaco, and many attribute this to changes in how you used the Michelin tyres rather than changes in the car or engine. Is that something that could be expected again this year, or do you need to comprehensively redesign your car?
Theissen: "Well we won't do a new car during the season or a new engine during the season. In our view this cannot be successful because it detracts so much efforts from the current operations that you can really do this over the winter only. What we did last year was quite significant improvements on the car side - so Williams brought new aero devices every race basically. It was the chassis, suspension, and things like this. That made much more difference than the tyres. And of course we had power development over the season as well on the engine side."
Q: So can we see any correlation between this year and last year, as far as the slow start to the season goes?
Theissen: "It's hard to tell. I have to say that winning in Monaco last year was a big surprise to me. We saw some improvements taking effect but I didn't expect to win there last year, and only after that we were really challenging the top car at that time, which was Ferrari as well. And by mid season it was clear that our car was at least as fast as the Ferrari. So I cannot predict the same thing to happen this year, I can only say we have developments - a development programme running, like last year.
"The question is whether it will pay off the way we expect it to do, and the other question is how quick the competitors develop, because it's always a moving target."
Q: There seems to be a fine line between failure and excellence in F1 nowadays. Is there something now that you look back at this time last year, when you started to win, that you could say made the difference? And if so, is this something that you see yourself doing again this year?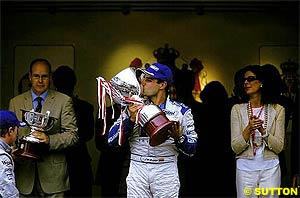 Theissen: "If you look at this small line between success and failure - the big difference there is whether your concept is right or not. If the concept of the car or the engine is not right, you won't be able to fix it in the running season, you'll have to come up with a new concept and that takes time and it requires total focus. If the concept is right - and that's what we found out last year after a few races - and you are just have not been able to exploit the potential of the concept, then you can make it. That's what we did last year. And now we are in the same situation - trying to figure out if we can turn our package into a race-winning package."
Q: When will you know if the concept of the FW26 is right?
Theissen: "I hope soon. But it's not just the FW26, it's the complete package - with the engine and obviously with the tyres very much. So I don't know yet, but I would be happy if we managed the same turnaround [as last year] again and be in contention for the Constructors' Championship in the final race of this season as well."
Q: You don't sound very optimistic, though; it seems like you're not expecting that
Theissen: "From the position where we are now, to be in contention for the Championship would be a big achievement. I also think we lost last year - or we didn't make it finally - due to individual mistakes in all areas of operations, including the drivers. And that's a lot about experience of the team. The team, for the first time, was in the position to challenge for the Championship, and if you look at other teams it normally takes some experience to really make it in these situations. If you look at Ferrari or McLaren - the two teams that won the Championships over the last five or six years - it wasn't at the first try that they won it."
Q: You talk of BMW-Williams as a new team but for the fans, this is the same Williams that has won numerous races and Championships in the past three decades
Theissen: "If I say 'for the first time' I mean for the BMW-WilliamsF1 team, and you have to understand that not only in our team but generally the setup of a team - the operations, the way a team is run - has changed very substantially over the past 10 years. Today it's very much about a well managed project of five, six, seven hundred people, which is quite a different task and takes quite a different approach. And if you take two partners like Williams - certainly very experienced - and BMW - at that time certainly very green - and try to merge this into a Championship contender, that takes time and it is something new. It is not that you can rely on the past experience of one partner and say that because he used to be successful 10 years ago, he will be successful in the new setup right away."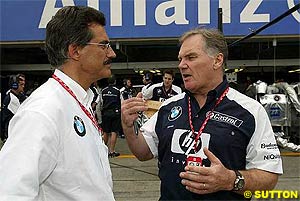 Since signing the new deal between BMW and Williams last year, after months and months of negotiations, Theissen seems to look more in command than ever before. The new deal, based on what information is available, offers BMW a greater involvement in the development and management of the racing team - rather than merely supplying engine units. To some extent - though not quite - BMW and Williams are now following the path of Honda and BAR in search for a more symbiotic integration between the team and engine provider, and while Honda is embedded in the chassis development of BAR as well, BMW are just barely starting to find their way into the core of Williams's engineering.
Reports in previous weeks in the German press suggested the automaker demanded that Patrick Head, Williams's minority shareholder and long standing technical director, be replaced. Head indeed moved aside - assuming the tailor-made title of Director of Engineering and giving way to Sam Michael as the new technical director - but Head himself refuted claims of BMW pressure and insisted it was his choice to leave the track and go back to the factory. Theissen too downplays the role change and shrugs off any innuendos that BMW simply didn't get along with Head's centralistic way of working.
"Well obviously the most apparent thing is the personnel change," Theissen comments, "but in our view the more important step is the structural change, the intention to re-organise the team, to better align the activities on Williams' and BMW's side. To better integrate - fully integrate - the team and BMW. That is something we have to do in order to be really competitive at the top, and the current changes at Williams aim at that target."
Q: Can you give me an example of something that wasn't working that you expect to change following the restructure?
Theissen: "I can give you an example of what could always be better. If you take the area of transmissions, where we have entered into co-operation - it is a joint area of development, of responsibility. So of course you have people at Williams in England, you have people from BMW in Munich, you have test facilities in Munich and others in England, and obviously it's about aligning all these activities.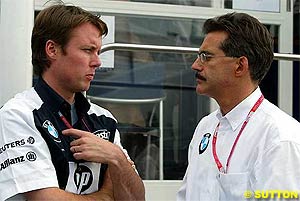 "It's what we would call process re-engineering at Williams, so that all the activities - the work flow, the way people work together, the way the project management will be developed - would become more efficient, and of course to better align the activities on both side. We are working on this, and we are still underway. Things like this don't happen overnight. We have started this process of team integration last year, and it is still an ongoing process; so there are other steps. We haven't reached the ultimate target."
Q: It's now BMW's fifth season since your return to the sport. Did you expect it to take that long to reach that target? Are things working to your plan?
Theissen: "Absolutely. We have been ahead of plan for the first years, certainly. And it was clear that only in the fourth or fifth year we could challenge for the Championship. And in fact last year it was the first time to challenge for the Championship. Obviously this season so far has been more difficult than what we would have wished, but that's part of the game as well - you are not always going steeply up, you will have periods when everything falls in place by itself and other periods where you have to fight for success and that's what see now. And for the engineers and the technical management, these are the really interesting periods.
"On the other hand, I have to say, Renault and BAR-Honda entered the scene at the same time as we did, and I expected them to be right up with us much earlier, right from the beginning. Renault has been the most successful engine supplier in the 90s and Honda has a very good record as well. So it's not really a surprise to me having them heads on with us, I'm just surprised it took them that long."
Q: Are you surprised at McLaren's slope this year, then?
Theissen: "That's what you can never rule out - these difficult phases will hit everybody from time to time. McLaren-Mercedes is in a more severe phase than we are or any other team at the moment, but if you look back, everybody has been in such a situation and they are one of the top teams in terms of resources and experience, so they will certainly overcome that situation."
Speaking of rivals, conventional wisdom last year placed BMW as the most powerful engine on the grid. This year, the experts are divided but Theissen believes they are still leading the pack, or at least share the title among three engines - and he's willing to give out the numbers.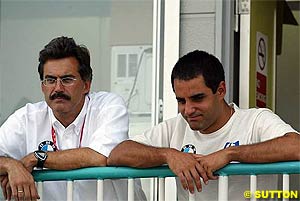 "I think, if you look at the one qualifying lap, there might be three engines that are currently heads-on - Ferrari's, Honda's, and ours," he says. "It's very hard to tell if you have 5 horsepower more or less, you really would need to take out all the engines and put them on the dyno to figure out which is the most powerful. But, generally, I think at least two others have closed in [with us] in terms of the maximum power you can crank out for one qualifying lap.
"Our programme for this year basically consists of three targets: the first target was to go up to 800kms without losing much power and without increasing weight in a big way. That was achieved by the first race already. The second target has been achieved a few weeks ago - basically it was to be able to produce maximum revs and maximum power not just for one qualifying lap but for the complete race, which is the second half of the life of the engine.
"So for the second 400kms, we are now able to go to maximum revs and maximum power, even in top gear - which is very unusual in Formula One, because the engine is stressed highly in top gear; you stay there at top engine speed at Indianapolis, for example, for more than 10 seconds, which is absolutely different to going up to 19,000 and just hitting it and shifting up.
"So it is common in F1 to choose the top gear ratio in a way that you are revving 500 to 1000 lower, and we have overcome this. So I think in race conditions our engine is the most powerful. And over the race distance. And the third target for this season, certainly now, is continued power development."
Q: You said that you've achieved this. Do you mean you've achieved it on the dyno, or in a race?
Theissen: "In a race. For instance, in the Spanish Grand Prix in Barcelona, during the race, we did engine speed in top gear of 18,850. We can go up to 19,000 but if you are in top gear you always have to take into account changing wind conditions or getting into a tow. And so, even if you are able to rev up to the same engine speed, you have to keep a margin of, let's say, two-three hundred in order to give the driver a chance to overtake if he is in a tow or to not run into the rev limiter if he gets some tail wind. And that's the margin you need to take."
Q: It's interesting that you say that, because at the earlier part of the season last year there was a suggestion that the engine was performing better than the car in the overall package of BMW-Williams. Do you think that you've got the same situation now?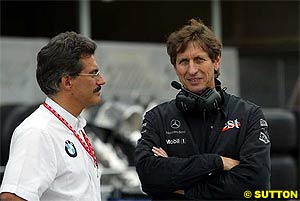 Theissen: "I think in race trim that this is still the case. Because, when talking about an engine that lasts 800kms, it was clear to us that it wouldn't be so important to add another 5 horsepower for one qualifying lap, but much more important to increase race power, and we are certainly beyond what we achieved in the past year in race power already."
Of course, in trying to evaluate the shortcomings of the Williams-BMW package, one cannot ignore the human factor alongside the technical one. Williams have a superb line-up of drivers - both racing and testing. But whereas over a year ago the duo of Montoya and Schumacher was considered the strongest on the grid, this time around both drivers seem to suffer from a lack of harmony with the team that somehow seems to seep into the overall performance.
"Certainly it is an unusual situation for the team to have two drivers that are not signed for the next year, and the team basically not having taken a decision who will race for us next season," Theissen comments. "That is unusual for our team, and it's certainly something to have an eye on and to take care of. But so far, I think, there are more speculations and more rumours outside the team - on how this has been detrimental to the team's performance - than inside. But it's certainly an issue we have to cope with. I think so far it's not a big issue - at least that's my impression. It's not a cause for not being front-runners. But in the end you can only judge on this by the end of the season."
Theissen also refutes any suggestion that his company would like to see Schumacher re-signed due to his German nationality. "It's certainly not important to us," he affirms. "We have always stated we are interested in the two quickest drivers, the two best drivers that are available to the team. And it's not about nationality. It's only important to us to have the two best drivers that we can get."
He won't say which drivers are likely to be their choice - although he no doubt knows better than most what is going through Frank Williams's mind - but instead, Theissen insists the focus right now has to be on their technical package. Monaco this year was the antithesis of Monaco last year, and the hoped turn around has not yet happened.
"So now we have to move on, and the programme we have underway is not aiming at a short term quick success," Theissen says. "We are improving - we are improving the performance of the car generally, and that includes steps which will come in from race to race."
So does that mean he's ready to write off this season and their chances at the Championship?
"No, never!" he says confidently, but that nervous smile spreads across his face again.
Sidebar: Breaking Away from the Breakaway Series

Last year, after many months of negotiations, BMW signed a long term agreement with WilliamsF1. At the same time, however, BMW was - and still is - a major player in the GPWC consortium, along with Mercedes, Renault, Ferrari and Ford. And while BMW the engine supplier made a commitment to Williams, BMW the GPWC-shareholder has threatened to pull out of the sport and form its own breakaway series. Sounds confusing?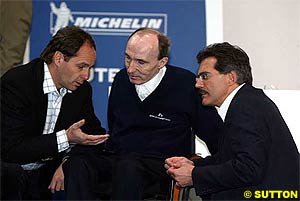 "BMW has always been in motorsport and we always will be in motorsport," Theissen clarifies. "We are in Formula One because it's the top category in motorsport, and certainly we are committed to motorsport - but we are not necessarily committed to Formula One. We are here because in the current setting, it is the number one motorsport. The question is whether it will have this role in the future as well. And that is something BMW has to carefully watch, and then decide on our strategy based on what's going on for the future."
There's seems to be a paradox in that statement, though. Formula One became the pinnacle of motor racing and has been the pinnacle of motor racing in exactly the same kind of business environment that the GPWC is now challenging. BMW's board of directors is saying that the company is not going to stay in Formula One at any cost, not because the series will stop offering a technological challenge, but because the automakers are not happy with how the revenues are distributed among all parties, or the lack of transparency in Bernie Ecclestone's business style.
"It has to do with the future prospects of Formula One," Theissen responds. "If we say that we are not happy with the lack of transparency, it's about long term stability of F1 which we are concerned about. F1 has become such a big business that it is important to be clear how it will be run in five or ten years' time. Everybody who participates here makes a big investment and what GPWC is aiming at, is to achieve long term stability, a healthy situation financially for the teams - not for the manufacturers, we are certainly not aiming to take money from the sport, it's a big commitment financially that we put behind the sport - and as the situation is now, it will go until 2007 under the current setting, and at the moment it's not clear what will happen beyond 2007.
"At the same time we see that it has become more and more difficult for the small teams to compete, and that we haven't gotten a new team into F1 for quite a while. That shows that the situation is fragile, and this is something the GPWC wants to see fixed and stabilised for the future."
Q: Well, the small teams say the big automakers didn't live up to their promise last year, of supplying cheaper engines...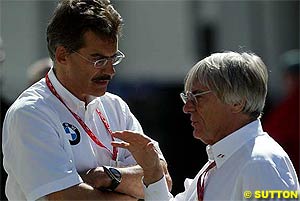 Theissen: "Well, we had the meeting in Monaco [last month] and in that meeting the big teams and the manufacturers showed they are really concerned about the escalation of costs in the past five or ten years in F1 and we really want to contribute to getting this back into a reasonable frame. And if you try to fix a problem, it's not sufficient to just cure one symptom - which would be selling engines to the small teams - but you have to look at the problem in its entirety, especially if you want to set the direction for the next 5 or 10 years. You need to come up with something comprehensive which really addresses all the problems. And that's what we are trying now, we are really working together to find the environment which would be commercially viable for all teams and especially for the smaller teams."
Q: This all sounds very well, but there's one thing in the GPWC platform that is puzzling - how would a breakaway series, if it comes to that, solve all the problems you mentioned?
Theissen: "No one at GPWC says we necessarily want a breakout and separate series."
Q: That's your goal, that's part of the statement released in Barcelona last month
Theissen: "The statement one month ago was... look, under the new circumstances, GPWC will sit together and discuss all the options. Then we'll see."
---
© 1995-2005 Kaizar.Com, Inc. . This service is provided under the Atlas F1
terms and conditions
.
Please
Contact Us
for permission to republish this or any other material from Atlas F1.