by Dieter Rencken, South Africa
Atlas F1 Magazine Writer
This week's rumours and speculations
Fresh from the Formula One paddock

EXPANDING THE CALENDAR
There we are, not even 45% into the most prolific calendar in Formula One history, and already there is serious talk of increasing it to 19 or even 20 races come 2005. And, should this happen, the minnows are sure to drag out their overused begging bowls, for, as always, they will feel the most cost and time pressures.
That Formula One Management and the FIA are looking to expanding the race schedule makes sense: first, Bernie Ecclestone's group has, of late, discovered that newly developing countries are willing to pay way over the odds for the privilege of joining the Formula One trail; second, with the ban on testing during the week of a race, it stands to reason that the more races there are, particularly back-to-backs, the less the opportunities of testing between them.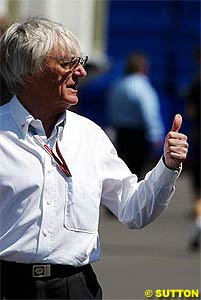 Taking the second point first, since the Spanish Grand Prix on 9 May and extending that period to F1's summer break after the German event on July 25, teams will have had testing opportunities during four block periods only - normally Mondays to Thursdays. In 2003, during the same period, teams enjoyed, if that be the applicable term for endless grinding around tracks, six 'blocks'. So, a 33,3% reduction, year-on-year. By the same token, during that period in 2003, the calendar scheduled eight events in 15 Sundays; this year it is eight in 13.
In fact, so drastically have test workloads decreased that affected team members are admitting to periods of boredom. In Formula One! One test team manager admitted recently that his crew was concerned about its long-term employment prospects. "This year they can't really cut back, because we're back to the normal cycle of testing every two weeks once these back-to-backs are over, but, if it continues like this into next year, cutbacks will be made..."
Of course, entire crews won't be laid off as testing will continue as long as F1 continues, and the better ones will most likely be absorbed into race squads as, by necessity, work loads at races will increase, but, some highly qualified Formula One personnel members are certain to face career realignments, and not necessarily within the sport they have made their life. Remember FIA President Max Mosley's vowed intention to cut testing, and thereby costs?
This could, though, be false economy, for, simply, don't believe for a second that those teams at the sharp end are ever content to let development slip between races. Seven-poster rigs by the row, ever-more accurate wind tunnels and sophisticated software models see to that, whilst intensified on-circuit programmes during sanctioned test periods go some way to making up track-time shortfalls. Never has that truism that teams are not in the Formula One business to add value via profits, but, rather, in the business to add value through assets, been more accurate.
Nor, for that matter, has the other truism - that Formula One spends every bean available, and, if money can't be spent on making cars quicker, it is spend on ever-plusher seats in ever-larger private jets - been better tested than in the present environment. As one technical director, who, tellingly, has his own jet, pointed out: "If it's there, we spend it; it's all just a matter of where, how, when and on what."
So, great, you're well-established if manufacturer-backed, but not so cozy if your budgets don't run to rows of rigs, banks of computers or avenues of wind tunnels, as Jordan and Minardi never tire of pointing out. But fans would rather see racing on 20 Sundays per annum and a reduction in testing, than 16 Grands Prix and endless private grinding.
So, what are the chances of that coming to pass? Pretty good, if F1's present situation is examined. Firstly, in its continuing war with the GPWC, the body established by the five European motor manufacturers, Ecclestone and Mosley need to secure as many circuits as possible. So, if a developing country has Grand Prix aspirations - and, crucially, 'Formula One' and its derivatives are licensed to FOM, whilst 'Grand Prix' is not - what better way of ensuring that they stay within F1 and not stray to the opposition than by tying them up early?
Equally, with Ecclestone's family controlling only 25% of FOM parent organization SLEC, and a consortium of ever-litigious banks holding the balance, what better way of adding to your family's worth than by expanding the business? And, with F1's core business, and, thus, Ecclestone's primary focus, being races, and with all other income streams, such as hosting and promoters fees, television rights, Paddock Club income, signage and merchandising revenue flowing there from, logic dictates that the number of races will, by necessity, increase.
There are, though, the thorny questions of tobacco and Concorde. As Canada discovered to its cost and Austria to its detriment, FOM can, and does, cancel race agreements if tobacco livery is banned. That was the reason originally advanced for the sport's migration out of Europe, but now with China, which, coincidentally, has the most bullish car market on Earth, too, having banned the smokey stuff at its inaugural Grand Prix in September, what grounds other than inflated race fees can be tabled for future non-European inclusion? Their vehicle markets? Whilst Ecclestone is locked in bitter dispute with those who could stand to gain the most, namely the vehicle manufacturers?
With tobacco bans around the globe being announced almost daily, and with most countries now well ahead of Europe's timetable, the old threat is falling away, and, yet, additional non-EU venues, like Turkey, Cyprus, Dubai (which was subject of an FIA inspection a week ago) and Beirut are planning tracks or rumoured to be joining the fray. If they don't offer tobacco livery, then exactly what do they offer? And, if the justification be that the FIA stages world championships, just why is the world's poorest continent - Africa - the only continent to be excluded from any FIA championships in that case?
And, on to Concorde. Veiled, as always, in secrecy, one aspect is known about the covenant which governs Formula One until end-2007, and that is that it specifies a maximum of 17 races per year. Now, with that barrier already breached on the basis that teams would receive "sweeteners" of, 'tis rumoured, $2m each to attend. With ten competing teams, that equates to a $20m disbursement from FOM. Certainly, its boss did not go from a trawler man's son born in 1929 to trustee of the third largest fortune in Britain 75 years later (worth £2,4bn according to the 2003 Sunday Times Rich List) through a distinct lack of business acumen, so, somewhere/somehow more than adequate recovery via hosting fees and all the incremental revenues flowing from an 18th race must be have justified the event.
So, with the precedent set, 19, then 20, races could well follow over the next two years. With Imola pulling out all stops to remain on the calendar, with Austria rumoured to be seeking a way back once its expensive rebuilding programme, partially paid by Volkswagen, is complete, and with Silverstone 'safe' for two years at least, there is no way Formula One can expand around the globe to take in additional venues without extending its calendar.
And, that will entail reduced test teams (which the minnows do not have) increased race teams (which all will need) and intensive simulations - which, according to general consensus, cost more than on-track testing. Polish those bowls, Eddie and Paul.

FERRARI SUCCESSION
Much has been made recently of FIA President Max Mosley's suggestion that Ferrari Sporting Director, and Managing Director-elect of the famous Italian company, Jean Todt, could be the ideal candidate for the too-be-created position of Deputy President of the sport's governing body, responsible only to the President for all sporting aspects.
Could that come to pass? Certainly, the Frenchman, born to expatriate Polish parents shortly after the World War, has impeccable credentials. He began his motor sport career as co-driver in 1966 at the age of 20, whilst studying business economics, and, over the next 15 years, won almost everything going in the world of rallying, including assisting Peugeot Talbot Sport to the world manufacturer's championship in 1981. Concurrently he sat on FIA Rally Commission as competitor representative.
Retiring at end-1981, he turned his hand to team management with his former team, and guided Peugeot to two further driver and manufacturer championships. Paris-Dakar successes followed, then wins at Pikes Peak, and, finally, back-to-back (1992/3) wins at Le Mans and in the FIA World Sports Car Championship with the all-conquering Peugeot sports racers. In 1993 he accepted his present position at a then-demoralised Ferrari, and the rest is real history. A formidable man, then, this Frenchman of but 58 guiding an Italian team, and one eminently qualified for the rough-and-tumble of sporting politics.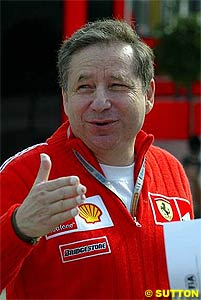 The glee-mongers, of course, will crow should Todt move on, for that, they believe, could be the end of Ferrari's present reign, for whoever fills the pint-sized man's shoes will find them giant-sized. Plus, of course, 'Napoleon's' transfer to FIA pastures could well accelerate Ferrari's rumoured withdrawal from F1, which some factions within the Italian team vow is on.
But, assuming Ferrari remains in the sport (or rebrands its Sporting Division 'Maserati' to spread costs over a larger vehicle sales base), who then could run the Gestione Sportiva? One distinct possibility is Ross Brawn, who, without question, is ready for promotion. But, Ross has oft been heard to hanker after Mother Blighty and her wet cold, so could well rule himself out of the running even if he is in line for the most hallowed position in the paddock.
Who, then, if not Brawn? Ironically there is an Italian running a French team who, apart from the ageing Sir Frank Williams and otherwise occupied Ron Dennis, is the only present team principal save for Todt to have won F1 World Championships. And, he did it thrice: twice the Drivers' with Michael Schumacher whilst at Benetton; once the Constructors' for the same team. Now directing Renault, which arose from the ashes Benetton crumbled to three years after his departure, Flavio Briatore (54) has the additional qualifications of having run the Supertec engine company - and is the only principal, aside from Todt, to have won Grands Prix in the last 20-odd years using totally in-house car/engine designs.
Then there is Briatore's management company, FBM, which holds the long-term contracts of Fernando Alonso and Mark Webber, and is virtually guaranteed to renew its deal with Monaco winner Jarno Trulli. Imagine offering Ferrari a choice from that strength after a Schumacher - initially groomed by Briatore - retires from the sport and Ferrari. Even here there is a twist: the generally accepted timeline for the German's retirement from the sport and Ferrari is end-2006, but recent rumours suggest it may well be a year later, so much is Michael enjoying his career. But, more of the timing anon...
That Briatore is a superb manager and businessman is borne out by his record: he established the Benetton clothing brand in the US in 1977 at age 27; by 1988 the North American operation, under his leadership, had over 800 stores. That year he saw his first Grand Prix as guest of the team-owning Benetton family; a year later he, a total motor racing virgin, had taken over the reigns of the Formula One operation. He snared Schumacher in 1991, and the first drivers' title followed just three years later, the second, plus the Constructors' after a change of engine supplier from Ford to Renault, just a season on. Tellingly, Brawn and Rory Byrne were on his management team. So, no doubting his management skills, or as importantly when talking matters Ferrari, his merchandising abilities.
Flavio, who enjoys close ties to Bernie Ecclestone, has recently allowed that his Renault contract ends after the last race next year, so end-October 2005. The FIA presidential elections, after which the post of Deputy President needs an incubent, take place in October 2005, at which point Todt will have directed Schumacher to, probably, his eighth championship and be ready to move into a seat in Paris or Monaco. Plus, in Maranello, Rubens Barrichello is secure for that 2006 transition year, after which Alonso can move in seamlessly. And Webber (or Trulli) can fill Michael's seat when ready. Finally, of course, Ecclestone has a close ally at Ferrari, just as Concorde expires...
Briatore's lifestyle is positively more Ferrari and certainly less Renault, as can be imagined of a man who owns a Sardinian club entitled The Millionaire and was once rumoured to be starting an airline called 'Billion-Air'. And, with the likes of Naomi Campbell and Heidi Klum - who gave birth to his daughter last month - having graced his arm, and with homes in all the world's hot-spots, he matches the Ferrari profile to the minutest dot.
It all fits, and, don't laugh, either: not too long ago his fellow team principals sneeringly referred to Flavio Briatore as 'That T-shirt Salesman'. No other team principal, aside from said Todt, has won a race this year.
---
© 1995-2005 Kaizar.Com, Inc. . This service is provided under the Atlas F1
terms and conditions
.
Please
Contact Us
for permission to republish this or any other material from Atlas F1.