---
Ann Bradshaw: Point of View
---
By Ann Bradshaw, England
Atlas F1 Special Columnist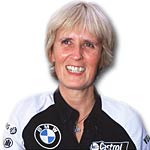 The Spanish Grand Prix, if far from entertaining, at least provided Ann Bradshaw with some memories of more exciting days in the paddock of the Barcelona circuit. In this week's column, she also recalls her time in the paddocks of Magny Cours and Silverstone

I love going to Spain for races and was there just a few weeks ago at the Valencia track for rounds of the FIA European Touring Car Championship. The BMW national teams who I do PR for had a dreadful time at the hands of the Alfa Romeos. Luckily we bounced back and the following weekend we beat them fair and square in Magny Cours.
Last weekend it was the turn of another set of red cars to beat the BMW-powered cars and I can only hope and pray the Williams team can do the same in two weeks when they next race against Ferrari in Monaco. For me, one of the most boring Spanish races at the Barcelona track was in 1999, but Sunday's event runs a close second. If it had not been for the amazing start from Jarno Trulli, there would be little to talk about today apart from the latest record equalled by Michael Schumacher.
Now both him and Nigel Mansell are the only drivers to have won the first five races in a season and, if he wins in Monaco, he will be the first man to make it six. If you care to spend some time looking at the brilliant Marlboro Grand Prix Guide there are still some records for him to break. He is second in the successive victory tally with six against Alberto Ascari on nine. Ayrton Senna still has more pole positions to his name, mind you Michael has 59 and Ayrton 65. I very much doubt he will want to be around to beat the Riccardo Patrese record of 256 Grands Prix disputed, as in Monaco he only notches up his 201st. But rest assured there will not be many records left to break by the time he hangs up his helmet.
The Spanish race has mixed memories for me. I remember 1996 when Damon Hill and Jacques Villeneuve lined up beside each other for Williams on the front row of the grid. The heavens decided to open and Michael Schumacher literally drove round everyone. It was atrocious weather conditions for the entire race. We had six finishers and Michael's Ferrari was 45 seconds ahead of the Benetton of Jean Alesi, a driver famous for great expertise when driving in the wet.
However, that year was not all doom and gloom for me as I met one of the most beautiful men I have ever seen close up. It was the French footballer David Ginola, who was there as a guest of Renault. He was not only handsome but he was also very, very nice. He was a true fan and he was one of those sort of people who, when he asked you a question, looked directly in your eyes. As if this was not enough, he also had a very tactile nature and would touch your arm as he talked to you. However, I noticed when he talked to the Renault PR Man, Jean-Jacques Delaruwiere, he did the same so I didn't get too excited about this. However, I was in seventh heaven and even had a conversation with Georgie Hill about who was better looking him or Damon. Sorry Damon!
We also used to have football matches organised by Camel between drivers and journalists. Riccardo Patrese, who looked great in a pair of shorts, used to have a stylish way about him. I used to think though Nigel Mansell was there to get his own back on every journalist who had written something bad about him, or photographer who had used a flash in the garage to blind him. He would go into these matches full tilt and usually ended up hobbling off the pitch. Frank Williams was never very impressed with any of us for letting him do this. I remember one particular Sunday after the annual Saturday night match when Nigel was sitting in the motorhome with an ice pack on a sore ankle. Luckily Nigel always seemed to have a very quick recovery period, and not much later I even noticed him running across what he believed was a deserted paddock and, needless to say, he went on to win the race.
The first time we went to Barcelona was when the Olympics had still to be run and to see the way the area changed during this period is amazing. However, there is still the abattoir just outside the track and it is impossible to ignore the horrendous smell once the wind is blowing in the wrong direction.
I was not amazed to see another 'nutter' taking to the track in an attempt to cause disruption in the race. Silverstone and Hockenheim have both suffered, and now Spain. They all seem to have very odd messages to get over and I can't help but believe that they would do better standing on a soap box at Speakers' Corner in London's Hyde Park. This way they would find people to listen to their message and would not be dragged kicking and screaming from one of the most dangerous places they could possibly pick to protest. I understand this one was against Capitalism so don't expect he would have many followers either in the paddock or watching the race on TV.
I only have memories of Spanish Grands Prix at the Circuit de Catalunya and in Jerez and I am reliably informed by the older journalists the place to watch F1 cars race in Spain was Montjuich Park in the middle of Barcelona. I have, however, had the chance to see an F1 car run on some of the old circuit as in the days when Rothmans sponsored WilliamsF1 they arranged for David Coulthard to do a demonstration on part of the old circuit. It was stunning but scary as there were only small barriers between him and the spectators. From what I could gather things were not too different to how they were when the GP was run there four times between 1969 and 1975 in the days when the race alternated between there and Jarama.
As I mentioned above, my ETCC drivers did well in Magny Cours, but sadly one of our privateers did not make the grid. The lovely Paulien Zwart, who is new to the series this year, had a very nasty accident before the weekend started and ended up in Magny Cours hospital. We all missed her very much but the most heart warming part of the story was the way her boyfriend and teammate, Tom Coronel, came to her rescue. I have written stories in this column about Tom and his party antics and I know some of his mates in Japan have been interested to hear what he gets up to in Europe. However, this time he was a real gem.
He was first on the scene of the accident and was able to assure her and keep her calm. Once she was in hospital with a broken pelvis and ankle he was there by her side and even slept on a small put-you-up beside her bed. When not working at the circuit he was a regular visitor at her bedside and her mother took over the night duties so he could get some sleep ready for the race. Then on the day after the race he was in the ambulance with her for the eight hour drive back to Holland.
Last weekend I was again watching the Grand Prix in the company of my Formula BMW UK Championship boys at Silverstone. It was a typical Silverstone weekend where the weather was concerned. It didn't know whether to rain or stay dry and needless to say the youngsters had some pretty steep learning curves. Several had not driven the cars in the wet and others who had were still caught out by the conditions. It is fun to hear their comments after the races and I was interested that championship leader Tim Bridgman had brake problems in his race. He was getting very excited about the problem this caused him and, of course, as I have never driven a formula car of any sort I could not imagine what it was like.
However, I was able to tell him that he was not alone as Juan Pablo Montoya had had total brake failure in the Spanish race. Mind you, my boy's problem was nothing compared to that of Juan Pablo as when he came into the pits he suffered total brake failure and had the prospect of knocking down his front jack man. I think Juan Pablo's comment could be taken as a good example of how to take the good with the bad. "I've had this before and it's not worth getting annoyed about. You just have to learn from the experience and work hard to address the problem," was his quote. Motor sport is full of highs and lows and Tim also had a low when given a ten second penalty for a false start. My heart bled for him as he drove a great race and held off a very hard charging Josh Fisher despite the brake problem.
Hopefully he will be able to look at this the way JPM did, despite the fact he is young and perhaps takes these sort of knocks too personally. He has great character and, both in and out of the car, has that air or someone who knows what he is doing and is destined to do well in his chosen sport. The championship still has 14 races to run and if I was a betting person I might put the odd bob or two on him. Remember the name as you just may see it on a Grand Prix entry list one day.

About the author:
Ann Bradshaw - Annie - began her motor racing career as a teenager, helping out her brother in local rally races in England, where she grew up. In the 1970s she organised motor racing events in England, and was later the press officer for the RAC MSA - the motorsport governing body in Britain. In mid 1980s, she became press officer to team Lotus, where she worked with Ayrton Senna. Shortly after, she moved to the Williams team and was working there for several years, when once again she found herself working with Senna. She worked with Damon Hill after the Brazilian's death, and moved with the British Champion to Arrows. She also worked with the Panoz team in the United States, before becoming a freelance press officer, now working with BMW among others. Annie joined Atlas F1 as a regular columnist in April 2002.

---
© 1995-2005 Kaizar.Com, Inc. . This service is provided under the Atlas F1
terms and conditions
.
Please
Contact Us
for permission to republish this or any other material from Atlas F1.