---
Bjorn Wirdheim: Going Places
---
By Bjorn Wirdheim, Sweden
Atlas F1 Special Columnist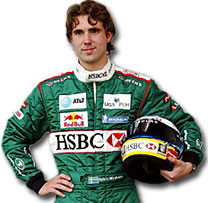 Bjorn Wirdheim is a fresh addition to the Formula One paddock. Intelligent, humble and hard working, the F3000 Champion made his debut in Melbourne as Jaguar's third driver - a stop on his way to a fulltime F1 racing career. In an exclusive column for Atlas F1, Bjorn will share his experience over the 2004 season and tell us in his own words about the technical and personal challenges he faces throughout the year.

This Week: Bjorn delves into his aerodynamic testing duties and talks about how to drive a perfect lap in F1

It was really good to come back to Barcelona again after my recent tests there. The first time I visited the circuit was in 1997 with Paul Stewart Racing to test Formula Vauxhall; the test was arranged by Stefan Johansson as he was looking for a new driver to promote. There were six of us; we were all Scandinavian but different nationalities, and I remember we stayed at a local hotel near the track. Stefan didn't like it and got us moved into the Grand Hotel in Barcelona, which was nice!
And that's the only time I've had a chance to look around the city centre. The thing is when you come to the European races you arrive on Wednesday evening and leave on Sunday evening, so there's just no time to look around, whereas when you go to the overseas races you get to spend more time seeing the sights because you've got to get used to the time difference, so usually at least the drivers arrive some time in advance.
My previous Formula One test in Barcelona helped me; it is so much easier if you've driven a Formula One car around a circuit already, because you know the braking points, you know how much speed you can carry into the corners and so on. My confidence was quite strong before I even got into the car, and I knew I could a good job for the team as I could get on the pace straight away.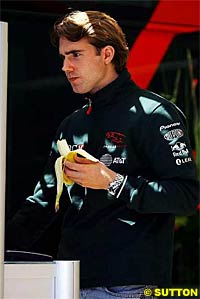 I had done some straight line testing in Lommel, Belgium, the week before, mostly to look at aerodynamics and to test a few new parts that the team had developed. Fortunately the weather was good and we managed to get through the whole programme, which meant that I could actually continue testing those parts in the free practice sessions in Barcelona. The tests went well and hopefully we'll be able to use these parts soon.
In my sessions I just concentrated on testing the new parts; Christian and Mark were comparing the different tyre-types for the race this time. We had quite a few new things to put on the car, and we needed to try out the different combinations. For this you usually start out with the old car in the previous race's spec and run it briefly before you bolt the new parts on and go out with them. The engineers can then measure them back to back.
I didn't really have to do anything too different; I just kept it in the back of my head, and if I noticed anything about how the car was handling I would tell the engineers because it could be down to a new parts we were testing. The engineers meassure the loads on the car and in case the handling differs from earlier runs they want to know about it in detail.
Personally I had two good sessions in Barcelona; I ran three sets of new tyres in the morning and another three sets in the afternoon. The runs were shorter than for example at Imola as we had quite a big programme to run through. I am starting to understand how to use the new tyres, and the lap times show that as well; this time I was only about five tenths off Mark which is a good improvement.
My quickest lap was pretty conservative, but I think that's the key to actually getting a good lap time; it's so easy to overdrive these cars, and when you do you lose a lot. If you make what is only a small mistake it can turn into a big loss in a Formula One car, whereas in a Formula 3000 car it would be a small loss; it makes such a difference now. It's quite interesting to drive this way; although it feels like you're not pushing absolutely flat out it's the best way to do it.
It's hard to explain the kind of feeling you get driving this way; obviously you're pushing hard, but you're pushing hard in a different way. The normal thing you do when you've not got the experience is to force the car; you brake as hard as you can and as late as you can, steer through the corner and get on the power as hard as you can, but you do everything really aggressively; but the way to be quick here is to be smooth. You have to keep the same feeling in your head, but make use of it in a different way.
Being this close to Mark when it came to laptimes was good for me; now that I'm back on circuits I know it is easier to just concentrate on the job itself rather than learning a track first, and obviously he has to be a target for me to aim towards. Of course our cars are not always the same, so I'm not always able to be as quick as him, but in Barcelona they were similar which was positive as it's important to feel that you are making progress.
I have definitely improved on my first lap times; previously I was doing some good sectors but not necessarily joining them up for a full lap; that has definitely improved. I think my improvement from Imola to Barcelona was for a few reasons, but mostly in order to do it I need to be a bit more conservative and not push so hard, because that's when you make mistakes; that's what I've learned since Imola.
Another thing I did a lot of last weekend was meeting with guests of the team. Barcelona is a nice place to invite guests to, and there were a lot more of them than usual. I had a few functions in the Paddock Club, on top of which there were a couple of functions in the evenings because there were dinners arranged by the sponsors for their guest which we needed to attend. We always try to turn up to as many as possible, and on Friday alone I had three to attend. Together with the other drivers I would be introduced to the guests, have a short question and answer session and then move on to the next one. I got back to my hotel a lot later than usual that night, but at least they didn't make me eat at each of the dinners!
Unfortunately the result on Sunday was not what we were hoping for; in fact Mark seemed to struggle with grip during his second stint, and on his third he was back on the pace again. As always, we'll keep working hard to improve for Monaco.
På återhörande,


Bjorn Wirdheim's column is written exclusively for Atlas F1 by Bjorn himself, with the assistance of David Cameron. Click here for Bjorn's official website.
---
© 1995-2005 Kaizar.Com, Inc. . This service is provided under the Atlas F1
terms and conditions
.
Please
Contact Us
for permission to republish this or any other material from Atlas F1.