---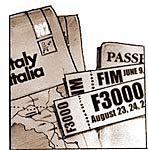 Elsewhere in Racing
Updates from the Rest of the Racing World
---
By Mark Alan Jones and David Wright, Australia
Atlas F1 Magazine Writers
Advice: The points tables for most series covered by Elsewhere In Racing are available here. Individual series are linked to their corresponding points table after each report.
Formula 3000
Liuzzi Two
Emulating the lead driver from the series they share dates with, Vitantonio Liuzzi has copied Michael Schumacher's approach to the start of the season, and has won both races to start the International Formula 3000 season. Liuzzi won the start to lead all bar one lap of the 33 lap race at the Spanish circuit to take an eleven second victory ahead of round one runner-up Enrico Toccacelo. Raffaele Giammaria took third place for the IE Engineering team.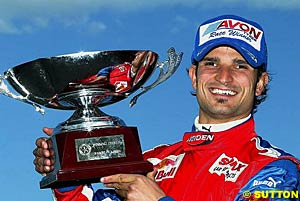 The two front runners from Imola filled the front row after qualifying, with Toccacelo taking BCN's first Formula 3000 pole position. Liuzzi was almost three tenths behind in second position. Three thousandths seperated the two second row cars with Yannick Schroeder third in the Durango car ahead of Robert Doornbos in the first of the Arden Lolas. One of Formula 3000's rookies, Alan van der Merwe was next alongside the most experienced driver in this category, Tomas Enge. Tony Schmidt failed to qualify after a clutch failure sidelined Ma-Con Engineering's German driver, and so he spent his birthday watching from the sidelines.
Toccacelo bogged down at the start allowing Liuzzi to stream past into the lead with Schroeder, a fast starting Enge, van der Merwe and a slow Giammaria next. Enge's great start couldn't make up for other deficiencies and was soon sliding back downfield as van der Merwe and Giammaria started to recover lost ground.
Van der Merwe was forcing his way forward, slotting into third past Schroeder on lap six, while up front Liuzzi was rushing away from Toccacelo at around half a second a lap. Jeff van Hooydonk began the pitstops, stopping from ninth having just lost a spot to the flying Esteban Guerrieri. Enge and Mattias Lauda quickly followed with Schroeder stopping from fifth on lap 11.
Giammaria had gotten past Schroeder prior to his stop and was comfortable in fourth place ahead of Robert Doornbos until the pair stopped together on lap 13. A lap later Toccacelo made his stop and van der Merwe was up to second. A lap later the reigning British Formula 3 champion led for a lap when Liuzzi stopped. It would last just a sinlge lap as van der Merwe was on his in lap and rejoined in sixth. Jeff van Hooydonk, who had made the best pit decision coming in early had climbed into third, while Enge and Schroeder were in close company across the start finish line. The pair clashed four corners later and ended their race in the sand trap.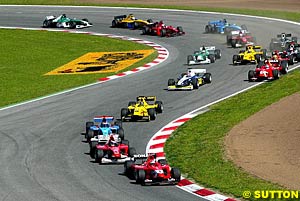 This brought Giammaria up to fifth as van der Merwe inherited fourth, with Lauda in sixth place. But Lauda was off the pace and three cars would go by the second generation Austrian racing driver in the coming laps.
The battle for third had tightened with Giammaria passing van der Merwe and lining up van Hooydonk. The attempt at taking third failed, allowing van der Merwe to regain fourth. When van der Merwe pressed his own claims on third the two clashed and Giammaria was quickly past the pair of them. Van Hooydonk retired on the spot, while van der Merwe continued, only to be black flagged to have his damaged front wing attended. The South African pitted with four laps to go.
Up front Liuzzi and Toccacelo had first and second all to themselves. Not threatened from ahead or behind since the start, the pair duplicated their Imola result. Giammaria took third, while attrition and ambition of others allowed Patrick Friesacher to move into fourth after a consistent run through the pack. Toccacelo's rookie teammate Esteban Guerrieri flew through the field to claim fifth ahead of the CMS pair of Jose Maria Lopez and Mathias Lauda. Rodrigo Ribeiro took the final point.
Liuzzi now holds a four point lead over Toccacelo, who in turn has five points on Giammaria. The glamour event of the Formula 3000 season beckons at Monaco in two weeks.
Result of International Formula 3000 Championship, Round 2 of 10, Catalunya, Spain:

Pos  Driver               Team
 1.  Vitantonio Liuzzi    Arden International Lola-Zytek
 2.  Enrico Toccacelo     BCN Competicion Lola-Zytek
 3.  Raffaele Giammaria   I.E. Engineering Lola-Zytek
 4.  Patrick Friesacher   Super Nova Racing Lola-Zytek
 5.  Esteban Guerrieri    BCN Competicion Lola-Zytek
 6.  Jose Maria Lopez     CMS Performance Lola-Zytek
 7.  Mathias Lauda        CMS Performance Lola-Zytek
 8.  Rodrigo Ribeiro      Durango Formula Lola-Zytek
 9.  Nico Verdonck        Team Astromega Lola-Zytek
10.  Can Artam            Coloni Motorsport Lola-Zytek

Standings: Vitantonio Liuzzi 20, Enrico Toccacelo 16, Raffaele Giammaria 11, Robert Doornbos 6, Patrick Friesacher 5, Tomas Enge and Esteban Guerrieri 4, Jeffrey van Hooydonk and Jose Maria Lopez 3, Yannick Schroeder and Mathias Lauda 2 etc
DTM
Albers's Desperate Duel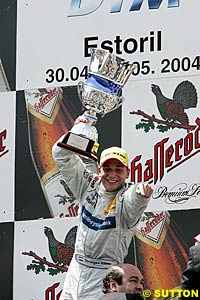 2003 DTM vice champion Christijan Albers improved on his second placing from the season's opening race, taking victory at round two. The Mercedes driver put on a wonderful display for the packed crowd with a close but clean race-long battle with Audi's Mattias Ekstrom.
Ekstrom led the field after qualifying, over two tenths clear of Albers with round one winner Gary Paffett third fastest. 13 cars were within a second of Ekstrom's time, but only ten went through to super-pole. The closeness of those times was emphasized when second man out, Opel's Timo Scheider, set a time that wouldn't be beaten until Paffett emerged to snatch top time for Mercedes, but Ekstrom was the man for the moment and the last man out took pole position with a 1:34.039 on the former home of the Portuguese Grand Prix. Martin Tomczyk would start fourth ahead of Tom Kristensen and Albers.
Ekstrom won the start while Paffett blasted past Albers, with Scheider also passing the young Mercedes driver on the run to the first turn. Kristensen also started well, moving onto the grass and losing his advantage just as quickly. Further back, Jean Alesi and Heinz-Harald Frenzten resumed an old rivalry as the two Grand Prix winners fought over eighth place in the early running. It was a fight that would see the German off track and heading pitwards.
As lap six began so did the pitstops with Ekstrom leading Scheider, Kristensen and five other cars in for tyres. A lap later, new race leader Paffett lead Albers, Tomczyk and others into pit lane. Paffett resumed in the lead with Ekstrom and Albers breathing down his neck, but Paffett made his second stop almost immediately and Albers was able to take the lead from Ekstrom with Scheider keeping a watching brief behind.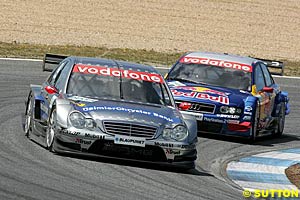 By lap 19 the leaders had completed their second stop and Albers and Ekstrom were fighting hard for the lead. Scheider held third until a mistake cost him three places promoting Tomczyk, Kristensen and Bernd Schneider. By this stage Paffett was out of the race, again Mercedes struggling with reliability.
Ekstrom tried what he could over a desperate final few laps, but Albers held firm to take the win and the series points lead. Audi got a second car onto the podium with Tomczyk sandwiched by teammates Ekstrom and Kristensen. Schneider took fifth place, not allowing Scheider to regain any of the places he lost. Scheider was the first Opel with Alesi and Laurent Aiello completing the points finishers.
Albers holds a four point lead over Ekstrom in the title race with Tomczyk, Kristensen and Paffett all another four points behind.
Result of Deutsche Tourenwagen Masters, Round 2 of 10, Estoril, Portugal:

Pos  Driver              Car
 1.  Christijan Albers   AMG Mercedes-Benz C Class
 2.  Mattias Ekstrom     Abt Sportsline Audi A4 DTM
 3.  Martin Tomczyk      Abt Sportsline Audi A4 DTM
 4.  Tom Kristensen      Abt Sportsline Audi A4 DTM
 5.  Bernd Schneider     AMG Mercedes-Benz C Class
 6.  Timo Scheider       Team Holzer Opel Vectra GTS V8
 7.  Jean Alesi          AMG Mercedes-Benz C Class
 8.  Laurent Aiello      Team Phoenix Opel Vectra GTS V8
 9.  Peter Dumbreck      Team Phoenix Opel Vectra GTS V8
10.  Christian Abt       Abt Sportsline Audi A4 DTM

Standings: Christijan Albers 18, Mattias Ekstrom 14, Martin Tomczyk, Tom Kristensen and Gary Paffett 10, Bernd Schneider and Timo Scheider 4, Peter Dumbreck 3, Jean Alesi and Emanuele Pirro 2 etc.
LMES
Audi Sport UK Launches LMES
For several seasons, European sportscar racing has been in the doldrums. The European Le Mans Series collapsed after a single season and grids for the FIA Sportscar Championship have been falling for years.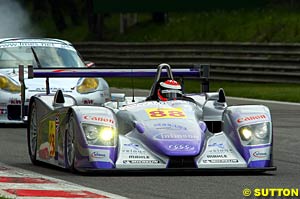 Forty cars appeared for the reborn Monza 1000 sportscar classic, the grid itself looking new, certainly in size, as well as a group of new and near new prototypes. Indeed one of them, Zytek Engineering's 04S, the latest iteration of Reynard's last design, even climbed onto the front row of the grid in qualifying. However the tale of the race was familiar as Audi filled all three podium positions, with Brits Johnny Herbert and Jamie Davies taking victory for Audi Sport UK.
The Audis led one-two in the early laps, chased by the Zytek Reynard. Andy Wallace passed Herbert for second and challenged Allan McNish for the lead until a brake problem manifested itself. The team continued on, keeping a pace well up in the field, but the chances of a top finish were gone.
The third Audi, the Japanese Team Goh entry, took up third place as the Zytek car faltered. As the race continued, the three Audis traded places with each other, with the Reynard 03S of Creation Asportif keeping in touch to intermingle during pitstops only to stop as the final third of the race began with damage to the gearbox after a rear suspension collapse.
From there the Audis had no opposition other than the weather. Initially just light rain fell, but conditions closed in and by race's end it was quite dark and wet weather tyres were required. The two Audi Sport UK cars finished in formation, a lap ahead of the Team Goh entry. Four laps down was the first non-Audi, the Judd-powered Courage C60 entered by Pescarolo Sport who in turn were a lap ahead of the much travelled Dallara LMP belonging to Rollcentre Racing. The Zytek Reynard lost eight laps to the Audis but was still four laps clear of the first Lola, a former MG EX257 newly acquired by Ray Mallock Limited. The alternate fueled Nasamax prototype made an impressive debut to finish eighth, 15 laps down.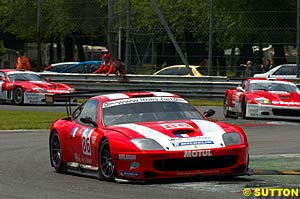 Ninth outright was the top LMGTS car, the Ferrari 550 of Christophe Bouchut, Pedro Lamy and Steve Zacchia. They finished three laps ahead of the newer model 575 Maranello of Thomas Biagi, John Bosch and Danny Sullivan. No other cars finished the race in GTS class, with the other Ferraris, Vipers and Saleens retiring.
LMGT saw the familiar Ferrari/Porsche battle go right down to the wire, with Freisinger Motorsport's Porsche 996 of Stephane Ortelli and Romain Dumas beating the JMB Ferrari 360 Modena of Stephane Daoudi, Jamie Melo Jr and Roman Rusinof by 51 seconds after five hours of racing. Third in class was the Porsche 996 of Choro Q Racing, with Nishizawa Kazuyuki, Haruki Kurosowa and Manabu Orido at the wheel.
Only one LMP2 prototype made the finish, PIR Competiton's Pilbeam MP91 of Marc Rostan and Pierre Bruneau which was over forty laps behind the Audis and the 18th of 19 classified finishers.
Result of Le Mans Endurance Series, Round 1 of 4, Monza 1000, Italy:


Pos  Drivers                                       Car
 1.  Jamie Davies/Johnny Herbert                   Audi R8
 2.  Pierre Kaffer/Allan McNish                    Audi R8
 3.  Seiji Ara/Rinaldo Capello/Tom Kristensen      Audi R8
 4.  Soheil Ayari/Emmanuel Collard                 Courage C60 Judd
 5.  Joao Barbosa/Rob Barff/Martin Short           Dallara LMP2001 Judd
 6.  David Brabham/Stefan Johansson/Andy Wallace   IRM-Reynard 04S Zytek
 7.  Thomas Erdos/Mike Newton/Miguel Ramos         Lola EX257 MG
 8.  Werner Lupberger/Robbie Stirling              DM139 LMP1 Judd
 9.  Christophe Bouchut/Pedro Lamy/Steve Zacchia   Ferrari 550 Maranello
                                                   (1st LMGTS)
10.  Thomas Biagi/John Bosch/Danny Sullivan        Ferrari 575M Maranello
                                                   (2nd LMGTS)

ETCC
BMW Evens The Score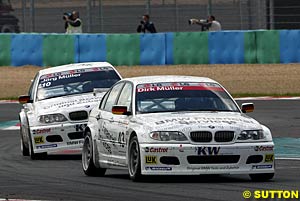 Last season Alfa Romeo got a flying start to the season with BMW coming home as the season progressed. Much the same is happening in this year's ETCC, as BMW chalk up their first two chequered flags of the season with Dirk Muller and Andy Priaulx each taking a win at the French circuit of Magny-Cours.
Qualifying hinted at the potential results with an all Muller front row, Jorg on the pole. Alfas were not to be seen until Augusto Farfus in sixth position sat behind the BMWs of Priaulx and Antonio Garcia. But who was in third? Yellow and silver paint sparkling in the sun was the SEAT Toledo of Frank Diefenbacher, just under two tenths behind Jorg Muller. Rickard Rydell also had a SEAT in the top ten, behind the factory Alfas of Tarquini and Giovanardi and ahead of Michele Bartyan's privately run Alfa.
Diefenbacher's qualifying brilliance came to nought as he and Priaulx clashed as the Mullers took off. The damaged pair were swamped as Garcia led Farfus, a fast starting Tom Coronel, Giovanardi, Tarquini and Rydell. Coronel's brilliant start evaporated along with his driveshaft.
The Mullers raced away and Dirk took the win after outbraking Jorg into the Adelaide hairpin with two laps to go. Farfus took Garcia for third on the second lap but his teammates ran out of time to find a way past the Spanish BMW. Rydell was between the Alfas for much of the race until engine failure wrecked a promoising SEAT points haul, although Jordi Gene did finish seventh. Priaulx took the final point after the battle between Gene and Luca Rangoni saw the Oregon Alfa pitched aside.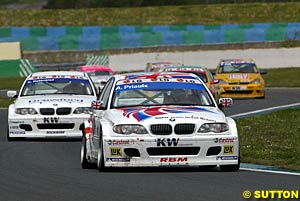 With the top eight reversed, Priaulx was given a heaven-sent opportunity to make up for his first race indiscretion. He seized it with both hands and promptly raced away from Gene at the start. Garcia was embroiled in battle with three Alfa Romeos and failed to complete the first lap intact.
Electrics claimed Gene and SEAT's curse was complete. The Alfas settled to fight over second in Priaulx's wake with Tarquini moving into second after Farfus and Giovanardi clashed on lap 3. Farfus took a few laps to have another go at Giovanardi and succeeded this time. With a lap to go, Jorg Muller too found a way past the 2002 champion. Dirk Muller recovered from a dreadful start to take sixth place while the new BMW Belgium team car of Kurt Mollekens stepped smartly into the points ahead of the flying Coronel.
Top five finishes in both races means Tarquini now holds a five point lead over Jorg Muller and six over Dirk Muller. Giovanardi is just another point further away, two ahead of Priaulx while Farfus is some distance ahead of Garcia.
Result of European Touring Car Championship, Round 3 of 11, Magny-Cours, France:

Race One

Pos  Driver                Car
 1.  Dirk Muller           BMW Team Deutschland BMW 320i
 2.  Jorg Muller           BMW Team Deutschland BMW 320i
 3.  Augusto Farfus        AutoDelta Alfa Romeo 156 S2000
 4.  Antonio Garcia        BMW Team Italy-Spain BMW 320i
 5.  Gabriele Tarquini     AutoDelta Alfa Romeo 156 S2000
 6.  Fabrizio Giovanardi   AutoDelta Alfa Romeo 156 S2000
 7.  Jordi Gene            SEAT Sport SEAT Toledo Cupra
 8.  Andy Priaulx          BMW Team Great Britain BMW 320i
 9.  Michele Bartyan       Oregon Team Alfa Romeo 156 Gta
10.  Stefano D'Aste        Proteam Motorsport BMW 320i

Race Two

Pos  Driver                Car
 1.  Andy Priaulx          BMW Team Great Britain BMW 320i
 2.  Gabriele Tarquini     AutoDelta Alfa Romeo 156 S2000
 3.  Augusto Farfus        AutoDelta Alfa Romeo 156 S2000
 4.  Jorg Muller           BMW Team Deutschland BMW 320i
 5.  Fabrizio Giovanardi   AutoDelta Alfa Romeo 156 S2000
 6.  Dirk Muller           BMW Team Deutschland BMW 320i
 7.  Kurt Mollekens        BMW Team Belgium-Luxembourg BMW 320i
 8.  Tom Coronel           Carly Motors BMW 320i
 9.  Stefano D'Aste        Proteam Motorsport BMW 320i
10.  Alessandro Balzan     JAS Motorsport Honda Accord Type-R

Standings: Gabriele Tarquini 40, Jorg Muller 35, Dirk Muller 34, Fabrizio Giovanardi 33, Andy Priaulx 31, Augusto Farfus 24, Antonio Garcia 10, Tom Coronel 9, Frank Diefenbacher 6, Jordi Gene 4 etc.
Rally
Teams All At Sea As Cyprus Rally Hit By Ship Delay
By Michele Kambas
The world's top drivers prepared for the Cyprus Rally in rental cars on Wednesday after storms at sea delayed the ship transporting their race and support vehicles. The problem left organisers with just 24 hours to have everything ready before the rally starts in Limassol on Friday morning.
"The ship with the equipment will be arriving at midnight and by 6.00 a.m. (0300 GMT) on Thursday everything will be discharged. We are working around the clock," said a spokesman for the organisers. "It is not going to have any impact on the rally itself," he added.
The governing International Automobile Federation (FIA) said the service park would remain open throughout Wednesday night to enable teams to set up the rally cars in time.
The ship carrying the equipment was initially due in on Monday morning but bad weather in the Mediterranean and gale force winds delayed its scheduled departure from Salerno in Italy last week. That forced organisers to cut two hours off a shakedown run in the Stavrovouni area on Thursday.
Teams had to hire cars for Wednesday's reconnaisance stage, which posed another difficulty because cars in Cyprus are right hand drive.
"The only downside was that the recce was carried out in right-hand drive rental cars and the drivers are used to driving left-hand drive cars on the special stages," one team spokesman told the organisers' website. "But it's the same for everyone. We have all been in the same boat."
The rally is the fifth leg of the championship, led by Estonian Markko Martin in a Ford, and the first of three consecutive events in the eastern Mediterranean. Ford also lead the manufacturers' standings, nine points clear of champions Citroen.
Martin, a point clear of Citroen's French challenger Sebastien Loeb, can expect a frustrating opening day as the first starter serving as a road sweeper for those further down the running order.
The rally is the slowest on the calendar and runs over rocky tracks high in the Troodos mountains, covering a total distance of 1,146.4 kilometres with 18 special stages over 336.6 km.
"The roads are slow and twisty and a driver must find the right balance between speed and aggression," said Martin. "It's a totally different approach from the previous round in New Zealand and it can be quite frustrating.
"Because the roads are slow, there is often the feeling of not driving fast enough. But if you push too hard, you risk sliding off the line and losing time."
Report provided by Reuters
Upcoming Events Calendar
May 14 - World Rally Championship, Round 5 of 16, Cyprus Rally
May 15 - NASCAR Nextel Cup, Round 11 of 36, Richmond International Speedway, Virginia, United States
May 16 - World Motorcycle Championship, Round 3 of 16, Le Mans Bugatti, France
May 16 - Deutsche Tourenwagen Masters, Round 3 of 10, Adria, Italy
May 16 - FIA GT Championship, Round 4 of 11, Hockenheim, Germany
May 16 - European Touring Car Championship, Round 4 of 11, Hockenheim, Germany
May 16 - European Formula 3 Championship, Round 2 of 9, Adria, Italy
May 16 - British Formula 3 Championship, Rounds 7 & 8 of 24, Knockhill, Scotland, Great Britain
May 16 - World Superbike Championship, Round 4 of 11, Monza, Italy
May 22 - NASCAR Nextel All-Star Challenge, Charlotte Motor Speedway, North Carolina, United States
May 22 - International Formula 3000 Championship, Round 3 of 10, Monte Carlo, Monaco
May 22 - V8 Supercar Championship Series, Round 4 of 13, Hidden Valley, Australia
May 23 - Champ Car World Series, Round 2 of 14, Fundidora Park, Mexico
May 23 - World Series by Nissan, Round 3 of 9, Magny-Cours, France
May 23 - British Touring Car Championship, Round 4 of 10, Oulton Park, Great Britain
May 28 - Asia Pacific Rally Championship, Round 2 of 6, Rallye de Nouvelle-Cale'donie, New Caledonia, New Caledonia
May 29 - International Formula 3000 Championship, Round 4 of 10, Nurburgring, Germany
May 29 - European Formula 3 Championship, Round 3 of 9, Pau Street Circuit, France
May 30 - Indianapolis 500, Indy Racing League, Round 4 of 16, Indianapolis Motor Speedway, Indiana, United States
May 30 - NASCAR Nextel Cup, Round 12 of 36, Charlotte Motor Speedway, North Carolina, United States
May 30 - FIA GT Championship, Round 5 of 11, Brno, Czech Republic
May 30 - European Touring Car Championship, Round 5 of 11, Brno, Czech Republic
May 30 - European Formula 3000 Championship, Round 2, Estoril, Portugal
May 30 - World Superbike Championship, Round 5 of 11, Oschersleben, Germany
May 31 - British Formula 3 Championship, Rounds 9 & 10 of 24, Snetterton, Great Britain
---
© 1995-2005 Kaizar.Com, Inc. . This service is provided under the Atlas F1
terms and conditions
.
Please
Contact Us
for permission to republish this or any other material from Atlas F1.