by Dieter Rencken, South Africa
Atlas F1 Magazine Writer
This week's rumours and speculations
Fresh from the Formula One paddock

ARRIVEDERCI FERRARI?
Will Ferrari ever be beaten? Yes: it is a Formula One inevitability that, from somewhere, a team will rise and displace the red cars at the top of the heap. It may happen this season (doubtful), next year (possible), or in 2006 (probable); but happen, sooner or later, it will.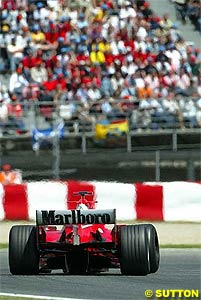 And, the last thing the Rampant Stallion needs is a drubbing ala 1991 - 1995, when it won just two Grands Prix in 87 starts, having challenged for the championship via five wins with Alain Prost and Nigel Mansell in 1990. Equally, having set record after record, how do they prevent tarnishing the recent silverware? Already Rory Byrne has confirmed that retirement looms at the end of his present contract - which, somewhat conveniently, expires at the same time as Michael Schumacher's. And Ross Brawn's. And the other RB. And. And. And.
Last week Jean Todt stepped up to the position of Director-General, taking over certain duties from Luca di Montezemolo, who will head Confindustria, the Italian union of employers. So, expect a dilution of their commitment to Formula One.
The present performance of McLaren, which has built its 'Paragon' Technology Centre and designed, developed and put into production the Mercedes-McLaren SLR in short succession, is nightmarish proof that Formula One operations are extremely sensitive entities requiring full commitment. If you then mix in some Italian politics…
Then there is Bridgestone's dilemma should FIA President Max Mosley's control tyre regulation be introduced before expiration of Concorde. Does the company tender to remain in Formula One, at great cost, without competition, or just pack it in and rest on its not inconsiderable laurels? In fact, will it even tender, given that the contract, in all probability, will go a Korean manufacturer willing to pay heavily to be perceived to be conquering all? Doubtful, according to one Bridgestone source.
There is one way out of all this, and it solves many of Ferrari's (and Bridgestone's) future problems in one fell swoop: leave Formula One. Yes, as unthinkable as Formula One without Ferrari may be, that is more than a distinct possibility. Ferrari is no longer the sole preserve of Gruppo Fiat (which appointed di Montezemolo) and Enzo's heir Piero Lardi Ferrari; no longer can these two decide how much the company can commit to keeping two red cars at the head of the pack on 16 or so Sundays a year.
Since Fiat's ails began the company has gradually sold off shares, and presently owns but 56% (down from 90%) of the company, whilst Lardi Ferrari owns 10%; Italian bank Mediobanca controls a 15% stake, Germany's Commerzbank AG holds 10%, and Lehman Brothers' stake is nearly 7%. The balance (2%), insignificant from a voting perspective, is held by various former and current employees.
So, where once Fiat and Lardi Ferrari happily committed up to 80% of annual profits to Formula One, now they can commit a maximum of 66% - with no dividends to either party. Already the banks are squeezing Ferrari for increased payouts, and these pushes have become both regular and intensive. Bluntly put, banks want to be paid in hard bucks, not silver mugs.
And, now an Initial Purchase Offer (stock exchange listing) is on course - expected by 2007. So, the timing is impeccable: tobacco bans (yes, Todt has been making noises to the contrary, but, with country after country signing treaties, Formula One will kick the habit soon); possible departure of a tyre partner; retirements of the greatest driver of his generation, his chief designer and (possibly) retirement/departure of the technical director; reshuffles of presidential and sporting director duties. All coupled with stock exchange listings and shareholders baying for payouts.
Indeed, impeccable timing…
Factor in here that Ferrari's major markets (the US and Japan) are suffering steadily weakening currencies, whilst its major expenses are in strengthening Euros, and Ferrari's future internal funding for Formula One is suspect. Of course, Formula One's 2008 regulations, which ban all the advantages the team enjoys, could work to its good - by drastically reducing costs, but winning (or, worse, losing) in a dumbed-down sport is no good for its rampant image, either. And, how much sponsorship will Ferrari raise post-Schumacher, post-Byrne and post-Brawn? Bear in mind that nobody loves losers and, post-Schumacher, the peaks will be lower and the valleys deeper.
So Ferrari could well depart Formula One, either for the IRL (which runs in both major markets), or for good. Tony George would love the former, and would pay dearly for the honour of red cars on his grids, but a total withdrawal allows Ferrari to retire on top, secure in the knowledge that its recent run will not be bettered in 50 years at least.
Given the strength of its brand, Ferrari could well live on its unbeaten Formula One image for those 50 years or so - secure in the knowledge that victories and championships scored by others in its absence will be classed as well-nigh worthless. Plus, the unbeaten reputations of its present architects will remain intact - and, to them, that could well be priceless.
Don't be surprised if Ferrari departs Formula One within the next three or so years. They will, of course, vigorously dispute this analysis, but then they would, wouldn't they?

FILLING WILLIAMS SEATS
This column said it two months ago, but, in the midst of all the speculation surrounding Williams' 2005 driver strength, it will say it again: just why should Sir Frank be in any particular hurry to announce his team's line-up?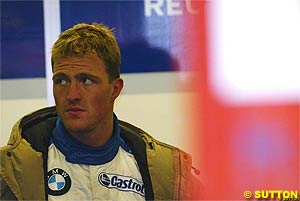 Forget about financial implications of any possible deals for a moment (even if, for a man as proudly parsimonious as FW, these aspects, as Nigel Mansell discovered way back when, are of vital importance in all Williams' negotiations), and concentrate upon timing matters. Then, clearly, there is no rush whatsoever.
For starters, despite Willi Weber's best smoke-screens, Ralf Schumacher is not committed elsewhere (yet). Nor, on current form, are many contract lawyers grappling with the spelling of his name. And, should Team Willy actually wish to retain a driver whose career valleys hardly overshadow the peaks (six wins in 120 starts; four poles in cars that delivered 11 to Juan Pablo Montoya over a comparative period), you can bet your bottom dollar that RS will come a lot cheaper than this time last year.
So, no, the younger Schumacher is hardly dictating discussions down Grove way. But, Williams, which requires two signatures for next year, may well decide later (much later) this season that the devil you know is better?
Then, Scott Dixon can be removed from the immediate picture. The New Zealander clearly impressed the team during his brief outings, but, again, startling he was not. Fast, assured and worthy of the top echelon, yes, but the next Michael? Sure, his times stood up well to those of Ralf, but, see above.
Plus, of course, Dixon's 2003 IRL title, whilst a sterling achievement on ovals, is no great recommendation in these circles: Alex Zanardi, touted, after his 1997/8 CART titles, as the one man capable of beating M. Schumacher, disappointed massively in 1999; JPM, too, has not delivered what his CART and Indy 500 successes promised. That Dixon was not signed a month ago sort of bears out Williams' scepticism towards oval achievements.
What chance of a kiss-and-make-up between JPM and Williams, then? Little or none. If you'll excuse the pun but, in F1 circles, only fools say 'never'. But, too much needs to happen too quickly for reconciliation to be in place before season's end, assuming Ron Dennis wishes to sell the Colombian on to concentrate on more pressing, well-documented affairs.
A return to blue/white overalls for Jenson Button, then? Remember that, in 2000, one Gerhard Berger was Jenson's biggest fan, and pushed Sir Frank in (the very cheap) JB's direction as substitute for Zanardi, who, clearly - but for reasons unfathomable - was not going to deliver BMW-Williams' maiden win.
Then, come the end of that first season, Williams chose JPM over JB - even if it meant a substantial pay-out to Jens - so, patently, the team boss did not believe he had discovered the next World Champion. But, Berger is no longer influential in BMW, and, of course, the 24 year-old has come on in leaps and bounds, and is now, as is so often the case, contractually ensconced in a team (BAR) from which transfer is frighteningly expensive if even possible.
(There is a precedent here: in 1983 Williams gave Ayrton Senna a run in the FW07; for contractual reasons no immediate contract was possible. Eventually it took Williams 10 years to snare the Brazilian.)
Button's BAR contract contains, according to rumours, a clause which binds him to the team for the foreseeable future as long as the outfit is in the top four. It is presently third in the Constructors', and on track to take second. So, he is locked in, and the team will keep him that way as long he delivers. Wouldn't you?
Whilst on about JPM and JB and drivers past, what about JV? Draw your own conclusions from this: at Magny-Cours last year, BMW and Williams hosted a media dinner. Talk turned to the dilemma Jacques then found himself in, and Patrick Head's take on the matter was sought. In 1997 Villeneuve had enjoyed the best car (by far), said Patrick, and yet he had waited until the last lap of the last Grand Prix of the season to secure the title.
Plus, explained Head, when he (Head) made set-up suggestions - soft springs, then go from there, for example - Villeneuve would start off at the opposite end of the spectrum, then need to work back. Given those comments, do you believe a signed 'Welcome Back, Jacques' card is gathering dust in reception?
What about Mark Webber, then? True, the Jaguar driver is Australian, and a real racer in the mould of Melbourne-born Alan Jones, who, forget not, supplied the team's first title. Head and Jones are great friends and in regular contact, so, you can bet, Aussie is pushing Aussie.
But, MW is not a free agent; far from it, in fact. His career is dictated by Flavio Briatore, who holds his long-term management contract - as he does Fernando Alonso's and, until December this year, Jarno Trulli's – and has first call on Mark's services.
In addition, Webber's Jaguar contract, negotiated, obviously, by the shrewd Italian, requires him to wear green overalls until end-2005, but is binding only if Jaguar places sixth or higher by Silverstone this year. With the team currently seventh, that door may well open, but Flavio needs another driver at Renault, for Trulli is a free man and driver come Brazil this year.
The Italian, though, has indicated that he would not stand in Webber's way should he wish to join Williams, so there, probably, lies the answer to the team's immediate driver plans: Sir Frank waits until after Silverstone before plotting his next (driver) move.
And Renault's 2005 line-up? Well, 1997 champion JV, who should come cheaply as he seeks to rebuild his career, speaks fluent French, AND Flav admires Jacques' free-spirited ways.
---
© 1995-2005 Kaizar.Com, Inc. . This service is provided under the Atlas F1
terms and conditions
.
Please
Contact Us
for permission to republish this or any other material from Atlas F1.