---
Walking the Long Road:
Interview with Ryan Briscoe
---
By Mark Glendenning, Australia
Atlas F1 Columnist
Ryan Briscoe could have ended up racing in Formula One this year. The young Australian, however, decided against what looked like a done deal and headed to America instead, hoping to return to Grand Prix racing with a better chance of succeeding. Atlas F1's Mark Glendenning talked to Briscoe about his Formula One ambitions

Depending on who you ask, Ryan Briscoe has just made either the smartest or the dumbest decision of his life.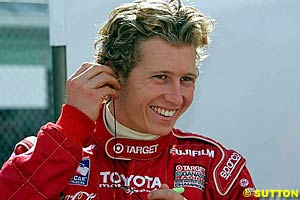 After sitting out of racing last season to concentrate on his duties as a test driver with Toyota's F1 team, the Sydney-born 23-year-old has surveyed the F1 landscape, not liked what he has seen, and temporarily sailed off toward the very different waters of the Indy Racing League with Chip Ganassi Racing.
For a guy who makes no secret of his ultimate ambition to join the Grand Prix grid, it might seem like an odd move. The flow of talent from open-wheeler series in the US to F1 has never been exceptionally strong, and particularly not in recent years.
In the past decade, only Jacques Villeneuve and Juan Pablo Montoya have managed to make the transition, and both came out of CART ­ a series that, well, ain't what it used to be. (Montoya also had something in common with Briscoe in that he left for America having already reeled off a lot of F1 test miles).
The IRL, on the other hand, has a deeper pool of talent, the backing of the manufacturers, and the marketing gold mine that is the Indy 500. But so far, nobody has moved successfully from the oval-based series to Formula One. And more than one driver has tried.
On paper then, Briscoe's move may seem a little mystifying. But on closer inspection, it makes perfect sense. Briscoe is four years into a 10-year deal with Toyota Motorsport, which puts him out of contention for the majority of F1 drives that might become available. Toyota itself is a closed shop at the moment, with Ralf Schumacher and Jarno Trulli having signed two-year deals. The next option, then, was Jordan, which is using Toyota engines this year. And according to Briscoe, there was a period where 'Plan B' was actually looking quite likely.
"Definitely last year, from halfway through the season, I guess, we were strongly looking at Jordan or Minardi," Briscoe admitted.
"We were in talks with both teams. As time progressed we leaned more towards Jordan; because of the Toyota engine deal, mostly. By November we were really getting down to business with it all, sort of finalising all the negotiations, and had organised a test with Jordan and everything. That was after Toyota had confirmed the engine deal.
"We were rounding up money and pretty confident that I was going to have the seat the next year. Definitely, if I had pursued that avenue, I'm almost 100 per cent sure that I would have been on the grid with Jordan this year."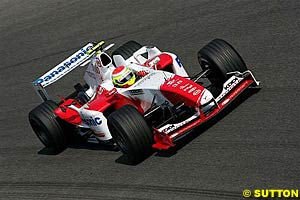 Aside from the fact that they are both fast, both fit and both easy to get along with, Briscoe is a different sort of character to fellow Aussie Mark Webber. But one trait that they share is a level-headedness that enables them to make critical decisions unclouded by emotion. Both have refused offers that others would have jumped at because they felt that it was not in their best long-term interests, despite the fact that they may not have had a lot to fall back on.
In Webber's case, he refused an F1 test despite the fact that the car was sitting there before him, fitted with his seat and with his name on the side of it, because he was uncomfortable with what he had been asked to sign before he got into the car. A massive gamble, considering how precariously balanced his career seemed at the time.
For Briscoe, taking the Jordan drive must have been unimaginably tempting, not least because he hadn't actually raced for a year (his last race was the Formula Three event at Macau in November 2003). But when the opportunity to join the field at Albert Park in March presented itself, he turned it down. "To me, with Jordan there were a lot of doubts," Briscoe explained.
"It was only one year, it didn't really give me a very secure future, and Ganassi were really pushing and wanted me to race for them with more than a one-year deal, and the situation that Toyota had with Jarno Trulli and Ralf Schumacher (contracted as race drivers); they wanted them for two years ... they're both Grand Prix winners in Formula One.
"I needed to establish myself, (build) some sort of stable platform for the next couple of years before I knew I was going to be able to race for Toyota. The way I was seeing the Jordan deal was, it could have been great racing in Formula One, but I'm sure at the end of 2005 I would have been in a very similar position trying to round up money to find another F1 seat again ­ with a team that's not running at the pointy end of the field.
"Certainly at Ganassi, a front-running team in one of the most important categories in the world, still with very strong Toyota connections, I was going to be able to come over and race competitively, race to win races, and still have a very good connection with Toyota - and basically establish a more secure platform to have a long-term career in Formula One."
That, for Briscoe, is the kicker. Toyota supplies Ganassi with engines, and after having been pummeled in the IRL powerplant war by Japanese rival Honda last year, Ganassi is the team most capable of extracting revenge. The addition of Briscoe adds one more card to the previously two-car team's hand, which will see Ryan in a third car alongside 2003 IRL champion Scott Dixon and Darren Manning.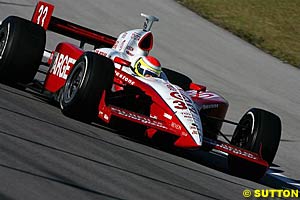 Neither Briscoe nor Ganassi will comment on the length of the contract, other than to say that it is 'multi-year'. However, our spies suggest that it is a two-year deal ­ which, if true, makes perfect sense. Both Schumacher and Trulli will be out of contract then, and the F1 team will be three years into a relationship with Mike Gascoyne that cannot afford not to produce results, for the sakes of both the team and Gascoyne himself.
With two years of high-level racing under his belt, the maintenance of a good relationship with the team plus, presumably, the opportunity to go back across the Atlantic and get some miles in the F1 car in preparation for any gap that might open up, Briscoe has everything to gain. Ganassi is aware, and supportive, of his young charge's ambitions. "Ryan is a young guy," said Ganassi.
"He's got a great career ahead of him. Wherever that career takes him, I'm sure that our team will be happy to get him to the front in terms of what we're racing. If he wants to go somewhere else and race, we're going to help him get to the front there, as well."
"My long-term ambition is to race in Formula One, being contracted to Toyota on a long-term (basis)," Briscoe reiterated.
"My ultimate ambition is to race for Toyota in Formula One some time in the future. I think up until now I've definitely proved that I've got the pace to be up front, to be competitive in Formula One. I was always at the pointy end in the Friday sessions that I did last year and, just because opportunities weren't ideal for me to step up into Formula One this year, I had a better offer with Ganassi and that's the reason I came here.
"I just think this is a fantastic opportunity and I only think I'm going to get benefits out of my driving by coming here. It's a new experience, I will be picking up new skills and just becoming more complete, I hope."
---
© 1995-2005 Kaizar.Com, Inc. . This service is provided under the Atlas F1
terms and conditions
.
Please
Contact Us
for permission to republish this or any other material from Atlas F1.