Car Briefs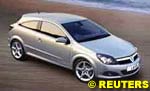 The new Astra 3-door will go on sale in April, a year after the 5 door appeared.
General Motors is rather cheekily boasting that. "Despite the new model's coupe-like styling, the range is no more expensive than the equivalent 5-door versions." In fact 3-door hatchbacks are usually cheaper than 5 door equivalents.
The new version is intended to be the sporty, rather than low-cost, alternative. Hence the only trim levels available from launch will be SXI, SRi and Design, all fitted as standard with lowered sports suspension and alloy wheels. Petrol engines range from the 90 bhp 1.4i up to the 170 bhp 2-litre turbo and diesels range from the 1.7-litre 100 bhp to the 1.9 litre 150 bhp. The 240bhp VXR version will go on sale in the summer.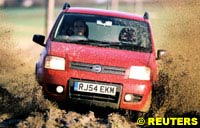 Fiat has announced two additions to the Panda range.
The more important one for the UK is the Multijet diesel, which uses the excellent 1.3 Multijet unit from the Punto and Idea. The price is £7,895, which makes it one of the cheapest diesel models on sale in the UK.
Less significant for temperate Britain is the Panda 4x4. Unlike the 1980s version with manually selectable 4wd, this has a sophisticated viscous coupling that sends drive to the rear wheels as soon as the front wheels lose traction. Thanks to raised ride height and very short overhangs front and rear, it can actually climb surprisingly steep slopes. Most Panda 4x4's will be sold in the Alps, but British buyers can buy one for £9,195.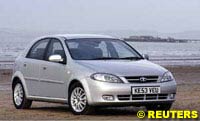 Daewoo will officially become Chevrolet on February 1, 2005.
Generally speaking, only the badge will change. All models and prices remain as they are now with a few exceptions. The 800 cc version of the Matiz is being dropped and a Lacetti estate is being added to the range (from £10,995) as well as a range-topping Lacetti Sport hatchback (£11,995). Finally, the Kalos will be offered in three door form for the first time.
There will be 85 Chevrolet dealers and all car will come with a three-year warranty and, more significantly, three years free servicing.

Opel Extends Deadline for Redundancies
General Motors' German unit Adam Opel has extended until February 18 the deadline for staff to take voluntary redundancy packages the carmaker has offered in a bid to cut costs, a labour leader says.
High-wage Germany is taking the brunt of GM's job cuts in Europe, where it has not made a profit since 1999 and where it has forecast another $500 million (268 million pound)loss in 2005. It is cutting 12,000 jobs in all over two years, 10,000 of them in Germany.
Opel works council chief Klaus Franz said on Friday some 6,800 staff had sought consultations so far on taking severance packages and 5,600 had expressed their willingness to go. But management had to agree which staff they would agree to buy out.
"We don't want a whole generation of qualified staff to migrate all at once," he said.
The works council and GM management have agreed staff can apply by January 31 for appointments with job counsellors that must be held by February 18 so that the company will know by February 25 how many workers are prepared to leave on their own. Originally staff were to have signed exit contracts by January 31.
Franz acknowledged that forced layoffs may be needed if too few staff go voluntarily, but added the goal was to avoid this.
Franz said he expected a decision within two or three weeks on whether the Opel plant at Ruesselsheim, Germany, or a Saab plant in Sweden would get the contract to build the next generation of mid-sized Opels and Saabs.

Ford's China Partner Looks Abroad
Ford's Chinese partner, Changan Automobile Group, looking to escape a price war at home, is drawing up plans to export to markets such as the United States in coming years, a senior executive says.
Changan, parent of listed Changan Automobile Co., China's third-largest vehicle maker, must carve out markets abroad if it hopes to survive, Vice President Ma Jun said in an interview on Thursday.
Western automakers are bracing for a potential onslaught of cars from low-cost manufacturer China, some say towards the end of this decade, driven overseas by a growing glut of cars. Still, exporting may be a huge leap for a former military operation in the country's land-locked Western region, but Ma - a former engineer who rose through the company's ranks - remains confident.
His firm's sales jumped 43 percent to 579,000 units in 2004, helped partly by price cuts, outpacing the market's 15 percent rise. Car sales in China rose just 15 percent last year after nearly doubling in 2003, hammered by government-ordered credit curbs to cool an economy in danger of overheating.
An industry-wide margin erosion hurt players from General Motors, which on Wednesday reported weaker profit from China, to Volkswagen. Listed Changan Auto posted a 32 percent slide in third-quarter earnings, despite sales growth of 22 percent. Its shares plummeted by more than half last year, far worse than the market's 15 percent slide.
"(Car) prices cannot go anywhere but down. Competition is severe," Ma, 45, told Reuters. "We're looking at exports as part of our overseas plan to help deal with the competition."
"We're also considering the capital markets," he added, declining to give details. Listed Changan Auto said last year it was mulling a Hong Kong listing, but gave no timeframe.
Going International
Changan, China's top minivan maker, joins a growing list of Chinese auto firms turning to the international markets.
"The home market is limited. There will come a day when we have to go down the international path," he told an industry forum last Thursday.
Chery Automobile Co. plans to sell 250,000 vehicles in its first year of exports to the U.S., expected to start in 2007, while Geely Automobile Holdings hopes to export 30 percent of its output by 2010.
Auto makers from GM to Toyota Motor Corp. are investing over $13 billion (6.9 billion pounds) in China to triple production to more than 6 million cars by 2010, prompting fears of a glut. Hence exports, as a growth outlet, analysts say. Just a tiny fraction of China's car output is now exported. Ma made no secret of Changan's desire to sell into the U.S., the world's biggest auto market.
"They can come here: why should we not be able to go over there? There's enough space on the planet," he said, waiting on the kerb in front of a five-star Shanghai hotel to be picked up by his driver. We've already started exporting to the U.S. Not many -- about 20, in fact," he said with a chuckle.
"Of course we want to increase that number."
Ma did not rule out working with existing partners, Ford and Japan's Suzuki Corp., to expand Changan's global reach.
"It would be best if we could work with our existing partners, and it would be a lot quicker for us, too. But we've not talked about it with them yet. We're still too busy with our China plans, like in Nanjing."
Beijing has this month given the go-head for a 4 billion yuan plant with Ford in the eastern city of Nanjing, with eventual capacity for 200,000 units a year.
"The biggest problem we'll have is after-sales service. A service network has to be in place before we can even consider large-scale exports to the U.S," Ma said. "We're taking it one step at a time."