Advice: The points tables for most series covered by Elsewhere In Racing are available here. Individual series are linked to their corresponding points table after each report.
Rally
Loeb Opens Title Defence With Monte Carlo Hat Trick
France's Sebastian Loeb started his world title defence in ideal fashion with a Monte Carlo rally hat-trick on Sunday.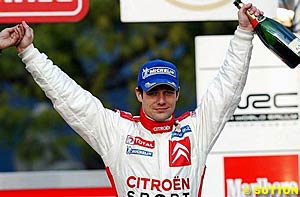 The Citroen driver was again a model of consistency in the three days of the season opener, beating ambitious Finn Toni Gardemeister's Ford into second place with Loeb's Mitsubishi-driving compatriot Gilles Panizzi third.
The Frenchman, also the winner in the principality in 2003 and 2004, is the fourth driver to win the classic rally three times in succession since 1970 after Finn Tommi Makkinen, German Walter Rohrl and Italian Sandro Munari.
"This was the perfect rally for us," he said. "Very much like last year. It was a very tricky event -- lots of drivers made mistakes, but fortunately we didn't. It's very motivating to start the year with 10 points."
Had he not been disqualified on a technicality in 2002, Loeb would have equalled Rorhl and Munari's record of four Monte Carlo victories.
"To win three times here is great but deep inside I feel 2002 also belongs to me. Let's say I won three and a half," he said.
Consistency
The defending champion's tactical approach was again flawless as was the reliability of his Citroen team, who will bid farewell to world championship rallying at the end of the season. The Frenchman built a consistent lead on Friday and early Saturday, forcing his nearest rivals to fight back and take risks.
All the other leading contenders for this year's title faltered one after the other.
Loeb's Belgian teammate Francois Duval slid out of contention when he hit a telegraph pole on Saturday.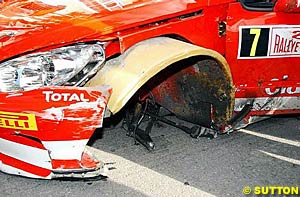 Former World Champions Marcus Gronholm of Finland and Petter Solberg of Norway were also stretched to their limits on Sunday and paid a heavy price.
Solberg, the 2003 World Champion, was forced to quit the race when he hit a wall after the ill-famed Turini mountain pass. The Norwegian lost control of his Subaru after fans spilled snow onto the tarmac, a Monte Carlo rally tradition.
Double World Champion Gronholm crashed his Peugeot at the same spot but was able to continue, eventually finishing fifth. The Finn's fastest time in the rally's penultimate stage showed his determination to challenge Loeb this season, especially as the Monte Carlo rally has never been his favourite event.
Caution
"Everybody knows the spectators throw snow on the road. I know they do that. But when I came and saw the snow it was already too late. Just before I went off I saw another wheel - not mine but Petter's.
"He'd already been off there. When my wheel came off I was sure it was over, but we drove 19 km and the road section and got here. It's a big shame because second was looking good," said Gronholm.
Loeb was far more cautious and had asked his team scouts to warn him if fans indulged in one of their favourite pastimes.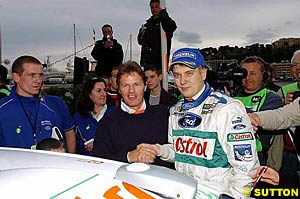 Gardemeister could well be the driver to watch this season. The Ford team leader was unable to match Loeb's pace but displayed the same mixture of caution and skill as the Frenchman. He eventually finished two minutes and 58.3 seconds behind Loeb, with Panizzi 3:40 behind the world champion.
"I'm very pleased with this result, especially as it's my first rally with the team," Gardemeister said. "They worked really well over the whole event. There were no serious problems at all. I've always done well on this event, but I like Sweden a lot, and I'm really looking forward to going there."
The next leg of the world championship is the Sweden Rally on February 11.
Panizzi's podium placing was also excellent news for Mitsubishi, back in the world championship for the whole season after a couple of years of part-time participation.
"They needed this success and now they and everyone else can see that Mitsubishi is back. Today we have arrived," the Frenchman said.
Result of World Rally Championship, Round 1 of 16, Rallye Automobile Monte Carlo, Monaco:

Pos  Driver/Co-driver                      Car
 1.  Sebastien Loeb/Daniel Elena           Citroen Xsara WRC
 2.  Toni Gardemeister/Jakke Honkanen      Ford Focus RS WRC 04
 3.  Gilles Panizzi/Herve Panizzi          Mitsubishi Lancer WRC05
 4.  Markko Martin/Michael Park            Peugeot 307 WRC
 5.  Marcus Gronholm/Timo Rautiainen       Peugeot 307 WRC
 6.  Manfred Stohl/Ilka Minor              Citroen Xsara WRC
 7.  Harri Rovanpera/Risto Pietilainen     Mitsubishi Lancer WRC05
 8.  Roman Kresta/Jan Tomanek              Ford Focus RS WRC 04
 9.  Alex Bengue/Caroline Escudero         Skoda Fabia WRC
10.  Antony Warmbold/Damien Connelly       Ford Focus RS WRC 04

Drivers' Standings: Sebastien Loeb 10, Toni Gardemeister 8, Gilles Panizzi 6, Markko Martin 5, Marcus Gronholm 4, Manfred Stohl 3, Harri Rovanpera 2, Roman Kresta 1
Manufacturers' Standings:Ford and Citroen 10, Peugeot and Mitsubishi 9, Skoda 1
Monte Carlo Ushers In HANS
By Mohammed Abbas
The full Monte has become a HANS-on experience for the world's top rally drivers.
Last weekend's Monte Carlo Rally, apart from being the traditional season-opener, was also the first at which the HANS head and neck safety device was mandatory for all competitors. The restraint, already compulsory in Formula One and most open-wheel racing, is the latest initiative to make rallying safer.
"I think the HANS system is a very significant step forward in driver safety," said Subaru's 2003 world champion Petter Solberg, who almost plunged off a parapet in the Monte Carlo during his title-winning season and had a huge accident in Germany last year.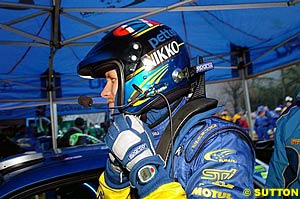 The Norwegian and his co-driver Phil Mills were lucky on the latter occasion not to be seriously hurt after ramming a concrete block at around 160 kph, flipping several times and landing upside down.
"I'm convinced that rally drivers will benefit as much from the system as racing drivers have already," said Solberg. "We've made quite a lot of modifications to make it suitable for off-road use and it's comfortable now."
Not everybody is so sure however, fearing the device could restrict head movement and reduce performance.
"I'll use it if I have to but if it was up to me I wouldn't," said Ford's Finnish driver Toni Gardemeister at last week's Autosport show in Birmingham. "It definitely will not improve my driving," he added. "Driving will not get better if you're restricted in some way, but my driving will not be significantly worse either."
Invented by American Robert Hubbard in the mid 1980s, the device consists of a carbon fibre collar secured by a harness; two tethers attach the back of the driver's helmet to the collar, securing the head and neck in case of a crash. It was seen as a pain in the neck by some drivers when Formula One introduced it in 2003, after it had become widespread in America, but after two seasons has become completely accepted.
Rallying is a very different form of driving however, with cars flying at speed over bumpy forest tracks and rough mountain roads rather than flowing around smooth circuits.
"It's very difficult to do my job using the device," said Ford co-driver Jan Tomek. "I need to be able to look down at my pace notes. I think HANS is good for tracks where you go round in circles."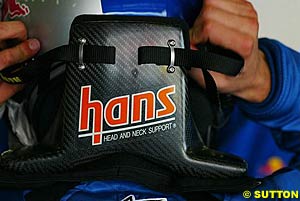 Without HANS, there is a risk that the violent whiplash movement of head and neck during any impact can tear the tendons and ligaments attached to the base of the skull. Known as a Basilar fracture, the injury can be fatal and is racing's most common cause of death.
"There's no question that anybody who gets in a racing car should wear one," said Paul Trafford, chief medical officer for the British Automobile Racing Club, at a presentation in Birmingham.
The device's supporters insist any discomfort experienced by drivers is down to incorrect installation but admit that it takes time to master. The harness angle, tether length, belt width, padding material, helmet type, harness fastener and the distance and angles between those items must be exact.
"The tether length is defined from the end of the tether to the edge of the Hans system and we made some experiments...and you can go up to 162 millimetres," French race doctor Claude Meistelman told the symposium audience. "With such a length you can rotate your head without any problem and drivers never complained about head rotation," he continued.
Incorrect installation is not dangerous, but can lead to intense shoulder pain as well as restricted head movement.
"Any new device that comes in, people complain against it," Trafford said, mentioning initial opposition to seatbelts and crash helmets.
"The secret is to start using it when you are young."
Sarrazin Makes Switch From F1 To Rough Roads
By Alan Baldwin
At the end of 2003, Stephane Sarrazin picked up a French car magazine and saw an advertisement that would change his life.
It was seeking applications for an annual rally driving scholarship, supported by Subaru France and the French federation. Sarrazin, who had made a Formula One debut with Minardi in Brazil in 1999 and competed in the Le Mans sportscar endurance race in 2001 and 2002, saw it as his chance to steer in a different direction.
"I thought: I have to send my letter. If I don't send it, all my life I will regret it," the 29-year-old Sarrazin told Reuters in a telephone interview before last weekend's season-opening Monte Carlo Rally.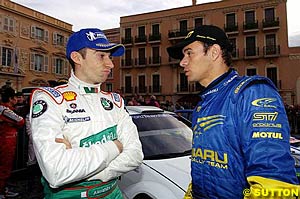 He sent it and the result proved remarkable by any standards. Sarrazin, now 29, secured the scholarship and the right to drive a privately-run Subaru in three rounds of the 2004 world championship as well as the French national series. His debut was little short of electrifying: the Frenchman finished ninth in the German Rally, sixth in Corsica and then fourth in Catalunya where he also finished ahead of 2003 world champion, Subaru works driver Petter Solberg.
On top of all that, he won the French title at the first attempt.
After just 11 rallies in 2004 he was signed up by former champions Subaru for this year's world championship -- becoming the first Formula One driver to make a full-time switch to top-level rallying.
"Now I am a factory driver and it's incredible for me, like a dream," he said.
Few Grand Prix drivers have proved much good in rallying on occasional forays into the sport and Sarrazin has had to overcome initial doubts.
"Many people were thinking maybe he's crazy because he has everything in circuits so why is he doing rallying," he said of the initial reaction to his switch. "They said it's crazy to stop everything and start rallying because its different, impossible, but in my head and my feeling it was really possible."
Sarrazin, whose father was a keen amateur rally driver, promises to be the one who breaks the mould. He will compete in at least half this year's 16 championship events. While he was sucked ever deeper into circuit racing, winning national karting championships in 1991 and 1992 before graduating to French Formula Renault and taking that title as well, rallying remained his first love.
It was in the back of his mind even while he was pounding round racetracks as a Formula 3000 contender and during five years spent as a Prost and Toyota Formula One test driver.
"In my mind all the time I was thinking of rally but it was difficult to find a solution for driving rallies seriously," said Sarrazin. "I started driving at 10 years old on gravel roads and in a normal car with my father, because he was in rallying. But after I started in go-karts and...Formula Renault, in my head after that it was F1. But rallying was still my passion."
The differences between driving around a track, following the same line again and again as smoothly as possible, and rallying are obvious. Rallying has constantly changing challenges and the driver is not alone, having to listen and respond to a co-driver reading rapid-fire pace notes while bouncing across rough roads and tracks. There is mud, ice and darkness to contend with and the drivers may even have to carry out basic repairs and wheel changes on the way.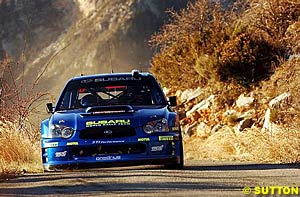 But Sarrazin, who still drives go-karts for fun but has not raced a circuit car since 2003, has adapted well and is concentrating fully on his new career.
"I have a few offers for Le Mans with Audi and Pescarolo but I can't, I prefer to concentrate on rally now," he said. "I have too much to learn in rally to do something else.
"This is a massive opportunity. I have to learn everything. my team, my car, the gravel roads, the snow, many new things...it will be very hard.
"I have new engineers, everything is new, but I like it when it is very hard and you have to give the maximum."
"This season I have to improve myself, know the team and make a good performance," he said. "I have the best car so I can do something good but I need to learn."
Team boss David Lapworth believes he can do it. "It's remarkable that someone who has done 11 rallies and only three at WRC (world rally championship) level can run at the pace he has," he said. "We've signed Stephane for one year but the intention of our development programme is to find a future world champion. We've selected him because we think he's got what it takes."
Reports provided by Reuters
Upcoming Events Calendar
February 3 - Grand Am Sports Car Series, Round 1, Daytona 24 Hour, Daytona, Florida, Unites States
February 11 - World Rally Championship, Round 2 of 16; Swedish Rally, Sweden