---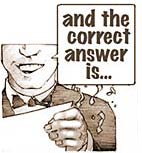 The F1 Trivia Quiz
---
By Marcel Borsboom, Netherlands
Atlas F1 Magazine Writer
It is the launch season for Formula One, with teams revealing their yearly challengers, with new sponsors and sometimes new livery. But how well do you recall the launch events of recent years? Time to find out! Simply choose one answer to each of the following 12 questions, and press "submit" to get the results. Have fun!
---
© 1995-2005 Kaizar.Com, Inc. . This service is provided under the Atlas F1
terms and conditions
.
Please
Contact Us
for permission to republish this or any other material from Atlas F1.