---
Ann Bradshaw: View from the Paddock
---
By Ann Bradshaw, England
Atlas F1 Special Columnist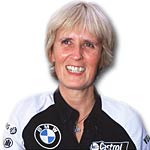 In this week's column, Ann discusses Jaguar's handling of Antonio Pizzonia, the maniac at the British GP, the effort to make sure there continues to be a race at Silverstone, the real reason for Williams' recent revival, one of Mark Webber's post-season activities and motorhomes in the past...

I was about to press the 'send' button on this column and deliver it to the safe hands of Atlas F1 when my phone rang. It was Stan Piecha, the motorsport reporter from the UK's best selling daily newspaper, The Sun. He had heard Jaguar Racing were about to announce that Antonio Pizzonia was being replaced with immediate effect by Justin Wilson. Sadly, after a few phone calls and then on receipt of two press releases, one from Jaguar and one from Minardi, I realised this was true. Naturally I was very disappointed on behalf of Antonio. He is a talented racer who I personally think needed to be given a year to prove himself. This is my personal view, a view I am sure is not shared by Jaguar management.
I remember a similar situation a few years ago at WilliamsF1 with Alex Zanardi. He had won everything there was to win in the States, but when he returned to F1 he was simply off the pace. Did WilliamsF1 threaten his future after four races? No. Did they get rid of him after eleven races for a driver who also had not scored a point? No. Did Frank and Patrick sit down with Alex, try to do everything they could to help him, and only agree to finish their relationship at the end of the year when all avenues had been investigated? Yes. Was this done in a private and dignified manner? Yes. My case rests.
In the next paragraph I am copying verbatim - grammatical errors included - what appeared in the first paragraph of the Jaguar press release.
"To the great regret of Jaguar Racing, Antonio Pizzonia has not been able to realise his potential with the team over the past eleven races. Jaguar Racing therefore has decided that it is neither in his best interests, nor in the team's, for Antonio to continue to driving as full time race driver at this time. In an effort to continue supporting Antonio's development, however, Jaguar Racing has offered him the opportunity to remain with the team as reserve and test driver."
I have nothing against Justin Wilson, and wish him the best of luck. My only warning to him is that he had better not expect any favours, and if he doesn't come up with the goods as outlined in the following quote by Jaguar Racing Managing Director David Pitchforth, he could also be looking for a new seat for 2004.
"With five races left on the calendar, it is critical that we are maximising our potential with two race cars."
That is all I am planning to say on the subject at this point!
* * *
Motor racing is exciting. After Sunday's British Grand Prix, I dare anyone to disagree with me! We saw more overtaking manoeuvres in this single event than we have seen for years. The racing was fair and hard, and I cannot imagine any of the drivers, however disgruntled they may be with themselves at letting a competitor by, claiming that what happened on the track was other than fair. The pundits on ITV declared at the finish that after 30 overtaking manoeuvres they had lost count.
Rubens Barrichello came out of this as a star, and the winners were the sport, the fans and hopefully Silverstone. Sadly though, we did see a moment of madness that I still cannot believe happened. A lunatic rushed onto the track and headed towards the unsuspecting drivers as they were doing 150 mph down Hangar Straight. An Irishman was dressed in a kilt, waving signs declaring 'Read the Bible, the Bible is always right'. A plucky marshal rushed onto the track, risking his own life, and pulled the man to the side of the track. Cars missed him by the smallest of margins and no doubt even the bravest of drivers had heart-stopping moments.
Jos Verstappen, Jenson Button and Cristiano da Matta were just three who came across him, with Jenson admitting it was 'very scary'. The man was arrested and taken to the police station where he has since been charged with 'aggravated trespass'. If it was anything to do with me, he would be charged with 'attempted murder', as if a car had hit him we could have had a dead driver. Anyone who remembers Kyalami 1977, when Tom Pryce's Shadow hit a marshal who was running across the track, will know the devastating outcome of such actions.
* * *
The incident will not help the SOS - Save Our Silverstone - campaign that is headed by former drivers Sir Jackie Stewart, Martin Brundle and Mark Blundell. Bernie Ecclestone can only use this incident against them. It put me in mind of what happened a few weeks ago at the 21st birthday party for Prince William, when a man dressed as Osama Bin Laden gatecrashed the Windsor Castle bash for the second-in-line to the British throne. After this incident, what should be the toughest security in the UK was called into question. How could a man wearing a dress scale the palace walls and evade hundreds of policemen?
We have to ask the same questions here. How can a man dressed in such outlandish clothes get through security fences and evade hundreds of marshals? Admittedly the marshals are there to watch what is happening on the track, but Bernie's observation of 'the security was obviously not up to it' cannot be argued with. I hope this will not put another nail in the coffin of the track that Bernie has declared has had money spent on it in the wrong places.
Before the race itself it was also interesting to see an attack on other former British drivers by Martin Brundle and Mark Blundell for not helping the SOS cause. I have some sympathy with Brundle and Blundell, as our two most recent World Champions Damon Hill and Nigel Mansell have stayed strangely silent in all this. While no one can force them to join the cause, both of them must admit that they lapped up the adulation at Silverstone and their careers must have been boosted by home wins.
If busy people like Sir Frank Williams and Ron Dennis can take time off from trying to keep the Ferrari steamroller at bay, and so give Great Britain another Constructors' World Championship, then surely Mr Hill and Mr Mansell can do the same. While I have to admit I think the future of the race is in the hands of Mr Ecclestone and not a bunch of former drivers, it would be nice to see people putting something back into the sport that has given them so much.
* * *
Now back to the subject of motor racing. It's all down to tyres. Well, that's what a friend who knows about the technical side of motorsport told me. The WilliamsF1 revival is what I am talking about here. When the cars were racing in Magny Cours, I listened to our TV commentators telling me that the reason Michelin were doing so well was because they had both WilliamsF1 and McLaren giving them input. Meanwhile, over at Bridgestone they only have one top team - Ferrari - giving them input. My friend, who designs racing cars, soon dispelled this theory by reminding me that WilliamsF1 and McLaren use totally different tyres, so this is not a help to them.
I then suggested that the WilliamsF1 success was down to aerodynamics. He again dispelled this theory by telling me this may give them an extra tenth at the most, but the greatest influence in modern day Formula One is tyres, and these can make all the difference. As they say: "You learn something new every day."
Mind you, I think you can credit some of the recent good form at WilliamsF1 down to the reappearance of Frank Dernie. Frank, an aerodynamicist, formed an amazing partnership with Patrick Head after joining the team from Hesketh in 1979. They won championships together and when Frank went off to join Lotus for 1989, he left a vacancy that was subsequently filled by Adrian Newey. Frank lives a couple of miles down the road from the Grove factory in Wantage and is one of those people who never holds back on his view on anything. He is like Patrick in many ways. Honest to a fault. Whatever the reason for the cars being competitive, I am delighted we now have a race for both championships on our hands.
* * *
I try to help charities when I can and usually pop the odd pound or two into tins for worthy causes, but I do admire people who do something special for people less privileged than they are. There are quite a few unsung heroes in the world of F1 who do just this. Into the category has come Mark Webber, who announced recently he will spend ten days trekking, kayaking and cycling across Tasmania after the end of the season to raise money for Australian charities for children with cancer. He has thrown down the gauntlet and is calling on other international and Australian sporting stars to join him, and on corporate Australia to support their efforts. I applaud such actions and cannot imagine how difficult this will be, even for such a fit person.
I still remember competing in a charity running race around Silverstone on the Thursday before the British Grand Prix in 1987. This was to raise money for the Stoke Mandeville Hospital that specialises in people with spinal injuries. This was not long after Frank Williams's accident, and he was there in his wheelchair to set us off. It was a first for me, so I had done a bit of preparation to make sure I would be able to walk the next day. I am delighted to say that on the Friday I was as fit as a fiddle on my feet. However, I had chatted to my fellow competitors at the back of the field as I made my way round the two and a half mile course, so it was my voice that suffered, not my body.
* * *
This year is the first time for well over 30 years I have missed the British Grand Prix, and while in some ways I am a bit sad, I have lots of good memories to look back on. In the 'old' days the motorhome area was a grass field behind the pits. This gave the weekend a garden party atmosphere, and you felt once back at the motorhome you were in a different world. As long as the weather was good, you would find the drivers and all their mates sitting outside the motorhomes chatting while children rushed around.
Journos walked by, as they felt bad about disturbing this peaceful interlude in a mad weekend. However, I can vividly remember two occasions when this silence was shattered. The first was in the late eighties when Frank Williams decided to have a new motorhome. In those days you didn't have parties for such vehicles, as usually you just swapped your old Winnebago for a new one. However, Frank was one of the first team owners to have something different, and because of his disability he had a double decker bus with a lift so he could get inside. A lovely couple called Peter and Jane Gurr ran this, and they were very proud when they drove the dark blue bus into the paddock and onto its allocated site. Sadly, things did not stay like this as about 24 hours later Peter was rushing around shouting 'Fire!' Soon all his motorhome friends were heading in his direction with extinguishers and buckets of water. Luckily the small electric fire was soon extinguished and normality returned.
Another drama I remember in the paddock was centred around the Benetton motorhome. Calling what they had in those days a motorhome is perhaps not right. It was in fact a moveable café. This was run by the couple affectionately known as the mother and father of motorhomers, Stuart and Di Spires. It arrived looking like a square box, and then sides were pulled out and metal legs were extended to take the weight. This always looked a bit unstable and this assumption proved correct when one day a rather enthusiastic driver of a Bradshaw electric vehicle took a corner too fast and managed to knock into one of the legs.
The leg immediately collapsed, and so the entire structure was then supported by the vehicle's bonnet. Everyone in the paddock flocked to look at the stricken café and, with the exception of Flavio Briatore, had a good laugh. Mind you, while seeing the funny side from the Benetton point of view, I was a bit worried about the vehicle, as they are owned by my brother's company, so I hoped the insurance was in place! At the end of the season the 'café' was replaced by a more suitable vehicle.

About the author:
Ann Bradshaw - Annie - began her motor racing career as a teenager, helping out her brother in local rally races in England, where she grew up. In the 1970s she organised motor racing events in England, and was later the press officer for the RAC MSA - the motorsport governing body in Britain. In mid 1980s, she became press officer to team Lotus, where she worked with Ayrton Senna. Shortly after, she moved to the Williams team and was working there for several years, when once again she found herself working with Senna. She worked with Damon Hill after the Brazilian's death, and moved with the British Champion to Arrows. She also worked with the Panoz team in the United States, before becoming a freelance press officer, now working with Compaq and BAR among others. Annie joined Atlas F1 as a regular columnist in April 2002.

---
© 1995-2005 Kaizar.Com, Inc. . This service is provided under the Atlas F1
terms and conditions
.
Please
Contact Us
for permission to republish this or any other material from Atlas F1.