---

On The Road
Automotive News and Reviews for the Petrolhead
---
By Garry Martin, England
Reuters Motoring Commentator
In this week's issue:

Great Shot by Chrysler
Toyota Unveils First European Car for Japan

Great Shot by Chrysler
It is easy to see why Chrysler is rather proud of its latest model. The Crossfire, a two-door, two-seat coupe, represents something of a bold new breakthrough product for the company and carries the flag for future Chrysler models, in terms of both design and spirit.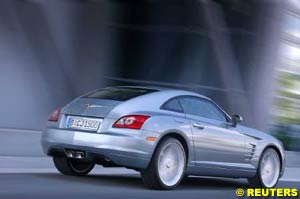 Crossfire's gestation has taken little more than two years, from the unveiling of a show-stopping prototype to the worldwide launch of the finished product, the briefest of periods in which to develop a (virtually) all-new model. And this is just the first notable feat; equally as impressive is the way this production version looks.
Some of the more outrageous design detail of the concept car has gone, the split windscreen and vertically stacked front lights for example, but the car looks every inch the contemporary, purposeful sports car it did when first revealed at the north American Auto Show in January 2001. That it has emerged at all is impressive in itself. At the moment that Chrysler's then-new President and CEO, Dieter Zetsche, gave Crossfire the go-ahead (positively imploring the company to build it, according to design team sources) Chrysler was in the midst of a financial crisis. Swingeing cost cuts, not stunning concept cars, were more the order of the day.
Borrowing from Mercedes
But then Chrysler has not been without a little help on Crossfire. This is the first all-new product to draw on the resources available to what is now the world's third-largest car company, DaimlerChrysler, formed in 1998 when the Mercedes-Benz parent bought Chrysler for $37 billion. Chrysler has not been slow to find ways in which its new best friend can help it out and has borrowed heavily from Mercedes for Crossfire. The basic platform, independent front and multi-link rear suspension, engine and gearbox are all donated from the current Benz SLK, with Chrysler then re-engineering the overall package and, in partnership with German coachbuilder Karmann, dressing the Crossfire in its Sunday best.
In truth, there is rather more to it than that, but the important part is that the Crossfire, in Chrysler's own words, is a European package of technology and handling combined with "expressive American design". It is an undeniably handsome thing, with spot-on external proportions, the requisite blend of purposeful lines and a sporting, aggressive stance. It has the look of a proper coupe and Chrysler executives will merrily shout exuberant, expressive, individual and daring at you when asked to describe the new car.
Looks Are Everything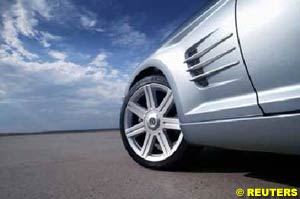 But in this market looks are vitally important, a point that is not lost on Chrysler. The company's research suggests that a majority of customers (and it is projecting an annual capacity of 20,000 units) will buy Crossfire on the basis of looks. If this is true, Crossfire will surely be a sell-out. From the broad, winged Chrysler badge on the grille, back up the vertically ribbed bonnet, over the contrasting satin silver windscreen frame and arching back over the rear, with design detail that chases down to a narrowing V shape above the centrally positioned twin exhausts, Crossfire is enormously eye catching. There are numerous detailing and design touches that both satisfy the soul and add to the perception of performance. Under-body diffusers and a rear spoiler that rises and lowers automatically combine to create valuable additional downforce at the rear. Louvred (but purely decorative) air extractors on either flank hint at race car performance. A tapering rear end envelops 19 inch, seven-spoke wheels and 255 section tyres (18 inch/225 at the front), lending the Crossfire a little muscle about its driven wheels.
Inside, this sense of purpose and style is maintained. Chrysler is presenting this car in a what-you-see-is-what-you-get fashion and the options list will not detain you too long. The car combines simple functionality with a decent balance of comfort, refinement and specification. Although the materials used range between good (the leather seats) and bad (gear knob) the actual build quality itself feels excellent. Almost Mercedes-Benz like, in fact.
Cosy Cabin
The cabin is a pleasant, cosy place to be but for the tallest of the tall (six foot three and above) it can feel a little cramped. All steering columns should adjust for rake and reach these days, surely, but this one is telescopic only. Leather, cruise control, climate control and heated power-operated seats are just a few examples of standard-fit equipment though, as Chrysler knows just the market it is after. To be blunt, customers will only have to choose a colour and their preference for manual or auto.
Most will opt for the automatic, which brings us to the tricky issue of performance. The Crossfire is fast, no question. On German autobahns it was very comfortable running around its maximum speed (150 MPH) and it felt perfectly stable and comfortable under braking from such speeds too. It reaches 62 MPH in 6.5 seconds which, while hardly violent, is certainly rapid. These are the sorts of figures that supercars of a decade ago would have impressed with but there are so many sub six and five second cars around today (many of which cost less than £30,000), we have become a little bit spoiled in this regard.
Suspension a Let-Down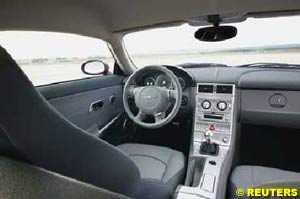 The problem is, the Crossfire never feels even that quick. In terms of sheer grunt, its 215 BHP is a little lacking compared to its similarly priced new-on-the-block coupe rivals from Nissan (350Z) and Mazda (RX8) with 276 BHP and 238 BHP respectively. The 3.2 litre V6 Mercedes engine in the Chrysler is also something of a slow revver and although the Crossfire pulls lustily in any gear and certainly makes all the right noises at all the right times, it just feels to be much ado about nothing. Well, not quite nothing, but you are left wanting more in terms of the overall package. The auto box complements the engine best although the lag on 'manual' semi-automatic upshifts (when using the gearbox in its AutoStick sequential setting) is something of a frustration. Such changes almost need to be planned minutes in advance and you eventually learn to drive around the foible but it is another example of Crossfire's softer, less sporting tendencies.
Chrysler points out that the chassis is twice as stiff as that of a Porsche Boxster and it feels taught and rigid in many respects but the real area of weakness has to be the suspension. Press-on driving on twisty back roads is played out to a wonderful soundtrack of barking and snarling via the exhausts, but there is a numbness to the steering and a degree of dive and wallow from the suspension that just disappoints more than it rewards.
For Chrysler, none of these issues are likely to matter. The Crossfire has been designed to optimise ride, comfort and performance because Chrysler has carefully researched the marketplace it is aimed at. Most buyers are likely to be 40 plus, settled down and looking for a second or third car apparently, and for them a Crossfire is a perfect choice. It is fast, luxurious and looks sensational, while the circa £28,000 price tag (just under for the manual/just over the automatic) buys an awful lot of car. And as a sign of Chryslers to come, Crossfire is a breath of fresh air.

Toyota Unveils 1st European Car for Japan
Toyota, the world's third-largest auto maker, has unveiled its first made-in-Europe car to be sold in Japan, saying its huge success on the continent has inspired plans to import the model.
The UK-built Avensis, developed as a strategic model exclusively for the European market, has sold about 600,000 units there since its launch in 1997. The new version, available in sedan, wagon and hatchback forms, debuted in Europe in March and will be sold in Japan later this year.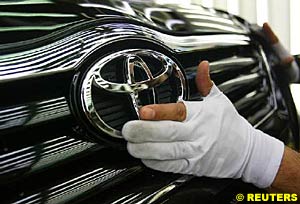 "The era of producing only in Japan for export to various regions of the world has ended," Executive Vice President Kazushi Iwatsuki said at an event held at the British Embassy in Tokyo on Wednesday to celebrate the Avensis' coming launch in Japan.
The auto maker already sells U.S.-made vehicles in Japan, but the Avensis would be the first European-built car to be sold at home. In addition to supporting Toyota's sales in the stagnant domestic market, the move is expected to help Japan's top auto maker avoid redundant expenses that would have been incurred from producing the cars in Japan.
The step is also a vote of confidence for the Burnaston plant in Derbyshire plant where workers were angered earlier this year after a newspaper cited a senior Toyota executive as saying UK factory workers were less productive than their French counterparts.
"Japanese customers' standard of quality is the highest in the world, so we're delighted about this move," Toyota Motor Manufacturing (UK) Chairman Alan Jones told a news conference.
The car's planned launch in Japan also won plaudits from British ambassador to Japan Stephen Gomersall.
"Toyota and Britain are already partners in bringing high-quality cars to Europe," he said. "Now, we will bring the Britain-made Avensis to Japan, and we applaud this step."
Toyota, along with many of its domestic peers, has been expanding its share of the competitive and shrinking European market, and recently announced the introduction of a third shift at its UK and French plants to boost capacity.
As a result, annual production capacity will rise over 20 percent to 270,000 vehicles at the Burnaston plant next year, creating about 1,000 jobs. That is against a backdrop of industry-wide overcapacity of around 30 percent in Europe.
Takis Athanasopoulos, chief operating officer of Brussels-based Toyota Motor Marketing Europe, said the auto maker hopes to sell 1.2 million vehicles in Europe by 2010, a rise of about 60 percent from last year's level. Toyota said it had not yet decided how many Avensis cars it planned to sell in Japan.
---