---
Tilting at Tilke
---
By Karl Ludvigsen, England
Atlas F1 Senior Writer
Sunday's action-packed British Grand Prix showed that even a World War II circuit like Silverstone can offer a sensational race with plenty of overtaking. Atlas F1's Karl Ludvigsen believes circuit designers could learn a lot from the British track

The best Grand Prix race of the year so far was run on a track that wasn't even designed as a track. Looking down on Silverstone, you can still discern the pattern of the airport that was first used for car racing in October, 1948. As Autosport wrote, "That a bleak war-time airfield should, three years after the cessation of hostilities, become the scene of a British Grand Prix for Formula One cars was one of the unexpected outcomes of the Hitler War." Its first race was on an hourglass-shaped track, using some of the runways, but by 1949 today's layout was established. With a lick of non-skid asphalt, in 1950 Silverstone's perimeter road became the first circuit to be raced on for Formula One Championship points.
You can see how it's been tweaked and tailored in the subsequent half-century. Copse is still Copse and Stowe is still much like Stowe, with the intervening Maggotts/Becketts/Chapel complex made more sinuous. Some rate it as the most challenging set of turns in Formula One since Spa's removal from the calendar. Club has been given a reverse twist, as has Abbey, while from there to the finish line big changes have created Bridge, Priory, Brooklands and Luffield before reverting to Woodcote and the satisfying blast up to the flag. The changes at Bridge have also brought some welcome gradients to what was originally a dead-flat circuit.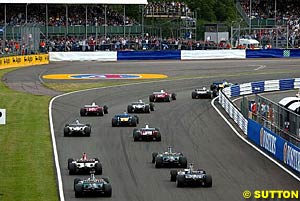 Thus a track that nobody designed has become one of the most challenging in Formula One, as we saw last weekend. According to the experts it's a "downforce track," where aerodynamic efficiency pays off big time. Does that mean it's not a "technical track," a description you often hear? What exactly does that mean? I suppose that it means that performance on a "technical track" depends more on the car and less on the driver. Or it could mean that the key performance consideration is mechanical grip, delivered by suspension, balance and tyres. Perhaps some knowledgeable person out there will explain to us just what these descriptions imply.
Whether "downforce" or "technical," Silverstone is a good example of a track that has evolved to meet the changing demands of Formula One. The same could be said of Monza, Spa, Interlagos and - in its latest form - Hockenheim. We also have some demanding road courses in Monaco, Montreal and Melbourne. Indianapolis is a peculiar circuit, hermaphrodite of artificial road and oval track, but at least it's in the right place. Some tracks have been built from scratch to the designs of John Hugenholz, among them Jarama, Suzuka and his first effort, Zandvoort. Others - an increasing number - have been designed and/or modified by Tilke Engineering GmbH of Aachen, Germany.
Tilke Engineering has a 100-person staff headed by Hermann Tilke, an engineer/architect from the hamlet of Olpe, east of Cologne. From the first modifications he was asked to make on the new Nurburgring track in 1984, Tilke and his team have been involved in whole or in part with 27 race tracks. The fact that the tousle-headed Hermann has done some racing himself does no damage to his ability to conceive interesting circuit designs. And he and his team are dab hands at the computer graphics that can make a track look finished before the work of building it has even begun.
Tilke believes in giving each track a landmark to establish its identity. He did this at his finest and most complete creation, Malaysia's Sepang, with its spectacular stands between a vee section of track, and with his Mercedes Tower at last season's reworking of the new Nurburgring. For the same reason he's given Barcelona impressive new stands, while Tilke says that his track for Bahrain - mooted for a Formula One race in October, 2004 - will flaunt "big architecture" to complement a major hotel development nearby. Tilke is also responsible for the design of today's A1-Ring in Austria and for updates to Portugal's Estoril circuit.
So Hermann Tilke has become the grande fromage of road-course design in the Formula One world. But as often happens when someone achieves a dominant position, there's now a bit of a backlash. Asked about circuit design at Silverstone, David Coulthard said, "We use the same designer every time so we end up with the same type of corners." What would David do in Tilke's place? "If I was going to be involved in the designing of a track then I would re-watch all the races, suss where most of the overtaking takes place and then create that with some high-speed corners that the drivers would enjoy." If those are David's criteria I don't think he's going to be wild about Bahrain, which has the usual pit-front straight connected to a squiggly course that doubles back on itself behind it.
Reaction against Tilke's cookie-cutter corners has led to one surprising decision. As usual he was in pole position to design a Formula-One-standard track near Istanbul's new Pendik-Kurtkoy Airport. It's been on the drawing board for five years, with Hermann visiting the site personally last November. Latest news, however, is that Tilke has been denied this plum of a job. He was too costly, thought the Turks. As well, according to BusinessF1, "Ecclestone thought others should be given a chance to design some tracks with fresh thinking." Step forward, those of you who have ideas for track design.
The end of Tilke's domination can only be good news for the sport. It would be nice to see more road courses that bear some relationship to normal roads in their curvatures and gradients. Speaking of gradients, it would be nice to have those too. But in one area I'm sympathetic to Hermann Tilke's efforts: he believes in paved runoffs instead of gravel. In addition to their safety benefits, says the designer, "asphalt run-off areas also provide overtaking opportunities. If a driver makes a mistake and spins into a gravel trap than his race is over. But with asphalt the race may not be over - the driver might just lose ten seconds." And the whole issue of whether it was right to allow Michael Schumacher to be pushed from the gravel at the Nurburgring would not have arisen.

About the author:
Long time columnist at Atlas F1, Karl Ludvigsen is an award-winning author and historian who managed racing programs for Fiat in America in the late 1970s and Ford of Europe in the early 1980s. He is the author of seven books about racing drivers and numerous books about classic racing cars and engines, all of which draw extensively on the many images in his Ludvigsen Library in Suffolk, England. This autumn will see publication of Karl's long-awaited work, the update of his epic Porsche - Excellence was Expected. It reveals for the first time details of the all-conquering McLaren-TAGs and the disastrous Footwork-Porsches. Information on the book and a pre-publication discount are available at the Robert Bentley website

---
© 1995-2005 Kaizar.Com, Inc. . This service is provided under the Atlas F1
terms and conditions
.
Please
Contact Us
for permission to republish this or any other material from Atlas F1.