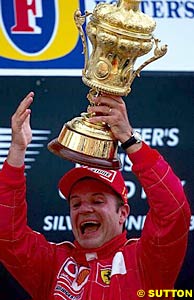 You couldn't have asked for more from a race; or from a Championship for that matter. The British Grand Prix not only offered the best racing of the year, but also served to tighten the battle for the drivers' title even more, with the top five drivers separated by only 20 points with five races remaining.
Even if it was due to the bizarre circumstances, the race provided the fans with one of the most dramatic and thrilling events in recent times, with more overtaking than anyone would have hoped for before the start. It's hard to remember a race where so many drivers deserved a good result after some gutsy wheel-to-wheel racing, and certainly all the men who scored points at Silverstone showed why they finished where they did.
The best racer, however, proved to be Rubens Barrichello, who, after a shaky start on Friday, was the fastest man on track all weekend, silencing critics after a poor couple of Grands Prix that saw him fail to match the pace of his Ferrari teammate Michael Schumacher.
At Silverstone, however, it was the Brazilian who looked like the strongest of the Ferrari duo, recovering from his error on Friday qualifying to clinch his second pole of the season on Saturday and complete his great weekend with one of his best wins on Sunday. If there was doubts about Barrichello's form in a car that is not as superior as the F2002 was last year, his performance at the British Grand Prix showed he can still be the man to beat given the right circumstances.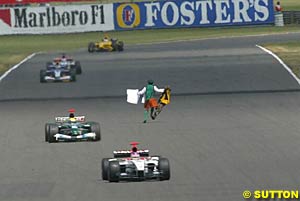 The Ferrari driver completed no less than four brilliant overtaking manoeuvres as he fought his way back to the top of the field, and he did not put a foot wrong despite having to climb from 13th position following the round of pitstops triggered by a track intruder that jumped onto the track on lap 12.
The protestor, and the way Barrichello fought his way through the field, gave a sense of deja vu for everyone who remembered the 2000 German Grand Prix, where the Brazilian came from behind to score a sublime victory after a disgruntled former Mercedes-Benz worker forced his way onto the track to protest.
"This is the second time that somebody has come on to the racetrack and I have won the race," said Barrichello after the race. "They are all going to be saying this guy was a Brazilian, for sure."
Despite the tense moment lived until the kilted Irishman was rugby-tackled - which will certainly not help the under-fire Silverstone in its hopes to retain the Grand Prix - there was no diminishing the significance of Barrichello's win, which came just at the right time both for him and for his team, who returned to the top after two subdued races dominated by Williams.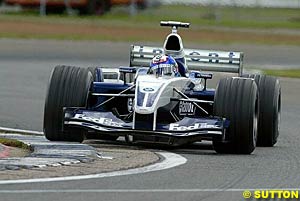 Barrichello's victory also meant there have been seven different winners in 11 races, with only the Schumacher brothers having stepped onto the top step of the podium more than once. Not since 1985 Formula One had seen such a big number of race winners, and chances are not even the FIA would have dreamt of such a close-fought Championship following last year's one-sided campaign.
For Michael Schumacher the British Grand Prix was a bitter-sweet event. Judging by his pace, the German champion could have walked away from England with a healthy lead in the standings, but, for a change, he came off at the losing end when Ferrari called both him and Barrichello into the pits at the same time. Still, Schumacher only lost one point to Kimi Raikkonen at the end of the day, which was far less than it could have been expected halfway through the race.
The McLaren driver was also left with mixed feelings on Sunday, having thrown away what looked set to be a second place finish that would have left him five points behind Schumacher in the standings. In the end, however, he was again a strong contender and his title challenge is still very much alive heading towards the home stretch of the Championship.
Raikkonen's rare driving error benefited Juan Pablo Montoya, who continued with his spectacular streak of finishes to jump ahead of Williams teammate Ralf Schumacher in the standings. The Colombian driver has been somewhat of a quiet racer in the last couple of races, but he has scored a massive 40 points out of a possible 50 and is suddenly right in the battle for the title and in the driving seat at Williams after Ralf failed to score for the first time this year.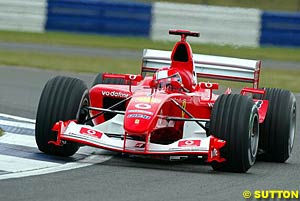 For Ralf the race proved to be a bitter disappointment that not only saw his scoring streak coming to an end, but perhaps most importantly the balance swing in Montoya's direction. At Silverstone the German showed he has the speed to beat his teammate, but that he is still to match his main rivals when it comes to wheel-to-wheel racing.
Of all the many drivers who enjoyed their day in the sun at Silverstone, Jarno Trulli and Cristiano da Matta deserve a special mention, even if at the end of the day they failed to live up to the initial expectations. The Renault driver was especially brilliant in qualifying and while he was able to stay in the lead at the start of the race. The safety car periods, however, affected him badly, dropping down the order as his Renault was unable to match the top speeds of its rivals. In the end, sixth place seemed to be a poor reward for the Italian.
If Trulli lost out due to the track intruder, it was the opposite for Toyota and da Matta, who was able to lead the race for several laps in his strongest showing of the year. The moment did not last long, but it was good enough for him to be noticed.
Qualifying Analysis
As if the different strategies and the tyre war had not made this year's qualifying confusing enough, the British Grand Prix saw another element added to mixture: the wind, which at the end of the day proved to be an advantage for those who had set the worst times on Friday.
Rubens Barrichello was the main beneficiary as, having failed to set a time in first qualifying due to a spin, was the second man to come out in the grid-deciding session. Although the Ferrari driver was probably going to be the man to beat anyway, the strong gusts of wind did no favours to his rivals, whose cars were suddenly behaving in a completely different way.
The higher track temperatures at the start of the session also helped Barrichello's cause, who saw how one after another 18 drivers failed to get close to his time. Silverstone was always going to be a Ferrari circuit, and more so after the Italian squad had completed more than 2,000 kilometers of testing prior to the Grand Prix in order to rectify the problems that had caused them to struggle in the previous two races.
In the end, the hard work paid off, and the performance of the under-fire Bridgestone tyres was up to what the World Champions were hoping.
The Grid
1. Rubens Barrichello Saturday time: 1:21.209
Friday Qualifying: 19th, no time
Always one to do well at Silverstone, Barrichello needed a boost to silence the critics and to get his confidence back to where it was last year. Spinning on his flying lap on Friday, however, did not help, but his recovery was brilliant a day later. Instead of proving a problem, running at the start of the session was an advantage for Barrichello, as the Brazilian got some help from the wind, which got stronger and stronger as the minutes went by. "I don't think running at the beginning of the session was a disadvantage in terms of lap time, but there was a lot more pressure to be 100% committed but not to make a mistake. It was a mind game," said the Ferrari driver, who returned to the front row of the grid for the first time since the Spanish Grand Prix in May.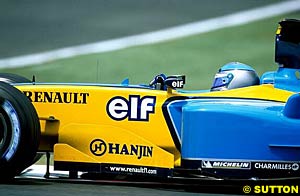 2. Jarno Trulli Saturday time: 1:21.381
Friday Qualifying: 6th, 1:19.963
The hopes were high for Renault with the introduction of the revised R23B chassis, with an improved aerodynamic package that received a lot of praise from the drivers. Had it not been for the lack of top speed from his Renault at the fastest part of the circuit, Trulli would have probably been able to fight to his first ever pole position. Having lost more than three tenths in the first sector, his amazing times in the second and third splits got him within a whisker of the top spot, which surprised even the Italian himself, especially after missing the warm-up for the second consecutive time.
3. Kimi Raikkonen Saturday time: 1:21.695
Friday Qualifying: 12th, 1:21.065
Raikkonen surprised even himself with his performance on Saturday, finding a speed that did not seem to be there in first qualifying. If it was Coulthard who was on the pace on Friday, Raikkonen turned the tables on Saturday, outqualifying the Scot by over a second to put himself in a position to challenge for victory once more. Perhaps more importantly, the Finn was able to qualify both ahead of Ralf and Michael Schumacher.
4. Ralf Schumacher Saturday time: 1:21.727
Friday Qualifying: 3rd, 1:19.788
Not having a car on the front row was a blow for the Williams team after their dominant performances in the last two races. As it was, however, Ralf never looked in contention for the top spot, his FW25 suffering form understeer during most of his flying lap. Still, the younger Schumacher managed to outqualify teammate Montoya for the fifth consecutive time.
5. Michael Schumacher Saturday time: 1:21.867
Friday Qualifying: 1st, 1:19.474
Schumacher has never been a huge fan of the Silverstone circuit, and that showed once again this weekend, the Ferrari driver owning up to one of his rare qualifying mistakes that was especially unfortunate considering both his main rivals to the title qualified ahead of him. Fastest in Friday's session, the German looked set for a spot on the front row when he pushed too hard at the Abbey corner and went off the track. Schumacher, however, was lucky enough to get his car back on track and complete his lap.
6. Cristiano da Matta Saturday time: 1:22.081
Friday Qualifying: 10th, 1:20.765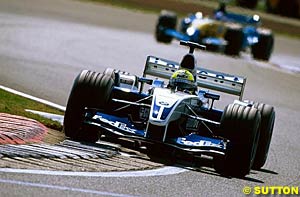 Along with Trulli, da Matta was the other big surprise of the day with a Toyota that seems to be slowly moving towards the right end of the field. The Brazilian put on the best qualifying performance of his rookie season despite having to use the spare car after hydraulic problems in the warm-up that stopped him from completing a single lap before the one-lap shootout. Ironically that seemed to do the trick for da Matta, who claimed the balance of his car was the best it had been all weekend long.
7. Juan Pablo Montoya Saturday time: 1:22.214
Friday Qualifying: 2nd, 1:19.749
The Colombian was another of the drivers who lost out in the different weather conditions of Saturday, having been pleased with his Williams in Friday's session. Montoya, last year's pole setter at Silverstone, had all sort of problems on his flying lap in final qualifying: turn-in oversteer, mid-corner understeer, and poor traction out of the corners. All of that proved what a difference the wind was making, as he had been the fastest man in final practice.
8. Fernando Alonso Saturday time: 1:22.404
Friday Qualifying: 4th, 1:19.907
Unlike Renault teammate Trulli, Alonso was not comfortable with the revised R23B chassis on Saturday, despite looking very strong in first qualifying. For the first time this season, the Spanish driver looked unable to get close to the pace of Trulli, finishing more than a second behind him, complaining about the lack of grip and the poor stability of the car.
9. Jacques Villeneuve Saturday time: 1:22.591
Friday Qualifying: 13th, 1:21.084
The Canadian and teammate Jenson Button were much happier with the latest aerodynamic package introduced for the Silverstone race, which along with another specification of the Honda engine seemed to move the Brackley-based team a step forwards. Things did not look bright for Villeneuve in first qualifying, mainly because of the wrong tyre choice, but the former champion felt much better on Saturday, getting himself into the top ten for the first time since the San Marino Grand Prix and only for the third time this season.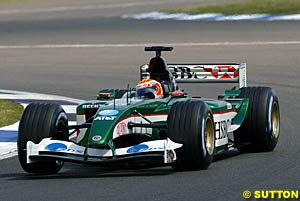 10. Antonio Pizzonia Saturday time: 1:22.634
Friday Qualifying: 11th, 1:20.171
The British Grand Prix was probably the strongest race of the year for Pizzonia, who was always close or ahead of his Jaguar teammate Mark Webber. The Brazilian took full advantage of his knowledge of Silverstone to put on his second best performance of the year, outqualifying Webber for the third time despite suffering from mechanical problems in the final session. Little did he know that Saturday's qualifying could have been the final session he was going to take part in.
11. Mark Webber Saturday time: 1:22.647
Friday Qualifying: 8th, 1:32.778
Qualifying for his second 'home' race proved a disappointment for Webber, who was expecting to do better after posting the eighth fastest time on Friday. The problems with the wind and the fact that Jaguar had not tested properly at Silverstone this year, proved too big of a burden for the Australian, who lost out to teammate Pizzonia by less then two hundredths of a second.
12. David Coulthard Saturday time: 1:22.811
Friday Qualifying: 7th, 1:19.968
Final qualifying proved to be a disastrous day for all the local drivers, which was demonstrated by the fact that Coulthard was the top Briton despite his disappointing 12th position. After his good qualifying performance in France, the Scot's form again took a slump with a very untidy lap with a car he felt was not well balanced: he ran wide at Stowe and locked up at Club. With that he compromised all his chances of returning to the podium for the first time since the opening race in Australia.
13. Olivier Panis Saturday time: 1:23.042
Friday Qualifying: 5th, 1:19.959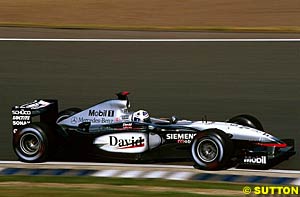 Panis was the big underperformer in final qualifying, dropping down eight positions after an impressive Friday session that saw him setting the fifth fastest time. On Saturday, however, things looked very different for the Frenchman, who was unable to match the pace of teammate da Matta, finishing a second behind the Brazilian rookie. Panis complained of massive oversteer in the last sector of his flying lap, which reflected on his time.
14. Heinz-Harald Frentzen Saturday time: 1:23.187
Friday Qualifying: 15th 1:21.363
Still suffering from problems with the balance of his Sauber, Frentzen put on a decent performance and outqualified teammate Heidfeld by the largest margin of the season: 0.657 seconds. But for missing the apex at the Abbey corner during his flying lap, the veteran German claimed he could have finished higher up the grid.
15. Giancarlo Fisichella Saturday time: 1:23.574
Friday Qualifying: 16th, 1:21.500
Despite Jordan making a rare appearance in the Barcelona testing session the week prior to the race, Fisichella's prospects did not improve an awful lot. The Italian continued struggling at the back despite his best efforts, and he too continued to show his disappointment with his current situation. His comments after Friday's qualifying summed up his feelings: "It's disappointing not to be moving up any higher than this. Our lack of pace is frustrating."
16. Nick Heidfeld Saturday time: 1:23.844
Friday Qualifying: 14th, 1:21.211
The German was the first of several drivers to be hampered by the wind, which he claimed made his Sauber very difficult to drive on his flying lap in final qualifying. To add insult to injury, Heidfeld never felt comfortable with the balance of his car, which reflected in his time and his position, the worst of the season not counting the European Grand Prix, where his car broke down on his flying lap.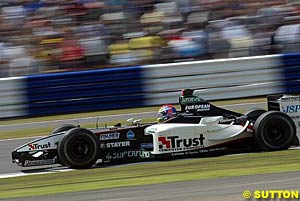 17. Ralph Firman Saturday time: 1:24.385
Friday Qualifying: 17th, 1:22.335
Saturday was not a good day for the British drivers, and the same applied to Firman who, for the tenth time in eleven races lost out to his Jordan teammate Fisichella, this time by almost a whole second. After struggling with oversteer on Friday, the rookie made some changes that saw him struggling with understeer in the final session, something you don't want to suffer from at Silverstone.
18. Justin Wilson Saturday time: 1:25.468
Friday Qualifying: 20th, no time
Like in most of the races in 2003, there was not really much the Briton could do to shine at his home Grand Prix with his under-powered Minardi, except outqualifying his own teammate. To his credit, he did that by more than three tenths of a second and could even avoid the final row of the grid despite not even setting a time on Friday, his car breaking down at the start of his flying lap. With Jaguar things will surely look better for the Briton.
19. Jos Verstappen Saturday time: 1:25.759
Friday Qualifying: 18th, 1:23.418
Verstappen, like teammate Wilson, not only had to make do with the least powerful car of the grid in one of the fastest tracks of the calendar, but also had to cope with the handicap of driving for the only team who had not tested at Silverstone, or elsewhere for that matter. Unlike in France, there was no rain to help him and the Dutchman was unable to escape the final row again.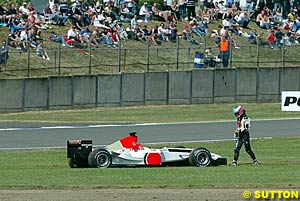 20. Jenson Button Saturday time: no time
Friday Qualifying: 9th, 1:20.569
Button paid the price for trying to do well in front of his home crowd, pushing too hard on his flying lap on Saturday. The BAR driver had done well on Friday and was aiming to go even faster in the final session. Unfortunately for him, Button pushed too hard at the end of the Hangar Straight, going just inches wider than needed, hitting the kerb at the wrong angle and damaging his front left suspension. The error meant he could not even complete his lap and had to start from the back of the grid.
The Race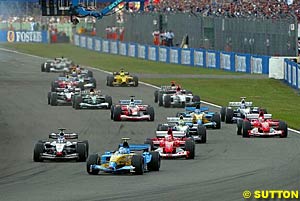 The drivers and spectators were welcomed by mostly blue skies on Sunday, which made for an unusually dry British Grand Prix, although, as usual, the threat of some rain was never completely gone. Probably as most expected, after 10 races with less than brilliant starts, when the lights extinguished Barrichello was unable to keep the top spot, with Trulli already in the lead after a few seconds.
Barrichello also lost out to Raikkonen, who moved to second, with the Brazilian in third followed by Ralf and Michael Schumacher, Alonso, Montoya and da Matta completing the top eight. At the back of the grid, Frentzen came close to stalling his Sauber, but despite dropping to the back of the field the German was able to stay in the race.
The first lap was already a small proof of what was to be expected during the rest of the race, with plenty of action taking place at the top. Alonso was the first man to try a move on Schumacher on the Hangar Straight, but the German slammed the door and the Spanish driver had to put two wheels on the grass to avoid hitting the Ferrari. The move helped Montoya, who moments later would pass Alonso for sixth place.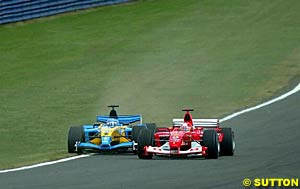 At the front, Trulli and Raikkonen quickly opened a small gap to Barrichello, before the Brazilian got up to speed and set the fastest lap to recover some ground. The race, however, would suffer its first interruption on lap seven, when the Safety Car jumped onto the track to allow the marshals to clean the debris from Coulthard's head rest, which had came off while the Scot was going through Copse.
Coulthard was forced to pit to get another head rest, while da Matta and Firman took advantage of the Safety Car to make their first pitstops. The McLaren driver lost a lot of time, rejoining the track at the back of the field.
The race continued only one lap later, with Trulli still in the lead, followed closely by Raikkonen and Barrichello, who was right behind the Finn. After a few failed attempts the Brazilian finally pulled it off and overtook Raikkonen right after Vale, setting his sight on Trulli, who was slightly over a second ahead.
Only one lap later, however, the cameras focused on the Hangar Straight, where a kilted man had made his way onto the track and was running on the middle of the circuit as the cars passed only meters away at more than 200km/h. Fortunately for the drivers, all of them were able to avoid the intruder, who got his 15 seconds of glory before he was tackled off the track.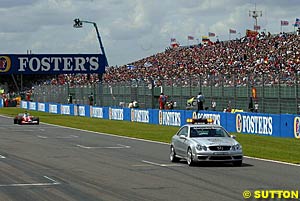 The Safety Car was immediately deployed, and almost everybody took the opportunity to pit. Suddenly the pits were filled with cars. Only six cars did not pit on that lap, and while some drivers were lucky to be the first to make their stops, other had to wait in the pitlane to get new tyres and fuel.
The Ferrari drivers came off worst after the first round of pitstops, with Barrichello returning to the race in seventh position and Schumacher doing it in 15th after having to wait for the mechanics to refuel the Brazilian's car. Da Matta and Panis, who had pitted earlier, were suddenly in first and second, with Coulthard, having pitted earlier too, in third. Trulli was fourth, Raikkonen fifth, and Ralf sixth followed by Firman, Barrichello, Webber, Villeneuve, Montoya, Alonso and Schumacher senior.
Raikkonen was the man on the move right after the Safety Car left the track, the Finn passing Trulli, Panis and Coulthard in the space of one lap. Raikkonen's rivals were not capable of following his progress towards the front, although Barrichello pulled another brilliant move to overtake Ralf, which left the Williams driver right in front of his teammate Montoya.
The Colombian was quick to pass Ralf, who suddenly began to drop down the order, his engine overheating as a guide vane had been torn off and was blocking the airflow. The Williams driver was forced to come into the pits to rectify the problem, but even after that, his pace was not good enough to return to the top positions.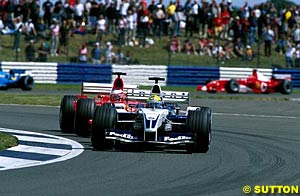 Ralf's brother Michael was first stuck behind Alonso, who was unable to find a way past Villeneuve until lap 24, and then behind the Canadian, who did his best to stop the Ferrari driver from gaining a position. The other Ferrari, meanwhile, was continuing with its charge to the front, Barrichello pulling another great pass over Trulli.
Barrichello then set his sights on Coulthard, who was stuck behind Panis until the Scot dived into the pits for his second stop, dropping down the order. The next man to pit was da Matta, allowing Raikkonen to take the lead some nine seconds ahead of Barrichello, and some 12 ahead of Montoya. Further back, Michael Schumacher had finally found a way past Villeneuve, and was able to run in clean air.
Raikkonen made his second pitstop on lap 35, returning to the track in fifth position and leaving Barrichello alone in the lead. The Brazilian began to raise his pace, setting a series of fastest laps, and pitted on lap 39, rejoining the race less than one second behind Raikkonen and with a car that was looking much faster than the McLaren.
Barrichello's teammate Schumacher was the next man to pit, from fourth position, getting back on track ahead of Alonso, who due to an electrical problem had stalled in the pits and was struggling with no traction control until his gearbox stopped working and had to retire for the second race in a row.
After everybody had completed the second, and for most final, round of stops, Raikkonen led from Barrichello, da Matta, Montoya, Button - who was still to pit for the second time - Coulthard, Trulli, Panis and Michael Schumacher.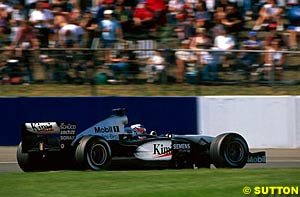 The order at the top, however, would soon change, as Barrichello was all over the back of Raikkonen. The Finn did a good job in defending his position, but at the exit of Abbey the Ferrari driver got the inside line into Bridge and was able to move into the lead despite all of Raikkonen's efforts, the Finn running slightly off the track as he tried to defend his lead.
After that pass, Barrichello never looked back, his gap to Raikkonen increasing quickly as the McLaren driver began to lose ground to third-placed Montoya, who had gained a position after da Matta made his third scheduled stop, which dropped him down to eighth behind Schumacher, who was right behind Trulli and fighting for fifth position.
The World Champion would gain a place when Coulthard, fourth, pitted for the third time and dropped down to seventh position. His teammate Raikkonen, meanwhile, made a driving error at Bridge and for the second time in the race went off the track briefly, allowing Montoya to move to second. The Finn's error, followed by Schumacher overtaking Trulli, suddenly made things look brighter for the Championship leader.
The race was finally settling down, but there was still time for Coulthard to fight his way back to fifth, first passing da Matta and then moving ahead of Trulli with a gutsy move at Abbey, the Renault driver having to settle for a disappointing sixth place which was a poor reward for his performance in the early part of the race. Button, meanwhile, had completed a gutsy drive from the back of the grid to get into the point-scoring positions.
Barrichello covered a quiet couple of final laps and crossed under the chequered flag some five seconds ahead of Montoya to complete a flawless race that allowed him to savour revenge following the criticism he has been subject to recently.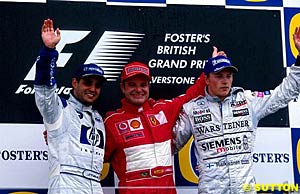 "In the last races, like Canada, I lost my nose (cone) on the first lap, so people said something. Then I spun on the first lap in Magny-Cours. But I am a trier," said the Brazilian. "I am someone who is not going to be behind and be happy. In the last two weeks people have been saying so many things about first lap crashing Rubens, this and that, so I hope they shut up now. I overtook a lot of people."
The win not only helped Barrichello silence his detractors for a while, but also set the scene for a thrilling battle for the title that, unless things change drastically, is likely to go down to the wire, and perhaps with more than one driver having the chance of taking the crown. And it has been very long since the last time that happened.

Race Results

 1.  Barrichello    Ferrari            (B)    1h 28:34.554
 2.  Montoya        Williams BMW       (M)    +      5.462
 3.  Raikkonen      McLaren Mercedes   (M)    +     10.656
 4.  M.Schumacher   Ferrari            (B)    +     25.648
 5.  Coulthard      McLaren Mercedes   (M)    +     36.827
 6.  Trulli         Renault            (M)    +     43.067
 7.  da Matta       Toyota             (M)    +     45.085
 8.  Button         BAR Honda          (B)    +     45.478
 9.  R.Schumacher   Williams BMW       (M)    +     58.032
10.  Villeneuve     BAR Honda          (B)    +   1:03.569
11.  Panis          Toyota             (M)    +   1:05.207
12.  Frentzen       Sauber Petronas    (B)    +   1:05.564
13.  Firman         Jordan Ford        (B)    +   1 lap
14.  Webber         Jaguar Cosworth    (M)    +   1 lap
15.  Verstappen     Minardi Cosworth   (B)    +   2 laps
16.  Wilson         Minardi Cosworth   (B)    +   2 laps
17.  Heidfeld       Sauber Petronas    (B)    +   2 laps

Fastest Lap: Barrichello, 1:22.236, lap 38

Not Classified/Retirements:

Driver        Team                   On Lap
Alonso        Renault           (M)    53
Fisichella    Jordan Ford       (B)    45
Pizzonia      Jaguar Cosworth   (M)    33

World Championship Standing, Round 11:

Drivers:                  Constructors:
 1. M.Schumacher  69       1. Ferrari           118
 2. Raikkonen     62       2. Williams-BMW      108
 3. Montoya       55       3. McLaren-Mercedes   95
 4. R.Schumacher  53       4. Renault            55
 5. Barrichello   49       5. BAR-Honda          14
 6. Alonso        39       6. Jaguar-Cosworth    12
 7. Coulthard     33       7. Jordan-Ford        11
 8. Trulli        16       8. Sauber              9
 9. Webber        12       9. Toyota              7
10. Button        11
11. Fisichella    10
12. Frentzen       7
13. da Matta       5
14. Villeneuve     3
15. Panis          2
 =  Heidfeld       2
17. Firman         1


Pos  Driver        Team                  Lap  Time              
 1.  Barrichello   Ferrari          (B)  38   1:22.236
 2.  Coulthard     McLaren-Mercedes (M)  60   1:22.692 + 0.456
 3.  Trulli        Renault          (M)   9   1:22.797 + 0.561
 4.  Alonso        Renault          (M)  37   1:22.819 + 0.583
 5.  Raikkonen     McLaren-Mercedes (M)   9   1:22.911 + 0.675
 6.  Montoya       Williams-BMW     (M)  33   1:22.938 + 0.702
 7.  R.Schumacher  Williams-BMW     (M)  10   1:22.943 + 0.707
 8.  M.Schumacher  Ferrari          (B)  10   1:23.024 + 0.788
 9.  Pizzonia      Jaguar-Cosworth  (M)   9   1:23.158 + 0.922
10.  Panis         Toyota           (M)  47   1:23.463 + 1.227
11.  da Matta      Toyota           (M)  32   1:23.528 + 1.292
12.  Villeneuve    BAR-Honda        (B)  57   1:23.705 + 1.469
13.  Webber        Jaguar-Cosworth  (M)  28   1:23.833 + 1.597
14.  Button        BAR-Honda        (B)  53   1:23.912 + 1.676
15.  Frentzen      Sauber-Petronas  (B)  58   1:23.933 + 1.697
16.  Heidfeld      Sauber-Petronas  (B)   9   1:24.537 + 2.301
17.  Fisichella    Jordan-Ford      (B)  40   1:24.823 + 2.587
18.  Firman        Jordan-Ford      (B)  33   1:25.087 + 2.851
19.  Wilson        Minardi-Cosworth (B)   9   1:25.859 + 3.623
20.  Verstappen    Minardi-Cosworth (B)   2   1:27.021 + 4.785


Pos  Driver        Team                  Time      Lap
 1.  Coulthard     McLaren-Mercedes (M)  30.953  47
 2.  da Matta      Toyota           (M)  31.093  30
 3.  Panis         Toyota           (M)  31.187  31
 4.  Panis         Toyota           (M)  31.212  45
 5.  da Matta      Toyota           (M)  31.298  44
 6.  Heidfeld      Sauber-Petronas  (B)  31.322  35
 7.  da Matta      Toyota           (M)  31.379   6
 8.  Webber        Jaguar-Cosworth  (M)  31.540  47
 9.  R.Schumacher  Williams-BMW     (M)  31.897  19
10.  Button        BAR-Honda        (B)  32.099  42
11.  Barrichello   Ferrari          (B)  32.401  39
12.  Webber        Jaguar-Cosworth  (M)  32.571  30
13.  M.Schumacher  Ferrari          (B)  32.689  40
14.  Coulthard     McLaren-Mercedes (M)  32.725  28
15.  Frentzen      Sauber-Petronas  (B)  32.730  39
16.  Villeneuve    BAR-Honda        (B)  32.827  41
17.  Trulli        Renault          (M)  32.928  12
18.  Trulli        Renault          (M)  33.104  36
19.  R.Schumacher  Williams-BMW     (M)  33.110  12
20.  R.Schumacher  Williams-BMW     (M)  33.112  39
21.  Montoya       Williams-BMW     (M)  33.272  38
22.  Verstappen    Minardi-Cosworth (B)  33.453  13
23.  Raikkonen     McLaren-Mercedes (M)  33.478  12
24.  Heidfeld      Sauber-Petronas  (B)  33.623  21
25.  Pizzonia      Jaguar-Cosworth  (M)  33.627  25
26.  Firman        Jordan-Ford      (B)  33.784   6
27.  Raikkonen     McLaren-Mercedes (M)  34.107  35
28.  Webber        Jaguar-Cosworth  (M)  34.142  12
29.  Fisichella    Jordan-Ford      (B)  34.164  12
30.  Fisichella    Jordan-Ford      (B)  34.276  38
31.  Wilson        Minardi-Cosworth (B)  35.064  12
32.  Verstappen    Minardi-Cosworth (B)  35.165  36
33.  Heidfeld      Sauber-Petronas  (B)  35.371  12
34.  Firman        Jordan-Ford      (B)  35.424  35
35.  Villeneuve    BAR-Honda        (B)  35.743  12
36.  Barrichello   Ferrari          (B)  36.529  12
37.  Pizzonia      Jaguar-Cosworth  (M)  36.659   7
38.  Alonso        Renault          (M)  40.626  12
39.  Montoya       Williams-BMW     (M)  41.882  12
40.  Panis         Toyota           (M)  42.805   6
41.  Button        BAR-Honda        (B)  43.390  12
42.  M.Schumacher  Ferrari          (B)  45.733  12
43.  Frentzen      Sauber-Petronas  (B)  46.859  12
44.  Wilson        Minardi-Cosworth (B)  48.197  29
45.  Alonso        Renault          (M)  49.774  38
46.  Coulthard     McLaren-Mercedes (M)  52.877   6


The British Grand Prix, Lap by Lap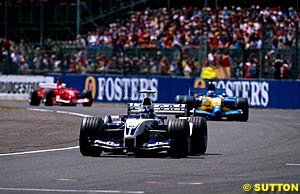 Lap 1: At the start Jarno Trulli makes the fastest getaway and takes the lead at Copse Corner with Kimi Raikkonen also getting ahead of poleman Rubens Barrichello. Ralf Schumacher holds on to fourth place ahead of his brother Michael, Juan Pablo Montoya, Fernando Alonso and a slow-starting Cristiano da Matta. David Coulthard has a good first lap and makes up three places, getting ahead of Antonio Pizzonia, Jacques Villeneuve and Mark Webber. Further back Heinz Harald Frentzen has a disastrous start and falls from 14th to 20th. At the end of the first lap Trulli is seven-tenths ahead of Raikkonen with Barrichello 1.7 seconds behind the Finn.
Lap 2:Trulli sets the fastest lap of the race and increase his lead to nine-tenths of a second. Behind them the order is unchanged.
Lap 3: Trulli increases his lead to over a second but it is Barrichello who is quickest, setting the fastest lap of the race. At the tail of the field the recovering Frentzen passes Justin Wilson for 19th place.
Lap 4: Frentzen passes Ralph Firman for 18th.
Lap 5: Frentzen passes Jos Verstappen for 17th.
Lap 6: Coulthard's cockpit safety padding flies out of the car at Copse Corner. The Safety Car is sent out because of debris on the track. He pits as do da Matta, Panis and Firman.
Lap 7: Pizzonia comes into the pits.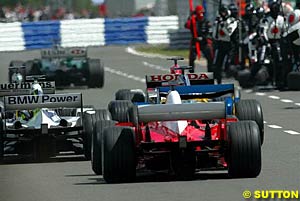 Lap 8: The race restarts with Trulli staying in the lead from Raikkonen, Barrichello, Ralf and Michael Schumacher, Montoya, Alonso and Villeneuve. Further back Verstappen drops back from 16th to 19th.
Lap 11: Barrichello gets past Raikkonen and takes second at Vale.
Lap 12: A man appears on the track on Hangar Straight. He appears to be protesting. The Safety Car is despatched. The man is apprehended by track marshals and handed over to the police. Fourteen cars go into the pits and there are inevitable delays, particularly with teams which have both drivers in pitlane at the same time. Cristiano da Matta moves into the lead ahead of his Toyota team mate Olivier Panis. Coulthard is third with Trulli fourth, Raikkonen fifth, Ralf Schumacher sixth and Firman seventh. Barrichello has lost a lot of time and is eighth but the biggest losers are Montoya, Alonso and Michael Schumacher who have to wait for their team mates to be refueled and rejoin in 12th, 13th and 14th places. Button and Frentzen also suffer the same problem and are back in 18th and 19th places.
Lap 16: The race restarts with the two Toyotas staying ahead but Raikkonen passing both Trulli and Coulthard to move to third. Barrichello passes Firman for seventh position, while Montoya makes up three places by passing Pizzonia, Villeneuve and Webber.
Lap 17: Raikkonen passes Panis for second place. Further back Barrichello and Ralf Schumacher have a lively battle for sixth, the pair swapping places three times on the same lap. Behind them Montoya passes Firman for eighth. At the back of the field Button begins his comeback passing Wilson.
Lap 18: Montoya passes Ralf Schumacher for seventh place. At the back of the field Frentzen passes Wilson to move to 18th.
Lap 19: Ralf Schumacher pits and falls from eighth to the tail of the field.
Lap 20: The race begins to calm down but the action is intense in the midfield with Pizzonia passing Villeneuve for 10th place. Further back Button passes Fisichella for 15th.
Lap 21: Fourteenth-placed Nick Heidfeld goes into the pits and drops to the back of the field.
Lap 23: Da Matta stays ahead of Raikkonen with Panis holding back Coulthard. At the back of the field Ralf Schumacher passes Jos Verstappen for 18th.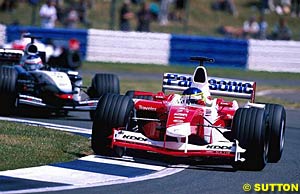 Lap 24: Pizzonia overtakes Webber for ninth place, the two Jaguars touching as the Brazilian forces his way ahead. Behind them Alonso passes Villeneuve for 11th. Button overtakes Michael Schumacher for 13th after the Ferrari goes off the track. At the back Ralf overtakes Wilson to move up to 17th.
Lap 25: Pizzonia comes into the pits and rejoins in 19th position. Michael Schumacher repasses Button for 13th.
Lap 26: Barrichello overtakes Trulli to move up to fifth. Eighth-placed Firman falls behind both Webber and Alonso.
Lap 27: Montoya passes Trulli for sixth place. At the back of the field Pizzonia begins his comeback passing Verstappen for 18th.
Lap 28: Fourth-placed David Coulthard pits and drops back to 16th place.
Lap 29: Ralf Schumacher passes Frentzen to move up to 14th position. Wilson pits and falls a lap behind.
Lap 30: Da Matta pits and so Raikkonen goes into the lead. Da Matta rejoins in seventh position. At the same time Panis is overtaken by both Barrichello and Montoya and so drops from third to fifth. Webber also pits and he rejoins behind Pizzonia in 17th. Coulthard charges back and passes Frentzen for 15th place.
Lap 31: Panis pits and falls from fifth to 15th. Michael Schumacher passes Jacques Villeneuve for ninth place.
Lap 33: Pizzonia becomes the first retirement with a mechanical failure.
Lap 34: Raikkonen remains around nine seconds clear of Barrichello with Montoya third and Trulli fourth. In the midfield Ralf Schumacher passes Button for 10th place.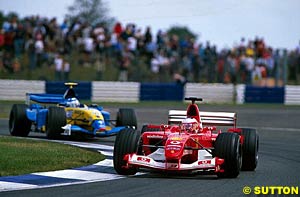 Lap 35: Raikkonen pits and Barrichello takes the lead. Kimi rejoins in fifth place. Also pitting is eighth-placed Firman. He falls back behind the big midfield fight and emerges in 16th. Heidfeld also pits and drops a lap behind.
Lap 36: Third-placed Trulli goes into the pitlane and loses 10 places. Also stopping is Jos Verstappen.
Lap 38: Barrichello has set several fastest laps as he tries to create an advantage over Raikkonen. Montoya and Alonso both pit. The Renault stop is a slow one and while Montoya rejoins in fifth place, Alonso falls back to 14th. In the midfield Fisichella also stops and falls from 10th to 15th.
Lap 39: The leader comes into the pits but cannot get out ahead of Raikkonen. Barrichello is second. Da Matta is third but needs to stop again while Michael Schumacher has moved up to fourth. Montoya is fifth and Villeneuve sixth. Ralf Schumacher pits from seventh place and drops back to 13th. Frentzen also stops and re-emerges in 15th position.
Lap 40: The pit stop sequence continues with Michael Schumacher pitting. This drops him back from fourth into the pack again and he rejoins in 10th.
Lap 41: Villeneuve comes into the pits and falls from fifth to 12th.
Lap 42: Barrichello challenges Raikkonen for the lead and the two men go into Bridge side by side, Kimi goes slightly wide, kicking up the dust and Barrichello takes the lead. Fifth-placed Button also pits. He rejoins ahead of Villeneuve.
Lap 44: Da Matta pits, his three-stop strategy meaning that he drops from third place to eighth. Fisichella has a big spin at Becketts and breaks the suspension on his Jordan. He tours round to retire.
Lap 45: Panis is also on a three-stop strategy and pits. This drops him from sixth place to 13th.
Lap 47: Coulthard has his third stop and falls from fourth to seventh. Eighth-placed Webber is also on a three-stop strategy and he falls back to 15th.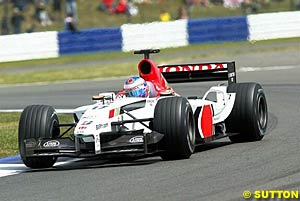 Lap 48: Raikkonen runs wide for a second time and Montoya moves into second place. Behind them Michael Schumacher forces his way past Trulli for fourth place.
Lap 51: The race has finally settled down with Barrichello leading Montoya and Raikkonen. There is then a big gap back to Michael Schumacher and Trulli. Coulthard passes da Matta to grab sixth place.
Lap 52: Button overtakes Alonso to move up to eighth position.
Lap 53: Alonso goes out with a mechanical problem.
Lap 58: In the closing stages Coulthard passes Trulli for fifth.
Lap 59: Villeneuve goes off and loses ninth place to Ralf Schumacher.
Lap 60: Barrichello wins from Montoya, Raikkonen and Michael Schumacher. The remaining points go to Coulthard, Trulli, da Matta and Button.