---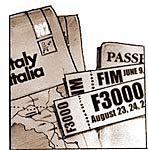 Elsewhere in Racing
Updates from the Rest of the Racing World
---
By Mark Alan Jones and David Wright, Australia
Atlas F1 Magazine Writers
Advice: The points tables for most series covered by Elsewhere In Racing are available here. Individual series are linked to their corresponding points table after each report.
Formula 3000
Re-Bjorn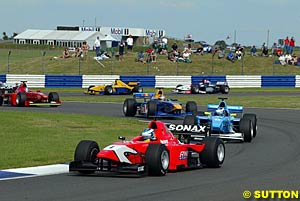 Bjorn Wirdheim won his second race of the year, and in doing so has edged closer to sealing the International Formula 3000 Championship. With a dominant lights-to-flag display, Wirdheim has moved 18 points clear of Giorgio Pantano with three races to go.
"I'm delighted to have won this race," said Wirdheim, "especially as it is the team's home race and it's been too long since my last win at Imola. The car was fantastic throughout the weekend and I'm pleased to have beaten Tomas's (Enge) qualifying time from last year."
Wirdheim's pace had seen him take pole position from his chief championship rival Pantano by four tenths of a second. Ricardo Sperafico, Vitantonio Liuzzi and Patrick Freisacher all followed closely, with Townsend Bell completing the first three grid positions of a grid now reduced to 16 cars in the absence of the Danish Den Bla Avis squad. Monaco winner Nicolas Kiesa started the race from eleventh, driving Derek Hill's Super Nova Racing Lola.
Wirdheim made the best of the start to lead into Copse Corner from Pantano, Liuzzi, Sperafico, Freisacher and Enrico Toccacelo. Wirdheim moved gradually away from the field, taking Pantano with him initially before running out to an untroubled nine second victory over Pantano. Liuzzi had a close battle to finish third, but was never taken from the position he had won at the start. Liuzzi was half a second clear of Sperafico and Freisacher. Toccacelo and Bell were next, while the only passing moves in the points positions were for eighth. Tony Schmidt breifly took eighth from Jaroslav Janis only to suffer mechanical failure. A lap later and new Minardi Formula One signing Kiesa took the position from Janis.
With only three races left, Wirdheim would need to go pointless in two of them to lose the title, as Pantano has 34 points to Wirdheim's 52. Five points behind Pantano is Liuzzi with Sperafico and Toccacelo a further two points behind. The next stop is at the re-born Hockenheim.
Result of International Formula 3000 Championship, Round 7 of 10, Silverstone, United Kingdom:

Pos  Drivers              Team
 1.  Bjorn Wirdheim       Arden International
 2.  Giorgio Pantano      Durango Formula
 3.  Vitantonio Liuzzi    Red Bull Junior
 4.  Ricardo Sperafico    Coloni Motorsport
 5.  Patrick Freisacher   Red Bull Junior
 6.  Enrico Toccacello    Super Nova Racing
 7.  Townsend Bell        Arden International
 8.  Nicolas Kiesa        Super Nova Racing
 9.  Yannick Schreoder    PSM Racing
10.  Jaroslav Janis       PSM Racing

Standings: Bjorn Wirdheim 52, Giorgio Pantano 34, Vitantonio Liuzzi 29, Enrico Toccacelo and Ricardo Sperafico 27, Nicolas Kiesa 20, Jaroslav Janis and Yannick Schroeder 13, Patrick Freisacher 12, Raffaele Gianmaria 11 etc.
Formula 3000 points distribution
IRL
Nashville Triumph For Brazilian de Ferran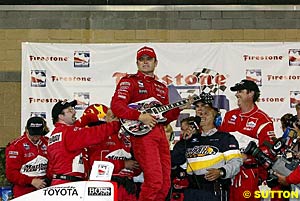 Indy 500 winner Gil de Ferran of Brazil scored his second victory of the year, holding off New Zealander Scott Dixon in the closing laps of the Nashville 200 race which finished under caution Saturday. Brazilian Helio Castroneves finished third to complete a podium sweep for Toyota-powered Indycars. He and de Ferran were in Dallaras while Dixon was driving a G-Force.
De Ferran, who finished second here last year, said he had a "perfect strategy, perfect car". "I know that in both years I had a fantastic car here, and I guess it shows in the results," he added.
The race was shaping up as a shootout between de Ferran and Dixon when Buddy Lazier brought out two separate cautions in the last six laps of the race. De Ferran took the lead from polesitter Dixon on lap 14 and led until lap 34. But he did not take the lead for good until lap 173 under caution.
From that point all he had to do was keep the Kiwi in his mirrors to earn his fourth Indy Racing League victory since joining the circuit full-time last year with the powerful Roger Penske Racing team. Britain's Dan Wheldon, in his first full year in the series, finished fourth in a Honda-powered Dallara.
De Ferran (289 points) is now only 14 points behind series leader Tony Kanaan of Brazil, who was ninth on Saturday. Dixon is one point behind de Ferran.
Result of Indy Racing League, Round 9 of 16, Nashville Superspeedway, Tennessee, United States:

Pos  Driver              Team
 1.  Gil de Ferran       Team Penske Dallara-Toyota
 2.  Scott Dixon         Chip Ganassi Racing GForce-Toyota
 3.  Helio Castroneves   Team Penske Dallara-Toyota
 4.  Dan Wheldon         Andretti Green Racing Dallara-Honda
 5.  Alex Barron         Mo Nunn Racing GForce-Toyota 
 6.  Kenny Brack         Team Rahal Dallara-Honda
 7.  Tora Takagi         Mo Nunn Racing GForce-Toyota 
 8.  Al Unser Jr         Kelley Racing Dallara-Toyota  
 9.  Tony Kanaan         Andretti Green Racing Dallara-Honda
10.  Tomas Scheckter     Chip Ganassi Racing GForce-Toyota

Standings: Tony Kanaan 303, Gil de Ferran 289, Scott Dixon 288, Helio Castroneves 282, Kenny Brack 245, Al Unser Jr 227, Scott Sharp 193, Sam Hornish Jr 186, Tomas Scheckter 179, Tora Takagi 175 etc.
Report provided by Reuters
NASCAR
Johnson Judges The Juice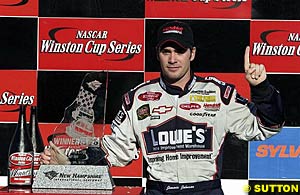 Jimmie Johnson was one of the fastest cars all day, and some economical and fast driving saw him run out the winner at New Hampshire as teammate Jeff Gordon suffered a poor finish despite leading the most laps and running up front most of the day as fuel economy and cautions played a major part in the race result for the third successive week. A third place finish for Matt Kenseth sees the margin he holds over second placed Jeff Gordon in the championship open to 234 points, well over a race win, as Earnhardt Jr remains in third place, Gordon and Earnhardt Jr the only two who seem to have any (slim) chance of running down Kenseth for the title.
With qualifying rained out, the field was set by owners' points, with Matt Kenseth and Jeff Gordon filling the front row. At the start Kenseth took the lead, but slipped high on lap two, allowing Gordon and Dale Earnhardt Jr past. Lap three saw Earnhardt Jr take the lead only for Gordon to take the lead back two laps later as Jimmie Johnson joined them and then passed Earnhardt Jr on lap six, while Kenseth was dropping down the top ten. First caution of the day came out on lap 10 after John Andretti went into the turn one and two wall after Jimmy Spencer ran wide into the side of him. Back to green on lap 16 but not for long, the next caution out on lap 22 after Sterling Marlin lost a front right tyre, the debris from the tyre bringing out the yellow.
The race resumed on lap 28, Gordon slowly edging away from teammate Johnson, with Earnhardt Jr further back in third with his teammate Michael Waltrip just behind him, Kenseth back in sixth. In what became a theme of the day, the cautions kept rolling, the next one out on lap 62 after Marlin lost another right front tyre, this time bouncing off the wall. As would also happen for the rest of the day, teams took differing tyre strategies, some taking two versus four. Kevin Harvick and Kenseth were among those taking two and were first out, ahead of Johnson, Waltrip and Rusty Wallace with Gordon back to sixth. Racing restarted on lap 66, Johnson taking second from Kenseth three laps later as Gordon took fifth from Wallace on lap 71, Wallace losing several more places soon after.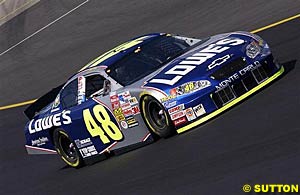 Gordon continued to move forward, taking fourth from Waltrip on lap 73 and third from Kenseth a few laps after that as Johnson pushed Harvick for the lead. After a few laps side-by-side with Harvick, Johnson took the lead on lap 80, their dicing allowing Gordon to close right in on them with Gordon taking second from Harvick on lap 80 also. More debris on the track brought out the next caution on lap 101, the field pitting with several cars taking two tyres and some just fuel, Gordon taking the lead from Tony Stewart, Bill Elliott, Johnson and Ricky Craven in somewhat of a reshuffle. The race went green on lap 108 but was back to yellow on lap 110 after Rusty Wallace was spun by Dale Earnhardt Jr off turn two, the subsequent cloud of tyre smoke causing the yellow.
The race restarted on lap 114, Gordon opening a gap as Johnson pressured then passed Stewart for second on lap 117, just before the caution came out on lap 118 for Mike Wallace's crash on the backstretch. Back to green on lap 122, Gordon still showing the way and opening a gap as Jeff Burton continued his march up the field, taking third from Stewart on lap 124 and quickly moved onto second place Johnson's tail, eventually taking the place from Johnson on lap 138. Debris from another flat front tyre, this time Jeremy Mayfield's, brought out the next caution on lap 146. In came the field to pit, with no versus two versus four tyres choice again taking place. Jamie McMurray and Kyle Petty didn't even pit and took over at the front, while of those who pitted Elliott and Harvick were the first out to move into third and fourth. Meanwhile Johnson and Burton went from third and second to eighth and ninth as leader Gordon was now down in 15th!
Lap 151 of 300 and it was back to racing, but not for long, Kenny Wallace's front right suspension failing, causing him to run into and spin Jeff Burton to bring out the caution on lap 154. Back to green again on lap 157, as Harvick pressured McMurray for the lead, taking the place on lap 160, Joe Nemechek moving into second three laps later as Johnson took fifth from Robby Gordon. The next caution wasn't far away, coming out for debris on lap 166 following contact off turn four when Rusty Wallace squeezed Stewart into the wall, with part of the rear of Wallace's car falling off and landing on the track. The race restarted on lap 170, Jeff Gordon up to ninth as they restarted. Soon after Johnson took third place from McMurray, and moved into second a few laps after that as Jeff Gordon's progress saw him back in the top five.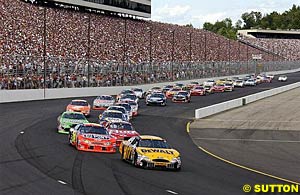 Lap 197 saw the next caution after McMurray backed his car hard into the turn one wall after suffering some kind of car problem. The field pitted with the usual tyre shuffle taking place, Burton taking over the lead by not pitting, ahead of Harvick, Jeff Gordon, Earnhardt Jr and Craven while a problem on Tony Stewart's pit stop dropped him to 31st. The race restarted on lap 203 but was immediately back to caution one lap later with part of a fuel hose laying on the track. The majority of lead lap cars pitted, with many of them figuring they could probably make it to the end without stopping again. Some would be banking on some yellow laps however, though considering the day's running so far that seemed fair enough!
At the restart on lap 212 the order was Jeff Gordon, Craven, Robby Gordon, Newman, Labonte as they and a few others had stayed out waiting to pit later, though Newman had stopped at the lap 197 yellow and was hoping to make it to the end without taking on more fuel as Harvick in 13th was the best placed of those who had just stopped and could (probably) make it to the end. Newman quickly moved past Robby Gordon into third as Jeff Gordon extended his lead at the front. Lap 234 and caution returned to the track once more after Mike Wallace tipped Christian Fittipaldi into a spin off turn four. Those who didn't pit earlier made their final stops, again some drivers taking zero, two or four tyres.
Among those who took four were Stewart and Jeff Gordon, Gordon dropping from first to 28th, as the top five now comprised of Newman, Robby Gordon, Steve Park, Dale Jarrett and Johnson. The race restarted on lap 240, Johnson quickly on the move, taking Jarrett for fourth, then third from Park on lap 244 and second from Robby Gordon one lap later as Newman moved clear at the front. Harvick was on his way back towards the front, soon up into fourth place, and third when teammate Robby Gordon let him through on lap 254. Meanwhile Jeff Gordon and Stewart had moved up the order but still were outside the top twenty. At the front, Johnson quickly closed in on Newman but couldn't get by immediately as Newman put up a fight.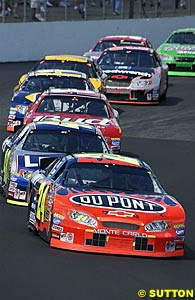 Eventually Johnson was too strong, taking the lead after battling for several laps. Meanwhile Stewart and Jeff Gordon were still outside the top twenty and surprisingly falling down the order. Harvick was still pushing on at the head of the field, catching and passing Newman with 22 laps to go. Ten laps later points leader Kenseth, who had ran top ten almost all day, was up on Newman's tail, taking third from him two laps later. Seven to go and Waltrip, running near the top ten, was forced to pit after he was black flagged for loose tailpipes. dropping him to 28th at the end.
Up front Johnson was safely clear of Harvick, taking the win ahead of him with Kenseth taking third place ahead of Newman and Robby Gordon. Late in the race some people's fuel gambles didn't pay off, Elliott running out with four to go while Nemechek, Ricky Rudd and Johnny Sauter were among those who ran out of fuel on the final lap. Tony Stewart ended his day 22nd, while Jeff Gordon, leader with less than 70 laps to go, leading the most laps all day and with seemingly a winning car, finished the race in 24th place.
Result of NASCAR Winston Cup, Round 19 of 36, New Hampshire International Speedway, New Hampshire, United States:

Pos  Driver                Car
 1.  Jimmie Johnson        Chevrolet Monte Carlo
 2.  Kevin Harvick         Chevrolet Monte Carlo
 3.  Matt Kenseth          Ford Taurus
 4.  Ryan Newman           Dodge Intrepid
 5.  Robby Gordon          Chevrolet Monte Carlo
 6.  Dale Earnhardt Jr     Chevrolet Monte Carlo
 7.  Dale Jarrett          Ford Taurus
 8.  Steve Park            Chevrolet Monte Carlo
 9.  Jeff Burton           Ford Taurus
10.  Greg Biffle           Ford Taurus

Standings: Matt Kenseth 2848, Jeff Gordon 2614, Dale Earnhardt Jr 2575, Bobby Labonte 2472, Jimmie Johnson 2429, Michael Waltrip 2373, Kevin Harvick 2316, Kurt Busch 2243, Tony Stewart 2226, Jeff Burton 2200 etc.
V8 Supercar
'The Enforcer' Returns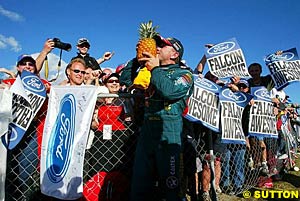 After a two year hiatus from the winner's circle, Russell Ingall returned there on the weekend, winning at Queensland Raceway, leading home teammate Marcos Ambrose to record Stone Brothers Racing's first 1-2 finish. As welcome as Ingall's win was for himself, the team and Ford, it only happened after Ambrose tripped himself up at a pitstop as he looked set to take another dominant win on his way to five wins in a row. Still a win's a win and Holden's main hope Mark Skaife didn't even finish, despite handing HRT's new VY to his teammate Todd Kelly to minimise the risk of car failure, Kelly finishing the day third.
Kelly wasn't the only driver in new machinery, as Ford Performance Racing made their team an all BA attack with David Besnard finally getting his new car, while Paul Morris ran a VY built from the ground up a 'Project Blueprint' car, including the new engine. The ownership of the former TWR Australia teams appears to have been sorted out to the satisfaction of TEGA, though little detail is available other than to confirm Mark Skaife is now the owner (and one of the drivers) of HRT (Holden Racing Team) while Rick and Todd Kelly's parents John and Margaret are the owners of the KMart Racing Team, with Rick driving for KMart and Todd at HRT. Finally, the series has welcomed a new 'platform' sponsor, with Australia's largest ISP BigPond joining the fray as they rebrand and revitalise their business.
The event saw the return to the 300 km race format featuring several times this season, with a compulsory stop for tyres and a compulsory stop for fuel. Marcos Ambrose was on pole with Mark Skaife alongside, with Paul Morris a superb third and Simon Wills in sixth place on the grid for Team Dynamik the standouts. At the start Skaife got the jump, leading Ambrose into turn ahead of Russell Ingall, Paul Morris and Jason Bright. After a poor start, Greg Murphy was moving back up, taking eighth on lap two and seventh on lap three. Next on his list was Wills, Murphy diving inside into turn three. Except he had gone in too deep and slipped wide, knocking Wills off the track and down to twelfth place while Murphy dropped to ninth.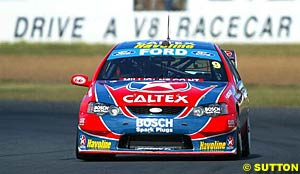 Up at the front Skaife and Ambrose had a small gap on Ingall who had a similar gap over Morris as the top four ran away and hid from the rest of the field, led by Jason Bright in fifth who had a train of cars behind him. Steven Richards was the first major casualty, forced to pit on lap 14 after alternator problems flattened his battery, returning later in the race before being forced to retire for good. As the race passed the 20 lap mark, Skaife began to open a small gap over Ambrose as Ingall and Morris dropped further back but were still the only two anywhere near the leading duo.
Lap 34 saw the first of the leaders pit, Paul Radisich pitting from seventh for fuel. At the very front, Todd Kelly pitted for fuel on lap 40, while Ingall pitted for fuel on lap 41, two laps before the leading duo pitted, Skaife taking fuel while Ambrose went for tyres. With a tyre stop around ten seconds faster than a fuel stop, Ambrose moved ahead of Skaife but needed to make up some ground on fresh tyres and low fuel to make sure he remained ahead of Skaife on heavy fuel and old tyres when he pitted for tyres later in the race. Back on track, Ambrose was able to do this, pulling out the gap at around a second a lap.
Skaife saw this happening and was back in for tyres just four laps after taking fuel, Ingall stopping one lap later and coming out ahead of Skaife, a slow front left tyre change on Skaife possibly the cause as the bulk of the field made both of their stops. Despite Skaife and Ingall moving onto new tyres, Ambrose was still consistently lapping around a second per lap faster as he prepared to make his stop for fuel. Lap 55 and Ambrose was back in for fuel. The fuel went in with no problems, but as Ambrose went to exit his pit bay the car stalled. It immediately refired but this meant that he was going to be close to Steven Ellery who had already pitted and was already in the 'fast' lane as Ambrose exited his pit bay.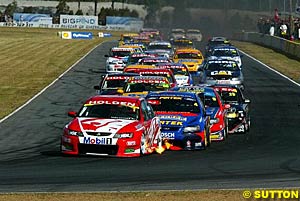 Too close in fact, the rear of Ambrose's car nudging Ellery's car as Ellery slowed and then stopped as he saw Ambrose coming towards him at the last second into the fast lane of the pits. After similar incidents earlier in the season the ruling is clear in these situations - cars in the 'fast' lane have right of way, and so it was no surprise that Ambrose was immediately handed a drivethrough penalty, turning his ten second lead over teammate Ingall into a fifteen second deficit to Skaife when he took the penalty two laps after his dramatic pit stop. Such was the pace of the leading trio that despite losing around thirty seconds with his penalty, Ambrose resumed the race in third place. The pitstop shuffle had seen Bright and Kelly move up to fourth and fifth whilst Morris was down to sixth after a jammed wheel nut cost him nearly twenty seconds.
Back on the track, Ambrose was flying once more, catching the leading duo of Ingall and Skaife at around three-quarters of a second per lap. At this rate, Ambrose would catch Skaife before the end of the race, Skaife maintaining a two second deficit to leader Ingall. Elsewhere, Todd Kelly, who had spent virtually the whole race behind Jason Bright, finally got ahead of him on lap 63 to move into fourth, Paul Morris following his way past. Lap 81 saw Radisich lose two places to drop to ninth after John Bowe and Craig Lowndes went past at turn three, Lowndes taking seventh from Bowe six laps later. Meanwhile Ambrose's relentless chase of Skaife had continued, bringing the margin down lap by lap until by lap 86 he was right on Skaife's tail. The only problem now was whether he could find a way past in the remaining 10 laps.
Though Ambrose was right on Skaife's tail, he was having a hard time finding a way past, Skaife driving well off the corners preventing Ambrose from getting alongside down the straights. This all became academic however when on lap 89 Skaife suffered his second engine failure in two years at Queensland Raceway, ending his day early and moving everyone still running, most significantly Ambrose, up a place. Ambrose continued to push and close on teammate Ingall for the lead but ran out of laps as Ingall took the win ahead of Ambrose, Skaife's teammate Todd Kelly filling out the podium.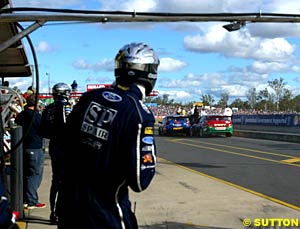 However, two late race incidents spiced up the end of the race. On lap 95 Paul Radisich, running in eighth place, began to slow. He was out of fuel, his stop on lap 34 proving to be too early to make it to the end, his drop down the order costing him 108 points. Just metres further around the track that same lap, Greg Murphy unloaded backmarker David Thexton off turn three. Despite the contact not appearing to be accidental, not entirely at the very least, Murphy was not penalised for the incident. Some will see at as payback for what happened earlier at the season at Winton, though what it really does is further highlight the somewhat inconsistent nature of decisions made by the stewards.
Result of V8 Supercar Championship Series, Round 7 of 13, Queensland Raceway, Australia:

Pos  Driver                Car
 1.  Russell Ingall        Ford Falcon BA
 2.  Marcos Ambrose        Ford Falcon BA
 3.  Todd Kelly            Holden Commodore VY
 4.  Paul Morris           Holden Commodore VY
 5.  Jason Bright          Holden Commodore VX
 6.  Craig Lowndes         Ford Falcon BA
 7.  John Bowe             Ford Falcon BA
 8.  Greg Murphy           Holden Commodore VX
 9.  Rick Kelly            Holden Commodore VX
10.  Paul Weel             Holden Commodore VX

Standings: Jason Bright 1195, Marcos Ambrose 1159, Greg Murphy 1101, Russell Ingall 1013, Paul Weel 1007, Steven Richards 992, Mark Skaife 965, Craig Lowndes 908, Rick Kelly 898, Paul Radisich 836 etc.
Standings (after worst round dropped): Marcos Ambrose 1063, Jason Bright 1061, Steven Richards 992, Greg Murphy 987, Russell Ingall 931, Mark Skaife 929, Paul Weel 881, Craig Lowndes 850, Rick Kelly 799, Paul Radisich 794 etc.
V8 Supercar points distribution
MotoGP
Rossi-Ducati Dream Team May Have To Wait
By Nick Mulvenney
World champion Valentino Rossi last week reiterated his desire to ride on a Ducati in MotoGP, raising a mouthwatering prospect for Italian bike fans. "For sure I'd like to ride for Ducati," Rossi was quoted as saying in last Wednesday's edition of Motor Cycle News. "It is like a dream and I already know that the bike is fast."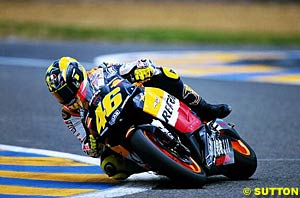 Rossi, who has ridden a Honda to the world title in the premier class of grand prix racing for the last two years and looks on track for a third in a row, is by far the biggest star motorcycling has had for years.
Ducati have had remarkable success on their return to top class grand prix racing this year after a gap of more than three decades, and are to bikes what Ferrari are to cars in Italy. So the prospect of the charismatic Rossi riding the Ducati Desmosedici would not just be a dream come true for him, but also for a legion of Italian enthusiasts.
Rossi's flirtation with Ducati may, however, have more to do with his contract negotiations with Honda than any desire to unite two big names of Italian motorcycling. Honda's RCV machine made Rossi untouchable in last year's first season of MotoGP racing and they would like to secure his signature on a new deal, valid for at least two years, in the next couple of weeks.
Rossi, however, would like a one-year deal to free him up to talk to other teams after the 2004 season, when the contracts of most of the other top riders in MotoGP, including Loris Capirossi and Troy Bayliss at Ducati, come to an end. Rossi has also spoken about quitting the sport after what could be four successive world titles and taking up one of the many offers extended to him to try his luck in Formula One or rallying.
Valentino wants to keep his options open so if he decides to finish with motorcycle racing he can do," Honda Europe chief Carlo Fiorani said. "He doesn't want long-term contracts affecting his life decisions." But Fiorani added: "To us a one-year contract is not acceptable."
While Rossi and the end of the 500cc limit have been in large part responsible for what is being described as a new golden age of grand prix racing, the return of Ducati this season has been the icing on the cake.
Using the know-how gained in dominating the rival world superbike championship for most of its 15 years, the Italian marque hit the ground running with the riders Capirossi and Bayliss on the Desmosedici. In the eight Grands Prix so far the pair have led six races, scored one victory, had four podium finishes, two poles and seven front-row starts. Capirossi and Bayliss are fourth and fifth in the standings behind three Honda riders at the halfway point of the season.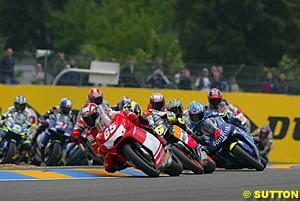 "We are clearly now the strongest team in MotoGP after Honda, which I think is an incredible achievement considering we have only been in MotoGP since April," Ducati chief Federico Minoli said at the British Grand Prix last weekend.
Capirossi's historic first victory for Ducati at the Catalan Grand Prix last month was the first in the top class by a non-Japanese bike since 1994 and the first by an Italian on an Italian bike since Giacomo Agostini on an MV Agusta in 1976. Australian Bayliss, the 2001 Superbike champion for Ducati, is also going well and Briton Neil Hodgson might be looking for a switch to MotoGP if, as expected, he wins this year's Superbike title for Ducati.
With this talent in hand it is a moot point whether Ducati would have room for Rossi, and less doubtful is whether they would want to pay the kind of money he demands. Rossi is reported to be asking for a sum in the region of $10 million from Honda, a figure Minoli says is beyond Ducati.
"Valentino is a great rider and the idea for us was to show that we had a suitable bike before we even dreamed about him riding for us," he told Motor Cycle News. "Now we have a suitable bike so everybody can dream ... but we are happy with our current riders."
"If Valentino wants to be paid what we read about in the press then he can only have that kind of money from Honda. We are a small company and there is no way we can afford that."
Report provided by Reuters
Briefs
2001 SCCA ProRally champions, Mark Lovell, 43, and co-driver Roger Freeman, 52, were killed during the opening special stage of the SCCA ProRally event, The Oregon Trail, in the northwest United States last Saturday week. Lovell, the 1986 British Rally Champion, left the road very early in the stage and the Subaru Team USA Impreza WRX struck a tree. It has been a terrible year for Subaru's factory supported teams, coming only a few months after the death of Subaru rallying icon Peter 'Possum' Bourne in a road accident in New Zealand.
Upcoming Events Calendar
July 23 - World Rally Championship, Round 8 of 14; Rally Deutschland, Germany
July 24 - Middle East Rally Championship, Round 3; Jordan International Rally
July 26 - Spa 24 Hour, FIA GT Championship, Round 5 of 10; Spa-Francorchamps, Belgium
July 26 - European Touring Car Championship, Rounds 9 & 10 of 20; Spa-Francorchamps, Belgium
July 27 - World Motorcycle Championship, Round 9 of 16; Sachsenring, Germany
July 27 - Champ Car World Series, Round 11 of 19; Vancouver Street Circuit, Canada
July 27 - Indy Racing League, Round 10 of 16; Michigan International Superspeedway, Michigan, United States
July 27 - Deutsche Tourenwagen Masters, Round 6 of 10; Donington Park, United Kingdom
July 27 - NASCAR Winston Cup, Round 20 of 36; Pocono International Speedway, Pennsylvania, United States
July 27 - American Le Mans Series, Round 3 of 9; Road Atlanta, Georgia, United States
July 27 - World Superbike Championship, Rounds 17 & 18 of 24; Brands Hatch, United Kingdom
July 27 - All-Japan Formula Nippon Championship, Round 6 of 10; Sugo, Japan
August 1 - European Rally Championship, Co-efficient C20 event; Rally Vinho de Madeira, Portugal
August 1 - African Rally Championship, Round 4; Ruanda Mountain Gorilla Rally, Rwanda
August 2 - International Formula 3000 Championship, Round 8 of 10; Hockenheim, Germany
August 3 - NASCAR Winston Cup, Round 21 of 36; Brickyard 400, Indianapolis Motor Speedway, Indiana, United States
August 3 - British Formula 3 Championship, Rounds 15 & 16 of 24; Rockingham, United Kingdom
August 3 - American Le Mans Series, Round 4 of 9; Trois-Rivieres, Canada
August 6 - World Rally Championship, Round 9 of 14; Rally Finland
August 8 - V8 Supercar Championship Series, Round 8 of 13; Oran Park, Australia
August 9 - British Touring Car Championship, Round 7 of 10; Snetterton, United Kingdom
August 10 - Champ Car World Series, Round 12 of 19; Mid-Ohio Sports Car Course, Ohio, United States
August 10 - Indy Racing League, Round 11 of 16; Gateway International Raceway, Illinois, United States
August 10 - NASCAR Winston Cup, Round 22 of 36; Watkins Glen, New York, United States
August 10 - European Formula 3000 Championship, Round 6 of 10; Donington Park, United Kingdom
---
© 1995-2005 Kaizar.Com, Inc. . This service is provided under the Atlas F1
terms and conditions
.
Please
Contact Us
for permission to republish this or any other material from Atlas F1.