---
The Man Behind the Champion:
Interview with Chris Dyer
---
By Timothy Collings, England
Atlas F1 GP Correspondent
Behind every great Formula One driver, there's a race engineer who is often unknown to the public. Atlas F1's Timothy Colling talks to Dyer about pressure of life with the five-times Ferrari World Champion

Chris Dyer is tall, bespectacled and works in Formula One with Ferrari. He is also Australian and enjoys, if that is the right word, the pressure of being race engineer for defending drivers' World Champion Michael Schumacher.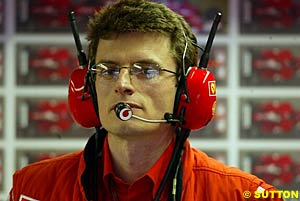 It is a daunting task. The expectations are high and the risks of failure apparent on every lap. Only rarely, if ever, does he step from the shadows and emerge in the glorious spotlight of a sporting victory. His work is usually hidden from sight.
In Montreal, last month, however, it was Dyer's attention to detail, his ability to cope with a minor technical crisis and to communicate easily with Schumacher during the Canadian Grand Prix race that helped the five-time champion to victory.
Suffering from acute brake problems, Schumacher liased constantly via his radio-communications link with his Antipodean engineer whose interpretation of telemetry readouts dictated how to re-tune the balance of his car's brakes and enhance his hopes of victory. It was, by all accounts, a remarkable performance by driver and engineer.
One, out on the track, performed with cool aplomb, trusted his information and his team and drove to a win that lifted him to the top of the Formula One Drivers' Championship standings. The other, in the garage, looked at monitor screens that told him of the problems on the F2003-GA car's braking system, and delivered the instructions that helped secure victory.
Yet, remarkably, it was an achievement that Dyer took in his considerable stride. It was just another day at the office, another achievement in the teamwork that has been at the heart of Ferrari and Schumacher's rise to Formula One hegemony these last few seasons. And, just as remarkably, Dyer used to work as a data analysis engineer for Damon Hill, perhaps the most voluble of all the great rivals Schumacher has fought with on-track in the last decade. But it did not hold him back.
"First and foremost, Michael is a really nice person to work with," Dyer said. "He's a great guy, easy to get along with and that makes the job much easier. On the other side, obviously the pressure is enormous. The pressure from him is not so much a direct pressure, but he is performing at a certain level and, therefore, everybody that works with him, by default, will be expected to work at that level as well.
"It's by no means a direct pressure - you don't feel the pressure from him that you need to perform at a certain level. It is just that there is pressure on everyone at Ferrari. We're used to winning and he's used to winning and that's the norm at Ferrari."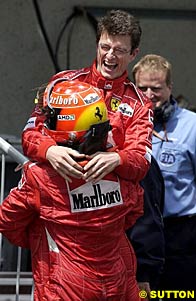 In his 188 Grands Prix during his 12 years in Formula One, Schumacher has won a record 68 races and accumulated an unprecedented total of 1009 points as well as five titles. An exceptional mechanical sensitivity as well as enormous natural pace and skill has made his partnership with Dyer work almost easily.
"One of his strengths is, not only can he drive quickly, but he has a very good understanding of the car, how the car should work and how the systems on the car work," said Dyer, whose career in Formula One has taken him from Arrows, where he worked with Hill, Pedro Diniz, Tora Takagi and Jos Verstappen, on whose recommendation he badgered Ferrari, successfully, for a job.
"He's very good at identifying where the problems lie in terms of remembering if we have an aerodynamic problem, do we have a mechanical problem, do we have an issue with the traction control. These sorts of things. When you have a car that's as complicated as a current Formula One car, there are so many things that change and so many things to tune.
"It's very important that you focus quickly on where the problems are, especially this year, with less running during the race weekend. It's more important to hone in quickly on the optimum set-up - and Michael is invaluable at that. Right from the first run of the day, we're on to finding the problems, looking where we need to improve. There is no question about it, it's a very important skill nowadays and he's very good at it."
According to Dyer, Schumacher is also no prima donna when it comes to making settings on his car. He plays his part in the team ethic. "It's not just Michael and myself," he said. "There's quite a big team of people working on the car: engine engineers, vehicle engineers and so on.
"I think one of the important roles of the race engineer is to act as a focus for all of those people. I certainly don't consider myself 'the boss' when it comes to that part. Michael has his opinions and they're very valuable, of course.
"We all work together as a team. I think pretty much we work without a boss, so to speak. It's quite an easy relationship, I think. I can't recall a situation that has arisen when somebody has forced their way on to everybody else. We all work together and respect each other's opinions. It works quite well without anybody having to stamp his foot and say 'no, this is the way we're going to do it'."
Off-circuit, the red baron's private race team go their separate ways. "We all lead very busy lives and when the race finishes, I'm more often than not thinking about preparing for the next test or thinking about the next race," said Dyer.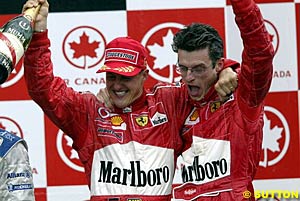 "To be honest, there's not that much time for any kind of socialising at all. We spend so little time at home, so little time with our families. If you lose a race, you're focused on getting home to your family and getting prepared for the next test.
"Having said that, we're here together for four days for a race weekend. And normally there would be three days testing to come as well. So, you spend a lot of time at the track, with everybody. You build quite a strong relationship through that time without having to go down the pub every night!"
This year, however, with his brother Ralf and the new flying Finn Kimi Raikkonen heaping on the pressure, the Schumacher team has had its work cut out in a bid to remain at the top of the sport.
"I'd be lying to say we work as we always worked because there is no question that it's a lot tougher," Dyer admitted. "I think we have to keep our focus on why we were successful last year. We just have to work on making sure we do everything right on the race weekend: we set the car up right, we choose the right tyres, we choose the right race strategy.
"Away from the track, we continued working hard with testing, made sure that the new parts coming through are tested correctly and we understand them. We have to assess things together and make the right decisions. Then, I think, the results will come."
---
© 1995-2005 Kaizar.Com, Inc. . This service is provided under the Atlas F1
terms and conditions
.
Please
Contact Us
for permission to republish this or any other material from Atlas F1.