---
David Coulthard: Never too Late
---
By Timothy Collings, England
Atlas F1 GP Correspondent
The European Grand Prix was another sad affair for David Coulthard, primarily because of a lacklustre performance in qualifying, which saw him start the race from ninth. It's not the first time this year that Coulthard has struggled, and the pressure on the Scot is mounting. Atlas F1's Timothy Collings, who's been following Coulthard in his racing career for over a decade, takes a look at the McLaren driver's present situation

He is 32 years old with a few hints of grey, barely noticeable in a neatly-trimmed crop, gleaming around his temples, but no sign of any alteration in the famous jutting jaw-line. In Germany, at the Nurburgring, he participated in his 150th Grand Prix, a landmark that was adorned with an enforced retirement, his fourth DNF in nine races this year, his tenth season at the sharp end of Formula One.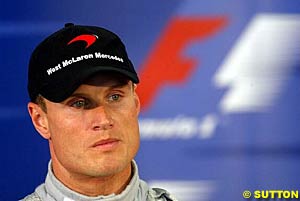 Bad luck, one way and another, seems to have followed David Coulthard around for a long time. Fernando Alonso is not the first driver to have contributed to the Scot's downfall in an event where he seemed to head towards the points, or the podium. Where Michael Schumacher perished this year, in the European Grand Prix, DC had gone last year; a victim of Juan Pablo Montoya's habit of allowing his enthusiasm to overwhelm any sense of measured accuracy.
Worse still, perhaps, for David and his many loyal followers, is the enforced acceptance of a reality that dictates things may not get much better. In Kimi Raikkonen, the baby-faced assassin, he has another fast and uncompromising Nordic teammate whose flaxen-haired looks conceal a cold outlook on racing.
Fast in qualifying, fast in the races, Raikkonen is like his fellow-Finn and predecessor Mika Hakkinen in possessing all the qualities required to keep the pressure on McLaren's long-serving Scot. Anglo-German rivals Williams-BMW, having delivered a cutting and comprehensive demonstration of supremacy in the Eifel mountains, can point to the rich speed and competitiveness of Ralf Schumacher and Montoya again as they bounce back from their early season spell in the doldrums. And then, without forgetting the irritating rise to prominence of Spain's Alonso with a reviving Renault, there is Ferrari: Michael Schumacher and Rubens Barrichello.
Yet, as he sat and talked, patiently, intelligently and with great articulation, inside McLaren's Team Communications Centre (TCC) on Saturday afternoon, before the race, and again, as he stood, still gleaming with perspiration, still fighting to control his emotions, in the same place afterwards on Sunday, it was difficult not to feel that Coulthard, as one of the most experienced men around, still retained the youth and vigour, not to mention the determination, to win races again and sustain a fight for his ultimate goal.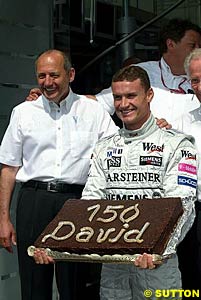 It has, like others now and at other times, been his misfortune to have raced in Formula One at a time when the sport has been dominated by one man's talent, power and strengths. After Juan-Manuel Fangio, Jim Clark, Jackie Stewart, Alain Prost and Ayrton Senna, Schumacher has reigned supreme, giving his rivals little at all to sustain them.
Coulthard, of course, arrived at the Spanish Grand Prix at Barcelona in 1994, two races after the death of Senna at Imola, as the Brazilian's replacement, as Damon Hill's teammate and as a new boy thrust into a role he was not scheduled to fill at that time. Obedient, clever and opportunistic, he seemed ready for stardom, victories and championships. The next British champion in a line that has delivered Mike Hawthorn, Graham Hill, Jim Clark, John Surtees, Jackie Stewart, James Hunt, Nigel Mansell and Damon Hill if the chance came his way.
Since then, however, he has, it seemed sometimes, drifted from one set of personal management to another without any fixed or clear personal strategy, moving from IMG to Martin Brundle via other advisors in a career that, at times, appeared to put his natural racing instincts, and need for a natural habitat, somewhere other than at the top of his own agenda. Always a champion in the making, a tall, handsome and very agreeable man, Coulthard's vast range of blessings and talents are still waiting to be fulfilled.
And now, after another unexceptional performance in qualifying in front of the Mercedes-Benz hierarchy at the European Grand Prix, he has paid the consequences. The new single-lap format of Noah's Ark qualifying is not to his liking. Caught in a race to reach the front, he was bundled out of contention in an incident that led to accusations of 'brake testing' and immediate post-race comments from the McLaren management that suggested DC needed to sort out his qualifying performances with a sense of urgency. Martin Whitmarsh, given the role of team voice on a day when Ron Dennis was out of sight as Williams-BMW frolicked and Norbert Haug kept a low profile, picked his words with care, but they remained sharp and penetrative.
"It is all about driver confidence and how a driver qualifies is a mind game and he has got to get that fixed," said Whitmarsh of Coulthard. "He was quicker in the morning than he was in the afternoon. He has got to recognise that he can do it, relax and drive instinctively without the analysis. David is a very analytical individual and sometimes that is a useful quality, but it may not be a useful quality when you have got to put it on the line in one lap. You have got to blank out the analysis of each corner and make sure you are fluid and instinctive in the way you do your qualifying lap."
Instinctive is a word that once sat comfortably on Coulthard's shoulders. In his early days, when he shared a house with his racing friends in Milton Keynes, learned life from the Jackie Stewart school of personal comportment and detailed preparations, he did his homework and had fun. Even after graduating to the Williams-Renault academy in the early 1990s, he remained a hugely energetic fun-loving person, a trait that now, in public at least, appears to have been subjugated to a corporate need to tow a more formal line.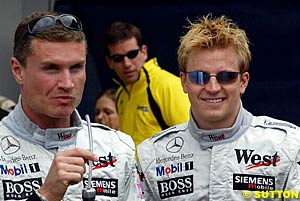 At one race, in Buenos Aires, he was the life and soul of a post-race party before such events, like most light-hearted moments, were ushered out of the sport by acres of tungsten look-alike robotic PR masters. DC, however, has always been both intelligent and lively, fun-loving and perceptive, curious and adventurous, qualities that might not have all been given full and free rein in the last few years of massed electronics, endless debriefing, analysis and control.
And yet, as always, in a chat, in a light moment, he is the same as ever. Polite, honest and direct, his eyes make contact, his conversation engages, he talks freely and realistically. He knows better than anyone his own predicament. He knows better than anyone that in the modern Scalextric version of Formula One he has to deliver in a certain kind of way. He has won big races: Monaco, Melbourne and Silverstone hang from his belt among the 13 triumphs he has gathered together (a paltry return on his talents), but he knows how much more is in his tank and what he has left to do in the future. Most important, of all, he is still enjoying his driving.
"I'd love to do another 150," he quipped. "I feel I'm just starting to understand the job. There are some parts of it that I am getting the hang of now, but still some areas in which I know I have a lot of work to do! I know what is required and I can understand that people are concerned about my performances, in qualifying particularly, but I am not going to start a panic attack. I have got to settle down, work it out, do the job and show I can deliver. We all know Formula One is about results. I know that as well as anyone. But panicking is not going to help anybody."
Taking a rear view of the Nurburgring allowed him to find some encouragement despite the comprehensive team defeat, his own qualifying disappointment and, ultimately, angry exit. "I think it was a positive weekend in showing that we still have the pace in the 17," he offered. "It was fantastic. You can have problems at any time, as happened with Kimi. There is never a good time.
"It was hard. I think the team deserved some points from that and Kimi showed us how strong the car is and how strong he can be. If there was any justice, then we would have got some good points. So, if we take the positives out of it, the car was quick and there is still life in us yet. I don't think there is any need to panic on the 18, the new car."
As for Alonso, whose defensive driving and determination were rewarded with another decent finish in fourth place for resurgent Renault, Coulthard was more forgiving than his comments, taken out of context for dramatic effect in some other places, may have suggested. "Fernando? I'd be disappointed to think it was anything deliberate other than a miscalculated braking, which led to me having to take evasive action," he said. "It's not like I just locked up and decided to turn right off the circuit to avoid hitting him.
"I never even braked before I nearly hit him and had to swerve off the circuit and we know from my data that was ten metres earlier than it was on the lap before. But you just have to trust the guys you are racing with and around. I have no reason not to trust Fernando. I don't want just to be negative and create a scandal, but I was very shocked to see how early he braked for that corner."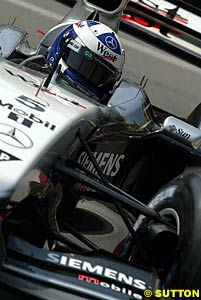 Unfortunately, DC knows that he has only once qualified on the front row of the grid this season, when he was second in Brazil, and that he has been outside the top 10 on three occasions. For McLaren, and for him, that is not good enough. Last weekend in Germany, he was ninth. It mattered little in the end that he worked his way up to fifth and was unlucky to end up in a gravel trap; if he had started on the first two rows, he might have won. But he did not.
So, as the circus regroups in Magny-Cours after only a four-day break, Coulthard is 33 points adrift of Michael Schumacher and 26 short of Raikkonen. Intense discussions are likely to be taking place relating to the Mercedes-Benz-powered team's tactics in future races if they are to protect Raikkonen's position and prevent Schumacher enlarging his lead.
"I think, in the aftermath of the weekend, we have got to consider what our options are," said Whitmarsh, when team orders were mentioned. "The option is always there. It is earlier than we would like to have that discussion, at the moment, and we need David to get his form together, as he is racing well. If you are not banging it out, at the right time, there is a concern and David has been around long enough to get hold of these issues himself.
"He can drive the car quickly. He has just got to focus on how he approaches it. I think we will do all we can to help, but I think David realises he has got to sort it out for himself. The time he did in the morning practice was good enough for third on the grid and we were running the same levels of fuel at that point. But the two laps, during the weekend, that David didn't do the business were the two that counted... I think David's experienced and mature enough to analyse that and power through it."
In other words, DC, loosen up. Let go. Chill. Forget the mind games and the uniforms and the next deal and the corporate schmoozing and the duties and debts that drivers owe to their teams, suppliers and sponsors and look after Number One. Starting now... Before it is too late.
---
© 1995-2005 Kaizar.Com, Inc. . This service is provided under the Atlas F1
terms and conditions
.
Please
Contact Us
for permission to republish this or any other material from Atlas F1.