Advice: The points tables for most series covered by Elsewhere In Racing are available here. Individual series are linked to their corresponding points table after each report.
Formula 3000
Toccacelo's 'Ring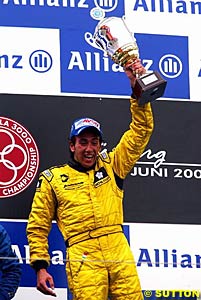 Enrico Toccacelo took his first Formula 3000 victory at the Nurburgring, leading every lap of the race in a superior display. The win finally chalks Super Nova's first of the year after a troubled couple of season for the 2000 champions. Vitantonio Liuzzi had his best ever finish in a just as clear cut second position with surprise Monaco victor Nicolas Kiesa third.
"I am very happy!" said Toccacelo. "We did a very good job last week at Snetterton and we had a very good setup for the car. Also yesterday in qualifying we had a very good car and I thought that it was really possible to take pole position. Bjorn Wirdheim and Ricardo Sperafico didn't take any points today so now there is just a ten point gap between me and Bjorn. I am very happy for the team and it was very important for me as there are still five races remaining. It is really important to make a good qualifying position and I will try to win another race as I think we have the car to win another race."
Qualifying for the Nurburgring event held no surprises, with series leader Bjorn Wirdheim taking pole position, just two hundredths ahead of the Coloni car of Rodrigo Sperafico. Toccacelo put his car third alongside Patrick Friesacher while on the third row of the grid were Liuzzi and Townsend Bell.
Wirdheim got away from the grid best but Sperafico challenged on the entry of turn two. The leaders clashed and were forced to limp back to the pits for repairs. This left the way open to Toccacelo and Liuzzi. The pair drove hard for the remainder of the race. Liuzzi pressured Toccacelo for the whole race but the Italian held firm to win by half a second. Patrick Friesacher took up third place with Bell hard in pursuit. Bell dived up the inside into the hairpin of the fourth lap but Friesacher turned in and the pair collided sending the pair pitward. This brought the fast starting Nicolas Kiesa into third which he would hold to the finish.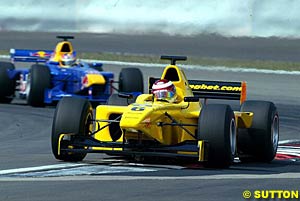 Yannick Schroeder, another fast starter, came under attack from Derek Hill. Hill had earlier left himself open on lap three, allowing Schroeder and Jeff van Hooydonk through at the same corner. Hill re-took one position from van Hooydonk a lap later and pressured Schroeder all race. Schroeder would take fourth by three tenths. Jaroslav Janis took advantage of the choas and just past half distance, took van Hooydonk for sixth. Van Hooydonk would loose another spot to Raffaele Giammaria before races end.
Toccacelo has moved into second place in the championship, ten points behind Wirdheim. Kiesa moved into third, 15 points adrift of Wirdheim but only one ahead of Liuzzi. Next stop for the series is Silverstone in two weeks.
Result of FIA International Formula 3000 Championship, Round 5 of 10, Nurburgring, Germany:

Pos  Driver               Team
 1.  Enrico Toccacelo     Super Nova Racing
 2.  Vitantonio Liuzzi    Red Bull Junior Team
 3.  Nicolas Kiesa        Den Bla Avis
 4.  Yannick Schroeder    Superfund-ISR-Charouz
 5.  Derek Hill           Super Nova Racing
 6.  Jaroslav Janis       Superfund-ISR-Charouz
 7.  Raffaele Gianmaria   Durango Formula
 8.  Jeff van Hooydonk    Team Astromega
 9.  Phil Giebler         Den Bla Avis
10.  Tony Schmidt         Team Astromega

Standings: Bjorn Wirdheim 34, Enrico Toccacelo 24, Nicolas Kiesa 19, Vitantonio Liuzzi 18, Giorgio Pantano and Ricardo Sperafico 16, Jaroslav Janis 13, Yannick Schroeder 11, Raffaele Gianmaria 10, Patrick Freisacher 8 etc
Formula 3000 points distribution
MotoGP
Stunning Sete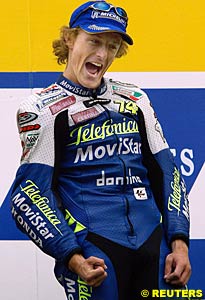 The conditions may have been terrible, but the performance by Sete Gibernau was just the opposite at Assen as he took the win on a soaked track. Max Biaggi finally beat home arch rival Valentino Rossi, while the rest of the field had a somewhat mixed up day, some riders performing above expectations, as others, like Garry McCoy, performed well below them. Gibernau's win, his third of the season, and Biaggi's second place edge them slightly closer to Rossi, 38 and 46 points respectively as they continue to give something Rossi to think about for the rest of the season. The wet conditions throughout the day saw German Steve Jenkner win his first 125cc race while Australian Anthony West scored his first 250cc win, the first win for an Australian in the class for 25 years!
The front of the grow consisted of the usual Italian trio, with Loris Capirossi on pole ahead of Max Biaggi and Valentino Rossi, with fourth place taken by Carlos Checa on his Yamaha. The original attempt to start was abandoned after a dry race was declared but there was rain on the track as they took the formation lap. Eventually the race started about half an hour later as a wet race, the rain having completely soaked the track during the break. Rossi made the best start in the very wet conditions, followed by Biaggi and Gibernau, while polesitter Capirossi made a dreadful one, completing lap one in twelfth! Into turn one Biaggi passed Rossi but Gibernau passed both of them, taking the lead of the race as the Yamahas of Jacque and Barros fought for fourth, while Bayliss had made the opposite kind of start to his teammate Capirossi and was up to sixth, and soon passed Barros for fifth and Rossi for fourth before Rossi took it back at the final chicane on lap one, Jacque having taken third from Rossi earlier in the lap.
Early on lap two Biaggi, who had been pushing Gibernau, took the lead from him, as further back Colin Edwards was up to seventh on the Aprilia, his teammate Noriyuki Haga one place further back. Rossi took third at the final chicane on lap two to take third back from Jacque, Bayliss following through on the start/finish straight. As the two leaders began to make a break, Gibernau took the lead from Biaggi halfway through lap three only to give it straight back to him at the following hairpin. But it wasn't long before he did take the lead back again, Gibernau retaking the lead as they began lap four. Back in eighth Haga was flying, and was catching teammate Edwards. Meanwhile Rossi and Bayliss, watching the leading duo pull away, were themselves clear of the next three riders, as early on lap five Bayliss took third from Rossi at turn one. One lap after taking third, Bayliss dropped his bike at the same turn, moving Rossi back to third while Bayliss was able to restart, though way back in sixteenth.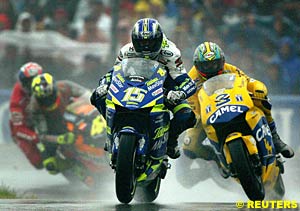 Up front Biaggi was just holding onto leader Gibernau, Rossi now a clear and lonely third, Jacque fourth, while Haga now made it a three way battle for fifth place with Barros and Edwards. Lap seven saw the two Aprilias of Edwards and Haga pass Barros, while on the following lap Haga passed his teammate Edwards to move into fifth as he closed in on Jacque for fourth. Also on his way up through the field was Carlos Checa, up to seventh by lap eight. As the leaders came up to complete lap ten, they were beginning to lap backmarkers, one of them Garry McCoy on the Kawasaki. Into the final chicane Gibernau got through but Biaggi didn't, allowing Gibernau to make a break from Biaggi. From that point on, the gap between Gibernau and Biaggi just got bigger lap by lap.
Fourth was now the place to watch, as Haga closed in on Jacque, with Edwards and Checa also closing in quickly. Lap twelve saw Checa move ahead of Edwards, while on the next lap Haga and Checa moved to fourth and fifth as they dispensed with Jacque. After his dreadful start, Capirossi was making his way steadily through the field, taking seventh from Edwards on lap fourteen. With the podium places decided, fourth was still the place to watch, Checa right on Haga's tail but not able to find a way through, Jacque feeling similar pressure from Capirossi for sixth place. Checa took fourth from Haga on the second last lap, just before Haga wound on too much throttle and crashed out of the race, promoting the duelling duo behind him up a place each.
And that was how it finished, Sete Gibernau taking a comfortable win over Max Biaggi, who finished clear of arch rival Valentino Rossi in third, Carlos Checa riding a great race to finish fourth ahead of Jacque and polesitter Capirossi. Colin Edwards salvaged something for Aprilia by finishing seventh, Bayliss recovered well from his early race fall to finish in ninth while Alex Hofmann riding an older model of the Kawasaki finished the race in a great tenth place, with the other two Kawasakis of Andrew Pitt in 14th and Garry McCoy last rider home in 18th place.
Result of World Motorcycle Championship, Round 7 of 16, Assen, The Netherlands:

Pos  Rider                 Motorcycle
 1.  Sete Gibernau         Honda RC211V
 2.  Max Biaggi            Honda RC211V
 3.  Valentino Rossi       Honda RC211V
 4.  Carlos Checa          Yamaha YZR-M1
 5.  Olivier Jacque        Yamaha YZR-M1
 6.  Loris Capirossi       Ducati Desmosedici
 7.  Colin Edwards         Aprilia Cube
 8.  Alex Barros           Yamaha YZR-M1
 9.  Troy Bayliss          Ducati Desmosedici
10.  Alex Hofmann          Kawasaki ZX-RR

Standings: Valentino Rossi 151, Sete Gibernau 113, Max Biaggi 105, Loris Capirossi 71, Alex Barros 62, Tohru Ukawa 56, Troy Bayliss 53, Carlos Checa and Shinya Nakano 47, Olivier Jacque 43 etc.
Harris WCM Appeal Rejected By CAS
The Harris WCM motorcycling team's appeal against their disqualification from the MotoGP championship was dismissed by the Court of Arbitration for Sport (CAS) on Thursday.
The International Motorcycling Federation (FIM) said in a statement that the British-based team's appeal was thrown out at a hearing in Lausanne last Monday.
Harris team manager Peter Clifford had twice appealed against the decision to ban his team after their bikes failed scrutineering at both the South African and Spanish grands prix.
The Harris bikes failed scrutineering because they were "fitted with a Yamaha R1 engine", the International Disciplinary Court said earlier this month. MotoGP rules state that an engine of original design must be used.
Harris WCM report provided by Reuters
V8 Supercar
Ambrose's Four For Ford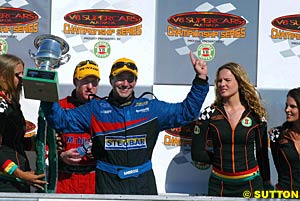 The records keep tumbling for Marcos Ambrose. After leading home the first Ford 1-2-3 in six years, and then scoring three in a row for Ford for the first time in ten years, Ambrose's victory at Hidden Valley took him even further into the history books. It has been 26 years since Allan Moffat driving an XC Falcon achieved the feat. In fact Moffat won five in a row in '77, so it will be interesting to see if Ambrose can equal that too. Despite his run of success, Ambrose still sits third in the points, Jason Bright leading Steven Richards by 35 points, with Ambrose another 19 points further back, with Mark Skaife in fifth, 98 points off the lead.
After a couple of false starts, Steven Richards finally debuted his VY Commodore, scoring some consistent results and discovering a few tricks about the car. HRT are hoping to debut a new VY for Mark Skaife at the next round to replace his current 'hybrid' VY. The powers that be weren't happy with the machinations that saw Greg Ritter make way for Forbes at 00 Motorsport, and so Ritter and Forbes are once again teammates. Another Ford team also was in the driver spotlight, with Briggs Motorsport considering dropping Dean Canto before giving him a last-minute reprieve.
There were three races at Hidden Valley, the first race a 50 km event held the day previous to the final two 100 km long races, these two races each featuring a compulsory stop for tyres. Polesitter Mark Skaife won the start of race one, Ambrose tucking in behind as further back Russell Ingall got a run inside Greg Murphy down the long run into turn one. Just as Ingall was almost clear of Murphy he went spearing across the track and into the fence on the other side of the track, Ingall crawling back to the pits to retire with broken suspension as well as four flat spotted tyres. It wasn't entirely clear who was to blame, although Ingall appeared to be driving in a straight line, the stewards deciding it was a racing incident. Apart from some turn one incidents involving drivers further back in the field, the race was a pretty uneventful one, Skaife holding off Marcos Ambrose to win race one, Jason Bright, Garth Tander and Paul Radisich filling out the top five.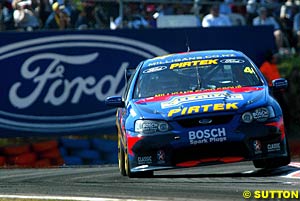 Race two and Skaife led Ambrose, Bright, Radisich and Tander through turn one at the start. At the hairpin there was action further back in the pack, with Jason Richards spinning Brad Jones around after entering the hairpin way too fast. Up at the front Ambrose was right on Skaife's tail until leader Skaife missed a shift at the end of lap three as they exited the final turn, losing enough momentum to allow Ambrose through into the lead as other drivers made their compulsory pit stops. Lap four and Skaife pitted, Ambrose doing the same a lap later with Bright, Murphy and Radisich among those pitting a lap later, Tander leading two laps before pitting on lap eight. With other cars having pitted, Ambrose was back in the lead on lap sixteen just ahead of Skaife, with Bright third, Murphy fourth and Tander fifth.
Radisich was the loser in the pits dropping back to ninth, while Todd Kelly had been forced to pit after flat spotting a front left tyre, almost dropping him to last. Meanwhile Russell Ingall had moved up from 33rd to 22nd after 16 laps. The leading duo steadily stretched their break over Bright, with Murphy closing in on him, Tander running in a somewhat lonely fifth place. Lap 20 and Bright and Murphy were nose to tail, three laps later and Tander was there too, not so lonely anymore. Lap 24 and Tander pounced on the inside of Murphy at the hairpin, taking fourth with a little bit of hard but fair contact. Two laps later and Tander was third, Bright once again having to fend off the advances of Murphy.
However the safety car made an appearance on lap 32 after Jamie Whincup went off at speed, clouting the tyre wall, and although he attempted to make it back to the pits, the damage was too bad to get it there, damaged steering seeing him stranded just short of pit entry but on the wrong side of the track. A tilt-tray truck was eventually loaded with the car as they ran around behind the safety car on the second last lap, the safety car getting ready to set the field free for a one lap dash. There was only one problem. The truck needed to get off the track. As the field headed out of the final corner on lap 34 of 35, the leaders were faced with the sight of a tilt-tray truck carrying Whincup's broken car blocking the right hand side of the track, while a ute filled up part of the left hand side of the track! Not only that, but in their efforts to clear the track, both were reversing!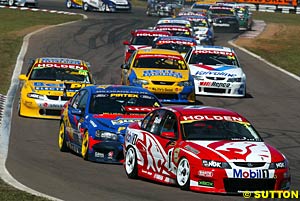 The ute reversed its way up against the inside guard rail, while the truck completed its manoeuvre to get into pit lane, being overtaken by the safety car on its way into pit entry(!). The race did restart but there were no changes at the front, Ambrose winning ahead of Skaife, Tander, with Bright holding off Murphy all the way to the end. Steven Richards in his first round in his new VY Commodore finished sixth after finishing race one in ninth, while Ingall charged halfway through the field to finish the race in seventeenth.
Race three and Ambrose and Skaife headed towards turn one side by side. Under brakes, Skaife conceded, but Tander was already inside him, taking the place as they ran through the turn, while Bright and Murphy lost out to Richards. Everything looked fine until on the exit of turn one Todd Kelly was spat out of the rear pack in a similar way to Ingall in race one, hitting the tyre wall hard, ripping a wheel off the car in the process. Out came the safety car, and with the cars passing the beginning of the pit window teams pondered whether to pit or not, and the possible gains or losses. At the end of lap three 22 cars pitted, while lap four saw eight cars pit, leaving only Dean Canto, the new race leader, as the only driver yet to pit. During the stops there was a shuffle at the front, as the order went from Ambrose, Tander, Skaife, Richards, Bright and Murphy to Ambrose (now second behind Canto), Murphy, Bright, Skaife, Richards and Tander.
The race went back to green on lap seven, Canto immediately beginning a steady fall down the order as Ambrose passed him on that lap, Murphy, Bright and Skaife doing the same a lap later. Back at the restart, on the exit of turn one there was another incident, this time involving Todd Kelly's brother Rick, which ended with a spin for Rick and a missing right rear door for Jason Bargwanna! Tander was on the charge again, taking Richards at turn one on lap eight to move up a spot. Up at the front Ambrose had opened up a gap over Murphy, who held a small gap over Bright who had Skaife all over his rear bumper, Tander and Richards a little further back almost as close before Tander began to pull away. At this point in the race it was announced that Radisich had jumped the start and had been issued with a drivethrough penalty, the penalty dropping him from ninth to 30th place.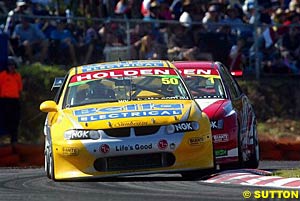 As Tander closed in on Skaife, Skaife's attack on Bright proved successful, taking third place from him at the hairpin on lap 17, Tander taking fourth from Bright similarly two laps later as Bright faded. Meanwhile Ingall's charge through the field saw him up to tenth place. The safety car was back on track soon after on lap 21 after Paul Dumbrell retired and left his car in a position that was not exactly dangerous but not entirely safe either. The race restarted on lap 26, with the race taking a familiar format as Ambrose pulled away in front, Skaife close to Murphy but not able to pass.
Tander's good day was about to turn sour, receiving a drivethrough penalty for moving partly alongside a lapped car before reaching the start/finish line at the restart, dropping him from fourth to 27th. Over the concluding laps the race was relatively calm, Skaife pressuring Murphy hard but not able to get into a position to pass, Bright and Richards evenly spaced further back, with the only pass of note in the late laps being Ingall taking eighth from Ellery on lap 30 as Ambrose took the win, Murphy holding off Skaife for second. Bright was fourth, Richards fifth, Simon Wills an excellent sixth while Ingall finished the day well in eighth place after starting the day in dead last.
Result of V8 Supercar Championship Series, Round 6 of 13, Hidden Valley, Australia:

Race One

Pos  Driver                Car
 1.  Mark Skaife           Holden Commodore VY
 2.  Marcos Ambrose        Ford Falcon BA
 3.  Jason Bright          Holden Commodore VX
 4.  Garth Tander          Holden Commodore VY
 5.  Paul Radisich         Ford Falcon BA
 6.  Greg Murphy           Holden Commodore VX
 7.  Todd Kelly            Holden Commodore VY
 8.  Steve Ellery          Ford Falcon BA
 9.  Steven Richards       Holden Commodore VY
10.  John Bowe             Ford Falcon BA

Race Two

Pos  Driver                Car
 1.  Marcos Ambrose        Ford Falcon BA
 2.  Mark Skaife           Holden Commodore VY
 3.  Garth Tander          Holden Commodore VY
 4.  Jason Bright          Holden Commodore VX
 5.  Greg Murphy           Holden Commodore VX
 6.  Steven Richards       Holden Commodore VY
 7.  Rick Kelly            Holden Commodore VX
 8.  Paul Radisich         Ford Falcon BA
 9.  Simon Wills           Holden Commodore VY
10.  John Bowe             Ford Falcon BA

Race Three

Pos  Driver                Car
 1.  Marcos Ambrose        Ford Falcon BA
 2.  Greg Murphy           Holden Commodore VX
 3.  Mark Skaife           Holden Commodore VY
 4.  Jason Bright          Holden Commodore VX
 5.  Steven Richards       Holden Commodore VY
 6.  Simon Wills           Holden Commodore VY
 7.  John Bowe             Ford Falcon BA
 8.  Russell Ingall        Ford Falcon BA
 9.  Steve Ellery          Ford Falcon BA
10.  Brad Jones            Ford Falcon BA

Standings: Jason Bright 1027, Steven Richards 992, Marcos Ambrose 973, Greg Murphy 951, Mark Skaife 929, Paul Weel 869, Russell Ingall 821, Paul Radisich 794, Garth Tander 780, Rick Kelly 779 etc.
V8 Supercar points distribution
IRL
Dixon's Storm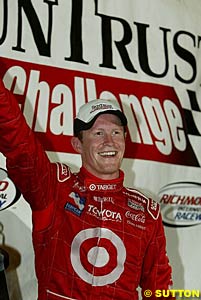 It wasn't a flying Dallara or GForce who brought an end to the Sun Trust Indy Challenge at Richmond International Raceway. It was the elements, as a storm swept over the Virginian circuit. By that point however it was obvious who was the car who should and did win. Scott Dixon won his second consecutive event for Chip Ganassi Racing, leading the Marlboro Team Penske pair of Helio Castroneves and Gil de Ferran. Dixon is now closing inexorably in on Tony Kanaan's series lead.
Dixon had seemed on top of this event from the beginning. The last start winner came into the event on a high after his drive at Pikes Peak. His pole lap was a full mile per hour faster then the driver who would start alongside. His, or rather her identity was a shock. Sarah Fisher scorched around the Richmond superspeedway at a shade over 167 miles per hour in the Dreyer & Reinbold Racing Dallara-Chevrolet in Chevrolet's first front row of the year. She was ably backed up in the regard with Chevy's front man, Sam Hornish Jr next in the Pennzoil Panther, alongside the frist Honda, that of series leader Tony Kanaan. The surprises kept coming with Greg Ray fifth on the grid alongside de Ferran, finally stepping into a Dallara rather than the GForce he had preferred all year.
Dixon and Fisher brought the field around to the start with Dixon standing on the gas the best and Kanaan stepping forward immediately around Fisher into second. For all her qualifying speed Fisher would slide very quickly down the pack at the start, falling out of the top ten before four laps were completed. De Ferran was another early mover, climbing rapidly to third with Ray and Hornish proving that Fisher's problems were not because the Chevy wasn't up to it. Castroneves was also climbing rapidly, taking advantage of Tomas Scheckter attacking Hornish in fifth place, as the Brazilian was soon through the pair into fifth. Ray would not hold out for long either.
Into lap 41 and de Ferran got under Kanaan in turn one, forcing his claims for the lead by taking second place. Kanaan didn't drop one spot either as Castroneves was right there, demoting his long time friend to fourth. First stops though were beckoning with the troubled Fisher starting the cycle on lap 48. Buddy Lazier followed a lap later then Dixon was heading the leaders onto the ramp, with de Ferran, Castroneves, Hornish, Kanaan, Ray, Scheckter and others all in search of consumables.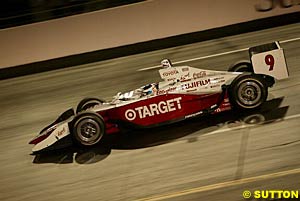 By lap 52 everyone had pitted and Dixon resumed his lead over de Ferran. Hornish had slipped into third place ahead of Castroneves with Kanaan fifth. After four laps the yellows flew. Vitor Miera had slid upwards into the turn two wall, putting himself out of the race. Once the pits re-opened the field dived in for top-ups. Hornish was in trouble though. As the yellow car charged from its pit bay, Felipe Giaffone was slightly ahead and turning into his pit bay. The pair clashed with Hornish turned inwards at the wall by the impact. Hornish was also pinned and could not resume until Giaffone was serviced and away. The defending champ lost a lot of ground.
As the field was re-assembling for a restart the yellows stayed out as Kenny Brack was limping pitwards on three wheels. After the stops Dixon led from de Ferran still with Castroneves now untroubled in third ahead of Kanaan and Al Unser Jr. Another restart was aborted as Scheckter lost his car in turn four, touching Unser as he gyrated. Unser dived for the pits for a new nose, while Scheckter would be in for a couple of stops, with suspect steering.
Finally green on lap 79 Dixon was away with de Ferran in hot pursuit, leading a Brazilian trifecta as Castroneves and Kanaan followed. Dixon was too strong, the New Zealander gradually moving away. The lap counter read 130 when the nexta caution occurred. AJ Foyt IV had spun in turn two, whacking the wall hard and scattering debris. Dixon would shortly lead the field in for the next stops.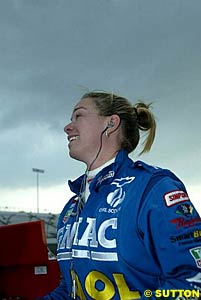 The yellow period would be extended however. Some of the overhead lights had gone out, reducing the overall light for this night race, and creating two noticeable black spots on the circuit. The race went green, very briefly on lap 154 as Greg Ray spun away all the good work he had achieved thus far. Ray didn't hit anything but the loss of track position shuffled him backwards. The race went green on lap 160 with Dixon now leading four Brazilians as Castroneves, de Ferran, Kanaan and Giaffone filled out the top five. Hornish pushed Americas claims, taking Brit Dan Wheldon for sixth.
Hornish was flying, obviously the fastest car on the track. He claimed Giaffone on lap 183 and Kanaan two laps later. Hornish was pushing hard to catch the Penskes when rain started to fall on lap 198. The race was yellowed and eight laps later red flagged as rain intensified, handing the win to Dixon ahead of Castroneves, de Ferran, Hornish, Kanaan, Giaffone, Kenny Brack, Wheldon, Buddy Rice and Unser.
Dixon has narrowed the points chase down to 27 points. Not quite striking distance but Kanaan can't afford trouble. Castroneves is next 40 points behind Kanaan and only five ahead of teammate de Ferran. Unser and Brack are next while Hornish continues to climb the rankings on behalf of Chevrolet. As you read this the field has already gathered again in Kansas for Round 8.
Result of Indy Racing League, Round 7 of 16; Richmond International Raceway, Virginia, United States:

Pos  Driver              Team
 1.  Scott Dixon         Chip Ganassi Racing GForce-Toyota
 2.  Helio Castroneves   Team Penske Dallara-Toyota
 3.  Gil de Ferran       Team Penske Dallara-Toyota 
 4.  Sam Hornish Jr      Panther Racing Dallara-Chevrolet
 5.  Tony Kanaan         Andretti Green Racing Dallara-Honda
 6.  Felipe Giaffone     Mo Nunn Racing GForce-Toyota
 7.  Kenny Brack         Team Rahal Dallara-Honda
 8.  Dan Wheldon         Andretti Green Racing Dallara-Honda
 9.  Buddy Rice          Cheever Racing Dallara-Chevrolet
10.  Al Unser Jr         Kelley Racing Dallara-Toyota

Standings: Tony Kanaan 247, Scott Dixon 220, Helio Castroneves 207, Gil de Ferran 202, Kenny Brack and Al Unser Jr 187, Scott Sharp 162, Sam Hornish Jr 154, Felipe Giaffone 151, Tora Takagi and Tomas Scheckter 137 etc.
Euro F3
Robert's Kube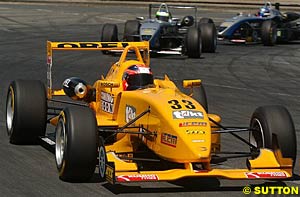 The Prema Powerteam have had a good year in the European Formula 3 Championship this year. Ryan Briscoe has won four races and leads the series. But the team's number two driver has been absent. Polish teenager Robert Kubica had been involved in a road accident in the pre-season and has missed the season to date recovering. His return to racing was more than merely impressive. In his first ever Formula 3 race he won.
Kubica charged past early race leader Olivier Pla to take the win after monstering the Frenchman who currently holds third place in the series. Pla gave up second place after Pla clashed with ASM F3 teammate Alexandre Premat, causing Premat's retirement while Pla dropped to foruth. Bernhard Auinger would be unable to capitalise as engine failure handed second place to Timo Glock. Pla recovered to third ahead of series leader Briscoe with Fabio Carbone and Nicolas Lapierre next.
Premat took revenge on his race one troubles by leading the way around the ageing Tribune of the Norisring, fighting hard with Kubica to claim his first win of the series. Behind Kubica, Timo Glock confirmed his high championship placing with Robert Doornbos taking fourth place ahead of Markus Winkelhock and Lapierre. Pla was again involved in drama in the second race, a fight with Briscoe removing both of them from the race prematurely.
This has allowed Glock to move back into championship contention, moving into 35 points, still some way adrift of Briscoe's 59 points however. Pla sits on 30 points ahead of Carbone (27) while Doornbos, Premat, Kubica and Christian Klien are next.
Result of European Formula 3 Championship, Rounds 7 and 8 of 20, Norisring, Germany:

Round Seven

Pos  Driver                Car
 1.  Robert Kubica         Prema Powerteam Dallara F303 Spiess Opel
 2.  Timo Glock            Opel Team KMS Dallara F303 Spiess Opel
 3.  Olivier Pla           ASM F3 Dallara F303 Mercedes
 4.  Ryan Briscoe          Prema Powerteam Dallara F303 Spiess Opel
 5.  Fabio Carbone         Signature Plus Dallara Sodemo Renault
 6.  Nicolas Lapierre      Signature Plus Dallara Sodemo Renault
 7.  César Campanico       Swiss Racing Team Dallara F303 Spiess Opel
 8.  Nico Rosberg          Team Rosberg Dallara F303 Spiess Opel
 9.  Marcel Lasee          Swiss Racing Team Dallara F303 Spiess Opel
10.  James Manderson       Swiss Racing Team Dallara F303 Spiess Opel

Round Eight

Pos  Driver                Car
 1.  Alexandre Premat      ASM F3 Dallara F303 Mercedes
 2.  Robert Kubica         Prema Powerteam Dallara F303 Spiess Opel
 3.  Timo Glock            Opel Team KMS Dallara F303 Spiess Opel
 4.  Robert Doornbos       Team Ghinzani Dallara F303 Mugen Honda
 5.  Markus Winkelhock     Mücke-Motorsport Dallara F303 Mercedes
 6.  Nicolas Lapierre      Signature Plus Dallara Sodemo Renault
 7.  César Campanico       Swiss Racing Tea Dallara F303 Spiess Opel
 8.  Daniel La Rosa        MB Racing Performance Dallara F303 Spiess Opel
 9.  Charles Zwolsman      Kolles Dallara F303 Mercedes
10.  Christian Klien       Mücke-Motorsport Dallara F303 Mercedes

Standings: Ryan Briscoe 59, Timo Glock 35, Olivier Pla 30, Fabio Carbone 27, Robert Doornbos, Alexandre Premat, Christian Klien and Robert Kubica 18, Nico Rosberg 16, Markus Winkelhock 15 etc.
F3 Euro Series points distribution
DTM
Albers At The Tribune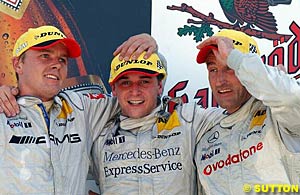 In the spooky atmosphere of the Norisring, the 24 year old Dutchman Christijan Albers won his third DTM event of the season with another well controlled drive. It was a big day for the three pointed star, Marcel Fassler and Bernd Schneider completing the podium.
Schneider sat on pole after qualifying but still had the Superpole run-off to keep the pole. Second car out Peter Dumbreck set the standard with a 49.6 before Mattias Ekstrom set a 49.3 in the middle of the pack. Seventh car Jean Alesi scorched around in a 49.0 but Schneider was taking a back seat to no-one and ducked under 49 seconds to record a 48.991. 'Nuff said. Behind Alesi were Albers and Fassler in an all Mercedes top four. Ekstrom ended up fifth in the first Audi with Dumbreck the best Opel in seventh.
Come the race start though and Schneider did have to give best to Alesi, the Sicillian storming away from the grid with Schneider, Albers, Ekstrom and Fassler leading the pursuit. But Alesi's start was too good and officials requested he trundle the Mercedes through the pits for a drivethrough penalty. Further back a similar request was sent to Manuel Reuter.
With Alesi gone, Schneider now led from Albers and Ekstrom, with Dumbreck forcing his way past Fassler on lap six. His race ruined, Alesi was the first car to stop along with Martin Tomczyk. Tomczyk's stop was a mess, with the bonnet unable to be secured. Ekstrom was the first of the front runners to pit. Schneider was one of the last, stopping on lap 18, but Schneider's pitstop was long, the right rear wheel sticking. Schneider rejoined in sixth which became fifth when Abt stopped. Dumbreck led briefly until he stopped and rejoined third.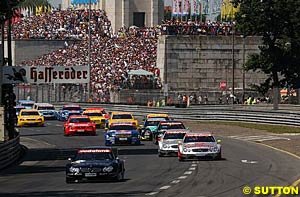 All this had brought Albers to the front with Fassler third ahead of the Opel. Aiello was fourth, but now under attack from Schneider, slingshotting past the Audi on lap 33 into the hairpin. Alesi again was the first stopper, his charge through the field having brought him into striking distance of the seventh placed Joachim Winkelhock. Having dealt with the top Audi, Schneider hunted down the top Opel. Dumbreck held Schneider out for eight laps until he pitted on lap. Schneider stopped a lap later and emerged from the pits ahead of Dumbreck as the Opel got caught in traffic on his out lap.
With the pitstops complete Albers, Fassler and Schneider had formed a Mercedes trifecta and ran down the remaining laps in that order. Dumbreck finished fourth in the first non-Benz. Alesi fought hard with Aiello in the closing stages, Aiello was baulked by a slower car and Alesi was through. Abt was seventh behind Aiello with Winkelhock claiming the final championship point. Albers reclaimed his championship lead from Schneider, but only by a point, with Fassler a further six points adrift. Dumbreck sits on 23 points as the top Opel just a point ahead of the top Audi driver Aiello.
Result of Deutsche Tourenwagen Masters, Round 5 of 10, Norisring, Germany:

Pos  Driver               Car
 1.  Christijan Albers    Mercedes CLK-DTM
 2.  Marcel Fassler       Mercedes CLK-DTM
 3.  Bernd Schneider      Mercedes CLK-DTM
 4.  Peter Dumbreck       Opel Astra V8 Coupe
 5.  Jean Alesi           Mercedes CLK-DTM
 6.  Laurent Aiello       Audi TT-R
 7.  Christian Abt        Audi TT-R
 8.  Joachim Winkelhock   Opel Astra V8 Coupe
 9.  Thomas Jager         Mercedes CLK-DTM
10.  Alain Menu           Opel Astra V8 Coupe

Standings: Christijan Albers 36, Bernd Schneider 35, Marcel Fassler 29, Peter Dumbreck 23, Laurent Aiello 22, Mattias Ekstrom 17, Jean Alesi 15, Alain Menu and Timo Scheider 7, Christian Abt 3 etc.
Formula Nissan
Sarrazin Supreme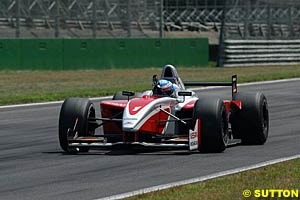 For the first time this season a driver has seriously threatened Franck Montagny in the Formula Nissan series. At Monza the experinced Stephane Sarrazin took a second and a win to take out the Monza weekend. The early race was won by Montagny, allowing the Frenchman to increase his championship lead. With a seventy point lead it will take a lot of pegging back if anyone is to take the title away from Montagny.
Sarrazin, the race one pole sitter, dwelt as the lights flicked off and Montagny needed no second invitation and boomed away to win by almost two seconds. Sarrazin, caught up in a battle with Narain Karthikeyan, could only watch the Gabord car shrink slowly into the distance. Eventually away from the Carlin driver, Sarrazin confirmed second place, building the gap to the Indian out to 12 seconds. Behind Karthikeyan was Marc Gene with Bruce Jouanny and Tuka Rocha each picking up useful points. Heikki Kovalainen was taken out of the race with an accident involving Angel Burgueno.
Sarrazin nailed the start from pole position in race two to run away to an unassailable lead which was not changed by the mid-race pitstop. Carlin drivers Bruce Jouanny and Narain Karthikeyan battled over the remaining podium positions with Jouanny taking second by just over a second. The battle for fourth was just as fierce with Jean-Christophe Ravier making up for a no show in the points from the first race by claiming fourth ahead of a career best result for Santiago Porteiro with Gene in sixth and Carlos Pereira seventh.
Montagny added only fastest lap points to his total after an early delay caused by a clash with Bas Leinders' Racing Engineering car. Leinders himself would retire with gearbox problems and Kovalainen stopped in the pits. Montagny now holds a seventy point lead over Karthikeyan with Bruno Besson a further seven points behind Karthikeyan. The teams' next stop is Germany at the Lausitzring.
Result of Superfund World Series by Nissan, Round 4 of 9, Monza, Italy:

Race One

Pos  Driver                   Team
 1.  Franck Montagny          Gabord Competicion
 2.  Stephane Sarrazin        Racing Engineering
 3.  Narain Karthikeyan       Carlin Motorsport
 4.  Marc Gene                Adrian Campos Motorsport
 5.  Bruce Jouanny            Carlin Motorsport
 6.  Tuka Rocha               Superfund Zele Racing
 7.  Bruno Besson             Saulnier Racing
 8.  Enrique Bernoldi         GD Racing
 9.  Ander Vilarino           Epsilon Euskadu
10.  Polo Villaamil           RC Motorsport

Race Two

Pos  Driver                   Team
 1.  Stephane Sarrazin        Racing Engineering
 2.  Bruce Jouanny            Carlin Motorsport
 3.  Narain Karthikeyan       Carlin Motorsport
 4.  Jean Christophe Ravier   Epsilon Euskadu
 5.  Santiago Porteiro        Adrian Campos Motorsport
 6.  Marc Gene                Adrian Campos Motorsport
 7.  Carlos Pereira           RC Motorsport
 8.  Bruno Besson             Saulnier Racing
 9.  Polo Villaamil           RC Motorsport
10.  Paul Edwards             Keerbergs Transport Racing

Standings: Franck Montagny 134, Narain Karthikeyan 64, Bruno Besson 57, Stephane Sarrazin 56, Marc Gene 51, Bruce Jouanny 46, Heikki Kovalainen 40, Jean Christophe Ravier 35, Bas Leinders 33, Polo Villaamil 32, Ander Vilarino 22 etc.
Superbikes
Toseland Chooses Speed Over Steinway
By Annika Breidthardt
James Toseland forfeited his childhood dream of becoming a concert pianist for a motorbike racing career but the sacrifice has paid off in more ways than one. By winning his first World Superbike race last month, the 22-year-old Toseland not only proved himself as a championship hopeful, he also collected a Steinway grand piano.
His Ducati team chairman John Jones had jokingly suggested the incentive last season - Toseland would get a grand piano as a reward for his first Superbike victory - and the British rider enjoyed his maiden win in Oschersleben, Germany.
"It was fantastic," Toseland told Reuters. "John was a man of his word. We went shopping in London at the Steinway shop and bought the most expensive piano there."
But the gift came at a price, he said. "It cost me a lot winning this race. I don't have enough space in my apartment and am having to build a bigger place to fit the piano."
The Yorkshireman, who has suffered numerous setbacks from injuries in five seasons of superbike racing, has always felt torn between his first love, the piano, and his motorbike.
Second Best
"As a boy, I had it all worked out with playing the piano. I was going to take lessons and do it," Toseland said. "It was a little boy's dream until I jumped on a motorbike at nine and the piano has always taken second best since then."
"I will have a good, long career in racing but I will keep up the piano and I would like to start writing my own stuff for it," said Toseland, a grade six pianist, who wants to try to pass the remaining two certificates as well.
For now, his mind is set solely on racing success. "I wanted to be world champion about five years ago. Realistically, I will have to be thinking about it next year."
Toseland, the youngest racer in the World Superbike series, hopes to finish this season in the top two in the overall standings. But he slipped to third place when he had to retire with a split fuel line from the last race in Misano, Italy, 10 days ago.
"I am getting better and better this year. If I can finish in the top two I will be very pleased.
"I will almost certainly be in Superbike for the next year but if I can take the championship then, the MotoGP will be in the back of my mind," Toseland said. "I am sure there will be some good offers from great teams if I do well this season and next."
MotoGP series racers ride specially constructed bikes, while superbikers race on production bikes.
Safer Career
Toseland, who cites his bike's speed and power as the most enjoyable aspect of motorcycling, still plays the piano every day, both for relaxation and as part of a band called "Crash".
"The name is a bit ironic but I hope that it will not be the theme of the season," he said.
His band hits all the right notes with his mother, who would love to see Toseland take up the safer career of pianist, he said. "She still can't watch my races and she would love it if I stopped racing and took up the piano as a career tomorrow."
Toseland is not as fearful, taking risks to beat his friend and championship leader Neil Hodgson in Germany.
"Neil is riding with a lot of confidence but hopefully before the end of the season I can beat him again," said Toseland, who will hope to repeat the feat at the next race in Laguna Seca in the United States on July 13.
"We will certainly have a good battle there. I like the U.S. and I am looking forward to going," Toseland said. "The track there is a bit hairy but that is why I like it."
Report provided by Reuters
Upcoming Events Calendar
July 3 - Middle East Rally Championship, Round 2; Rally of Lebanon
July 5 - Champ Car World Series, Round 9 of 19; Burke Lakefront, Ohio, United States
July 5 - International Formula 3000 Championship, Round 6 of 10; Magny Cours, France
July 5 - NASCAR Winston Cup, Round 17 of 36; Daytona International Raceway, Florida, United States
July 6 - Indy Racing League, Round 7 of 16; Kansas Speedway, Kansas, United States
July 6 - All-Japan Formula Nippon Championship, Round 5 of 10; Suzuka, Japan
July 11 - Asia-Pacific Rally Championship, Round 2 of 6; Rally of Rotorua, New Zealand
July 13 - Champ Car World Series, Round 10 of 19; Toronto Street Circuit, Canada
July 13 - World Motorcycle Championship, Round 8 of 16; Donington Park, United Kingdom
July 13 - NASCAR Winston Cup, Round 18 of 36; ChicagoLand, Illinois, United States
July 13 - European Formula 3 Championship, Round 5 of 10; Le Mans Bugatti, France
July 13 - British Formula 3 Championship, Rounds 13 & 14 of 24; Oulton Park, United Kingdom
July 13 - World Superbike Championship, Rounds 15 & 16 of 24; Laguna Seca, California, United States
July 13 - British Touring Car Championship, Round 6 of 10; Croft, United Kingdom