---

On The Road
Automotive News and Reviews for the Petrolhead
---
By Garry Martin, England
Reuters Motoring Commentator
In this week's issue:

Dressed for Success
A Subtle Boost for Mondeo Man

Dressed for Success
Believe it or not, there are on-line petitions being co-ordinated just now in an attempt to hound BMW design chief, Chris Bangle, out of his job. The last time I looked, over 5,000 people had signed one of them.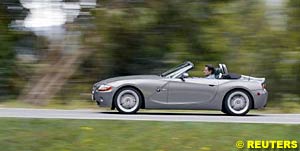 The cause of their consternation is Bangle's radical new design direction for BMW and it started when the 7 Series was launched in 2002. The recently revealed 5 Series proved that the 7 was no brief flirtation, appearing to be a scaled down version of its bigger brethren and fuelling the flames of discontent among a number of BMW aficionados. And then there's the new BMW drop-top, the Z4, a replacement for the remarkably successful, but rather soppy Z3 and, in some people's eyes, the latest BMW to have been smote with the ugly stick.
Allow me to arbitrate. Chris Bangle is right, everyone else is wrong. Each of these new models will propel the BMW brand forwards, not backwards, and the knee-jerkers will come round to his way of thinking. It is true that 7 Series has proved to be a slow seller but a deflated market for luxury saloons and unfamiliar iDrive technology are doubtless factors in this, too. But the 7 is a low volume, pioneering model for a new generation of BMWs and the subsequently launched 5, with a less complex iDrive system and becoming-more-familiar looks has received nothing like the criticism. Most reports have concentrated on the new car's dynamic capabilities.
And what of the Z4? Like the 7, it looks better in the metal than in photographs. On first sight the controversial 'flame styling' (created to reflect light across the car's convex and concave surface areas) for which Chris Bangle has received so much criticism, is less than easy on the eye but the looks quickly grow on you. Alongside the Z3, for example, the Z4 appears so much fresher and the initial awkwardness of the detail will help keep the car fresh over a prolonged period of time. Proportionally the Z4 is perfect, with its pinched waistline, rising bonnet and 'wheel-at-each-corner' stance, it has the poise and attitude a roadster should have, hood up or hood down.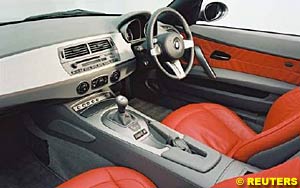 There are two six-cylinder models to choose from: a 2.5 litre, five-speed version or the more expensive 3.0 litre/six-speed example, with no current plans for a humble four-cylinder or, more upsettingly, a high performance M-powered version. BMW is playing to its audience with this car, drawing on the experience of having sold more than 280,000 Z3s worldwide. The sports convertible market has grown from just 3,000 sales a year in 1990, to around 30,000 a year in 2002 and the Z4 is aimed at the critical mass of this sector.
Both versions are everything you would expect them to be. Once inside, the cabin has a familiar BMW feel. Build quality is good and the interior styling follows clean and functional lines. Not exactly stark, but certainly rather minimal, the Z4 features classic BMW ergonomics and the cabin is a cosseting, but practical, place to be. For most, interior space is adequate but for the tallest of drivers, leg-room is at a premium, a problem made all the more apparent by the low-hanging dash. The overall effect is just a little claustrophobic with the hood up.
Hood down, the problem all but disappears and it disappears quickly too! The fully automatic roof (soft-top, rather than metal, to maximise space and save weight) is a simple one-touch operation, and the process is over in less than 10 seconds. There are no catches or covers to bother with; in fact the process is utterly devoid of manual input. Push a button on the dash, the roof unclips itself and neatly concertinas into a void behind the seats. The foremost panel of the roof doubles-up as a self-covering tonneau and that's it. Stopped at the lights? No problem ­ foot on the brake, one push of a button and everyone around you turns green with envy.
So it looks good (oh yes it does) and it's a great place to be sat, particularly on a sunny day, but the soul of any sports roadster is to be found in the way it performs. The Z4 doesn't disappoint with its hallmark front-engined/rear-wheel-drive balance, rasping six-cylinder engine note (particularly in the 2.5) and a perfectly engineered chassis to satisfy every mood. And by any definition, the Z4 is fast.
In fact, the 3.0 litre is a properly quick car, passing 62mph in a burp under six seconds and capable of reaching a governed 155mph maximum. Driven hard, with the roof down, it is impossible not to be smitten by its charms and whatever you throw at it (or throw it at), it copes brilliantly. The chassis is so good it highlights the car's only real weakness, the steering. Much like the gearbox in the 3.0 litre car, there is nothing particularly wrong with it, but it could do with being a bit quicker, a bit more direct. It makes the car feel a little lazier than it should and the gearbox is similarly guilty, albeit of a lesser charge. Changes are quick and precise but for the real enthusiast, the race-like 'snick' of a Mazda MX-5 or TVR is noticeable by its absence (even with the DDC 'Sport' setting on). For the core marketplace these minor grumbles will be of no consequence but if BMW doesn't build an M-version, with more power, a sportier gearbox and quicker steering, it will be a criminal waste of a gem of a chassis.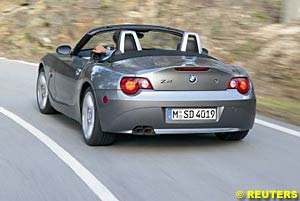 As it is, the Z4 is a car that inspires confidence and prevents anything unpleasant from happening when pushed to its limits. You can feel the electronic safety systems earning their corn. The DSC (Dynamic Stability Control) works within a 5% threshold of loss of grip, limiting power/applying braking under extreme cornering to help keep your insurance premiums in tact. Switch the DSC off and, rather than allowing the driver to take full responsibility, the Z4 reverts to DTC (Dynamic Traction Control) which operates within a 10% threshold. As a result, the car always feels very safe and forgiving (good things), if a little over-protective and somewhat 'censored' (not such good things).
Ultimately, the Z4 relentlessly seduces you. The essential requirements of a sports roadster are all there: it looks right (go on, admit it); and it goes right. In addition, it is clever. It is the first BMW to feature electric power steering, which is lighter and uses less power than a traditional hydraulic system, improving performance and using less fuel. The Z4 was also noticeably free of any scuttle-shake, the bane of many a convertible, achieved through innovative design and construction techniques. And even at speed, with the roof down, the cabin has been designed to allow conversation, or music, to be audible and the car is remarkably refined for an open top.
As a replacement for the Z3, the Z4 is stunning. The older car acquired an image as a bit of a 'girls car', but BMW still sold over 20,000 of them in the UK. Dynamically, the new car is on a different planet but BMW has not forgotten who the core buyer is. In other words, the Z4 ought to appeal to an even broader audience. And while a few thousand myopic Luddites faff about with a futile on-line protest, UK dealers are racking up the orders. If you're interested, I'd get a move on. I know at least one BMW dealer group that is sold out until next year.

A Subtle Boost for Mondeo Man
Sales reps are inveterate badge-watchers and there's only one faux-chrome emblem that impresses Mondeo-piloting motorway mile-munchers: ST220.
Ford calls the Mondeo ST220 its "flagship executive grand tourer". Got that? It's not a hard-core performance machine. No sir. Even though it is a hard-core performance machine and everyone knows it. Everyone in the know, at least. Because the ST220 is the subtlest of quick cars. There are very few clues to give the game away - the main one being that badge.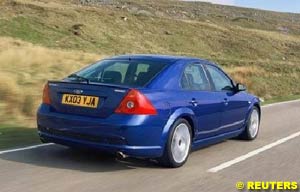 The '220' bit refers to the number of horses under the bonnet. Actually it refers to the German Pferdstarke rating of the old model. As part of a boost for the 2004 model year, the current stated output is actually 226PS (or 223 good old British horsepower). So the badge ought to read ST226. But let's not get too pedantic.
At the heart of the ST220 lies Ford's Duratec ST 3.0-litre engine. It's an all-aluminium quad-cam V6 that boots out 223bhp at 6000 rpm and - more importantly - 275Nm of torque at 4750rpm. Ford says its stainless steel, free-flow exhaust system is engineered to minimise performance-robbing back pressure. Yes, it's a generous amount of torque and it does means you can pull strongly away in fourth gear from tickover. But the high engine speed at which it's delivered betrays another story: it doesn't feel really quick unless you keep the engine speed high up the rev band.
More Numbers
Another set of figures highlights the problem: the 0-60mph time is rather disappointing at 7.4 seconds but through the gears it's a different beast: very quick and rev-happy. And the engine does encourage such behaviour because it just sounds so good: deep, throaty and musical. The 2004 Mondeo ST220 gets an extra gear thanks to the arrival of Ford's new Durashift six-speed manual transmission, first fitted to the 130bhp Mondeo TDCi. The gearing is higher than before, so top speed goes up to 155mph and cruising is more comfortable - motorway-slogging sales reps take note - but acceleration times remain virtually unaffected.
That's how it goes in a straight line. How about bends? It doesn't take long behind the wheel to realise that the ST220 has been created to pulverise sweeping S-bends. In the role of cross-country A-road stormer it is astonishingly good. Thanks to very wide, very low-profile 225/40 tyres, it has huge grip. In the interests of science, I did try turning the traction control off and guess what? Even that failed to dislodge the rubber's stranglehold on dry tarmac.
There are fewer starker contrasts between how the ST220 puts down its 223 horses and how Ford's Focus RS does the same thing. While the RS reacts like a bucking bronco when you floor the accelerator, flinging itself this way and that in a fit of pique that you are trying to use all its power in one go, the ST220 is as cool as they come. No fuss, no torque steer, no frenzy of spinning wheels.
Quicker Than a Focus RS
The remarkable thing is, side by side, the ST220 is actually quicker through sweeping bends than the smaller, faster-accelerating Focus RS. It doesn't suffer from the same understeer that the RS does. Quite the opposite in fact: you can drift it neutrally at will, thanks to one of the best front-wheel drive chassis ever created.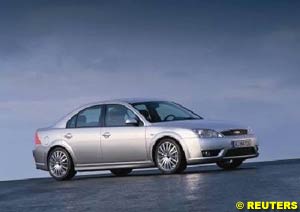 Thing is, there are very few clues as to the ST220's abilities on the outside. You get unique and very chunky 18-inch alloy wheels, a discreet body-coloured bodykit and twin exhaust tailpipes. That's just about it, except for a rear spoiler that's so inconspicuous that it looks like a mere ripple in the paintwork.
The 2004 Mondeo range gets a facelift that includes a reprofiled front bumper, trapezoidal fog lamps and metallic-look rear lights. And you can get an ST220 in four-door saloon, five-door hatchback and even estate body styles. While the outgoing ST220 was swathed in leather, the 2004 model gets excellent sports seats in a material called Alcantara - it's a sort of suede that racing drivers like because it gives you such good grip.
Other extras this year include cruise control, power fold door mirrors, puddle lamps (lights on the bottom of the doors), rain sensing wipers, automatic headlamps, eight-way power adjustable front seats, Sony 6CD audio system and of course the six-speed gearbox already mentioned. There are some interior changes too: a revised centre console, with new-look and switches and controls and higher quality materials.
Finally, let's get back to that all-important badge. We've solved the ?220' bit but what does the ?ST' mean? The first couple of Ford people I tried didn't know and had to go and check. Want to know the answer? It's Sports Technologies. Very sober. Which sort of sums the ST220 up. Is this a car that's too subtle for its own good? Possibly, but then you always have the badge to impress the other reps.
Written by Chris Rees
---