---
Racing Between the Lines
---
By Karl Ludvigsen, England
Atlas F1 Senior Writer
The European Grand Prix was a perfect weekend for the Williams-BMW partnership. Not only they left Germany with their first one-two finish of the season, but also announced the extension of their deal until the end of the 2009 season, cementing a solid future. Atlas F1's Karl Ludvigsen dissects the announcement's press release and analyses what will mean to the future of both team and engine supplier

Their weekend in the Eifel Mountains could scarcely had gone better for BMW and Williams. First they announce a new business partnership and then they pull out a one-two win in the race - with a little help from Michelin. Ralf added luster to his reputation with another win as did JPM with his tigering on the track. Pundits said that if the FW25 went well at the 'Ring it would be set up nicely for the rest of the season. That's good news for the team from Grove.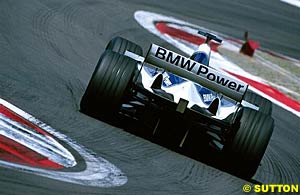 But what about the future? What's the significance of the new pact between BMW and Williams? Let's see what we can glean from the text of the announcement. I've written a few news releases in my time so perhaps I can help interpret some of the key phrases in the story put out by the BMW press office. Here we go:
"The new agreement is distinct from the previous terms of engagement between the two companies insofar as the new relationship will be characterized by an increased degree of integration."
As you can imagine, lawyers have fine-tooth-combed this document. We can blame them for mangling this stilted sentence, which means "BMW and Williams will work more closely together in the future."
"Dr. Burkhard Goschel is the board member of the BMW Group responsible for the BMW Formula One Project."
An announcement of this magnitude has to have a word from a board member, so Goschel gets the nod. Board chairman Helmut Panke could have been named, but this way the top man is better insulated from future criticism in case things go terribly wrong.
Goschel: "As an automobile manufacturer, we have options that are simply not open to a racing team and we need to join together in exploiting these possibilities."
This is an intriguing remark. What is he on about? Certainly BMW has vastly more muscle in dealing with suppliers. When Munich speaks, suppliers will listen. Williams may hitherto have been reluctant to relinquish much of its purchasing authority to BMW.
BMW also has far more in the way of static and rig test facilities than any racing team could muster. These could help Williams a lot. Mario Theissen referred to this in his remarks at the 'Ring: "We want to offer our resources, which of course have been put in place for road-car development, and to adapt them for Formula One needs in order to speed up our development slope and to include all the best knowledge a big automobile company has and to come to common solutions."
"BMW WilliamsF1 Team Principal Frank Williams reflectedů."
A clear sign of the German origins of this announcement. Surely someone attuned to the nuances of the British side of the partnership would have identified him as "Sir Frank Williams."
Williams: "BMW have been an extremely impressive and highly motivated engine partner to work with since 2000."
Translation: "We have been astonished at the speed with which BMW has gotten its engine act together. We expected them to flounder longer. Much too soon for our liking, they started to turn the tables by putting pressure on us to improve our chassis. We haven't liked it much, but we had to admit they were right. The relationship has been difficult, but we're still talking."
"The commencement of the new partnership will coincide with multi-million dollar investment in capital facilities coming on stream, including a second new state-of-the-art wind tunnel facility due to be operational in early 2004."
Sir Frank and his ownership partner Patrick Head have been persuaded to dig deeper into their own resources to deliver what Williams called an "unprecedented level of investment at WilliamsF1." The two pride themselves on running a tight ship, with a 2003 budget of $230 million against $303 million for Ferrari and $270 million for McLaren, according to BusinessF1. BMW pointed out in unambiguous terms that if they wanted to continue receiving their engines the partners would have to upgrade their facilities at Grove. What we don't know at this point is whether one or the other partner injected a disproportionate amount of the capital, which would affect their relative shareholdings.
BMW Motorsport Director Mario Theissen: "These contractual negotiations were protracted, but we were happy to take the time that was necessary in order to clarify all the issues in detail."
They certainly were. Sir Frank had hoped to have a new deal tied up much earlier. But BMW had nothing to lose by dragging out the talks, while Williams certainly did. A carmaker can always find a Formula One team, especially if it has a good engine to offer, while a Formula One team in search of an engine is a sorry sight indeed.
"I would say it was a very fruitful learning process," amplified Theissen in Germany. "We have approached each other from different positions. Both parts of the team have learned about the experience of the other side and so we got together and that in the end was the key to come to a deal."
Theissen: "The future will see... networking between the Grove and Munich sites, with the aim of generating synergy benefits and optimizing processes. This will be achieved by integrated and continuous joint project management. This groundwork was already laid in 2002."
Many would be surprised that this hadn't happened already, but Williams was reluctant to give up the autonomy of decision-making that it has historically - and successfully - enjoyed. This speaks to the issue of intellectual property that Sir Frank said had slowed their negotiations. With "joint project management", to whom does a new idea or invention belong? This is more important to a carmaker than to a racing team, with the former much more likely to patent its advances while the latter relies on its know-how and speed of change to move forward.
The announcement stops short of integration Renault-style, where a single executive - Flavio Briatore - now has authority for both engines and chassis. We can be sure that this was discussed and rejected by both parties. The lack of such a clear central authority is a weakness of this partnership.
"BMW will also contribute expertise in engine development and construction within the scope of this expanded cooperation."
I should hope so!
"During the initial stage we will be focusing on joint development of the drive train with gearbox."
"We have been supplying the engine for four years now," clarified Theissen in Germany, and "as our first focus we are looking at the gearbox and parts connected to this. I wouldn't say we are out to do gearboxes in competition with Williams. I would rather say we will integrate our resources, our knowledge, our test facilities, simulation facilities, and the aim is to have an integrated powertrain program with people from Williams and people from BMW working at the same project."
This makes a lot of sense, as integration in this area has been a strong Ferrari advantage and has also been exploited by Mercedes-Benz in its work with Ilmor. Certainly BMW has some expertise to offer here, although it is known in the motor industry as a purchaser rather than a developer of its road-car gearboxes. It's a small initial step in a logical area to begin to see what the two organizations can do together.
Overall, then, apart from the extension of the agreement through 2009, not a lot has changed. Contrary to what many expected, BMW did not become a shareholder in the Williams team. Nor did BMW break away to begin making its own Formula One car or even significant parts of such a car.
Component testing has been augmented big-time, not only with the use of BMW's facilities but also with a second wind tunnel at Grove. But I'm still not happy with the track-testing operations of BMW-Williams. The team should be able to test more extensively - within the FIA's new parameters - with more cars and drivers at more venues without relying on its two front-line racers. A breakthrough there would give greater confidence in the team's long-term success.

About the author:
Long time columnist at Atlas F1, Karl Ludvigsen is an award-winning author and historian who managed racing programs for Fiat in America in the late 1970s and Ford of Europe in the early 1980s. He is the author of seven books about racing drivers and numerous books about classic racing cars and engines, all of which draw extensively on the many images in his Ludvigsen Library in Suffolk, England. This autumn will see publication of Karl's long-awaited work, the update of his epic Porsche - Excellence was Expected. It reveals for the first time details of the all-conquering McLaren-TAGs and the disastrous Footwork-Porsches. Information on the book and a pre-publication discount are available at the Robert Bentley website

---
© 1995-2005 Kaizar.Com, Inc. . This service is provided under the Atlas F1
terms and conditions
.
Please
Contact Us
for permission to republish this or any other material from Atlas F1.