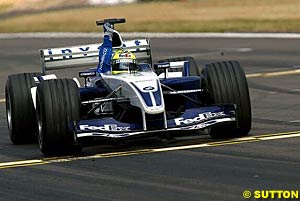 If Ralf Schumacher turns out to end as a Championship contender by the end of the season, few will remember that he did not try to overtake his brother Michael at the Canadian Grand Prix some two weeks ago. The memories of a poor start to his campaign are also likely to vanish, especially if he continues to perform like he has in the last couple of races.
With seven races remaining, Ralf is now only 15 points behind his brother in the Championship race and it seems obvious to everyone that, despite a shaky start of 2003, Williams have turned the corner and are now likely to be contenders for the top places in all the remaining races of the year.
"For the team, we took an amazing step," said Ralf after scoring his first win since the 2002 Malaysian Grand Prix. "If you remember where we started, I can't remember a team turning it around so much from the start of the season. It's amazing what a job the team has done this year."
For all the criticism that the Williams driver has received for not finishing on the podium until the Canadian Grand Prix, for not overtaking his brother, or for not turning his pole positions into race wins, his performances in the first six races of the season have proved vital to keep him in touch with the top of the standings and if Williams continue with their current form, those points - especially considering the new scoring system - will be pivotal later on.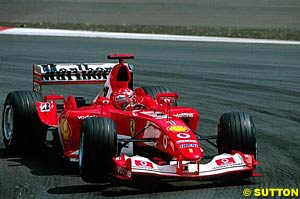 Williams or BMW could not have asked for a better timing for the win, and it's ironic to remember that a month ago they were blaming each other for their lack of results. Only two days after announcing the extension of their partnership until 2009, they scored their first one-two finish since the 2002 Malaysian Grand Prix.
Like Ralf, Williams too had received their share of criticism for their poor start of the year, but the way they have fought their way back to the top deserves a lot of credit. From struggling to beat Renault for fourth place in the Constructors' Championship, to becoming a Ferrari beater, Williams have gone to great lengths and worked endless hours that are now starting to pay off.
At the Nurburgring, however, Williams did not look like the car to beat in terms of pace, mainly because of the flawless job done by Kimi Raikkonen all weekend. After losing the Championship lead only one race earlier, the McLaren star showed his intentions of fighting for the title by overshadowing everyone else on Friday, Saturday and for a big part of Sunday's race.
Raikkonen was the man in both qualifying sessions, proving there's still a lot of life left in the MP4-17D, and he looked like a winner until lap 26, when his Mercedes engine let him down in front of the German manufacturer's home crowd.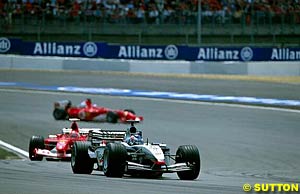 If Sunday was memorable for the Williams-BMW partnership, it was just the opposite for the other Anglo-German team, who despite Raikkonen's impressive pace, left Germany with nothing to show for, with the Finn seven points adrift in the drivers' standings and with McLaren in third place in the manufacturers' table.
At least the Woking-based team could find consolation in knowing that their current car has enough pace not to force the debut of the new MP4-18 before it's as reliable as needed, something that will give them enough tranquility to work now that the three-week break approaches after two back-to-back races. Although as seen in Germany, they are still no match for Ferrari or Williams in terms of reliability even with the old car.
For Ferrari, the European Grand Prix proved to be a bitter disappointment too, with the only positive aspect being Schumacher slightly extending his lead in the Drivers' Championship over Raikkonen, although judging by how the weekend developed, the German could be very thankful for it.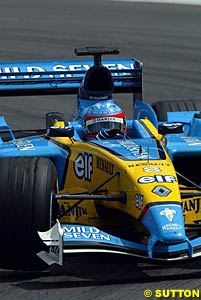 "It's probably the worst result of the season because, even if we have had more difficult races, it's the first time that we are not in a position to compete to win the Grand Prix," reflected team principal Jean Todt at the end of the day.
For the first time in a very long period, Schumacher never looked like he could challenge for victory, and even his chances of finishing on the podium looked rather dim before Raikkonen retired. The World Champion could not match the pace of the Finn or his brother's and even Juan Pablo Montoya got the best of him in a daring passing move which showed why Patrick Head believed the Colombian would have given Schumacher a harder time than Ralf in Canada.
"I thought Juan Pablo's overtaking manoeuvre was the sort that we should see every race, every time," said team boss Frank Williams of the move. "That is the way it should be done - you know: 'watch out when Juan's about'. It's tough to call on Michael and I am not gloating, but few people sadly overtake where Juan Pablo ever dares to overtake."
If Montoya demonstrated his overtaking skills, Schumacher at least was able to show his smartness, recovering from a seemingly hopeless situation to a get a points finish that could prove vital for his Championship aspirations. It's not hard to believe that any other driver, seen his car stuck on the gravel, would have just decided to climb out and call it a day.
Still, the weekend left Ferrari with little to celebrate and with no time to lick their wounds before the next Grand Prix in France. Considering Schumacher clinched his fifth title at Magny Cours last year, the German must be lamenting what a difference a year makes.
Qualifying Analysis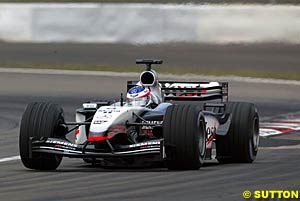 With more than half the season now gone, the teams seem to have gotten to grips with the new qualifying system, and their strategies are becoming more and more similar to each other. And there's no doubt that the show is benefitting from it, as the grid is reflecting the actual speed of the drivers' flying laps and not only the amount of fuel they are carrying on board.
With all the top drivers on a similar two-stop strategy, qualifying for the European Grand Prix at the Nurburgring was all about pushing the limits without making any mistakes, and the end result was one of the most exciting and closed sessions of the whole season, with Kimi Raikkonen finally scoring his first pole position after missing out by a whisker in previous races this year.
If not the fuel loads, the tyres did have a crucial effect on determining the grid for Sunday's race. The Michelin-shod cars again seem to hold the upper hand over their Bridgestone-tyred rivals, with some of the users of the Japanese rubber openly complaining about the performance of the tyres while Ferrari opted to go for a more diplomatic approach and said they were hoping the tyres would be stronger in the race, which would not be the case.
The Grid
1. Kimi Raikkonen Saturday time: 1:31.523
Friday Qualifying: 1st, 1:29.989
As McLaren boss Ron Dennis said after qualifying, Raikkonen is learning quickly from his own mistakes. In Canada two weeks earlier, the Finn had made a costly mistake that saw him starting from the back of the grid, which compromised his chances of a good result in the race and which eventually saw him losing the Championship lead. Two weeks later, however, Raikkonen put on a weekend-long flawless performance and was fastest both in Friday and Saturday's sessions, claiming an overdue maiden pole.
In the meantime, the McLaren driver spoiled the Schumachers' party at home, just after the German duo looked set for a dream front row lockout. Raikkonen, however, had other plans, and his brilliant lap relegated Michael by a mere 64 thousandths of a second, and Ralf by slightly over two tenths, bringing memories of McLaren's golden days.
"I think it's a great coincidence that Mika [Hakkinen] had his first pole here as well, in 1997," said Mercedes motorsport boss Norbert Haug. "That was the start of a great era. If you remember it was his first pole, he got his first win later in the year and then he won the World Championship the year after."
2. Michael Schumacher Saturday time: 1:31.555
Friday Qualifying: 2nd, 1:30.353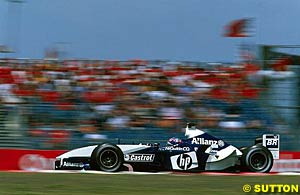 The World Champion had to cope again with a tyre that did not seem capable of matching the performance of his rivals' Michelins. Despite that, and after having topped the times in the warm-up, Schumacher's qualifying showing was the most competitive Ferrari looked all weekend, finishing less than a tenth behind Raikkonen. The German's lap was very good, but in the end, and when it looked like his loud fans would have an all-Schumacher front row, he had to be content with second after Raikkonen's perfect lap. As it was, Schumacher would have preferred to start from third position and therefore from the clean part of the track.
3. Ralf Schumacher Saturday time: 1:31.619
Friday Qualifying: 4th, 1:30.522
After two consecutive pole positions in Monaco and Canada, no one was ruling out the Williams driver from scoring a hat trick in front of his crowd, and for some time Ralf looked like he could do it. With a car that is looking faster and faster at each race, the German was strong all weekend, and despite losing out to Michael to a place on the second row, Ralf was better off behind his brother, as starting from the clean part of the track would prove decisive on race day. In getting himself in a very strong position for the race, Ralf outqualified teammate Montoya for the third straight time and for the sixth time in nine races.
4. Juan Pablo Montoya Saturday time: 1:31.765
Friday Qualifying: 3rd, 1:30.378
Montoya was disappointed after not beating his teammate to third place and to the cleaner part of the track. The Colombian, who set the exact same time as Ralf in the first sector of his flying lap, was, like the German, a contender during most of the weekend. Montoya was not totally happy with the balance of his FW25 in final qualifying, but still showed the Williams team were looking really strong for the race.
5. Rubens Barrichello Saturday time: 1:31.780
Friday Qualifying: 5th, 1:30.842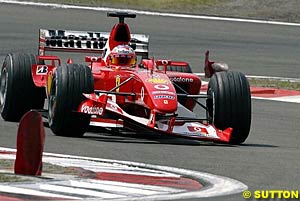 Without his teammate's ability to extract that extra bit from his car on a set of tyres that is not the class of the field, Barrichello failed to break into the top four for the fourth consecutive race. He claimed he was taking things easy due to his fuel load, and although he missed the front two rows, he found consolation in starting from the good side of the track. Had he matched the pace of a blistering third sector in the first two splits, he could have finished higher up the grid.
6. Jarno Trulli Saturday time: 1:31.976
Friday Qualifying: 7th, 1:31.143
After looking quite uncompetitive on Friday, Renault opted for a different approach for Saturday, and Trulli found a significant improvement that saw his gap to the fastest driver changed from 1.1 seconds to slightly over half a second off pole. The Italian was on form all weekend, outpacing teammate Alonso in all the practice and qualifying sessions and finishing almost half a second ahead of the Spaniard.
7. Olivier Panis Saturday time: 1:32.350
Friday Qualifying: 17th, 1:57.327
Despite having to go out very early in the final session, Panis was impressive with the Toyota, which looked strong all weekend. Panis was fastest in Friday's practice but his first qualifying session was hampered by the rain, which saw him posting the 17th quickest time. On Saturday he topped the times again in practice and it is likely he would have gone even faster in final qualifying had he not been the fourth man to come out on track.
8. Fernando Alonso Saturday time: 1:32.424
Friday Qualifying: 8th, 1:31.533
Alonso, like Trulli, was not as fast as expected on Friday, especially after his amazing showing in Canada two weeks earlier. The changes to his car on Saturday, however, made a significant difference and the Spanish driver raised his pace, although not enough to catch Trulli, who was running slightly lighter than him. Unlike his Italian teammate, Alonso was not completely happy with the balance of his car on his flying lap.
9. David Coulthard Saturday time: 1:32.742
Friday Qualifying: 6th, 1:30.903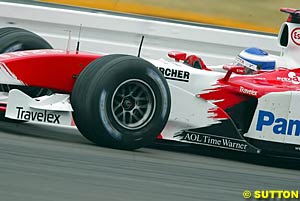 If Coulthard's problems with the new qualifying system are highlighted even when Raikkonen does not do well, when the Finn gets pole and finishes more than a second ahead, then the Scot's situation looks terribly bad. At the Nurburgring, Raikkonen's brilliant job overshadowed Coulthard, who again looked to be more worried about trying not to make any mistakes than to set a competitive time.
As McLaren's Martin Whitmarsh said, that approach may be valid for Friday, but when things get as competitive as on Saturday, going for a trouble-free lap is not enough. "David frankly is going to be reflecting on his confidence level," he said. "He did a conservative lap yesterday and maybe that was the thing to do but you cannot be conservative and get to the front. It is too competitive for that."
10. Cristiano da Matta Saturday time: 1:32.949
Friday Qualifying: 19th, no time
With a car which seemed to fit the Nurburgring almost perfectly, da Matta put on another respectable performance even if he finished more than half a second off Panis's time. The Brazilian was one of the drivers who were caught out by the rain on Friday, spinning on his flying lap and aborting his run. As a consequence he had to go out second on Saturday, but despite that, the CART champion did a good job and managed to get into the top ten.
11. Mark Webber Saturday time: 1:33.066
Friday Qualifying: 12th, 1:35.972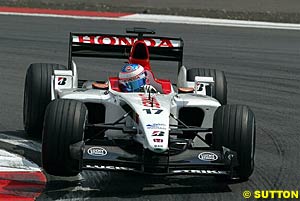 With hard tyres and what he claimed was a considerably heavy fuel load, Webber was happy with a spot just outside the top ten. The Australian Jaguar driver was unlucky on Friday, when the rain began to fall just as he was to start his run, but still continue to perform solidly, outqualifying teammate Pizzonia for the seventh time in nine races by over a second.
12. Jenson Button Saturday time: 1:33.395
Friday Qualifying: 11th, 1:32.479
Button was again BAR's main challenger following Villeneuve's dismal weekend, although his pace was far from that showed in other circuits that suited the Honda-powered 005 chassis better. The Briton was one of the many drivers who had problems with the bollards at the revised final chicane, although fortunately for him he avoided them on his final flying lap, something he could not manage both in practice and in first qualifying.
13. Giancarlo Fisichella Saturday time: 1:33.553
Friday Qualifying: 9th, 1:32.196
With Jordan the only team, apart from Minardi, not to test before the European Grand Prix, the prospects of a good weekend were already dim before the start of the weekend. Although things looked promising for Fisichella on Friday, where he got into the top ten, Saturday show a different picture, and despite one of the lightest cars of the field, the Italian could not repeat the feat, finishing two seconds off pole.
14. Ralph Firman Saturday time: 1:33.827
Friday Qualifying: 14th, 1:53.893
Things looked slightly brighter for rookie Firman at the European Grand Prix, and his pace was better than in previous races when compared to his teammate, which given the lack of performance of the Jordan, is the only real way to asses the Ulsterman. However Firman, like Fisichella, pitted some four laps before anyone else, suggesting his car was running very low on fuel.
15. Heinz-Harald Frentzen Saturday time: 1:34.000
Friday Qualifying: 10th, 1:32.201
Sauber had a torrid final qualifying day, with both Frentzen and Heidfeld succumbing to engine problems right before the grid-deciding session. Frentzen could not even complete a timed lap in the warm-up and had to use the spare C22, which was set up for Heidfeld. With little time to make changes, Frentzen struggled with understeer on his flying lap. Even so, the German was pretty pleased with the result considering the circumstances.
16. Antonio Pizzonia Saturday time: 1:34.159
Friday Qualifying: 18th, 1:57.435
At the Nurburgring, the Brazilian continued with his unimpressive run of results, finishing more than a second behind teammate Webber. Pizzonia was hampered by the rain on Friday, but having had two hours of dry testing to get acquainted to the track, more was expected in the final qualifying hour. The Jaguar rookie, however, was not happy with his car's handling, and took a gamble with his set-up following the warm-up. It didn't pay off, as the car got only worse.
17. Jacques Villeneuve Saturday time: 1:34.596
Friday Qualifying: 20th, no time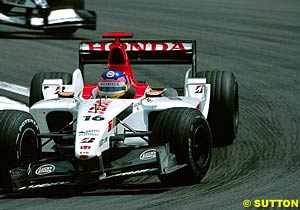 Villeneuve had yet another weekend to forget at the Nurburgring, and his qualifying performances were a good reflection of the Canadian's frustration this season. On Friday he was one of the drivers who had to complete their flying laps in the wet without extreme weather tyres, which resulted in the BAR driver aquaplaning into the gravel trap. Going out first in Friday's session, his chances of a good performance were already compromised, and an untidy lap did not help either. The Canadian was one of the most vocal drivers about his unhappiness with the performance of the Bridgestone tyres.
18. Jos Verstappen Saturday time: 1:36.318
Friday Qualifying: 16th, 1:55.921
Verstappen had the chance to shine, or at least to move away from the very bottom of the times, in the wet in the opening qualifying session. The Dutchman, in his 100th Grand Prix, took the opportunity and posted the 16th fastest time, which unfortunately for him would be the highlight of his weekend. In the dry on Saturday there was little he could do with his underpowered Minardi, although at least he outqualified his teammate, which is almost all he can aim for at the moment.
19. Justin Wilson Saturday time: 1:36.485
Friday Qualifying: 15th, 1:54.546
Like Verstappen, Wilson made good use of the wet first qualifying to show his driving skills are better than what his car allows him to show in the dry. The British rookie even outperformed his more experienced teammate on Friday, but Saturday brought him back to reality, and although he was close to Verstappen, his time was almost two seconds slower than the closest of the non-Minardi drivers.
20. Nick Heidfeld Saturday time: no time
Friday Qualifying: 13th, 1:52.300
If Frentzen had a unfortunate Saturday, Heidfeld's day was no better, highlighting the reliability problems the Sauber team are currently having with their C22 car. Heidfeld was also unlucky on Friday, when he was one of the drivers affected by the rain, although the German finished as the fastest of those who completed their laps in the wet. On Saturday he too suffered an engine problem in the warm-up and although his mechanics did an amazing job and replaced the unit in 18 minutes, Heidfeld could not complete his flying lap, spinning at the first corner due to a problem with the downshift.
The Race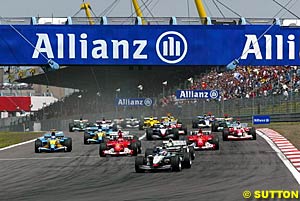 Sunday's morning was welcomed by some threatening clouds that made the teams fear a similar situation to Friday's washed out first qualifying. However, by the start of the race, and although it was still rather cloudy, the chances of rain decreased.
At the start, Michael Schumacher's fears would realise, as the dirty side of the track would see him starting slower than Raikkonen and Ralf, with the Finn easily keeping the lead at the end of the first corner while the Williams driver rocketed past his brother before closing the door at the first corner. Schumacher was relegated to third, with Barrichello in fourth and Montoya, also starting from the dirty side, losing out to the Brazilian.
Trulli was fifth ahead of Alonso, with Panis and Coulthard completing the top eight. At the back of the field, Heidfeld opted to start from the pitlane instead of doing it from the back of the grid following his qualifying nightmare.
It didn't take long before Raikkonen showed his intentions, quickly opening a gap to the Schumachers. After five laps, the McLaren driver was nearly five seconds ahead of Ralf, who was followed closely by his brother and Barrichello, with Montoya slightly behind the Brazilian.
For several laps the only action on track was taking place at the back of the field, where Villeneuve was fighting it out with the Minardis. The BAR driver had a tough time overtaking Verstappen, only to throw all his work away by spinning at the exit of the second corner. He could continue, but again behind the Minardis.
Panis would also see his chances hampered by a spin while running in a strong eighth position. The Frenchman would overshoot the first corner by miles due to an intermittent brake locking problem, ending up in a spin and losing four places.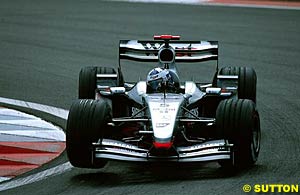 Up in front, Raikkonen continued with his flawless driving, opening a gap of almost nine seconds by lap 15, when the first round of pitstops from the leaders was about to begin. Trulli, still running in sixth place, was the first of the top runners to make his stop. The Renault driver was soon followed by Raikkonen and Schumacher Senior, who stood still for 8.8 and 8.6 seconds respectively before returning to the track in the same running order.
Barrichello was next to pit, returning behind his teammate in seventh position. Montoya, Alonso and Coulthard followed a lap later, leaving Ralf comfortably in the lead. The Williams driver came into the pits on lap 20, completing the first round of stops for the leading group. The order remained unchanged, except for Alonso and Trulli, with the Spaniard benefitting from Trulli's earlier pitstop to emerge ahead in sixth place.
Ralf managed to close the gap to Raikkonen after the first round of stops, reducing the Finn's advantage from over six seconds to around four by lap 23. The Finn, however, would not last much longer in the race, and without any signs, his Mercedes engine blew up in spectacular fashion to the dismay of both McLaren and the German engine supplier.
The unlucky Finn climbed out of the car visibly unhappy, pushing away a marshal who was trying to help him, his Championship chances suffering a cruel blow. "I was going along fine and the car was fantastic. It was really working today and I was pulling away from everyone. It was quite surprising. But that's racing," reflected a philosophical Raikkonen.
The Finn's retirement left Ralf alone in the lead, with Michael following some four seconds behind, a gap that would stay stable until the second round of pitstops. Behind the leading duo, Barrichello was losing ground and Montoya was getting closer to him. Alonso was also struggling a bit to keep his earlier pace, with Trulli and Coulthard following the Spaniard closely.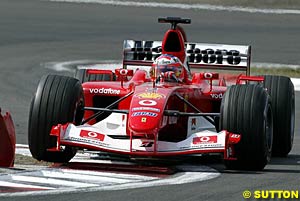 Michael Schumacher would be the first of the leaders to pit for the second time, on lap 36. The Ferrari driver's stop lasted for 10 seconds, and he returned to the track in seventh position right behind Coulthard, who would gain a position moments later when Trulli retired with a mechanical problem. Barrichello was the next man to pit, allowing Montoya to run in clean air.
The Colombian made good use of the following couple of laps, pitting on lap 40 and emerging ahead of Barrichello and behind Schumacher. Ralf pitted next and rejoined the race still comfortable in the lead while his teammate was quickly catching Michael Schumacher.
In the space of one lap, Montoya shortened the gap to Schumacher by almost two seconds, and by lap 43 he was right behind the German. The Colombian did not hesitate and, keeping his momentum going, tried to take Schumacher around the outside in a daring move. The Ferrari driver went a bit wide and touched the Williams, which sent him into a spin, his car stopping with the rear wheels on the gravel.
"We were going head to head and he was making it difficult for me," explained Schumacher after the race, giving his view of what Ferrari's technical director Ross Brawn considered a dangerous pass from Montoya. "The corner got tight and we came together. It was a normal racing accident in my view. But there was no blame to assess."
Montoya was able to continue, but the German's race looked to be over. However, Schumacher stayed calmly in the car, and asked the marshals to push him out of the gravel. His engine was still running and the car was in a dangerous position, so to the surprise of many, Schumacher was able to rejoin the race, although in a distant sixth place.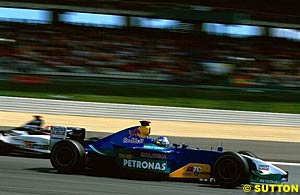 Following the incident and the final round of pitstops, Ralf was still in the lead, followed distantly by Montoya, Barrichello, Alonso, Coulthard and Schumacher, with Webber and Button in the point-scoring positions.
The laps went by quietly at the top of the field, while Alonso and a frustrated Coulthard were battling it out for fourth position. After several failed attempts, the Scot was caught out on lap 57, when Alonso seemed to brake earlier than usual. Coulthard came within inches of hitting the Renault, but he took evasive action and went off the track, his race coming to an end in the gravel trap. The McLaren driver was unimpressed.
"I'd be disappointed to think it was anything deliberate," said Coulthard. "It's not like I just locked up and decided to turn right off the circuit to avoid hitting him. I never even braked before I nearly hit him and had to swerve off the circuit - and we know from my data that that was ten metres earlier than it was on the lap before."
Despite Coulthard's complaints, the race stewards saw nothing wrong with Alonso's driving. To add insult to injury, the Scot's retirement allowed Schumacher to gain a position that would increase his lead in the standings over Coulthard's teammate Raikkonen. The incident also allowed Heidfeld to move into the points after a solid drive from the back of the grid.
The remaining three laps went by action-less, and Ralf crossed the finish line comfortably ahead of Montoya, scoring his first win in over a year to boost his and Williams's chances of fighting for the titles. Ralf took revenge over those who criticised him for not overtaking his brother in Canada, and the German savoured the moment.
"I got a bit of criticism but, you see, even a bad driver can win a race," an ironic Ralf said. "It's down to the experts, those who call themselves experts after the race. This was far more important. For the team, we took an amazing step."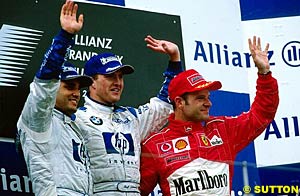 A third place for Barrichello and a fifth for Schumacher was all Ferrari had to show for after their most disappointing weekend in a long while, although Schumacher was pretty happy he at least managed to extend his lead in the Championship. Mark Webber completed another good performance to give Jaguar their best result of the season, while Button fought his way into the points at a track where BAR looked rather unimpressive.
With the following race only five days away, there won't be any time to celebrate or weep over the lost opportunities. Roll on France.

Pos  Driver        Team-Engine       Tyres   Time        
 1.  R.Schumacher  Williams BMW       (M)     1h 34:43.622
 2.  Montoya       Williams BMW       (M)     +     16.821
 3.  Barrichello   Ferrari            (B)     +     39.673
 4.  Alonso        Renault            (M)     +   1:05.731
 5.  M.Schumacher  Ferrari            (B)     +   1:06.162
 6.  Webber        Jaguar Cosworth    (M)     +   1 lap   
 7.  Button        BAR Honda          (B)     +   1 lap   
 8.  Heidfeld      Sauber Petronas    (B)     +   1 lap   
 9.  Frentzen      Sauber Petronas    (B)     +   1 lap   
10.  Pizzonia      Jaguar Cosworth    (M)     +   1 lap   
11.  Firman        Jordan Ford        (B)     +   2 laps  
12.  Fisichella    Jordan Ford        (B)     +   2 laps  
13.  Wilson        Minardi Cosworth   (B)     +   2 laps  
14.  Verstappen    Minardi Cosworth   (B)     +   3 laps  
15.  Coulthard     McLaren Mercedes   (M)     +   4 laps  
 
Fastest Lap: Raikkonen, 1:32.621, lap 14

Not Classified/Retirements:

Driver        Team                     On Lap
da Matta      Toyota            (M)    54
Villeneuve    BAR Honda         (B)    52
Trulli        Renault           (M)    38
Panis         Toyota            (M)    38
Raikkonen     McLaren Mercedes  (M)    26


World Championship Standing, Round 9 (Provisional):                

Drivers:                    Constructors:             
 1. M.Schumacher  58       1. Ferrari           95
 2. Raikkonen     51       2. Williams-BMW      82
 3. R.Schumacher  43       3. McLaren-Mercedes  76
 4. Montoya       39       4. Renault           52
 =  Alonso        39       5. BAR-Honda         13
 6. Barrichello   37       6. Jordan-Ford       11
 7. Coulthard     25       7. Sauber             9
 8. Trulli        13       8. Jaguar-Cosworth    9
 9. Fisichella    10       9. Toyota             4
 =  Button        10
11. Webber         9
12. Frentzen       7
13. da Matta       3
 =  Villeneuve     3
15. Heidfeld       2
16. Firman         1
 =  Panis          1


Pos  Driver        Team                  Lap  Time              
 1.  Raikkonen     McLaren-Mercedes (M)  14   1:32.621      
 2.  R.Schumacher  Williams-BMW     (M)  34   1:32.826 + 0.205
 3.  M.Schumacher  Ferrari          (B)  34   1:32.904 + 0.283
 4.  Montoya       Williams-BMW     (M)  59   1:33.094 + 0.473
 5.  Barrichello   Ferrari          (B)  15   1:33.200 + 0.579
 6.  Coulthard     McLaren-Mercedes (M)  12   1:33.236 + 0.615
 7.  Alonso        Renault          (M)  17   1:33.307 + 0.686
 8.  Trulli        Renault          (M)  13   1:33.348 + 0.727
 9.  da Matta      Toyota           (M)  15   1:33.398 + 0.777
10.  Panis         Toyota           (M)   8   1:33.583 + 0.962
11.  Frentzen      Sauber-Petronas  (B)  33   1:33.994 + 1.373
12.  Webber        Jaguar-Cosworth  (M)  37   1:34.191 + 1.570
13.  Button        BAR-Honda        (B)  14   1:34.208 + 1.587
14.  Heidfeld      Sauber-Petronas  (B)  23   1:34.541 + 1.920
15.  Fisichella    Jordan-Ford      (B)  29   1:34.656 + 2.035
16.  Pizzonia      Jaguar-Cosworth  (M)  47   1:34.915 + 2.294
17.  Villeneuve    BAR-Honda        (B)  45   1:35.100 + 2.479
18.  Firman        Jordan-Ford      (B)  29   1:35.328 + 2.707
19.  Wilson        Minardi-Cosworth (B)  19   1:36.709 + 4.088
20.  Verstappen    Minardi-Cosworth (B)   3   1:37.365 + 4.744


Pos  Driver        Team                  Time      Lap
 1.  Pizzonia      Jaguar-Cosworth  (M)  22.040  43
 2.  Frentzen      Sauber-Petronas  (B)  30.766  44
 3.  Frentzen      Sauber-Petronas  (B)  30.880  31
 4.  Fisichella    Jordan-Ford      (B)  31.568  27
 5.  da Matta      Toyota           (M)  32.075  43
 6.  R.Schumacher  Williams-BMW     (M)  32.103  21
 7.  Alonso        Renault          (M)  32.431  18
 8.  Montoya       Williams-BMW     (M)  32.493  40
 9.  Heidfeld      Sauber-Petronas  (B)  32.518  20
10.  Alonso        Renault          (M)  32.549  38
11.  Frentzen      Sauber-Petronas  (B)  32.552  14
12.  M.Schumacher  Ferrari          (B)  32.609  16
13.  Trulli        Renault          (M)  32.703  15
14.  Heidfeld      Sauber-Petronas  (B)  32.864  37
15.  Firman        Jordan-Ford      (B)  32.879  26
16.  Montoya       Williams-BMW     (M)  32.933  18
17.  Barrichello   Ferrari          (B)  33.019  17
18.  R.Schumacher  Williams-BMW     (M)  33.044  41
19.  Firman        Jordan-Ford      (B)  33.152  41
20.  da Matta      Toyota           (M)  33.246  16
21.  Coulthard     McLaren-Mercedes (M)  33.308  18
22.  Barrichello   Ferrari          (B)  33.339  37
23.  Webber        Jaguar-Cosworth  (M)  33.354  38
24.  Villeneuve    BAR-Honda        (B)  33.387  41
25.  Fisichella    Jordan-Ford      (B)  33.598  43
26.  Panis         Toyota           (M)  33.771  36
27.  Coulthard     McLaren-Mercedes (M)  33.796  42
28.  Raikkonen     McLaren-Mercedes (M)  33.876  16
29.  Button        BAR-Honda        (B)  33.965  15
30.  Pizzonia      Jaguar-Cosworth  (M)  33.999  40
31.  M.Schumacher  Ferrari          (B)  34.067  36
32.  Panis         Toyota           (M)  34.210  15
33.  Wilson        Minardi-Cosworth (B)  34.582  36
34.  Verstappen    Minardi-Cosworth (B)  34.648  37
35.  Webber        Jaguar-Cosworth  (M)  34.777  14
36.  Wilson        Minardi-Cosworth (B)  35.394  16
37.  Pizzonia      Jaguar-Cosworth  (M)  35.463  16
38.  Button        BAR-Honda        (B)  35.974  37
39.  Verstappen    Minardi-Cosworth (B)  36.754  15
40.  Villeneuve    BAR-Honda        (B)  38.246  14
41.  da Matta      Toyota           (M)  39.236  24
42.  Fisichella    Jordan-Ford      (B)  40.872  53


The European Grand Prix, Lap by Lap
The Sauber team took the decision to start Nick Heidfeld from the pits because of the problems encountered during the second qualifying session.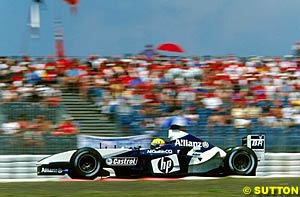 Lap 1: At the start of the race Michael Schumacher was slower away than Kimi Raikkonen and so Ralf Schumacher was able to get ahead of his brother before the first corner. Juan Pablo Montoya also struggled on the dirty side of the track and so lost out to Rubens Barrichello who was able to challenge Michael Schumacher at the first corner. Montoya had to fend off the two Renaults but managed to keep them behind him. The order at the end of the first lap was Raikkonen ahead of Ralf, Michael, Barrichello, Montoya and Jarno Trulli. Fernando Alonso chased with Olivier Panis, David Coulthard, Cristiano da Matta and Jenson Button next up.
Lap 6: The order remained unchanged in the early laps with Raikkonen building up a lead of 5.3 seconds by the end of the sixth lap. Michael Schumacher was stuck behind Ralf.
Lap 7: Raikkonen sets the fastest lap of the race and increases his lead to nearly six seconds. At the tail of the field there is excitement as the two Minardis battle with Jacques Villeneuve's BAR. Justin Wilson goes off and falls behind Jos Verstappen, Villeneuve and Heidfeld.
Lap 8: Villeneuve passes Verstappen with a lunge at the first corner.
Lap 9: Raikkonen's lead is up to 6.5 seconds. At the tail of the field Villeneuve runs wide and spins through 360-degrees and keeps going without losing much time, although he is re-passed by the two Minardis. At the same time Heidfeld passes Verstappen.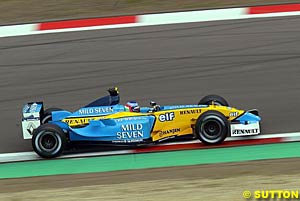 Lap 10: The first pit stops begin with Ralph Firman stopping and falling to the tail of the field.
Lap 11: Panis spins and falls from eighth to 12th. Giancarlo Fisichella had his first pit stop and drops to the back of the field.
Lap 12: Verstappen has a problem and is overtaken by both Wilson and Villeneuve.
Lap 13: Raikkonen's lead is up to eight seconds; while Ralf Schumacher has been able to pull slightly clear of his brother Michael.
Lap 14: In the midfield Mark Webber and Heinz-Harald Frentzen both pit. Webber drops from 11th to 14th, Frentzen from 12th to 15th. Villeneuve runs over the chicane and breaks his front wing on a bollard. He has to pit for a new nose.
Lap 15: Trulli is the first of the top six to pit, dropping from sixth position back to ninth. In the midfield Jenson Button and Panis both pit and at the tail of the field Verstappen also stops.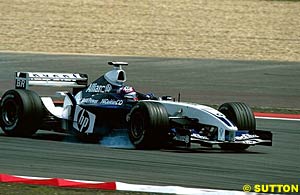 Lap 16: Raikkonen pits and so Ralf Schumacher goes into the lead. Michael Schumacher also pits. Raikkonen rejoins in sixth and Schumacher in seventh. Eighth-placed Cristiano da Matta also stops and drops to ninth. Also pitting are Antonio Pizzonia and Justin Wilson.
Lap 17: Barrichello stops and drops from second place back to seventh. Further back Panis overtakes Webber for 12th place.
Lap 18: As Ralf Schumacher keeps going, Montoya, Alonso and Coulthard (running second, third and fourth) all pit at the same time. This puts Raikkonen back to second with Michael Schumacher third. Barrichello is fourth with Montoya fifth. Alonso is up to sixth with Trulli seventh and Coulthard eighth.
Lap 20: Ralf continues in the lead, more than 20 seconds clear of Raikkonen. In the midfield Heidfeld pits for the first time and falls from 10th place to 15th.
Lap 21: Ralf Schumacher pits and rejoins in second place behind Raikkonen but ahead of Michael and the rest.
Lap 24: Da Matta has a second stop, just eight laps after his first. He drops from ninth to 14th place.
Lap 26: Raikkonen's McLaren blows up, trailing smoke. The unhappy Finn parks the car, brushing off assistance from the marshals. Ralf Schumacher takes the lead. At the back of the field Firman comes in for his second pit stop.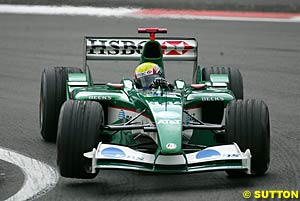 Lap 27: Fisichella comes in for his second pit stop. At the back of the field Verstappen has a slow lap and is overtaken by Villeneuve.
Lap 31: After several laps when the order remained unchanged 11th-placed Frentzen comes into the pits for his second pit stop. He rejoins in 14th position.
Lap 35: The gaps at the front are largely unchanged with Ralf leading Michael by around four seconds. Behind Michael Barrichello is unable to match the pace and falls back a few tenths each lap. He is chased by Montoya, Alonso and Trulli. The two Renaults are shadowed by Coulthard and there is then a big gap back to Button
Lap 36: Michael Schumacher stops again and falls back to seventh place, just behind Coulthard. Panis also stops and drops from ninth to 13th.
Lap 37: Barrichello pits and so Montoya moves to second place behind Ralf Schumacher. Barrichello rejoins in sixth place. At the same time Trulli stops with a fuel pump failure and Panis spins into retirement. Button and Heidfeld also pit.
Lap 38: The second pit stop sequence continues with Alonso and Webber both pitting. The Spanish driver drops back to sixth place and Webber falls behind Pizzonia and da Matta but gets out ahead of Button.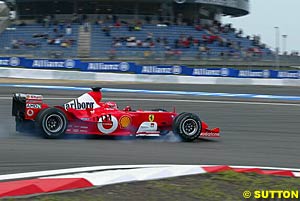 Lap 40: Montoya pits and so Coulthard is briefly up to second place with Michael Schumacher third and Montoya rejoining in fourth. Further back Pizzonia stops. He speeds in the pit lane and is later given a drive-through penalty.
Lap 41: Ralf Schumacher pits but he is able to rejoin in the lead. At the back of the field Firman has his third pit stop.
Lap 42: David Coulthard pits. He loses time in the pits when he tries to drive away too early. He rejoins behind Alonso.
Lap 43: Michael Schumacher and Juan Pablo Montoya collide at Turn Seven at the bottom of the hill. Schumacher spins and comes to rest on the kerb. Three marshals and someone who appeared to be a race fan push the car back on to the track. Schumacher restarts but has lost a lot of time and fallen to sixth place. While this is happening there are several other pit callers with da Matta and Fisichella stopping and Pizzonia coming in for his penalty. This leaves Ralf with a big lead over Montoya, Barrichello, Alonso and a charging Coulthard. Then comes Michael Schumacher, Webber and Button.
Lap 44: Frentzen pits for the third time. He drops behind Heidfeld.
Lap 52: The order is unchanged with Alonso under pressure from Coulthard but otherwise no major fights at the front of the field. Down at the back Villeneuve pulls off and retires. It is announced that the stewards are investigating the Montoya-Schumacher incident but no action is taken.
Lap 53: Fisichella pits with a puncture but rejoins without losing a place.
Lap 54: Da Matta's Toyota goes out with an apparent engine failure.
Lap 57: Coulthard is caught out when Alonso slows dramatically just before the chicane. The Scotsman swerves to avoid the Renault and loses control of the McLaren which bounces into the sandtrap.
Lap 60: Ralf Schumacher wins from Montoya and Barrichello. Alonso gets to the line fourth just ahead of Michael Schumacher, the Renault driver clearly struggling. A lap behind Webber finishes sixth with the remaining points going to Button and Heidfeld. On the slowing down lap Fisichella pulls off.