By Thomas O'Keefe, U.S.A.
Atlas F1 Senior Writer

Part II: Debt vs. Equity
From Luca di Montezemolo's viewpoint, his first loyalty is to Ferrari and to capitalize on its brand name and its success on the racetracks of the world by seizing this moment to go to the stock market and raise capital to increase Ferrari's manufacturing capabilities to build production cars, both Ferrari's and Maserati's, and to promote the Ferrari brand in other ways, including running the world's most successful Formula One team. By going to the stock market and selling stock in Ferrari, di Montezemolo would be taking money from the investing public that would not have to be paid back and in return would be giving the public equity or ownership in Ferrari. Whoever buys Ferrari's stock becomes a stockholder but not a creditor.
Who would receive the proceeds of the IPO? Theoretically, Ferrari S.p.A. but in actuality the principal beneficiary would be Fiat, which owns most of the stock and would presumably use the lion's share of the proceeds of any sale of the stock to pay down debt in accordance with the commitments to its lenders.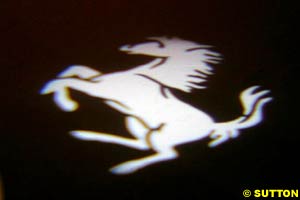 From Fiat's perspective, Ferrari is one of the few assets in the Fiat portfolio that is in the black - that is performing, that is profitable. In short, when Fiat the parent company is up to its eyeballs in financial distress, Ferrari is regarded as a financial asset plain and simple, one that can be used in a variety of ways by Fiat. Ferrari, for example, could be mortgaged to generate loans for the parent company; it can pay cash dividends to Fiat out of profits and the Agnelli family as shareholders; or it could be used to sell stock to the public, which is equity, not debt.
Fiat assumes in its financials that Ferrari is worth about $2.3 billion; Ferrari had sales of $963 million and profits of $43 million in 2000. It remains to be seen what the value of the company would be if it was taken public, since the IPO price for the stock being offered to the public is always set at the last minute and is dependent on market timing and other factors.
It would seem, then, from the available evidence, that by mid-2001, di Montezemolo was convinced that he had won over the Powers That Be at Fiat and that Fiat now agreed with him that Ferrari should ultimately be the subject of an IPO and that it was just a question of market timing as to when.
It was about this time, in May 2001, that Italy's new Prime Minister, Silvio Berlusconi, took office and immediately tried to recruit his friend, di Montezemolo, to join his new Government. As Berlusconi said at the time: "There will be a name that many Italians will love - that of Luca di Montezemolo. There are points in your life that require a change, and I think that di Montezemolo has reached one of those points."
Berlusconi's assessment matched what di Montezemolo had been saying of himself. He had been quoted as saying that he was going through a period of reflection and ennui toward the end of 2001, after Schumacher won his second championship with Ferrari, saying:
"I have achieved the objective. At times, I had thought they were dreams. Ferrari has left its mark on the last year of the old millennium and the first of the new one. It has won against BMW, Mercedes, Renault, Ford, against the world's great powers.

Now I ask myself: but is it really worth it? I can only lose. In the best case scenario, you can win again. I am thinking a lot about this. They have been 10 years of total and absolute dedication. It is a job that involves you totally and life goes by so quickly. The ideal would be a year's sabbatical.

I thank my colleagues but also my family has paid a high price."
But di Montezemolo resisted the blandishments of Berlusconi, particularly after Ferrari's staff - reacting to the rumors that di Montezemolo might resign - petitioned di Montezemolo to stay on and not be seduced by life in the political arena. The new Commendatore responded to his employees without hesitation, releasing this announcement:
"Today, I spoke with Silvio Berlusconi and I informed him of all the heartfelt requests coming first and foremost from the people at Ferrari and from so many of its supporters.

Silvio Berlusconi has understood and appreciated the relevance of such reasons, which mean I am unable to follow up the intention of being part of his Government."
In short, di Montezemolo had made his commitment to stay the course at Ferrari for the duration, probably in large part because of the sense of duty he felt not to leave Ferrari while the IPO he was the chief sponsor of was in the offing.
However, having made peace with himself, the Italian Government, his employees at Ferrari and believing that his superiors at Fiat supported the concept of an IPO, di Montezemolo must have been shocked when on July 1st, 2002, just as Michael Schumacher was about to go to Magny-Cours to clinch his fifth World Drivers' Championship, the parent company Fiat announced that 34% of Ferrari was being sold out from underneath di Montezemolo to a consortium of banks led by Mediobanca that were helping to restructure Fiat's debt. Mediobanca paid $775 million to Fiat for 34% of Ferrari and those funds were used as a capital injection for Fiat, which allowed the company to reduce its crushing debt burden and close the June 30th, 2002, quarter in the black, making other Fiat bankers and accountants happy.
Unfortunately, no one from Fiat had told di Montezemolo about this stratagem, and he was angry and surprised at Fiat's decision. Di Montezemolo must have known when he heard the news that the sell-off of Ferrari stock to the banks would have a negative effect on the prospects for the kind of IPO he had in mind by Ferrari. At a press conference, he confirmed that, incredibly "I was told when the deal was done and I was displeased, not about the deal itself but because I was told about it afterwards." Plainly, Fiat was desperate to book as income three-quarters of a billion dollars due to a sale of stock to the banks by June 30th and the company's executives probably knew that di Montezemolo would have hit the ceiling had he been advised in advance so they conveniently kept him out of the loop.
Ironically, it was thought prior to the sale of 34% of Ferrari stock to the banks that at Fiat's July 8th, 2002, Board of Directors Meeting, the Board was finally going to approve the terms of the Ferrari initial public offering that had been in discussions now for years. Instead, by the time Michael Schumacher brought home the Championship to Ferrari after the French Grand Prix on July 17th, 2002, it appeared that the Tifosi IPO Montezemolo had long envisioned was to be deferred if not denied altogether, although possibly as a concession to di Montezemolo, Mediobanca was designated by Fiat to be the financial advisor to manage Ferrari's IPO whenever it does occur. The IPO was originally scheduled for June 2003, but subject to Fiat giving Mediobanca a one-year extension of that deadline if needed, and that extension has apparently been granted due to market conditions.
Di Montezemolo was plainly miffed at how Fiat had circumvented him in July 2002, but he played the good soldier and announced that he welcomed Mediobanca as the new 34% shareholder of Ferrari, pledging to continue what he had been doing all along - to give Ferrari shareholders, whomever they turned out to be, good results on the production line and at the racetrack.
In order to make sure the Fiat Board of Directors did not come up with any future surprises, however, di Montezemolo was added as a member to the Fiat Board of Directors and his disappointment was doubtless somewhat mollified when it was announced that he would be receiving a bonus of $19.3 million as a reward for the performance of Ferrari. The bonus had been decided upon in October 2002 at a Fiat Board of Directors' meeting but was not announced until March 2003, when di Montezemolo joined Fiat's Board of Directors. Jean Todt was also given a bonus of $3.2 million. Both bonuses were given "in recognition of their contributions to the increased prestige and value of the company."
A fundamental part of any IPO is to flaunt what you have and exploit whatever momentum exists in a prospective issuers market so that when the IPO actually takes place the market is conditioned to receive the IPO favorably and all those potential shareholders out there are primed to call their brokers and order them to buy stock in Ferrari.
By the standards of most companies, Ferrari has enormous intrinsic appeal - selling glamour, passion, speed and profitability, all in one scarlet package. And the suave and worldly di Montezemolo is tailor made for the task of orchestrating Ferrari's activities internally so that he will have something to present externally to the buying public and the investment bankers when the time comes to go to market.
How has Ferrari gone about globalizing its appeal? As it always has: by building and racing its own cars and then supporting its customers to do the same thing. Di Montezemolo's particular genius was to sponsor the competitive series now known as the Ferrari 360 Modena Challenge over the last few years, which has now blossomed into a major supporting event at the U.S. Grand Prix and other races throughout the season, involving 120 drivers. In this one-make series, customer cars are fitted out in race trim and the customers have the fun of challenging one another at some of the world's most famous racetracks.
More recently, at the 2003 Daytona 24 Hour Endurance Race and at the Sebring 12-Hours and at Le Mans, Ferrari has been supplying factory support to those teams who participate with Ferrari 550 Maranellos and Ferrari 360 GTs, in the kind of world sports car races that originally put Ferrari on the map in the 1950s. At Le Mans on June 15th, 2003, the Prodrive Ferrari 550 Maranello won the GTS class. It worked in the 1950s and 1960s, and it seems to be working now since both Ferrari and Maserati sales are up, even in these difficult economic times.
And there are the new products, like the Maserati Trofeo and the Maserati Spyder convertible, that Ferrari has introduced to increase its visibility worldwide and to continue to communicate even to those who will never be able to afford a Ferrari or Maserati that the Italian sports car maker remains the Gold Standard for the entire automotive industry.
The introduction of the "Enzo", a 660 horsepower V12 carbon fibre super car dripping with the looks and technology of a Formula One Ferrari, is the most spectacular of Ferrari's new offerings. According to an Autoweek editor, he experienced 0-60-mph in 3.15 seconds at a road test at Fiorano. Only 239 Enzos will be made at a price of $675,000 per car (and there is a waiting list so don't bother getting out your checkbook), but it is a vivid example of Ferrari's intent, which is to occupy the field when it comes to having the classiest cars around.
And while Michael Schumacher is out there doing his part to build and perpetuate the Ferrari brand and the image of Ferrari as a winning race team, di Montezemolo is also making the rounds to spread the word in his own way. In late November 2002, di Montezemolo returned to New York City, where he had gone to Columbia University for post-graduate work, to appear as a guest on the Charlie Rose Show, an American interviewer generally thought to appeal to the urbane types who buy or wish they could buy a Ferrari. On Ferrari's website, this is how Montezemolo's appearance was portrayed:
"The Charlie Rose Show has been broadcast five nights a week since 1991 and is one of the most popular American talk shows. U.S. Presidents, Nobel Prize winners, actors and personalities from the world of show-business and sports have all faced the questioning of Rose, described in the States as an opinion maker who, every night, steps into the homes of America's leading opinion formers."
In addition to having di Montezemolo in the studio for the interview, Charlie Rose had made a site visit to Fiorano and a video clip was shown during the interview of Rose being driven around Mugello by Michael Schumacher in a Maserati coupe, surely just the kind of market penetration strategy that is part and parcel of the Tifosi IPO, whenever it occurs.
Indeed, Michael Schumacher seems very conscious of his role in the future of Ferrari and perhaps even with respect to the Tifosi IPO, as reflected in his comments during the 2003 Canadian Grand Prix weekend when he announced that he had extended his contract until 2006: "I feel I have a responsibility to keep Ferrari secure. Part of my responsibility is to work for the future of the company and the team. It's something I will have to achieve in the coming years."
If the Michael Schumacher name manages to sell all that memorabilia and other detritus you see at the booths at the races and in the catalogs, you can imagine what a stock selling team the combination of di Montezemolo and Schumacher will be when the Tifosi IPO is given the green light for real.
And make no mistake about it, Schumacher's use of a Maserati and Mugello to terrorize Charlie Rose was no accident, but part of Ferrari's announced plan to reinvigorate and promote the famous trident marque, much as has been done with Ferrari itself. Indeed, some hope that when Fiat Auto's wrenching reconstruction is all said and done, that Ferrari may end up as holder of all the Fiat jewels in the crown: Ferrari, Maserati, Alfa Romeo and Lancia, though this is all very much in the "what if" talking stages. It is said that Maserati, officially acquired by Ferrari in 1997, has already benefitted from Ferrari's protective wing, with its sales up by 20% in 2002.
Nevertheless, and no matter how famous the Ferrari brand is, the Tifosi IPO will not take place until the investment bankers at Mediabanco believe the market conditions are right. And here is the rub with the Tifosi IPO. There could not have been a better environment for Ferrari to sell its stock into as a substantive matter than two or three years ago, when both the race team and the factory were successful and the stock market was on the rise.
But, unfortunately, with so much volatility in the stock market generally, including amongst automotive stocks, it hardly seems a propitious time for Ferrari to schedule the Tifosi IPO, no matter how strong its fundamentals are as a company. Nevertheless, in a "now or never" mode, di Montezemolo announced at the Detroit Auto Show in January 2003 that "I can confirm we will do it this year."
More recently, di Montezemolo has seemed to back off on that prediction and the investment bankers' June 30th, 2003, deadline to take Ferrari to market has inevitably slipped. Since the market timing last year was for June, a good guess would be a Tifosi IPO for October 2003 at the earliest or later on in June or July 2004 if di Montezemolo has his way, just about the time Michael Schumacher will be celebrating his unprecedented seventh Drivers' Championship in the updated F2003GA(B).
Another Fiat Auto financial angle that could impact the Tifosi IPO is the curious story of the entanglement of Fiat Auto with GM.
General Motors is one of the world's few major manufacturers not in Formula One but it could soon find itself very quickly in the thick of Grand Prix racing and at the head of the class. How? GM owns 20% of Fiat Auto as a result of a transaction in July 2000 when GM paid $2.4 billion for its 20% holding. Because of a complicated stock option that was part of the transaction, GM must soon decide whether or not to exercise its option to purchase the 80% of Fiat Auto that it does not already own.
This is the way GM describes the option relationship it has with Fiat in GM's latest filings with the United States Securities and Exchange Commission:
"Beginning on January 2004, Fiat has the right to exercise a put option to require GM to purchase 80% of Fiat Auto at fair market value. The put option expires on July 24, 2009. The process for establishing the value that would be paid to Fiat involves the determination of "Fair Market Value" by investment bankers that would be retained by the parties pursuant to provisions set out with the Master Agreement between GM and Fiat, which has been made public in filings with the SEC. As a result of GM's purchase of the initial 20% investment for $2.4 billion in the July 2000 transaction, some have suggested a price of $9.6 billion for the other 80% of Fiat Auto. However, Exhibit 8.0 of the Master Agreement states that "in determining the Fair Market Value of the put shares, the price ($2.4 billion) paid by General Motors for its interest in Fiat Auto shall not be considered.

Until a valuation is actually performed in accordance with provisions of the Master Agreement, the amount that GM may pay for 80% of Fiat Auto is not quantifiable. This is due in large part to the fact that there are many variables that could cause such a determination to rise or fall, including but not limited to, the operating results and prospects of Fiat Auto, such as the timing of any possible exercise of the put, regional and global developments and those in the automotive industry, developments specifically of the business of Fiat Auto, the resolution of any antitrust issues arising in the context of such a transaction, and other legislative developments in countries in which Fiat Auto and GM conduct their business operations."
The SEC filing also points out that if the put were to be exercised, GM would have the option to pay in stock or cash for the interest in Fiat and if the medium of payment is cash, the purchase price would be payable over a three-year period.
GM does not have an entirely free hand here, however, and the terms of the option apparently permit Fiat to force GM to acquire the other 80% of Fiat Auto stock at a price something comparable to what GM paid for the first 20%, presumably a price a lot higher than the stock of Fiat Auto is currently worth. With Fiat Auto in such poor financial shape and GM having its own share of problems, GM's SEC filings seem to suggest that GM is looking for a way out of the improvident deal it struck with Fiat years ago, while Fiat itself is trying to use the leverage provided by the option to induce GM to help Fiat Auto out financially, either by strategic alliances, by loaning it money or by buying some lesser percentage of Fiat Auto stock than the 80% originally bargained for.
Interestingly, in Fiat's SEC filings, this is how Fiat describes the same GM put option:
"Fiat S.p.A. notes today's announcement by General Motors Corporation concerning the accounting valuation of its 20% holding in Fiat Auto.

The GM valuation is part of a usual action of asset impairment, required by standard accounting rules.

Fiat believes the revised carrying value substantially understates the fair economic value of Fiat Auto, based on its long-term prospects, market positions and portfolio of brands. The recovery plan announced recently by Fiat Auto, which included significant cost reduction measures and a substantial investment in new products, is designed to restore the company's industrial and financial performance, and to support an appropriate valuation in the long term.

For clarification, the agreement between Fiat and GM allows Fiat to exercise its put option over its remaining holdings in Fiat Auto at any time between 2004 and 2009. Supposing during this period Fiat should elect to exercise the put option, an appropriate transfer value for the eligible shares should be determined at the time of exercise by a group of independent bank.

In any case GM valuation will not have any effect on the Fiat Consolidated Financial Statements."
"Value" is a tricky concept it seems.
Notwithstanding GM's involvement, it is likely that the Italian Government and Italian Banks will be the main rescuers of Fiat Auto and that GM will not be forced to acquire Fiat Auto. But if Fiat did exercise its put and GM did have to buy Fiat Auto, GM would then theoretically control Ferrari, which would become an indirect subsidiary of GM.

Next Week: The White Knight in Spoiling Armor