---
Ann Bradshaw: View from the Paddock
---
By Ann Bradshaw, England
Atlas F1 Special Columnist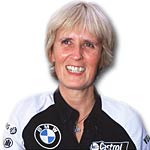 Ann Bradshaw watched the German Grand Prix in a press office full of motor racing enthusiasts, who spent the weekend listening to British pop music and watching the future stars of motor racing battle it out. There is a way to make motorsport events successful, and she's just witnessed an example of one

What a difference a year makes.
Twelve months ago it had been all over for a couple of races. We knew who the World Champion was and we had no reason to believe the remaining races would be anything but Ferrari benefits. Formula One had hit rock bottom, as far as giving the fans enjoyment and excitement was concerned. If you were a fan of Michael Schumacher and Ferrari, then of course you would have been very happy. You were looking forward to the dynamic combination making the likes of Ron Dennis and Frank Williams despair of seeing one of their drivers lift a race winner's trophy, much less think that they would be in the hunt for the coveted Manufacturer's title. Then, to add insult to injury, if winter testing was anything to go by, 2003 didn't look as if it was going to be much better.
I am delighted to say the pessimism felt by just about everyone was premature. Not only have WilliamsF1 and McLaren built cars to give Ferrari a run for their money on a race by race basis, but also they are true Championship contenders. Michael is now a mere six points ahead of Sunday's winner, Juan Pablo Montoya, and the crowd from Maranello are only two points ahead of the boys from Grove.
While the race was not bad, it was not as exciting as Silverstone, and I am sure the elimination of one driver from each of the top three teams at the first corner was a contributing factor. I know motor racing is all about getting to the end of the race in one piece; however, I am sure that throwing out the red flag after the first-corner incident rather than bringing out the safety car would have helped spice up the show.
The powers that be in the sport have done an awful lot to make it more entertaining and they are still looking for ways to improve the end result. In view of this, I am sure a race with Ralf Schumacher, Rubens Barrichello and Kimi Raikkonen in the spare cars would have given the fans both at the race and watching on TV more value for money.
I am sure, in pure motor racing terms, that race directors Charlie Whiting and Herbie Blash took the correct decision, but I was sitting in a press office full of motorsport fans and they were all willing them to put out the red flag. I am sure that even with this we would have seen a dominant Juan Pablo and a struggling Michael, but it would have been nice to see 20 cars battling rather than 14.
While on the subject of the race and the accident, I want to applaud the FIA for the penalty they quickly slapped on Ralf Schumacher. I admit I think he started the chain reaction that resulted in the pile up, even though I think Kimi Raikkonen was being a bit optimistic in trying to get by Rubens Barrichello. Poor Rubens, in the middle of those two hard chargers, didn't stand a chance.
Ralf will start the Hungarian Grand Prix ten places behind his qualifying position, pending an appeal. In terms of what this would mean to him, I don't think they could have done worse to his quest for points. Ten positions at Hungary, only slightly behind Monaco in the most difficult circuits for overtaking table, will be as bad as the back of the grid elsewhere. If they want him to suffer, they have found the right penalty. They could have fined him. I don't know what the maximum for a driver in such a position would be, but certainly it would not be enough to dent his bank balance. A fine of $50,000 to the likes of Ralf would be the same as a fiver to the likes of you and me. With this penalty they have made sure they hit him where it hurts.
While on the subject of fines, I was sorry to hear the new boy in F1, Minardi's Nicolas Kiesa, was soon getting his cheque book out for the FIA. Speeding in the pitlane was his crime, and he did it not once but twice. However, despite this he got into the groove and on a day when lots of his fellow drivers were literally feeling the heat, he kept cool and brought his car home in 12th.
The first race for Justin Wilson at Jaguar was not so good. He got tangled up in the first corner shunt and despite some running repairs had to park the car in the garage after just nine laps. In fact, it was one of the worst weekends for the team for some time, with both him and Mark Webber having a bad qualifying session and then both retiring, although Mark was trying to put a move on Jenson Button when he spun off.
As I mentioned above, I was watching this race in a press office and this was at Rockingham Motor Speedway, England's oval track where the CART series came for a couple of races. This weekend I was there to watch the latest rounds of the British Formula 3 series. In the past this has been a breeding ground for great World Champions such as Ayrton Senna, Mika Hakkinen and Nelson Piquet. It is the place where on weekends when the races do not clash with F1 you can see the talent spotters from the Grand Prix teams. This year the series is rich in talent. At a point where several of F1's elder statesmen are being pushed towards retirement - by the press as well as the teams - I am sure many of the youngsters will already have 'reserved' signs slapped on them by the likes of Ron Dennis, Flavio Briatore and Frank Williams.
Two of the youngsters in the series who come with a racing pedigree are Nelsinho Piquet, son of the F1 World Champion in 1981, 1983 and 1987, and Richard Antinucci, nephew of Eddie Cheever, a contemporary of Nelson Piquet senior. However, in this competitive series a famous relation counts for nothing as the likes of Championship leader, Alan van der Merwe, Jamie Green and Danny Watts are all there to give them a run for their money. Also, when you look at an entry list that has drivers from 16 different countries, you realise this is a British championship in name only. The person who wins this championship will have had to work hard and will deserve the title. I shall expect him to appear in Formula One very soon, so if I was Jacques Villeneuve, David Coulthard or Heinz-Harald Frentzen I might start to feel nervous about how much longer it is before my respective boss swaps me for a much younger and cheaper model.
I was also very interested to see that the crowd figure for the race meeting was a staggering 44,000. This is the largest ever crowd at the track - which attracted 42,000 for the 2001 Rockingham 500, its first CART event. While it would be nice to believe the F1 stars of the future could attract this many people, the real reason for such a large crowd is not solely to do with motor racing. The track's owners know that motor racing alone does not attract big crowds so they is running race meetings and pop concerts in tandem. This is the fourth such event this year and there are already six planned for 2004. Up to now popular British groups such as Busted, The Honeyz, Bjorn Again and the Sugababes have attracted people to motor racing who would never have contemplated watching the sport. I was amazed to see the large numbers of families with prams and excited five-year-olds running around.
There was a fun fair and the pop music started halfway through the day so the non-believers were not forced to watch all the on track activities before the off track ones started. I have to admit wonderful weather did help, but I have to give Canadian businessman, Ashley Pover - who has recently taken over the running of the circuit - full marks for what he is doing. Formula One keeps on about improving the show and some of the decision makers could learn a few lessons from Mr Pover and his enthusiastic band of workers at the track, which is only about 45 minutes down the road from Silverstone. While you will never see a Grand Prix at the circuit, I am sure what Rockingham is doing to attract the crowds will have a knock on effect for the big races.
My recent travels have also taken me to the track still recognised by many racing drivers as the best in the world - Spa-Francorchamps. I was there the weekend before Hockenheim for the latest round of the European Touring Car Championship, which was part of the Spa 24 Hours weekend. I felt I was lucky to be there and also realised what F1 is missing by not going to this great circuit. The circuit is awesome. I am sure the organisers of the British F3 series decided that to be a true champion you need to race at great circuits and so with this in mind have organised a round of their championship in Spa on the 24th August. I am sad I will not be there to hear the first impressions of the track from these youngsters. I expect that it will be totally new territory for almost all of them.
But back to Hockenheim and F1.
Anyone who says racing drivers don't work hard for their money should stop and think about what the guys went through at this track. It was hotter than Malaysia with track temperatures getting towards 50 degrees Celsius and the ambient figures being in the mid thirties. Imagine sitting in a thick triple layer suit that you would usually only want to wear in mid winter in such temperatures! Michael Schumacher is always Mr Cool, and when I saw one of his mechanics holding a fan next to him while he was on the grid I knew things must have been hotting up.
Those of you who watched the race would have seen poor Jarno Trulli having water tipped over and into him after the race. He managed to stumble onto the podium, even though he was in a rush to get off, and never made it to the obligatory press conference as the F1 medical team was no doubt administering to him.
I think the drivers earned their money on Sunday and don't begrudge them a three week break. The FIA made sure they get a holiday by putting a testing ban on everyone. However, I doubt there will be many people working for Ferrari who will have a holiday. I am sure when the cars roll out for the first session in Hungary there will be some new components on the car that they hope will help Michael keep the pack at bay for the final four races of what is heading to be one of the closest and most exciting Championships in years.

About the author:
Ann Bradshaw - Annie - began her motor racing career as a teenager, helping out her brother in local rally races in England, where she grew up. In the 1970s she organised motor racing events in England, and was later the press officer for the RAC MSA - the motorsport governing body in Britain. In mid 1980s, she became press officer to team Lotus, where she worked with Ayrton Senna. Shortly after, she moved to the Williams team and was working there for several years, when once again she found herself working with Senna. She worked with Damon Hill after the Brazilian's death, and moved with the British Champion to Arrows. She also worked with the Panoz team in the United States, before becoming a freelance press officer, now working with Compaq and BAR among others. Annie joined Atlas F1 as a regular columnist in April 2002.

---
© 1995-2005 Kaizar.Com, Inc. . This service is provided under the Atlas F1
terms and conditions
.
Please
Contact Us
for permission to republish this or any other material from Atlas F1.