Jordan driver Ralph Firman became the first man to literally ride a rollercoaster in a Formula One car when his EJ13 machine was strapped to a ride in Blackpool, but that was nothing compared to the ups and downs that Williams-BMW hot shot Juan Pablo Montoya has corkscrewed through this season.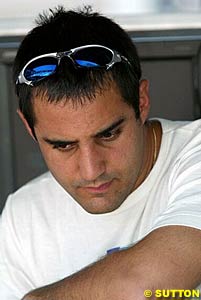 The Latin American, with a hot head and a strong heart, beamed from ear to ear when he stormed to a dominant victory in last weekend's German Grand Prix and, stepping out of his car after leaving his rivals gasping in astonishment, he looked like a man who had just reached a new high point on the ride of his life.
The lows of an early season lack of pace from his Williams car and mid-season struggles against teammate Ralf Schumacher seemed in the distant past as he moved into position as the closest contender to World Champion Michael Schumacher's crown and, dripping in champagne, completed his sixth appearance on the podium in as many races.
Roll back one month, to the French Grand Prix in Magny-Cours in July, and Montoya, self acknowledged as a kid at heart, looked like a young boy who had been barred from the rollercoaster for not fitting in rather than an eager adult immersed in the thrill of the ride.
Grumpy and mute, like a spoiled child prevented from eating his favourite block of chocolate, Montoya moped inside his Williams-BMW cockpit after seeing his cheeky plan to overhaul his teammate Ralf Schumacher by pitting one lap earlier than scheduled foiled by an equally cunning tactic from the German to follow suit.
His pre-grump language, which is rarely repeated by those who heard it for fear of retribution, was strong and offensive. It was a tirade against his Williams bosses, a simple reaction to seeing his hopes of victory slashed after Schumacher exited the pits just ahead of him on lap 51 and re-assumed the lead of the 70-lap race.
The frown on the podium, as he watched Schumacher get his hands on the bigger winner's trophy before picking up his consolation prize for second place, was hard to hide, and immediately there were questions over Montoya's state of mind and his opinions of the team. He remained relatively resistant and let little slip, but the atmosphere said it all.
Williams technical director Patrick Head, always cool in times of driver crisis after experiences with some of the best rivalries in the paddock - including the infamous Nigel Mansell and Nelson Piquet combination in the late 1980s - took it all in his stride and said: "Well, there are always little problems.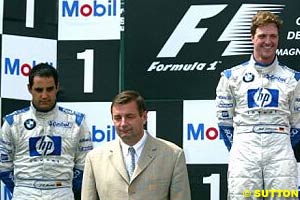 "You have always got one happy driver and one less happy driver and the one who finishes second is never happy to finish second. But you cannot do better than first and second on the grid and first and second in the race so I am pretty happy."
Not so, Montoya. "I cannot lie and say I am the happiest person in the world," he openly revealed in a magazine column after the race. "It is obvious I want to beat Ralf as much as everyone else. However, when circumstances beyond your control mean that second is the best you can do then you have just got to accept it and move on to the next event."
Montoya was, of course, unlucky with his other pitstops during the race, and complained afterwards: "I lost about six seconds in the pitstops, and when I came out after the last stop I nearly had him. It was a very close call but it wasn't close enough."
Montoya's complaints were not unusual, however, as he has regularly bemoaned his misfortune ever since he arrived in Formula One with Williams at the start of 2001. He moved across the Atlantic after a season of bad luck during his attempts to win back-to-back CART championships in the United States and he brought his bad luck with him.
That first year of Formula One saw him set for certain victory in the German Grand Prix only to see his car fail after his pitstop. Last year he had seven poles and converted none of them to a race win, because of car failures or mistakes of his own making. But generally, it has always, in his mind, been down to bad luck.
"I was two or three tenths quicker than Ralf in the last race, I was quicker than Ralf in the race before, but things just didn't work out," Montoya grumbled as he went on the offensive in a revealing interview before the British Grand Prix.
"It is not the first time. You look at the first year I was in Hockenheim. I had a lead on him but my engine blew. Canada last year was the same thing. Look at Austria this year. Same thing again. I have been very unlucky. Without that bad luck I think it would be a different story.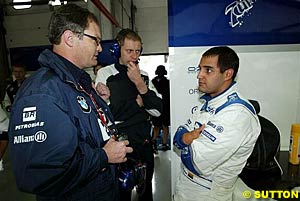 "I have made mistakes myself as well, but mistakes happen, always. This year Ralf has stayed out of trouble and he has scored points in every race but he has been very lucky. He hasn't had an engine failure this year. And it was quite funny because Ralf was struggling in the beginning of the year and the team put a lot of input into him to make it work."
That is one of the main reasons why Montoya, emotionally fuelled at Magny-Cours, decided to hit out. He felt he was not receiving the help his teammate was receiving, and he felt that was basically because he had performed better in the first half of the year. In effect, he had been punished for doing well.
Sure, he had not scored as many points as Schumacher, but his performances, he felt, had been more aggressive and more attacking. He was the one who deserved to be in front and, somehow, he was determined to prove that Schumacher was not the only Williams driver capable of challenging for the Championship.
"I think we are both capable of doing it," he said in the pre-British Grand Prix before admitting: "I just need to step up a level and I think the only area is qualifying because I have been quicker than him in the races. Having more people working on the car, he has been able to optimise it quicker than me."
That ability to optimise, he thought, was down to the additional engineers working on Schumacher's car, and led to Montoya's complaints that "two heads are better than one." He admitted his car was now the one that was "struggling a bit" and he demanded more people were assigned to his car to help him out.
Like a parent who knows what is best to avoid troubles, Head duly provided Montoya with the extra pair of hands, an extremely experienced pair at that, with the allocation of Frank Dernie as another personal engineer on his car. And it seemed to do the trick.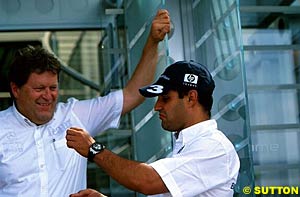 But was it too late to patch up the long-term rift that could have been created by the emotional barrage over the radio and its subsequent, very public, outfall? Maybe, maybe not. But, it appears, it was too late to prevent Montoya from exploring his options for the future.
After Schumacher's narrow victory over Montoya in France team chief Sir Frank Williams, gently pointing the sword towards Montoya's closed shell shield, commented: "Ralf has got several more years of racing and testing experience than Juan and that is the difference."
His sidekick Head, before accepting Montoya's demands for more help, added: "Ralf seems to be a bit stronger than last year and, from my observation in the team, it is really just showing a different level of experience between Ralf and Juan in the car.
"Ralf seems to get his car closer to the optimum quicker than Juan does in practice. It was always clear that Ralf was one of the top drivers, able to set up the car right and go systematically through free practice in order to prepare and this is the result of that."
Those comments did not help Montoya's efforts to keep his blood from boiling and, with little more than half the season's wild ride completed, the Colombian had hit a low point. Rumours began that he was not happy with his lot, and wanted a change of scenery - and one close source said he had received an offer to jump ship.
Immediately the rumour mill, desperate for a line in a dull build-up to the British Grand Prix, swung into action claiming David Coulthard was set to be booted out of McLaren to make way for Montoya at the end of the year. That, apparently, was where the offer had come from.
All ranks immediately closed, with Frank Williams saying it was "too early to talk about drivers because it is too early to talk about 2005 and we have a contract until the end of 2004 with both drivers." McLaren simply employed their standard "no comment" tactic.
The rumour was strengthened when Formula One commercial rights holder Bernie Ecclestone said a move could be good for Coulthard because he could be feeling "too comfortable" at McLaren. "That would shake him up," said Ecclestone, happy, himself, to shake up the story bucket in a quiet news time.
Atlas F1 put an end to the speculation when Montoya's manager, Julian Jakobi, in an exclusive interview, confirmed that Montoya would definitely be staying at Williams for the remainder of his contract. But his refusal to deny an offer had been made by McLaren allowed speculation over Montoya's long-term future to continue.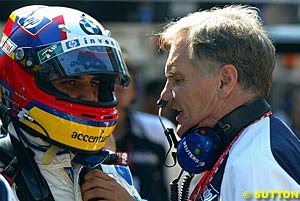 Montoya himself, speaking exclusively to Atlas F1, admitted he is open to offers once his Williams contract comes to an end and revealed a belief that McLaren would be a good team to be with because of their long-term future at the front of the sport.
"Williams haven't come to me with any offers," he said. "So I have a year before I have to decide what I am going to do. There are three teams where you can do well - Ferrari, McLaren and Williams - but I would not dream of driving for Ferrari. You have got to look at the future.
"At Ferrari, as soon as Michael leaves, Ross Brawn and everyone will leave and I think it is going to just go where it was before. So there are two teams - and probably Toyota in a few years will be pretty strong. So in the short term you look at two teams and I am in one of them, so you would attempt to stay in one of them..."
A throw away line, or an intriguing pointer towards early discussions? Things will only come clear in the future, but there is certainly a feeling, within Williams and in other areas in the paddock, that the combination of Ralf Schumacher, whose manager Willi Weber is angling for a long-term contract, and Montoya could be a little too explosive.
Even Head admitted things could become difficult and told British magazine Autocar: "Without overplaying it, the relationship between our two drivers could become more difficult over the balance of the season. That is because Juan Pablo has a combative nature and doesn't really see Ralf as a natural number one. Juan sees himself in that role."
And, just to dig the knife in a little deeper, he added: "Establishing one's status, though, is all about going fast enough to beat the other guys."
Montoya was quick on the defensive. "I have been a lot more consistently at the front," he said. "There are races where he has been 17th on the grid this year and I have been a lot further in front.
"On Fridays I am probably 80 percent quicker than [Ralf] but on Saturdays it is the other way around because I have concentrated on getting a decent lap in and not going too far with it. I don't see Ralf taking the team's lead. You add up the races I have not finished and I should be ahead of him. I have been consistent all year. He has been up and he has been down, so I am not very concerned about it."
Never mind the rest of the field, it appears, Montoya just desperately wanted to beat Ralf. They say, of course, the first man you must beat is your teammate, and before the British Grand Prix Montoya had failed to do so in the preceding three races, albeit finishing a close second in the last two events.
The arrival of Frank Dernie, however, appears to have turned things around and given Montoya the edge once again. In Britain, he finished second behind Barrichello, with Ralf Schumacher out of the picture in ninth. In Germany, last weekend, he topped that with his second victory of the year as Ralf posted his second non-points finish of the season.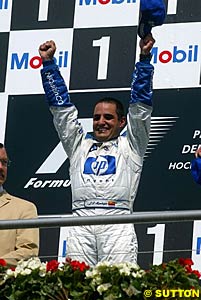 "Juan met Frank [Dernie] when he was doing CART, and got on well with him then," Head explained after the Hockenheim race. "Since Magny-Cours we decided to have Frank work closely with Tony Ross, Juan's Race Engineer, during the practice sessions, but otherwise Frank provides support to the engineering group generally."
That help immediately had an effect, with Montoya claiming his first pole of the year. It ended a disappointing run that had seen the Colombian out-qualified in the five consecutive races as Ralf Schumacher built an eight to three qualifying advantage.
Past race results, however, show a closer performance between the two Williams drivers, with Schumacher out-scoring Montoya by seven races to five. But, perhaps more importantly, the form guide shows that Montoya has gained 17 points on teammate Schumacher in the last six races, with the pair winning two races each.
Now, Montoya's team bosses cannot get enough of him. Head, who stayed away and watched German race on television at home in Britain, told Atlas F1: "That was impressive speed from Juan Pablo and he did it consistently throughout the race. It was a very good all-round performance, on the track and in the pits by the Williams team, despite my absence!"
Williams, then, may simply be playing more mind games with Montoya this time, in an effort to make him raise his own game to a level at which he can beat World Champion Schumacher. It just remains to be seen whether they took their criticisms too far and hurt the marriage that had previously been so sweet.
After Montoya's Germany win, Head denied that there had ever been any problems with Montoya. "There was no 'bust up' in France," he said. "It was just that Juan was not pleased to finish second again. We talked about it afterwards and took some operational decisions to try to assist him more. I am not aware of any reason why he should not be 'happy' within the Williams team."
Like his temperament, however, Montoya's racing has always blown hot and cold. There is no doubt that, in whatever time remains between Williams and Montoya, there will be more ups and downs; but, if he can keep the rollercoaster on a high in the next month, he could be on for a wild downhill ride to the finish.