---
That Michelin Magic
---
By Karl Ludvigsen, England
Atlas F1 Senior Writer
Sunday's German Grand Prix offered perhaps the clearest example of Michelin's current form, with Colombian Juan Pablo Montoya totally dominating a race where the top six positions were taken by drivers using tyres from the French manufacturer. Atlas F1's Karl Ludvigsen sheds some light on the secret of Michelin's success

Behind the astonishing success at Hockenheim of Juan Pablo Montoya lay the work of a prematurely balding and brown-eyed executive who's little known in Formula One circles. You won't see him swanning about the Paddock Club, badges dangling between his blazer lapels, arm candy to the fore. He's more often at a provincial city in central France and at a nearby testing center where, he says, "we have the most fabulous cars on the planet." The cars are there because the technology is there to glue them to the road. And the technology is there because 40-year-old Edouard Michelin - he of the brown eyes - continues to defend a family tradition of heavy investment in advanced research and development. He can do that because his family still has effective control of Groupe Michelin.
A much-missed colleague of mine, Jan Norbye, described his first visit to Michelin in Clermont-Ferrand in his informative book, The Michelin Magic. "There was nothing lavish about any of the offices I saw," Jan reported. "Michelin seems thrifty to the point of frugality. Office furniture bears all the marks of having been ordered from the lowest bidder. Office materials, right down to pencils and paper clips, are used sparingly." In contrast, said Norbye, "In the factory and the laboratories, no expense is spared. Tools are the most modern and efficient and laboratory equipment includes many avant-garde instruments. For example, Michelin was using an electron microscope [as early as] 1948." Although Jan's first visit was in the 1960s, Michelin's emphasis on high-tech equipment and methods remains to this day.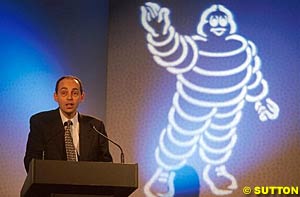 Another traditional Michelin characteristic is secrecy, said Norbye: "The secrecy extends far beyond production techniques and equipment. It is all-pervasive. When President Charles de Gaulle came to visit Michelin, with a delegation of foreign statesmen, he was politely but firmly refused entry to the factories. No waste materials go out of a Michelin plant in a state that would permit a competitor to analyze some aspect of Michelin's tyre construction. The secrecy is practiced internally as well as being directed against intruders from outside. Engineers might have adjacent drawing boards, but one will not know what the other is doing. Only a select group of men, right at the top, have universal access rights and get the complete picture. This way the company guards against leaks when an employee leaves and goes to work for another company."
This policy is changing under the company's leadership by Edouard Michelin, great-grandson of one of the founding brothers of the same name. In 1999 Edouard succeeded his father, Francois, who had ruled Groupe Michelin for 44 years. Under Francois the structure of the company was known only to that "select group" at the top. Each man knew his job and his department, but organization charts were available only to that top group and certainly not to outsiders. Michelin's attitude toward its customers was "These are our tyres. Use them as they are." Since his accession, young Edouard has encouraged his engineers to learn more from customers about their requirements. Radically, he's even been known to meet with share analysts and investors.
"What's most important is the team," says Edouard, who continues a tradition of self-abnegation on the part of Michelin's leaders. His work abroad for the company - including three years at Greenville, South Carolina - gave him greater respect for the granting of more authority to the men in the trenches. Thanks to Edouard, however, there are fewer of those. One of his first acts in 1999 was to slash 7,500 jobs in Europe and make major savings in North America. He's also shucking off low-margin product lines in favor of higher-value products that improve his profit margins - up from 6.6% in 2001 to 7.8% last year. And when you want to sell upscale products - especially tyres - what better advertising could you have than success in Formula One?
One thing we can be sure of. When Edouard Michelin weighed a return to Formula One after his company's 15-year absence, he asked his long-time motor-sports director Pierre Dupasquier whether Michelin could win. Pierre had to take his reputation in his hands when he answered in the affirmative. Yet he certainly assessed his company's advantages. One of these is its traditional technological strength. Another is its past experience in Formula One, in which Dupasquier was a key player. Yet another is the relatively recent introduction of grooved tyres. This meant that Michelin hadn't too much ground to make up on Bridgestone in mastering this new type of tyre. Finally, a major advantage is Michelin's base in Europe, close to all its racing-car customers and ideal for a fast turnaround of its R&D findings.
The last time Michelin entered Formula One it made a big song and dance - rightly so - of its use of radial-ply belted tyres, the technology that it had introduced for road-car tyres. This time, interestingly, Michelin makes no such claims. Of its current racing tyres it says simply that "the structure is composed of a Nylon and polyester framework, in a complex weave," and that the "structure evolves little by little throughout the season." The tyre's structure, it says, "provides rigidity against high aerodynamic load (more than one ton of force at 250 km/h), strong longitudinal forces (4 g), lateral forces (5 g) and violent crossing of the rumble strips." This structure is embedded in the tyre's rubber compound. "Comprising more than one hundred ingredients," says Michelin, "the compound is based on three main elements: carbon, oil and sulfur. More or less soft depending on the characteristics of each circuit, the compound changes considerably from one race to the next."
Optimum formulation of the compound to suit the tracks and the cars lies at the heart of the dramatic racing-tyre superiority that Michelin achieved at Hockenheim. Its goal is to get the complete tyre working at its optimal temperature of around 100° C, which it achieves through a development process that it calls "centering." Temperatures, says Michelin, "should, in theory, be ideally distributed between the outside, the center and the inside of the tyre tread. This temperature should also be identical from left to right and from front to rear of the car. Too much heat at the rear? The car will tend to oversteer. Too much heat at the front? It will understeer." Keeping tyre pressure steady is another requirement. Instead of off-the-shelf air, tyres are filled with a special gas mixture that minimizes changes of pressure with temperature.
Michelin mastered these tricky parameters superbly with the tyres it offered its teams at Hockenheim in the most challenging weekend of the season so far for racing rubber. "This has been a fantastic weekend for us," said Pierre Dupasquier afterwards. "We have set the pace every day and our tyres stood up incredibly well to fierce race conditions."
"Drivers weren't just battling against each other," added his Formula One project manager Pascal Vasselon, "they were battling the incredible heat. Conditions in Malaysia might be a little hotter, but Hockenheim is a much more abrasive circuit than Sepang and this combination of circumstances took its toll. By the end of the race, though, the tyres on Juan Pablo Montoya's Williams and David Coulthard's McLaren were in absolutely excellent condition-and you have to remember that Coulthard only stopped twice."
That Coulthard and others stopped only twice mystified BMW Williams' operations manager. "To be honest," said Sam Michael, "it was surprising to us that quite a number of teams went for a two-stop strategy. For us, the decision for three stops was very clear. Furthermore, the tyre choice obviously was right as they worked very well in the heat."
One who struggled with two stops on Michelins was Renault's Jarno Trulli. "Michelin were really over Bridgestone on this circuit. They were much quicker, much more competitive," said Trulli, "but probably I didn't really get the right balance for the end of the race. I had to push to keep Michael behind me, so I was pushing a bit more under traction and braking. I was basically wearing off the tyres more and more and I ended up being very, very slow at the end." He wasn't so slow as to lose third place in a race in which the top six finishers were all on Michelins. "Jarno Trulli did a 29-lap stint on our softer compound, which really wasn't designed for that kind of punishment," explained Michelin's Vasselon. "All things considered, his tyres stood up amazingly well."
Ferrari stuck its neck out with a two-stop strategy on its Bridgestones, said Ron Dennis of McLaren-Mercedes. He said after the race that this was the reason for the failure of Michael Schumacher's outside rear tyre - simply overstressed in the heat. Bridgestone begged to differ. "We have been examining his tyre," said that company's Hisao Suganuma, "and initial indications do clearly point towards a puncture. There was a great deal of debris out on that track today which could well have been the cause."
Puncture or not, Bridgestone was clearly outclassed in Germany. Michael Schumacher hesitated to fix all the blame for Ferrari's problems in qualifying and the race on his Japanese tyres, saying: "I think that diagnosis is overly simplistic." Nevertheless, he saw similar problems looming ahead at the Hungaroring for similar reasons.
The first- and second-placed teams didn't shrink from giving credit to Michelin for their Hockenheim finishes. "Congratulations to our partner Michelin," said Ron Dennis, "who provided us with some brilliant tyres that had to cope with extremely high temperatures - the like of which are rarely seen in Formula One." "I think Michelin have come a long way," said Montoya, "and Williams, and I think we should be very strong" in Hungary.
Of course it's not enough to have good tyres. Balancing the car well to get the most from them in both qualifying and the race, choosing the right compound and conceiving and sticking to a strategy for using the tyres from flag to flag are mammoth tasks for all the teams. Bridgestone will be fighting back, but in Germany we saw a stunning example of That Michelin Magic.

About the author:
Long time columnist at Atlas F1, Karl Ludvigsen is an award-winning author and historian who managed racing programs for Fiat in America in the late 1970s and Ford of Europe in the early 1980s. He is the author of seven books about racing drivers and numerous books about classic racing cars and engines, all of which draw extensively on the many images in his Ludvigsen Library in Suffolk, England. This autumn will see publication of Karl's long-awaited work, the update of his epic Porsche - Excellence was Expected. It reveals for the first time details of the all-conquering McLaren-TAGs and the disastrous Footwork-Porsches. Information on the book and a pre-publication discount are available at the Robert Bentley website

---
© 1995-2005 Kaizar.Com, Inc. . This service is provided under the Atlas F1
terms and conditions
.
Please
Contact Us
for permission to republish this or any other material from Atlas F1.