Advice: The points tables for most series covered by Elsewhere In Racing are available here. Individual series are linked to their corresponding points table after each report.
Formula 3000
How Swede It Is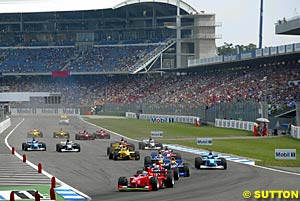 Bjorn Wirdheim, FIA International Formula 3000 Champion. For the majority of the Formula 3000 season that seemed a likely enough prediction, and the farce of Monaco aside, it's certainly deserved. Now it is a statement of fact.
"The team have been fantastic all year and today is the realisation of a lot of very hard work," said Wirdheim. "I am overjoyed to have beaten so many really top drivers and I just want to say a big thank you to everyone who has believed in me during my career so far."
While Wirdheim wore the smile of a champion, the day itself belonged to someone else. Brazilian Ricardo Sperafico took his second victory of the year, adding to his earlier Austrian triumph. Sperafico took pole and was never headed, running away to a victory, while champion elect Wirdheim rode shotgun in second position, points enough to ensure his championship.
Sperafico took pole position, just under a tenth clear of the Red Bull car of Vitantonio Liuzzi. Liuzzi, third in the points, was a potential spoiler for Wirdheim's championship mathematically, but Luizzi had not shown race-winning form all season. Wirdheim's rival was Durango's Giorgio Pantano. Pantano qualified fifth, two spots behind Wirdheim, with Patrick Friesacher in fourth. Wirdheim's Arden teammate Townsend Bell was next, but all season Bell had gone backwards once the lights went out. The only other race winner in the race with Nicolas Kiesa's promotion to the bigs, Enrico Toccacelo, would start seventh, almost a second behind Sperafico.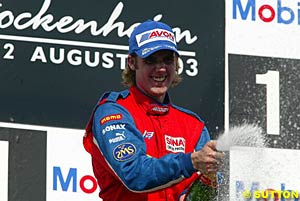 Sperafico holeshot the start while Liuzzi was slow away, immediately losing a spot to Wirdheim and falling into the clutches of teammate Friesacher with Pantano next. Into the hairpin and the championship was decided, as needing a win what Pantano did not need was a not quite in control Toccacelo sliding into the back of the Durango Lola. This allowed local hero Tony Schmidt, who had exploded from tenth in the Astromega Lola, and Bell to pass Pantano before returning to the grid. Toccacelo was out, having limped into the pits, his chances of a podium finish in the championship badly damaged as well.
Bell took fifth from Schmidt on the third lap, while Liuzzi hounded Wirdheim. It would be short lived as an attempted pass put him into second but wide at the exit, and Friesacher followed Wirdheim past the Italian. While the top four stayed close for several laps, that was the last passing move that mattered for anyone in the top seven as Sperafico pulled out a three second lead of Wirdheim. Liuzzi faded as the race went on, but not enough for Bell to come into the picture.
There was a battle over the final championship point as Jaroslav Janis hunted down Zsolt Baumgartner. On lap 27 the pair touched as Janis tried to take advantage of an error from the Hungarian. Janis spun and quickly rejoined, taking another four laps to chase down the Coloni Lola, taking the final point cleanly as he again caught Baumgartner on the wrong line in a corner.
With two rounds left, the interest has changed to the battle for the minor positions. Sperafico on 37 has a single point advantage over Sperafico who in turn is two points up on Liuzzi. Toccacelo is also in the hunt for a podium spot at the end of year FIA prizegiving, but it will be dependent on the mistakes of others. Next stop is the Hungaroring near Budapest.
Result of FIA International Formula 3000 Championship, Round 8 of 10, Hockenheim, Germany:

Pos  Driver               Team
 1.  Ricardo Sperafico    Coloni Motorsport
 2.  Bjorn Wirdheim       Arden International
 3.  Patrick Friesacher   Red Bull Junior Team
 4.  Vitantonio Liuzzi    Red Bull Junior Team
 5.  Townsend Bell        Arden International
 6.  Tony Schmidt         Team Astromega
 7.  Giorgio Pantano      Durango Formula
 8.  Jaroslav Janis       Superfund-ISR-Charouz
 9.  Zsolt Baumgartner    Coloni Motorsport
10.  Raffaele Gianmaria   Durango Formula

Standings: Bjorn Wirdheim 60, Ricardo Sperafico 37, Giorgio Pantano 36, Vitantonio Liuzzi 34, Enrico Toccacelo 27, Nicolas Kiesa 20, Patrick Freisacher 18, Jaroslav Janis 14, Yannick Schroeder 13, Raffaele Gianmaria 11 etc.
Formula 3000 points distribution
CART
First CART Victory This Season For Junqueira
Brazil's Bruno Junqueira seized his first win of the year in the rain-hit Mario Andretti Grand Prix CART race at the Road America circuit to take the lead in the overall series on Sunday. The former Williams Formula One test driver won from the pole, beating teammate Sebastien Bourdais of France by seven tenths of a second in a race reduced from 60 to 34 laps.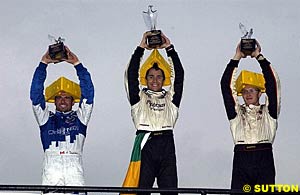 Canada's Alex Tagliani finished third. The leading trio all drove Lola Fords. Former series leader Paul Tracy slid off the track on lap 11.
"I had just passed Pat (Carpentier, his teammate) for third and was on the wrong part of the track without rubber," Tracy told reporters. "I got on the brakes and locked all four tyres. I couldn't stop on the corner and I ran off the end of the track."
Junqueira, who had been consistent all year but failed to win a pole or a race until this weekend, needed to finish ahead of Tracy to have a shot at the series title. The Brazilian's spirits were not dampened by the deluge that caused a two and a hour interruption to the race.
"It's my second win at Road America, after taking my first career win here. We also leave with the championship points lead and that's what we wanted to do for sure," said Junqueira. "We were struggling to get our first win and pole and we got it done this weekend."
Junqueira has 164 points to Tracy's 161. Mexico's Michel Jourdain is third with 125.
Result of Champ Car World Series, Round 12 of 19, Road America, Elkhart Lake, Wisconsin, United States:

Pos  Driver                Car
 1.  Bruno Junqueira       Newman-Haas Racing Lola-Ford
 2.  Sebastien Bourdais    Newman-Haas Racing Lola-Ford
 3.  Alex Tagliani         Rocketsports Racing Lola-Ford
 4.  Max Papis             PK Racing Lola-Ford
 5.  Patrick Carpentier    Player's-Forsythe Racing Lola-Ford
 6.  Darren Manning        Walker Racing Reynard-Ford
 7.  Roberto Moreno        Herdez Competition Lola-Ford
 8.  Mario Haberfeld       Mi-Jack Conquest Racing Reynard-Ford
 9.  Jimmy Vasser          American Spirit Team Johansson Reynard-Ford
10.  Ryan Hunter-Reay      American Spirit Team Johansson Reynard-Ford

Standings: Bruno Junqueira 164, Paul Tracy 161, Michel Jourdain Jr 125, Sebastien Bourdais 116, Patrick Carpentier 98, Oriol Servia 76, Adrian Fernandez 71, Darren Manning 68, Mario Dominguez and Alex Tagliani 65 etc.
Report provided by Reuters
NASCAR
Harvick's Happy Indy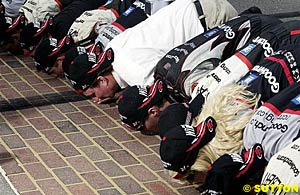 Kevin Harvick was certainly 'Happy Harvick' after winning the Brickyard 400 at Indianapolis Motor Speedway. This was obvious once he got out of the car, but he'd already shown his delight by doing a very smoky burnout from the yard of bricks to the entry of turn one, his burnout ending with a right rear tyre popping! Though he didn't win, Matt Kenseth also had a happy day, finishing second and expanding his points lead once again, now out to 286 points. Maybe he can be beaten, but it's looking and getting harder every week...
Kevin Harvick and Ryan Newman sat on the front row, with Harvick sweeping into the lead at the start, followed by Newman, Bill Elliott, Kurt Busch and Ward Burton. As they completed lap two Elliott moved past Newman into second and closed in on leader Harvick, the top three making a break as Tony Stewart moved up to fifth. After catching and then laps of battling with Harvick, Elliott finally grabbed the lead on lap 18, as a little further back Stewart was up to third, then second when he passed Harvick on lap 22, before taking the lead four laps later, all this having started the race in fifteenth position. Once in the lead Stewart began pulling away from the field.
Lap 32 saw some of the leaders begin making pit stops. However most drivers stretched more laps out of their tanks as several recent races have been decided on fuel economy (or lack of it). This worked against those economisers when the caution came out on lap 38 after Dale Jarrett spun entering pit road, knocking over and injuring one of his crew man as well as damaging his car. Jarrett's accident, with the crew man laying injured in his pit box, meant that pit road was closed. Which meant that some of the cars on the track that were about to run out of fuel couldn't pit, at least not without being forced to take the restart at the tail end of the longest line.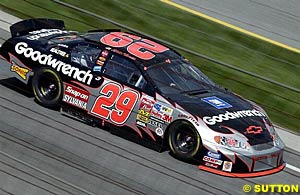 Could these cars wait until the pit road was open? Maybe, but without knowing how many laps it would take, it wasn't a risk worth taking, and so most of the field were forced to enter a 'closed' pit. Eventually the pits did open, and this then allowed those cars who had pitted before the caution to make a pit stop to top up fuel... oh, and they still restarted in front of those cars who had pitted during the 'closed' pits. So this week it was better to pit early... The race restarted on lap 45 with Newman leading the race but not the field at the restart as several cars at the tail end of the lead lap were in front of him. Stewart diced his way back up to second just before the caution came back out on lap 47 after John Andretti was spun by another car in a chain reaction accident.
Back to green on lap 51, Newman leading Stewart, Rusty Wallace, Jimmie Johnson and Harvick at the restart but Stewart was quickly on the move, taking the lead on the backstretch of that same lap. Newman initially hung on to Stewart before Stewart began to pull away. By lap 62 Elliott had moved back up and it was a four way battle for third place with Wallace third from Johnson, Harvick and Elliott, but then the battle split as Harvick and Elliott faded. At the same time Jamie McMurray was flying, moving past Harvick and Elliott to move into fifth before closing in on Wallace and Johnson. McMurray continued to press forward, taking fourth from Johnson at the end of lap 75 before Johnson took it back through turn one. A lap or so later Matt Kenseth joined the battle, with McMurray and Kenseth both taking Johnson on lap 78.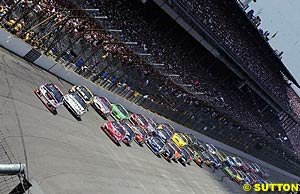 A lap or two later pit stops under green began, continuing for about the next five laps. When the stops were completed, Stewart held a ten (!) second lead over McMurray, Wallace, Kenseth and Johnson, with Newman the big loser, dropping to seventh after running out of fuel entering the pits. With a long period of running under green, the field was quite spread out and so the race quietened down, Kenseth passing Wallace on lap 90 the only move of note as Stewart slowly began to lose some of his lead as the race headed towards and then passed the 100 lap mark of the 160 lap event.
A few laps after the 100 lap mark Elliott Sadler's car began to smoke, the oil from Sadler's car bringing out the next caution on lap 106. In came the field to pit, with most of the field taking four tyres and fuel. Robby Gordon took fuel only and became the new leader, while Bobby Labonte took two tyres and fuel and moved into second, with the remainder of the top five made up by McMurray, Kenseth and Johnson, while leader Stewart had a slow stop and dropped to seventh. The race restarted on lap 110, McMurray and Kenseth quickly moving past Labonte and onto Gordon's tail, McMurray taking the lead as they began lap 114 with Kenseth moving past Gordon two turns later. Meanwhile Stewart was recovering from his poor pit stop, taking teammate Labonte on lap 115, Robby Gordon for fourth soon after before moving past Harvick into third place on lap 120.
As the leaders came into the window where they could pit then make it to the finish, some of them began to pit, with Newman stopping on lap 127, Labonte soon after, Stewart on lap 132 and McMurray and Harvick one lap later. This left Kenseth the new leader, but somewhat vulnerable if there was a caution before he pitted. Lap 140, and the caution flags flew for debris. And like earlier in the race, those that had yet to pit lost out, though not nearly as badly as earlier. In came all those who hadn't pitted, as well as some who had including Tony Stewart, who was unhappy with his tyres and came in for two new left side tyres. McMurray and Harvick stayed out and were one and two, Kenseth beating Robby and Jeff Gordon off pit road as various tyre strategies played out as usual, Stewart dropping to twelfth.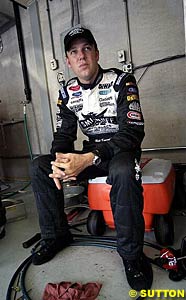 The race restarted on lap 145, with McMurray in the lead but having to negotiate some traffic at the restart. Unfortunately for McMurray, the car in front of his slowed, allowing Harvick to sweep underneath him into the lead, Robby Gordon and McMurray racing side by side down the backstretch and turn three for second, Gordon taking the place as mayhem erupted behind them. Kurt Busch tapped Terry Labonte into a spin through turn three, Labonte's sideways car leaving the field behind with little room to move. In the end, Labonte, Mike Skinner, Ricky Rudd, Joe Nemechek, Sterling Marlin and Jimmie Johnson were caught up in the incident, some escaping virtually unscathed while for others like Rudd, Nemechek and Skinner it was the end of their day.
The race restarted on lap 151 with Harvick leading Robby Gordon, McMurray, Kenseth and Jeff Gordon, Harvick opening a gap as McMurray pressured Robby Gordon. As they exited turn four on lap 154 McMurray got alongside Gordon, but wasn't able to take the place, the duo running side by side through turns one and two before Kenseth pushed McMurray through to second, Kenseth following through soon after as Jeff Gordon closed in and became Robby Gordon's next rival. Once past Robby Gordon, Kenseth began pressuring McMurray, taking second from him on lap 157 as at almost the same time Jeff Gordon passed Robby Gordon for fourth place, Bill Elliott taking fifth from Robby a lap later.
Up front Harvick had been running all by himself, and there wasn't enough time for Kenseth to close in, let alone make a challenge, so Harvick took the win, Kenseth finishing second ahead of McMurray, Jeff Gordon and Bill Elliott. After his strong run early in the race, Tony Stewart must've been disappointed to end the race in twelfth place, though this was still two places better than Dale Earnhardt Jr managed to achieve.
Result of NASCAR Winston Cup, Round 21 of 36; Brickyard 400, Indianapolis Motor Speedway, Indiana, United States:

Pos  Driver                Car
 1.  Kevin Harvick         Chevrolet Monte Carlo
 2.  Matt Kenseth          Ford Taurus
 3.  Jamie McMurray        Dodge Intrepid
 4.  Jeff Gordon           Chevrolet Monte Carlo
 5.  Bill Elliott          Dodge Intrepid
 6.  Robby Gordon          Chevrolet Monte Carlo
 7.  Kurt Busch            Ford Taurus
 8.  Jimmy Spencer         Dodge Intrepid
 9.  Mark Martin           Ford Taurus
10.  Rusty Wallace         Dodge Intrepid

Standings: Matt Kenseth 3152, Dale Earnhardt Jr 2866, Jeff Gordon 2834, Jimmie Johnson 2656, Michael Waltrip 2653, Bobby Labonte 2642, Kevin Harvick 2623, Kurt Busch 2569, Ryan Newman 2498, Rusty Wallace 2467 etc.
Superbikes
Bikers Mourns Death Of British Champion Hislop
By David Milliken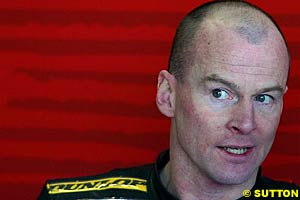 The world of motorcycling paid tribute to British superbike champion Steve Hislop on Thursday after he died in a helicopter crash in Scotland. The wreckage of the 41-year-old's helicopter was found by a local farmer on a hillside at Teviothead, close to Hawick, 30 miles south of Edinburgh, last Wednesday afternoon.
"Hizzy always sailed close to the wind when he was racing, so it's horrible he should lose his life in a crash like this," Carl Fogarty, four-times World Superbike champion, told The Sun newspaper.
"Hizzy", as Hislop was known to his fans, started his career with a string of successes in the tough Isle of Man TT. He then switched to track racing, winning the British Superbike title in 1995 and again in 2002 with Ducati.
Hislop, a keen amateur helicopter pilot, had endured a miserable 2003 season after switching to Yamaha and they parted company a few weeks ago. But he had just signed for the Ducati ETI team and was looking forward to getting back on his 2002 championship-winning Ducati at next weekend's Oulton Park round.
Hugely Popular
"Hislop is thought to have been flying home to visit friends when his helicopter came down at a remote farm near Teviothead near his home town of Hawick," Ducati said on its website. "Steve was hugely popular with fans and rivals, and put a lot of time back into motorcycle racing, encouraging and helping young riders," added the Ducati report.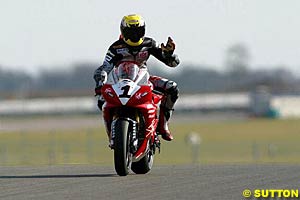 Scotland's Lothian and Borders police confirmed that a person was killed in a helicopter crash near Hawick but have not yet formally identified the body. Hislop became a competition motorcyclist in 1979 after his brother Gary died racing at the Cumbrian circuit of Silloth.
He first rode in the Isle of Man TT in 1985, and within two years had won the Formula Two class. Hislop took 10 more Isle of Man titles before clinching the British Superbike title in 1995 in his first year of track racing, though he never featured in World Superbike racing.
Fogarty added: "On his day he was as fast as anyone in the world. He always knew what he wanted with his set-up and when it was right, he would just tear off into the distance."
Hislop had recently taken up helicopter flying, Rob McElnea, the Scot's former manager at Virgin Mobile Yamaha told the BBC. "His new love was helicopters. He'd just passed his flying test and was qualified. All he ever talked about was getting in his helicopter and it was a real passion for him," McElnea said.
Report provided by Reuters
British F3
Challengers Return Fire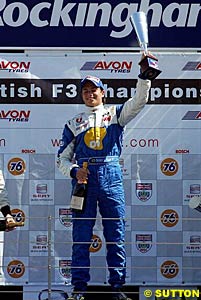 Rockingham saw results shared between the two remaing championship hopefuls. While Alan van der Merwe has built up a formidable championship lead, Jamie Green and Nelson Piquet Jr continue to chase, taking a win apiece from Rockingham, reducing van der Merwe's lead. Piquet was top pointscorer for the weekend, whiile a poor race one result saw race two winner Jamie Green merely hold station with his Carlin Motorsport team leader.
Green's poor race one result came from the start, as he was slow away from the grid and was swamped by the pack while polesitter Piquet roared away. Piccione claimed second position on the first lap, but was unable to do anything about Piquet, who moved gradually away to win. Ronnie Bremer led the Carling team in, taking third just ahead of teammate van der Merwe. Green's charge back through the field brought him as far as seventh, unable to make any impression on fifth placed Stefano Fabi and sixth placed finisher, the ever improving Will Power.
Green pulled a blinder to make up for his race one start to storm briefly away from the grid in race two. The yellows were out almost immediately after Adam Carroll and Danny Watts collided during the start. Behind Green was Power, Piccione and the slow away Piquet. It took Piquet eight laps to retrieve third from Piccione then the yellows were out again after Katherine Legge had a massive accident, launching over the kerbs at the chicane.
Piquet worked hard at the restart to take second from Power, taking the spot with three laps remaining. Power spun a lap later, handing third to van der Merwe who had only just fought past Piccione with Fauzy Fairuz and Robert Dahlgren completing the top six. With an eighty-one point lead, van der Merwe can take thirds and fourths for the rest of the year and still cruise to the title.
Result of British Formula 3 Championship, Rounds 15 & 16 of 24, Rockingham, United Kingdom:

Round Fifteen

Pos  Driver               Car
 1.  Nelson Piquet Jr     Piquet Sports Dallara F303 Mugen-Honda
 2.  Clivio Piccione      Manor Motorsport Dallara F303 Mugen-Honda
 3.  Ronnie Bremer        Carlin Motorsport Dallara F303 Mugen-Honda
 4.  Alan van der Merwe   Carlin Motorsport Dallara F303 Mugen-Honda
 5.  Stefano Fabi         Manor Motorsport Dallara F303 Mugen-Honda
 6.  Will Power           Fortec Motorsport Dallara F303 Renault Sodemo
 7.  Jamie Green          Carlin Motorsport Dallara F303 Mugen-Honda
 8.  Billy Asaro          Alan Docking Racing Dallara F303 Opel Spiess
 9.  Will Davison         Alan Docking Racing Dallara F303 Mugen-Honda
10.  Adam Carroll         Menu F3 Motorsport Dallara F303 Opel Spiess

Round Sixteen

Pos  Driver               Car
 1.  Jamie Green          Carlin Motorsport Dallara F303 Mugen-Honda
 2.  Nelson Piquet Jr     Piquet Sports Dallara F303 Mugen-Honda
 3.  Alan van der Merwe   Carlin Motorsport Dallara F303 Mugen-Honda
 4.  Clivio Piccione      Manor Motorsport Dallara F303 Mugen-Honda
 5.  Fauzy Fairuz         Promatecme F3 Dallara F303 Opel Spiess
 6.  Robert Dahlgren      Fortec Motorsport Dallara F303 Renault Sodemo
 7.  Ernseto Viso         P1 Motorsport Dallara F301 Mugen-Honda
 8.  Billy Asaro          Alan Docking Racing Dallara F303 Opel Spiess
 9.  Richard Antinucci    Carlin Motorsport Dallara F303 Mugen-Honda
10.  Karun Chandhok       T-Sport Dallara F301 Mugen-Honda

Standings: Alan van der Merwe 238, Jamie Green 157, Nelson Piquet Jr 150, Richard Antinucci 95, Ronnie Bremer 92, Danny Watts 87, Rob Austin and Clivio Piccione 78, Adam Carroll 77, Will Davison 64 etc.
British F3 points distribution
ALMS
Audi Strikes Back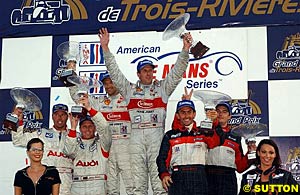 After losing Le Mans to Bentley and Laguna Seca to the Dyson Racing MG-Lola, Audi returned to their customary position at the top of the ALMS standings with the Joest Racing Audi beating the Champion Racing Audi to the chequer in part one of the ALMS Canadian double-header.
"I am really happy, this was an important victory for us," said Frank Biela. "It may have looked easy from outside, but the race was not as easy despite everything went well from the beginning. Marco drove strongly. Thanks to the perfect strategy, I was able to take over the car with almost one lap advantage. After the second pit stop I was even an entire lap ahead of Johnny (Herbert) and tried to keep him behind me as long as possible. If he had unlapped himself earlier, it could have become close once more if there had been another caution."
Joest was on top early in the event with Marco Werner taking pole position, with the fastest lap recorded at Trois-Rivieres, by six tenths over JJ Lehto in the Champion Audi R8. James Weaver followed on from Dyson's excellent performance at Laguna Seca to be third in the P675 Lola-MG. The two JML Panoz entries were next, Olivier Beretta ahead of teammate Gunnar Jeannette. Next was the second Dyson Lola-MG ahead of the Riley & Scott. Leading GTS was the Prodrive Ferrari, Tomas Enge setting the time, snatching the pole away from the Chevrolets, while GT pole went to Sascha Maassen in the class leading Alex Job Porsche 996.
Werner led away at the start, stretching their first stop to the utmost, picking up a lap on JJ Lehto when Lehto made his first stop. As Werner's stop loomed, two cars stopped out on the circuit, Stephane Gregoire rolling to a halt near pit exit in a GT Ferrari Modena while last start victor, Butch Leitzinger (Lola-MG) stopped out at turn five, the car electrically dead.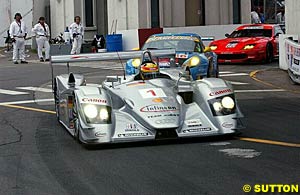 A full course yellow was called for, and Werner was able to pit and change to Frank Biela and keep their lap advantage over Johnny Herbert, now driving the Champion entry. Olivier Beretta was third ahead of JML teammate Gunnar Jeannette. The gap was reinforced when Jeannette was called into the pits for a stop-go penalty for passing under a local yellow.
From there the top of the order stabilised as the lesser P900s gradually dropped from the pace and fell victim to retirements or the class cars. At the end, only Beretta and David Saelens in the JML Panoz matched the form of the Audis to finish ahead of the GTS cars.
The P675 class was led by Leitzinger early unitl his retirement, handing the lead to another Lola-MG, the Intersport car of Jon Field and Duncan Dayton who had stormed through from the rear of the grid. They would strike problems but finish tenth, the only P675 to finish.
The Chevrolets hounded Tomas Enge early in the race, but the Czech stood firm. The Prodrive car lost its lead during the first round of stops to the Corvettes and never regained it as the Chevrolets, like the winning Audi, picked up a lot of time by making it to the yellow flag period before pitting. The 'Vettes pushed onwards and upwards, eventually finishing fourth and fifth outright. The second Prodrive Maranello of Panoz refugess Jan Magnussen and David Brabham finished third in class.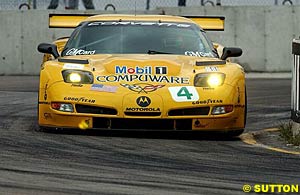 Sascha Maassen and Lucas Luhr won for Alex Job racing in GT, pulling out a three lap lead over the Ferrari Modena of Ralf Kelleners and Anthony Lazzaro. Third in class was the Porsche of Justin Jackson and David Murry.
With less than half the series run, already the production-based classes look a wrap for Chevrolet and Alex Job Racing. The two prototype classes are closer, with Werner and Biela only eight points ahead of Lehto and eleven ahead of Herbert. In P675 Chris Dyson has lost the class lead to the Intersport pairing of Field and Duncan to the tune of seven points.
The series travels next to Mosport for the second half of the Canadian double header.
Result of American Le Mans Series, Round 4 of 9, Trois-Rivieres, Canada:

Pos  Drivers                           Team
 1.  Frank Biela/Marco Werner          Audi R8
 2.  Johnny Herbert/JJ Lehto           Audi R8
 3.  Olivier Beretta/David Saelens     Panoz LMP01 Elan
 4.  Kelly Collins/Oliver Gavin        Chevrolet Corvette C5-R (1st GTS)
 5.  Ron Fellows/Johnny O'Connell      Chevrolet Corvette C5-R (2nd GTS)
 6.  Gunnar Jeannette/Scott Maxwell    Panoz LMP01 Elan
 7.  Michael Lewis/Tomy Drissi         Riley & Scott Mk IIIC Lincoln
 8.  Emanuele Naspetti/                Ferrari 550 Maranello (3rd GTS)
     Domenico Schiattarella            
 9.  Lucas Luhr/Sascha Maassen         Porsche 996 GT3-RS (1st GT)
10.  Jon Field/Duncan Dayton           Lola EX257 MG (1st P675)

Standings, P900: Frank Biela and Marco Werner 82, JJ Lehto 74, Johnny Herbert 71, Olivier Beretta 47, Didier Theys 36, Gunnar Jeannette 34, Phillipp Peter 26, Max Papis 24, Eric van de Poele 23 etc.
P675: Jon Field and Duncan Dayton 62, Chris Dyson 55, Jason Workman 37, James Weaver and Butch Leitzinger 36 etc.
GTS: Oliver Gavin and Kelly Collins 79, Ron Fellows and Johnny O'Connell 71, Emanuele Naspetti and Domenico Schiattarella 29 etc.
GT: Lucas Luhr and Sascha Maassen 82, Timo Bernhard and Jorg Bergmeister 50, Cort Wagner 35 etc
Rally
Long Arm Of The Law Catches Up With Top Drivers
A host of the world's best rally drivers have been up before a Welsh court this week - for speeding. Former World Champions Tommi Makinen of Finland and Briton Colin McRae typically skid their way round rally stages at more than 120 mph (200 kph).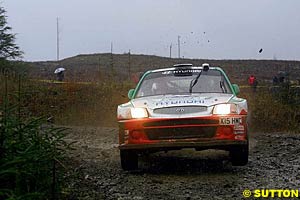 But at a court in South Wales last week they were accused of falling foul of police speed cameras as they dashed between stages of the Rally of Britain last year. Rally drivers race against the clock and, while the time they take to get between the end of one stage and the start of the next is not counted, they do face hefty time penalties if they turn up late for the start of a stage.
McRae, Makinen, current championship leader Richard Burns of Briton, twice World Champion Carlos Sainz of Spain, and Estonian Markko Martin were among those caught speeding on the roads of the principality.
Only former European Champion Armin Schwarz, 40, was in court to plead guilty to speeding charges, an official for Neath Magistrates' Court said. The others were represented by lawyers.
Schwarz will be sentenced on November 10, when the drivers return to Wales for the 2003 British Rally and the other drivers' cases have also been put back to that date. The drivers will have to be more careful this year after the police spokesman promised his force would again be watching out for drivers speeding on public roads.
"I can confirm that speed detection will be on our list of priorities at the next rally championships, because speed kills," he said. The world rally championship website reminds drivers they must obey local speed limits when they travel between stages.
Report provided by Reuters
Upcoming Events Calendar
August 6 - World Rally Championship, Round 9 of 14; Rally Finland
August 9 - British Touring Car Championship, Round 7 of 10; Snetterton, United Kingdom
August 10 - V8 Supercar Championship Series, Round 8 of 13; Oran Park, Australia
August 10 - Champ Car World Series, Round 13 of 19; Mid-Ohio Sports Car Course, Ohio, United States
August 10 - Indy Racing League, Round 11 of 16; Gateway International Raceway, Illinois, United States
August 10 - NASCAR Winston Cup, Round 22 of 36; Watkins Glen, New York, United States
August 10 - European Formula 3000 Championship, Round 6 of 10; Donington Park, United Kingdom
August 17 - Indy Racing League, Round 12 of 16; Kentucky Speedway, Kentucky, United States
August 17 - NASCAR Winston Cup, Round 23 of 36; Michigan International Speedway, Michigan, United States
August 17 - Deutsche Tourenwagen Masters, Round 7 of 10; Nurburgring, Germany
August 17 - European Formula 3 Championship, Rounds 6 of 10; Nurburgring, Germany
August 17 - British Formula 3 Championship, Rounds 17 & 18 of 24; Thruxton, United Kingdom
August 17 - American Le Mans Series, Round 5 of 9; Mosport Park, Canada
August 23 - International Formula 3000 Championship, Round 9 of 10; Hungaroring, Hungary
August 23 - NASCAR Winston Cup, Round 24 of 36; Bristol International Speedway, Tennessee, United States
August 24 - Champ Car World Series, Round 14 of 19; Montreal, Canada
August 24 - Indy Racing League, Round 13 of 16; Nazareth Speedway, Pennsylvania, United States
August 24 - British Formula 3 Championship, Rounds 19 & 20 of 24; Spa-Francorchamps, Belgium
August 24 - American Le Mans Series, Round 6 of 9; Road America, Wisconsin, United States
August 25 - British Touring Car Championship, Round 8 of 10; Brands Hatch, United Kingdom