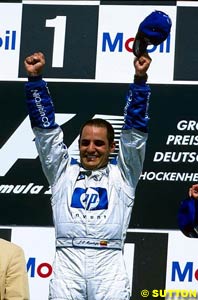 It is quite amazing to think that after the first seven races of the season - six races ago - Juan Pablo Montoya had scored a mere 15 points, and there was no one willing to bet on Williams to fight their way back to the top of the standings.
Six Grands Prix later, the Colombian and his team are among the favourites to win both titles following a spectacular streak of results that has put Montoya only six points away from the Drivers' Championship lead and Williams just two behind the Ferrari team in the Constructors' Championship. Montoya needed seven races and some missed opportunities, but once he scored his first win of the season at Monaco, the Williams driver has not looked back.
A massive 50 points out of a possible 60 has shot Montoya right into the battle for the Championship, and following his flawless performance at the German Grand Prix many are now betting on the Colombian clinching his first title at the end of the year.
In Germany, everything went Montoya's way, although he received a big present from his teammate Ralf Schumacher, who not only eliminated two of their three main rivals at the start but, perhaps most importantly, the German put himself out of a race that looked set to be an all-Williams affair. With his teammate out after only some five seconds of the race gone, all Montoya had to do was to hope for reliability and not make any errors.
Montoya's drive was more impressive considering that, after lap 15, he had to race with his car's throttle opening only to 93 percent. Still, he managed to take the chequered flag more than a whole minute ahead of the closest of his rivals, which was a dire warning to both Ferrari and McLaren, who will only have four races to get things back on track.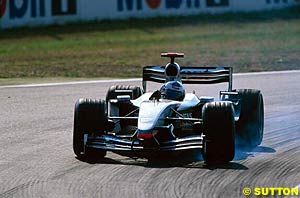 Judging from Williams's performance at Hockenheim, it looks as though both their rivals have a lot of catching up to do, even if it's the Grove-based who are still behind in both Championship races. With every point likely to prove vital by the end of the season, Williams will face the dilemma of having to put all their support behind Montoya or allow Ralf to fight him openly, risking a repeat of the 1986 season - where Nigel Mansell and Nelson Piquet both lost out eventually to rival Alain Prost.
Even if Williams face a somewhat complicated situation in the remaining part of the year, there's little doubt that the combination of their chassis/engine package and the Michelin tyres is the class of the field at the moment, and the lack of testing due the August break seems to be working in their favour.
After their short-lived comeback at the British Grand Prix, Ferrari were again in the doldrums in Germany in terms of pace, and this time Michael Schumacher did not count with luck on his side. The same applied to Rubens Barrichello, who was the Italian team's strongest man throughout the weekend, but whose race came to an abrupt end right before the first corner.
Barrichello's exit from the race, for which he was not to blame at all, stopped Ferrari from showing the pace of their car on the same strategy as Montoya, even if it looked unlikely that the Brazilian would have been able to follow the Williams driver's pace had he stayed in the race longer.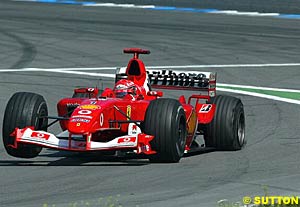 Teammate Schumacher continued with his miserable run of poor results. Although he managed to fight his way back to second place after a disappointing qualifying, Schumacher was never in contention to win, and even a place on the podium seemed unlikely had the accident at the start not eliminated Barrichello, Ralf and Kimi Raikkonen.
In the last few races Schumacher, who opted for a two-stop strategy on Sunday, had found consolation in knowing that Raikkonen had not been able to close the gap in the Championship battle despite the German's below-par performances.
Montoya, meanwhile, has steadily moved into the frame and is now Schumacher's main rival for the title, not only because he is just six points behind, but also because the Colombian is in top form, just like his team. So there was little consolation for Schumacher, who also lost a further six points when, with three laps to go, he dropped from second to seventh due to a flat tyre.
"I thought, you know, he is so lucky - always getting second from nowhere - but some day his luck ran out and it was today, so it was good," said the Colombian of his rival after the race.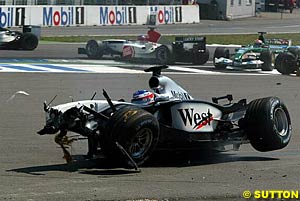 Schumacher's misfortune allowed Raikkonen to stay within striking distance of the title when it looked like all his chances were gone following his retirement at the start of the race. McLaren's day was salvaged by David Coulthard's return to the podium after a good recovery from another poor qualifying performance, even if it was little compensation for the Woking-based squad, as the Scot is well out of the title race.
Another man who returned to the podium after a long absence was Renault's Jarno Trulli, who finally got a reward for his incredible qualifying performances as the French squad continued making progress towards the right end of the grid, aided by the stronger Michelin tyres.
Also helped by the French tyre manufacturer, Toyota were on form again, scoring their best result since they entered Formula One last year. Both Olivier Panis and Cristiano da Matta looked strong all weekend, and with clear signs of an improved reliability, the Japanese squad are now serious contenders for fifth place in the Constructors' Championship.
Qualifying Analysis
Once again the main difference in performance between teams in the same league seemed to be made by the tyres, which were even more of a factor in the scorching heat of the Hockenheim circuit. The Michelin tyres looked like the rubber to have, with a track temperature of around 45 degrees, and the French manufacturer occupied eight of the top ten grid positions.
Again, it was only the Bridgestone-shod Ferraris who could mix it with the Michelin runners, while the other partner teams of the Japanese firm occupied eight of the bottom ten grid positions. With no testing allowed until September, Bridgestone are likely to face a difficult Hungarian Grand Prix.
Of course, the Michelin tyres were not the only element required to fight for pole at Hockenheim, as the Williams FW25 proved untouchable right from the start of the weekend. The combination of the Williams chassis, the BMW engine and the Michelin tyres is the strongest at the moment, and the only question ahead of final qualifying was really which one of the two Williams drivers would emerge on top.
The Grid
1. Juan Pablo Montoya Saturday time: 1:15.167
Friday Qualifying: 2nd, 1:14.673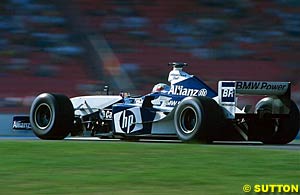 With the Williams cars proving to be the car to have in the last few races, it was little surprise that Montoya finished on pole in Germany. What was surprising is that it took the Colombian 14 Grands Prix to return to the top spot, especially after having scored seven pole positions in 2002. At Hockenheim, however, everything worked in Montoya's favour, his FW25 flying over the German circuit to outqualify teammate Ralf Schumacher for the first time since the Austrian Grand Prix and for the fourth time in 12 races.
"It's taken quite a long time to get it," said the Colombian. "I'm very pleased with it. The car has been working good all weekend. Yesterday the strategy in my car was really good. Today we got more running on the tyres we're going to race and it really paid off."
2. Ralf Schumacher Saturday time: 1:15.185
Friday Qualifying: 1st, 1:14.427
One of the most on-form drivers in recent qualifying sessions, Ralf had to settle for a place behind his teammate where it hurt the most: in front of his home crowd. Probably the most closely matched driving pair of the field, Ralf - fastest on Friday and in Saturday's final practice - lost pole position by a mere 18 thousandths of a second, the German claiming his Williams understeered at the final two corners of his flying lap.
3. Rubens Barrichello Saturday time: 1:15.488
Friday Qualifying: 8th, 1:15.399
Although Barrichello was unable to fight for pole despite choosing the same three-stop strategy as the Williams drivers, the Brazilian kept his momentum going following his win at Silverstone two weeks ago and was again the fastest Ferrari driver in all sessions except Friday's practice, where he finished down in 16th place. After struggling for pace on Friday, things looked better for Barrichello on Saturday, even if he took it easy on his flying lap as he tried to keep his softer tyres fresh for the race.
4. Jarno Trulli Saturday time: 1:15.679
Friday Qualifying: 3rd, 1:15.004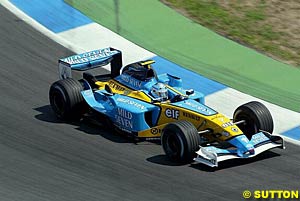 Another driver in top form in recent qualifying sessions, Trulli shone once more, mixing it with the big boys despite the lack of top speed from his Renault. The Italian had already showed his intentions on Friday, when he posted the third fastest time, and almost repeated the feat in the grid-deciding session. Very happy with his car's handling, Trulli also managed to outqualify teammate Fernando Alonso for the fourth Grand Prix in succession.
5. Kimi Raikkonen Saturday time: 1:15.874
Friday Qualifying: 6th, 1:15.276
Unable to fight with the Williams drivers, Raikkonen put on a solid performance that saw him at least outqualifying his Championship rival Michael Schumacher. The Finn's McLaren is certainly not the fastest car of the moment but, aided by the strong performance of his Michelin tyres, he was able to maximise his package to get himself in a good position to fight for the top spots. Had he known what the start of the race would bring, however, maybe he Finn would have preferred to switch places with Schumacher.
6. Michael Schumacher Saturday time: 1:15.898
Friday Qualifying: 9th, 1:15.456
It's hard to recall Schumacher struggle so much during a weekend as he did at the German Grand Prix. The Ferrari driver was never in contention for a place in the top four in qualifying, let alone for his first pole position since the Austrian Grand Prix, seven races ago. Added to the inferior performance of his Bridgestone tyres, Schumacher was also handicapped in qualifying by his tyre choice - he opted for the harder compound - and by his two-stop strategy, which added extra weight to his car.
7. Olivier Panis Saturday time: 1:16.034
Friday Qualifying: 10th, 1:15.471
The Toyota team continued to make good progress with their TF103, and Panis drove solidly again to place himself in a strong spot to fight for more points. In their second home Grand Prix and in front of some of the company's heads from Japan, the Cologne-based outfit equalled their best joint qualifying performance, with Panis again spearheading their challenge as he outqualified his teammate Cristiano de Matta for the tenth time in 2003.
8. Fernando Alonso Saturday time: 1:16.483
Friday Qualifying: 5th, 1:15.214
Even if his teammate is one of the drivers to impress regularly in the one-lap qualifying, Alonso's big gap to Trulli's time was not a true reflection of the performance of the Spanish driver. The 22-year old, who had never raced at the new Hockenheim before, was unable to find an explanation for his pace when compared to Trulli. After inspecting the car at the end of qualifying, however, Renault found that a component that adjusts the brake balance between front and rear of Alonso's car had been bent during assembly. That meant the Spaniard completed his flying lap with the front brakes lightly on.
9. Cristiano da Matta Saturday time: 1:16.550
Friday Qualifying: 15th, 1:16.540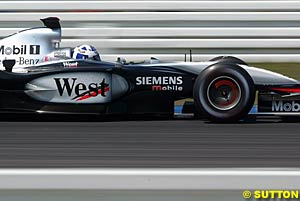 Da Matta completed a great day for his Toyota team, but despite making it into the top ten for the third time in four races, the Brazilian was left with a bittersweet taste as he could have wound up closer to the top. Unfortunately for him, he went too wide at the exit of the final corner, his car wobbling wildly as he faced the straight. Da Matta did a good job in keeping his car on the track but lost almost half a second and with it at least one grid position.
10. David Coulthard Saturday time: 1:16.666
Friday Qualifying: 10th, 1:15.557
As if the new qualifying format was not posing enough problems for the Scot, Saturday was an eventful day that finished with another disappointing result for Coulthard. He crashed his car quite heavily in the morning's second practice session at the Sachs Kurbe, causing a lot of damage that the mechanics were unable to repair in time for qualifying. Coulthard had to use the spare McLaren for his flying lap, and never feeling comfortable with it - especially at the slow corners - the Scot finished behind teammate Raikkonen for the fourth time in a row.
11. Mark Webber Saturday time: 1:16.775
Friday Qualifying: 4th, 1:15.030
Jaguar got off to a great start on Friday, only to drop down the order in the final qualifying session, mainly because of driving errors. After posting the fourth fastest time in the opening qualifying session, Australian Webber went into the grid-deciding session confident of a strong result, but it was not be. Webber overshot the final sector during his flying lap, losing around three tenths of a second that would have put him within the top ten. Still, he managed to comfortably outqualify his new teammate Justin Wilson.
12. Giancarlo Fisichella Saturday time: 1:16.831
Friday Qualifying: 17th, 1:17.111
Despite being urged to stay positive to help the team, Fisichella's mood did not improve in Germany, the Italian struggling badly on Friday. Things looked brighter for him on Saturday, when he completed a good lap to place himself in his best qualifying position since the Monaco Grand Prix, which really says a lot about the frustrating time Fisichella is going through with the Jordan, which in Germany incorporated a new specification of the Ford engine.
13. Jacques Villeneuve Saturday time: 1:17.090
Friday Qualifying: 19th, no time
Not for the first time this season, Villeneuve had to cope with going out very early in the session after spinning out of the track on his flying lap on Friday. The Canadian, however, felt comfortable with his car in the final session and was able to push hard and outqualify teammate Jenson Button by a second. He was one of the drivers who complained about his tyres taking too long to get up to the optimum working temperature but was nonetheless quite pleased with his position..
14. Heinz-Harald Frentzen Saturday time: 1:17.169
Friday Qualifying: 13th, 1:15.968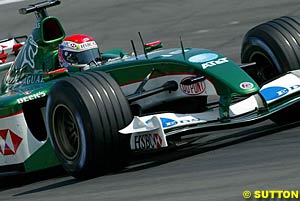 The Sauber drivers were, as usual, very closely matched during most of the weekend, although unfortunately for them it was always at the bottom of the times. Frentzen, happier with the handling of his car than his teammate Nick Heidfeld, had the edge over his younger compatriot in most sessions, including Friday's qualifying when Frentzen made a mistake during his flying lap. The veteran was satisfied with 14th position, which is around the best he can hope for nowadays.
15. Nick Heidfeld Saturday time: 1:17.557
Friday Qualifying: 14th, 1:15.985
Like in almost all the previous Grands Prix, Heidfeld was unhappy with the balance of his car for most of the weekend, suffering for too much understeer. He was able to correct the problem in Saturday's practice, thanks to the scrubbing of his tyres, but in qualifying the problems returned and the German had little to look forward to at his home race.
16. Justin Wilson Saturday time: 1:18.021
Friday Qualifying: 7th, 1:15.373
The first qualifying session with his new team proved to be a disappointment for the Briton, who could not escape the final places of the grid despite a very promising start on Friday, when he set an impressive seventh fastest time. Saturday, however, was a very different affair as Wilson overdrove during most of his flying lap, finishing more than a second behind Webber. Even so, the British rookie was able to set his best qualifying result of the season.
17. Jenson Button Saturday time: 1:18.085
Friday Qualifying: 12th, 1:15.754
After starting from the back of the grid at the British Grand Prix, things did not improve much for the BAR driver, who struggled badly with the handling of his car during his flying lap. Button, who was aiming for a place in the top ten, claimed his Honda-powered machine had suddenly developed a massive oversteer that spoiled his lap. Going wide at the penultimate corner did not help his chances either.
18. Ralph Firman Saturday time: 1:18.341
Friday Qualifying: 16th, 1:17.044
Like Fisichella, Firman continued to languish at the bottom of the timesheets, although unlike the Italian driver, the British rookie was unable to raise his game on Saturday, finishing an unimpressive 1.5 seconds off the pace of the fastest Jordan. In final qualifying, Firman complained that his car was oversteering severely, which saw him complete a messy lap that left him unable to escape the last two rows of the grid.
19. Jos Verstappen Saturday time: 1:19.023
Friday Qualifying: 18th, 1:17.702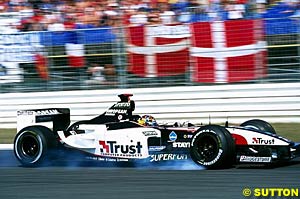 Qualifying continued to provide the same for Verstappen, who on a dry track could only hope for other drivers' errors to help him escape the final row of the grid. That was not the case, and the Dutchman had to be content with outqualifying his rookie teammate by less then two tenths of a second using the harder compound of the Bridgestone tyres, as the softer option was blistering halfway through his lap.
20. Nicolas Kiesa Saturday time: 1:19.174
Friday Qualifying: 20th, no time
Making his Formula One debut with the most uncompetitive car of the field after just 300km of testing was never going to be a walk in the park for the Dane rookie. Having to adapt to the one-lap qualifying format and failing to complete his first run only made things harder for Kiesa, who on Friday suffered a problem with his anti-stall system and was unable to leave the pitlane. Saturday was better for the Minardi driver, and he finished only slightly over a tenth behind Verstappen. Kiesa's car, however, was using softer tyres and less fuel than Verstappen.
The Race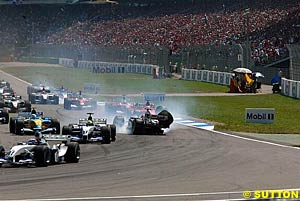 The heat, which had been increasing since Friday in one of the worst summers Germany has seen in over a decade, continued to rise on race day, with track temperatures reaching 50 degrees and the drivers having to cope with around 55 degrees inside the cockpit for almost two hours.
At the start of the race, Montoya got away cleanly and, aided by Ralf's worse getaway, the Colombian could easily keep his position at the end of the straight. Ralf, however, lost out to both Barrichello and Raikkonen who quickly got alongside the German, although the Williams driver did not seem to see them. Ralf moved to the left of the track, squeezing Barrichello between himself and Raikkonen, leaving the Brazilian with no place to go.
The Ferrari driver tried to avoid contact with Ralf by moving slightly to the left, but there was just no room and his left front wheel hit Raikkonen's rear right, the Finn's car spinning straight into Ralf's Williams before hitting the tyre wall at high speed. The McLaren was destroyed but luckily Raikkonen was able to climb out of his car by himself. Barrichello was also out of the race, and Ralf, while he could complete the lap, had his car's left sidepod very heavily damaged.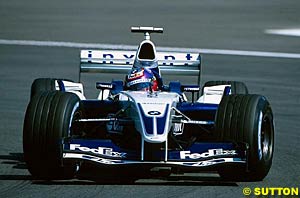 "I was just trying to defend my position and I didn't make any sudden move or anything so there was all the time in the world for other cars to move away from me," explained Ralf after the accident. The race stewards, however, thought the Williams driver had caused an avoidable collision and imposed him a penalty that will see him losing ten grid positions at the next Grand Prix, pending Williams's appeal.
The accident at the front also caused mayhem at the back, with Firman slamming into the back of Frentzen's car while braking into the first corner. The Jordan driver would also spoil Wilson's race, as the Briton crashed into him as he tried to take avoiding action from Villeneuve, who had spun after the Jaguar driver himself hit him ahead of the first corner.
As a consequence of the accidents, the Safety Car was deployed. Montoya was in lead, while Trulli had climbed up to second, with a fast starting Alonso in third, followed by Michael Schumacher, Webber, Coulthard, and the two Toyota drivers, with Panis ahead of da Matta.
The Safety Car pulled out on lap four, with Montoya immediately beginning to open a gap to Trulli. A little further behind, Coulthard completed a good move at the hairpin to move up to fifth place, setting his sights on Schumacher, who was putting Alonso under pressure while Trulli had been able to open a slight gap to his teammate, although he could not keep up with Montoya, who by lap 10 was around three seconds ahead of the Italian.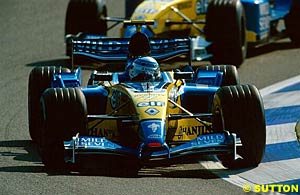 The first round of pitstops for those on a three-stop strategy soon began, with Trulli pitting on lap 14. The Renault driver was quickly followed by Panis, who pitted from seventh position while running right behind the Jaguar of Webber. The Australian then got under pressure from da Matta, who made his move at the hairpin and passed the Jaguar driver for sixth place.
Montoya and Michael Schumacher came into the pits on the same lap, the Colombian having set the fastest lap of the race moments earlier. The Latin American stood still for only 6.9 seconds, while the Ferrari World Champion, on a two-stop strategy, refuelled during eight seconds before returning to the track in fifth position.
Alonso and Coulthard were next to come into the pits for service, the Spaniard rejoining the race just behind Trulli, who was now losing ground very quickly to Montoya, the Colombian more than 12 seconds ahead when the top runners had completed their first round of stops. That, despite his Williams' throttle opening only 93 percent after lap 15.
Webber was the last driver in the point-scoring positions to pit, from sixth place, dropping down to 11th as the race began to settle. Up in front, Montoya was flying, while Trulli seemed to be slowing down his followers, with Alonso still under pressure from Schumacher.
By lap 30 Montoya was well over 20 seconds ahead of Trulli, with Alonso and Schumacher still battle for third place. One lap later, the Spanish driver would run wide at the entry to the stadium, allowing the Ferrari driver to gain a position as they lapped debutant Kiesa.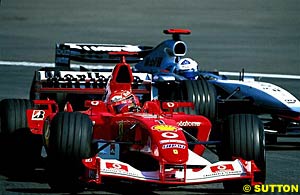 The second round of pitstops was triggered by Panis, who was still running strongly in sixth position. The Frenchman was followed only moments later by Montoya, who could complete his pitstop and return to the race comfortably in the lead. Behind the Colombian, Trulli was getting pressure from Schumacher, and both men stopped on he same lap, the Renault driver staying in front of his rival after a faster pitstop.
Alonso pitted a lap later from second position, the Spaniard rejoining the race behind Schumacher. Coulthard was the last of the top runners to pit, the Scot completing three more laps before diving into the pits. That allowed him to jump ahead of Alonso, who dropped to fifth place. Further behind, Button was the last man to pit, the BAR driver having climbed up to eighth place after his poor qualifying.
Montoya's flawless run continued, the Colombian opening a gap of almost 50 seconds to Trulli by lap 45. Schumacher, meanwhile, was getting closer to the Italian driver, by then around three second ahead, as Coulthard was closing the gap to the five-times Champion.
With a gap of around a whole minute to Trulli, Montoya made his final pitstop with 17 laps remaining in the race, the Williams driver returned to the track still clearly in the lead. Trulli, meanwhile, was struggling badly with his tyres, losing around 15 seconds to Montoya in the space of just ten laps. The Renault driver was finally passed by Schumacher on lap 59, the German putting on a brave move around the outside of the hairpin to emerge ahead of the Italian.
The move allowed Schumacher to get some breathing space, as Coulthard was stuck behind Trulli for a further lap before finding a way past him when the Renault driver went wide at the stadium. With both running in clean air, the Scot did not seem capable of catching Schumacher, who was able to maintain his gap to the McLaren driver as the race was coming to an end.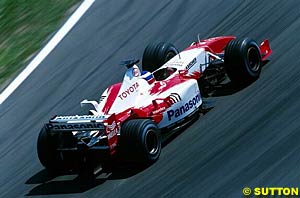 With four laps remaining, however, the German's rear left tyre burst when arriving at the hairpin, which left him with half the track to cover before coming into the pits. By the time he had rejoined the race, Schumacher had lost five places, and was now in seventh behind the two Toyota drivers.
The remaining laps went on quietly for the leaders, as Webber caused a final moment of excitement when he tried to pass Button for eighth place. The move did not work, and the Jaguar driver ended up in the gravel trap while Button went on to score the final point.
Montoya won the race by over a minute, with Coulthard coming home in second to score his first podium since he won the season opening Australian Grand Prix. Montoya's second win of the season left the Colombian delighted after a flawless weekend that put him right into the battle for the Championship.
"I think it went really well today. The whole weekend went really well for me and today the car was just fantastic - all day long. I got a great start and I just went from there," said Montoya, who refused to start thinking of the title despite his position. "I am not talking about it or thinking about it. Anything can happen. There are four races to go and we'll just see what happens."
An exhausted Trulli went on to finish in third place, the Italian making his first podium appearance since the 1999 European Grand Prix. Alonso finished right behind his teammate, with Panis in fifth and da Matta in sixth, completing Toyota's best result to date.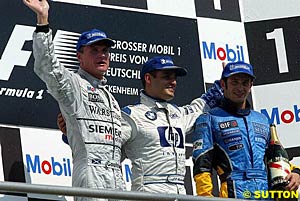 A disappointed Schumacher had to settle for seventh place and only two points, which was a hard blow when he looked set to score eight only moments before the end of the race. The result tightened the Championship battle even more, and while Schumacher was happy to drive carefully and gather as many points as possible in the last couple of races, it looks like his strategy will have to change now that Montoya is breathing down his neck.
The stage is set for a thrilling end of the season.
"Four races to go; it's going to be very close and the battle for the title will be very exciting, just as we expected," said Schumacher. "I am looking forward to the fight."

Race Results

 1.  Montoya       Williams BMW      (M)     1h28:48.769
 2.  Coulthard     McLaren Mercedes  (M)     +  1:05.459
 3.  Trulli        Renault           (M)     +  1:09.060
 4.  Alonso        Renault           (M)     +  1:09.344
 5.  Panis         Toyota            (M)     +  1 lap   
 6.  da Matta      Toyota            (M)     +  1 lap   
 7.  M.Schumacher  Ferrari           (B)     +  1 lap   
 8.  Button        BAR Honda         (B)     +  1 lap   
 9.  Villeneuve    BAR Honda         (B)     +  2 laps  
10.  Heidfeld      Sauber Petronas   (B)     +  2 laps  
11.  Webber        Jaguar Cosworth   (M)     +  3 laps  
12.  Kiesa         Minardi Cosworth  (B)     +  5 laps  
 
Fastest Lap: Montoya, 1:14.917, lap 14

Not Classified/Retirements:

Driver        Team                   On Lap
Fisichella    Jordan Ford       (B)    61
Verstappen    Minardi Cosworth  (B)    24
Wilson        Jaguar Cosworth   (M)    6 
R.Schumacher  Williams BMW      (M)    2 
Frentzen      Sauber Petronas   (B)    2 
Barrichello   Ferrari           (B)    1 
Raikkonen     McLaren Mercedes  (M)    1 
Firman        Jordan Ford       (B)    1 


World Championship Standing, Round 12:

Drivers:                  Constructors:            
 1. M.Schumacher  71       1. Ferrari           120
 2. Montoya       65       2. Williams-BMW      118
 3. Raikkonen     62       3. McLaren-Mercedes  103
 4. R.Schumacher  53       4. Renault            66
 5. Barrichello   49       5. BAR-Honda          15
 6. Alonso        44       6. Toyota             14
 7. Coulthard     41       7. Jaguar-Cosworth    12
 8. Trulli        22       8. Jordan-Ford        11
 9. Webber        12       9. Sauber              9
 =  Button        12
11. Fisichella    10
12. da Matta       8
13. Frentzen       7
14. Panis          6
15. Villeneuve     3
16. Heidfeld       2
17. Firman         1


Pos  Driver        Team                  Lap  Time              
 1.  Montoya       Williams-BMW     (M)  14   1:14.917           
 2.  Trulli        Renault          (M)  13   1:15.740 +    0.823
 3.  Panis         Toyota           (M)  34   1:15.883 +    0.966
 4.  Coulthard     McLaren-Mercedes (M)  14   1:16.003 +    1.086
 5.  da Matta      Toyota           (M)  35   1:16.051 +    1.134
 6.  Alonso        Renault          (M)  16   1:16.060 +    1.143
 7.  M.Schumacher  Ferrari          (B)  36   1:16.081 +    1.164
 8.  Button        BAR-Honda        (B)  41   1:17.430 +    2.513
 9.  Webber        Jaguar-Cosworth  (M)  46   1:17.754 +    2.837
10.  Heidfeld      Sauber-Petronas  (B)  10   1:18.036 +    3.119
11.  Fisichella    Jordan-Ford      (B)  51   1:18.145 +    3.228
12.  Villeneuve    BAR-Honda        (B)  65   1:18.235 +    3.318
13.  Wilson        Jaguar-Cosworth  (M)   3   1:19.441 +    4.524
14.  Kiesa         Minardi-Cosworth (B)  26   1:20.171 +    5.254
15.  Verstappen    Minardi-Cosworth (B)   6   1:20.399 +    5.482
16.  R.Schumacher  Williams-BMW     (M)   1   1:51.691 +   36.774
17.  Frentzen      Sauber-Petronas  (B)   1   2:21.895 + 1:06.978


Pos  Driver        Team                  Time      Lap
 1.  da Matta      Toyota           (M)     27.286   17
 2.  da Matta      Toyota           (M)     27.350   50
 3.  Heidfeld      Sauber-Petronas  (B)     27.491   51
 4.  Montoya       Williams-BMW     (M)     27.638   33
 5.  da Matta      Toyota           (M)     27.794   33
 6.  Heidfeld      Sauber-Petronas  (B)     27.825   34
 7.  Montoya       Williams-BMW     (M)     28.146   50
 8.  Heidfeld      Sauber-Petronas  (B)     28.230   16
 9.  Panis         Toyota           (M)     28.359   32
10.  Panis         Toyota           (M)     28.438   49
11.  Panis         Toyota           (M)     28.497   15
12.  Montoya       Williams-BMW     (M)     28.601   17
13.  Alonso        Renault          (M)     28.882   18
14.  M.Schumacher  Ferrari          (B)     29.034   17
15.  Trulli        Renault          (M)     29.747   14
16.  Button        BAR-Honda        (B)     29.942   21
17.  Webber        Jaguar-Cosworth  (M)     30.071   20
18.  Button        BAR-Honda        (B)     30.179   43
19.  Coulthard     McLaren-Mercedes (M)     30.241   42
20.  Verstappen    Minardi-Cosworth (B)     30.271    1
21.  Coulthard     McLaren-Mercedes (M)     30.919   18
22.  Fisichella    Jordan-Ford      (B)     30.935   49
23.  Trulli        Renault          (M)     31.207   38
24.  Webber        Jaguar-Cosworth  (M)     31.296   44
25.  Fisichella    Jordan-Ford      (B)     31.712   32
26.  M.Schumacher  Ferrari          (B)     31.961   38
27.  Alonso        Renault          (M)     32.113   39
28.  M.Schumacher  Ferrari          (B)     32.746   63
29.  Kiesa         Minardi-Cosworth (B)     33.318   43
30.  Kiesa         Minardi-Cosworth (B)     33.423   24
31.  Villeneuve    BAR-Honda        (B)     33.676    1
32.  Villeneuve    BAR-Honda        (B)     34.429   34
33.  Kiesa         Minardi-Cosworth (B)     34.968    2
34.  Verstappen    Minardi-Cosworth (B)     35.088   23
35.  Fisichella    Jordan-Ford      (B)   1:01.702   11
36.  Wilson        Jaguar-Cosworth  (M)   5:56.415    1


The German Grand Prix, Lap by Lap
Lap 1: At the start Juan Pablo Montoya goes into the lead but behind him Ralf Schumacher is slow away. Rubens Barrichello is also slightly slow and so is challenged on the outside by Kimi Raikkonen. Ralf moves across to take his line and Barrichello is caught between the Williams and the McLaren. The three cars make contact with the result that Raikkonen spins into the barriers. Barrichello stops nearby while Schumacher goes round to the pits and retires. There are further accidents in the midfield as Ralf Firman slides into the back of Heinz-Harald Frentzen's Sauber. Justin Wilson bumps into Jacques Villeneuve and the BAR spins. Wilson then also makes contact with Firman. Firman retires on the spot. The Safety Car is sent out and the order at the front is Montoya, Jarno Trulli, Fernando Alonso (up from eighth on the grid), Michael Schumacher, Mark Webber, David Coulthard and Olivier Panis. Pit callers at the end of the first lap are Ralf Schumacher, Jacques Villeneuve, Frentzen, Jos Verstappen, Wilson and Nicolas Kiesa. Frentzen retires and Wilson also disappears after a few exploratory laps.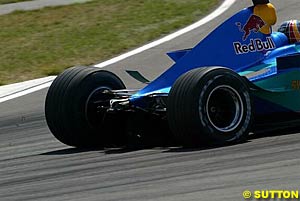 Lap 4: The Safety Car pulls off and the race is on again. Montoya quickly pulls away from the rest, ending the lap 1.5 seconds ahead of Trulli, Alonso, Schumacher M, Webber and Coulthard.
Lap 7: Montoya's lead is 2.3 seconds over the two Renaults and Schumacher. Behind them Coulthard goes around the outside of Webber at the hairpin.
Lap 8: In the midfield Giancarlo Fisichella is overtaken by both Jenson Button and Nick Heidfeld. At the same time Button passes Heidfeld and so is up to ninth.
Lap 9: Fisichella fades back further, being passed by Verstappen and Villeneuve. The Canadian takes advantage of the situation to pass Verstappen as well.
Lap 10: Fisichella drops behind Kiesa. The Italian is clearly in trouble.
Lap 11: Montoya begins to extend his lead, setting another fastest lap to increase his lead to 3.4 seconds. Trulli is a clear second with Alonso under pressure from Schumacher for third place. At the tail of the field Fisichella pits.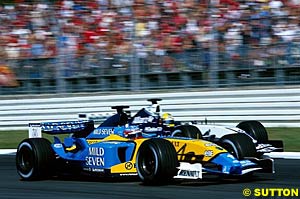 Lap 14: Trulli comes into the pits, indicating that he was running very light. This leaves Montoya with an 8.8 second lead over Alonso and Schumacher. Coulthard is up to fifth with Trulli behind him and Webber in sixth, under increasing pressure from the two Toyotas.
Lap 15: Seventh-placed Panis comes in for his first pit stop, indicating that he is on a three-stop strategy.
Lap 16: Heidfeld is also running light and pits. He falls from ninth to 11th.
Lap 17: Montoya and Michael Schumacher both come into the pits. They are followed in by seventh-placed da Matta. This puts Alonso in the lead.
Lap 18: Alonso and Coulthard both stop. Montoya goes back into the lead but his lead over Trulli is now up to 12 seconds. Further back in the field Panis passes Villeneuve for eighth place.
Lap 19: Da Matta pushes his way past Villeneuve at the hairpin to take ninth place.
Lap 20: Sixth-placed Webber stops for the first time, suggesting that the Jaguar driver is on a two-stop strategy. He falls back to 11th place.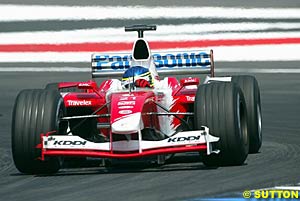 Lap 21: Montoya's lead goes up to 16 seconds while Trulli, Alonso and Michael Schumacher fight for second place. Coulthard is fifth. Button is sixth but comes into the pits, indicating that he is on a two-stop strategy. He emerges from the pits ahead of Webber.
Lap 23: Verstappen pits but pulls off on his first lap back on the track.
Lap 31: Montoya continues to dominate, extending his lead to around 25 seconds. Alonso runs wide and goes onto the grass and Michael Schumacher is finally able to move up to third place. Kiesa also has an off in his Minardi.
Lap 32: The second round of pit stops begins with sixth-placed Panis.
Lap 33: Montoya pits again but stays in the lead. Also pitting is da Matta but the positions remain unchanged.
Lap 34: Villeneuve and Heidfeld both pit again. The Sauber stop is faster and so Heidfeld moves ahead.
Lap 38: As Montoya stretches his lead still more, Trulli and Schumacher pit for a second time. This puts Alonso up to second and Coulthard to third. Trulli rejoins in fourth with Michael fifth.
Lap 39: Alonso pits and drops back to fifth place.
Lap 42: Coulthard has been able to run further than his opponents and when he pits he is able to emerge ahead of Alonso, moving to fourth place.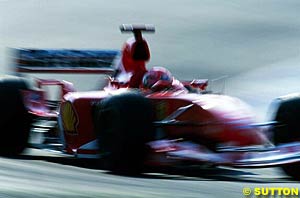 Lap 43: The two-stop runners come in again. Button, running eighth, stops and Webber moves up a place.
Lap 44: Webber stops and emerges behind Heidfeld, who is running a three stop race.
Lap 47: Webber passes Heidfeld for ninth place and begins chasing after Button.
Lap 49: The three-stop runners begin coming in again. Panis is sixth and rejoins behind da Matta.
Lap 50: Montoya, who is nearly a minute ahead, pits and rejoins still well clear of Trulli and Schumacher. Da Matta also stops and so is overtaken again by Panis.
Lap 51: Heidfeld is tenth but falls behind Villeneuve when he stops for a third time.
Lap 59: Montoya has been completely dominant rebuilding his lead from 38 seconds after his pit stop to 53 seconds. Behind him Michael Schumacher muscles his way past Trulli for second place. As this is happening Coulthard loses time stuck behind the lapped Villeneuve.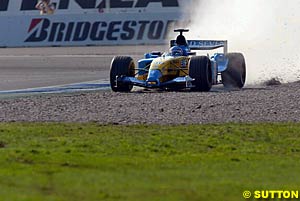 Lap 60: Coulthard closes right up on Trulli and passes the Renault for third.
Lap 63: Schumacher has a left rear puncture and has to pit. He falls back behind the two Toyotas with Panis up to fifth and da Matta in sixth. Michael is seventh ahead of Button, who is under pressure from Webber.
Lap 65: Keen to score a point, Webber goes off while chasing Button. He retires in the gravel trap.
Lap 67: Montoya wins, finishing over a minute ahead of his nearest challenger David Coulthard. Trulli is third, crossing the line just ahead of his teammate Alonso. The two Toyotas pick up points for fifth and sixth with Michael Schumacher seventh and Button eighth.