---
Ann Bradshaw: View from the Paddock
---
By Ann Bradshaw, England
Atlas F1 Special Columnist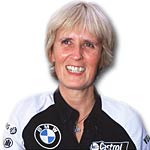 Just when she was getting ready for a quiet bank holiday weekend with the family, Ann Bradshaw was called over to Barcelona to help Antonio Pizzonia face the media and get himself out of a situation mishandled by Jaguar Racing to begin with. It was a PR blunder, and who else but a PR veteran as Ann would handle this so brilliantly? In an exclusive account for Atlas F1, Ann tells all about the weekend at the Jaguar pressure cooker that was Spain...

Atlas F1 GP correspondent Tim Collings recently wrote a book called the Piranha Club. It dealt with the less attractive side of Formula One and the behind-the-scenes machinations that happen around the paddock. Last weekend, I was at the centre of a scenario that would have made a great chapter in Tim's book.
I have been doing personal PR work for young Brazilian Antonio Pizzonia, and the first I knew he was facing a problem was by an article in the Guardian newspaper that was faxed to me by Jaguar Racing's Communications Manager, Nav Sidhu. It contained a quote from Nav saying Antonio's position in the team was being reviewed and the journalist's information was that McLaren test driver Alexander Wurz could replace him. This literally lit the blue touch paper and from then on the story spiralled out of control.
I talked during the day with Alan Henry, who wrote the story, as well as several other journalists who wanted to know what was going on, and Antonio's manager, Jayme Brito. The speculation became more bizarre with a suggestion that Pizzonia may even be replaced before the Spanish race because he was not quick enough and was being shown up by his teammate, Mark Webber. In the end, I got the call at about 10:00pm on Tuesday evening from Jayme. "What are you doing this weekend?" he asked. "We would like you to come to Spain with us."
I was no longer a passenger in the situation, I was now being put in the PR driving seat and had to cancel my plans for a quiet bank holiday weekend with my family, and most importantly find a 'baby sitter' for my adored dog Rosie. The Bradshaw family eventually came to my rescue, but the organisation for the weekend that had to take place in the 24 hours following the call made me determined that I was going to do everything in my power to help my little Jungle Boy in Spain.
* * *
It is at times like this you know who your friends are. I love Formula One, but I am aware the paddock is like shark-infested waters and if they smell blood then heaven help the injured party. They smelt blood but the great thing is that suddenly Jayme, Antonio and myself realised we had friends and that the enemies were few and far between.
It will come as no surprise to anyone that the enemies were the two drivers who Antonio and Mark had replaced at Jaguar. Pedro de la Rosa said he felt Antonio was the wrong choice as his replacement. He said he felt sorry for the driver as he believed he was too young and inexperienced. However, there were only nasty comments from Eddie Irvine in his Sun newspaper column. He literally got stuck in and said Antonio was useless and didn't deserve to be in Jaguar.
When we realised who our friends were, though, the words of two ex-Jaguar employees didn't bother us at all. If Frank Williams, Patrick Head, Juan Pablo Montoya, Ralf Schumacher and Marc Gene all publicly tell the press they think Jaguar would make a mistake by getting rid of Antonio, that he is a great driver and so should be given more time and support, then you cannot ask for much more. When you add to this endorsement for Antonio from Jackie Stewart and Niki Lauda, it is obvious the heat was on the Jaguar management.
The press suddenly decided the Jaguar motorhome was the place to be. This is my first visit to a race this season but I was assured by Antonio that he didn't get this sort of attention even at his home race in Sao Paulo, Brazil. The press were pushy, asking if he thought his poor results were the fault of him or the team; they were ruthless in asking Jaguar Racing's managing director, David Pitchforth, if Antonio was being replaced for the Austrian GP; and they were relentless in trying to find out what the relationship was like between the driver and his team.
However, I was amazed at how many of these journalists, to whom drivers are just the source of a story to help them earn a wage, came to me and offered their support - they felt Antonio had been treated unfairly and that at times like this the driver should be supported by his team. They pointed out to me facts that I already knew, but was happy to hear them relayed to me by people not so personally involved in the debacle.
Antonio is experienced in a Formula One car - he has completed thousands of kilometres testing for WilliamsF1, but he had suffered from three problems: an unreliable car; a new one lap qualifying system on unfamiliar race tracks; and a very, very fast teammate. Antonio's supporters believed Jaguar had to give him more time, give him more support and look back at their comments when announcing the driver line-up, that this was a year to build up the team and not expect miracles overnight. Most people felt Jaguar Racing had forgotten their own message.
While I was firmly on the side of Antonio, I have to play devil's advocate here for a minute.
The Jaguar Racing team needs results and up to the start of the Spanish Grand Prix weekend had not scored a point and only managed one race finish, which was for Antonio in Imola, despite his launch control failing on the grid. As if this was not bad enough, Giancarlo Fisichella in a Jordan with the same Ford engine (unlike Jaguar, Jordan pay for their engines) had won the Brazilian Grand Prix. They also knew what pressure was all about.
* * *
It is difficult to be in the middle of such an event and not get emotionally involved, and I felt all my mothering instincts coming out. Antonio would hate to see this word written about him, but he is a 'sweet' boy. He is only 22. He lives in Monaco like most of the other F1 drivers, but this is not like living near your mum. He comes from Manaus in the Amazon jungle and while there are regular flights to Brazil, once there his town is a further few hours by plane from Sao Paulo. Not the sort of place you can pop home to for a long weekend, let alone go to get your washing done or a good square meal.
Antonio's girlfriend is also a sports star. She is an athlete and is currently training for the next Olympics. She cannot just drop what must be an intensive training programme to be by his side at the race track. At the end of the day he is the same age as my favourite nephew Luke and I would hate to see him under the sort of pressure Antonio was at the Spanish Grand Prix weekend.
He bravely told the press the pressure was coming from within. However, there is no way anyone twice his age would have been able to avoid being affected by the pressure from the world's press wanting to know if he was going to be given his P45 at the end of the weekend.
I don't want to go into the rights or the wrongs of what happened nor will I report conversations that took place between Jaguar Racing and Jayme, but suffice to say when the team confirmed to him on Saturday night Antonio was driving for them for the rest of the season - as per his contract - there was a collective sigh of relief and lots of hugs. I may be a bit old fashioned, but hugs never go amiss and as a lot of people in the paddock said to me, what Antonio needed most is the male to male version of this - an arm round his shoulder and lots of support.
Having spent my first ever weekend with the Jaguar Racing team, I find it difficult to understand why this didn't happen. I know quite a few of the mechanics from former lives - especially at Arrows; I have met David Pitchforth, Tony Purnell and Sir John Allison, and they have all been aware from the word go that Antonio's undoubted speed in an F1 car must be considered alongside his lack of experience.
However, the area I must be critical of them is the way that a newspaper article communicated news of his performance review. Antonio had no idea he was in such a precarious situation. No one had spoken to him and so he was able to be honest with the press and say this was a complete surprise.
* * *
As I commented above, the paddock is shark infested waters so some people were happy to see the discomfort of Jaguar Racing and literally put the knife in and turned it. One man who I am sure shed no tears over this situation was Ron Dennis, as again it was a member of his staff who Jaguar were pursuing. The Adrian Newey farce a few years ago must still annoy him when he thinks back.
Adrian was set to jump ship from McLaren to Jaguar and but for an untimely leak would most probably today be wearing green rather than black and silver. Luckily for Ron and unluckily for Jaguar's then boss Bobby Rahal, Ron was able to learn of the deal in time to make a counter offer and so keep a technical director whose loss could have proved disastrous.
I was not at the McLaren media briefing in the Barcelona paddock on Saturday afternoon, but the journalists who were there said Ron made it plain he felt Jaguar had handled everything badly and on top of that if they wanted his test driver then they would have to pay dearly.
For me walking out of the paddock on Sunday night was a relief and I enjoyed my trip to the airport with Antonio during which we discussed every subject except Formula One. It was also great to see all my mates again, to hear the sound of Formula One cars driving in anger, and now I am hoping the next time I walk through the gates to an F1 paddock will be a little less pressured.
* * *
I cannot finish this column without saying how despite all that was going on around me in Spain, I had to spare some time on Thursday for quiet reflection. It was the 1st May and so nine years to the day since Ayrton Senna died so tragically in a WilliamsF1 in Imola. This was one of the blackest days ever for Formula One and I was, as Williams's press officer back then, in the middle of it all.
It sort of puts all else that happened around me in Barcelona in perspective.

About the author:
Ann Bradshaw - Annie - began her motor racing career as a teenager, helping out her brother in local rally races in England, where she grew up. In the 1970s she organised motor racing events in England, and was later the press officer for the RAC MSA - the motorsport governing body in Britain. In mid 1980s, she became press officer to team Lotus, where she worked with Ayrton Senna. Shortly after, she moved to the Williams team and was working there for several years, when once again she found herself working with Senna. She worked with Damon Hill after the Brazilian's death, and moved with the British Champion to Arrows. She also worked with the Panoz team in the United States, before becoming a freelance press officer, now working with Compaq and BAR among others. Annie joined Atlas F1 as a regular columnist in April 2002.

---
© 1995-2005 Kaizar.Com, Inc. . This service is provided under the Atlas F1
terms and conditions
.
Please
Contact Us
for permission to republish this or any other material from Atlas F1.