---
Spanish Moss
---
By Thomas O'Keefe, U.S.A.
Atlas F1 Senior Writer
If following his amazing start to the season anyone needed further proof that Fernando Alonso is a champion in the making, last Sunday's Spanish Grand Prix must have done the trick. From start to finish, the Spaniard demonstrated it's a matter of time before he wins his first race and many believe he will take over Michael Schumacher's reign. Atlas F1's Thomas O'Keefe looks at how Alonso has risen from the bottom to the top of the F1 field in only three years

I am never one to say I told you so but I cannot help but note that from all the distinguished panel of 24 Atlas F1 writers contributing to The 2003 Atlas F1 Gamble, I was one of only two writers to predict that this would be the year the world of Formula One would discover 21 year-old Spaniard Fernando Alonso, the next Schumacher, a Spanish Moss.
Along with colleague Craig Scarborough from England, I stuck out my neck and wrote this back on February 26, 2003: "Renault's Fernando Alonso, with a decent car for the first time in his career, will be the rising star of the season, racing better than the higher-rated Trulli, who will be run off the track once too often and fall behind his 21 year-old teammate in the points. Look for Alonso to manage a podium in Spain and the Regie to show some muscle this year."
How did I know? Easy, Inside information about Alonso, gleaned from places as far ranging as Indianapolis, Indiana, Mannheim, Germany, Viry-Chatillon, France and Hockenheim, Germany. With some drivers, like Stirling Moss himself, you just know that they are meant to be.
Fernando Alonso first impressed me at the 2001 US Grand Prix, which was held just 13 days after September 11th. He was 19 years old when the 2001 season began in Australia and driving for Minardi, with Alex Yoong as his teammate by the time Indianapolis came around. I was writing a piece about Minardi at the time, Breakfast At Minardi, and spent quality time around the team, including sharing a spot in the Minardi garage area during Saturday practice with Indycar driver Mad Max Papis, who was a guest of the team that weekend.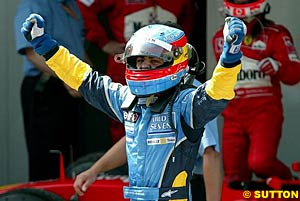 Being that close to a driver that young beginning to learn his craft was like watching a flower grow. Even though the car was a Minardi and not a Ferrari, from the standpoint of a then-20 year-old like Alonso, he was learning many of the rhythms and procedures of Formula One that to a driver apply no matter where the team is on the grid: learning a new track, communicating with the race engineers by radio out on the track or while you sit in the cockpit waiting for the tyres to be changed, gunning the car when the chief mechanic says it is time to exit the garage without stalling it or going so fast that you endanger someone else, hitting your marks when you come in for a pitstop, dealing with the press, dealing with your car owner, your teammate, your sponsors and your manager.
That weekend at Indianapolis in 2001, in only his 16th Grand Prix, Alonso had all the indicia of being a quick study. He had the team members eating out of his hand from Paul Stoddart on down, because they saw what I saw, that this boy had the goods. His manager was Flavio Briatore, not a bad stable to be part of. Although he sometimes has a dreamy look about him and is somewhat shy and soft-spoken with the press, Alonso was intelligent, articulate and mature beyond his years. His skill on the track was on full view that weekend: Alonso qualified 17th in a 22-car field in a track that was new to him, ahead of 1995 Indianapolis 500 winner, Jacques Villeneuve in the BAR-Honda, both Arrow cars and the Prost of Tomas Enge, and he did this in a Minardi!
Alonso was also nice to his rookie teammate Alex Yoong and despite the obvious differences in their respective talents, Alonso never disparaged the Malaysian, unlike Mark Webber when he was with Minardi last season, who tended to be dismissive of Yoong. Although this year he is outpacing his better known teammate Jarno Trulli, there is no bullying or rudeness between them, the both of them having male bonded at Flavio's ranch in Malindi, Kenya during off-season fitness training, eating Mueslik.
In the 2002 season, it struck me as curious that Briatore sat him down when he had not done anything wrong, instead running Jenson Button and Jarno Trulli in Renault's first season returning as a constructor to Formula One. In retrospect, Briatore did him a favor. Alonso endeared himself to the Renault team as its test driver during a year when the race team's performance was good but not great and could be seen around the paddock at each race keeping his hand in but not being pushy about it. Typically, you would see him at one of the tables in Renault's hospitality center with one of the engineers sitting behind the engineer's laptop reviewing the data with Alonso from the previous practice or qualification session.
Unlike the other test drivers like Alexander Wurz, Luciano Burti and Marc Gene, Alonso did not seem to have a formal job on race weekend glad-handing visitors or sponsors; more often than not, he would be talking to the Renault hospitality staff and, if you did not know better, you would have thought that he was one of them given his age and the absence of his driver overalls.
But notwithstanding the fact that he was on a first name basis with Renault's catering staff, Alonso was also cultivating friends in high places in Formula One. One night in Mannheim, Germany, on a Thursday night that fell between the 2002 French and German Grands Prix, Michael Schumacher recruited Fernando Alonso to play on Schumacher's celebrity soccer team, at a match before 28,000 people in brightly lit Carl Benz Stadiom. This match was on July 24, 2002, four days after Michael had clinched his fifth World Drivers' Championship at Magny-Cours. So you had a veteran Formula One champion on the top of the world and an unemployed 20 year-old race driver who had never finished higher than 10th together on Schumacher's team, which faced off against the "All Stars."
As it turned out, they both learned a lot about one another that night. Schumacher and Alonso combined for a goal that Alonso scored early in the match and the roar from the delirious crowd was surely noisier than anything Alonso had ever heard directed his way. And Schumacher appreciated his younger colleague's efforts and kept slapping him on the back to encourage him.
At the end of the match, which had been a seesaw battle, Schumacher scored the goal that clinched the victory for his side. Instead of a podium ceremony, Schumacher paid his respects to the fans by running to each quadrant of the stadium with his teammates, which caused absolute bedlam and singing to break out in the stands. It is not hard to imagine that Alonso would have concluded that he had now seen the source of Schumacher's inner strength, the support of his fellow Germans who are so wild for him no matter what sport he is playing. Alonso must have wondered that night how he and the other drivers can ever compete with an athlete this complete.
When I saw Alonso at the Hockenheim race the next Sunday, I asked him if he was a particular friend of Schumacher and he said no but that Schumacher had joked with him about the match and that perhaps they were becoming friends "first in the soccer game, then maybe later on at the track." A season later it is now obvious from the way Schumacher treats Alonso with a respect reserved only for his brother (always) and his teammate Ruben Barrichello (sometimes, and mechanically so), that Michael regards Alonso as a worthy rival and a decent person. Even Ross Brawn is beginning to treat young Alonso like an unofficial member of the family, giving him an affectionate pat on the tummy on the podium at Barcelona as if to say, "now you are one of us."
But if Ferrari has designs on Alonso, they will have an uphill negotiation on their hands. During my Christmas visit to Renault's engine prototype factory at Viry-Chatillon near Paris, it was plain that Alonso is very popular with the test team that got to know him so well during his year away from racing and it is this very group working with the Renault engine on the test beds in the bowels of Viry to extract another 20 bhp out of the engine that will determine how long it will take for Alonso to win his first Grand Prix, which looked so tantalizingly close at Barcelona.
As of today, Fernando Alonso has done well for himself, for Renault and for his country. There have been 12 Spanish drivers in Formula One (not counting Heinz-Harald Frentzen whose mother is Spanish) and Alonso is the only one who has scored a pole position, when he put the Renault R23 on pole at Malaysia this year. Other than Alonso's three podiums this year, the last and only Spanish driver to have scored a podium finish was Alfonso de Portago, who finished second in a Ferrari at the 1956 British Grand Prix in a shared drive with Peter Collins. We now know that Alonso's results so far are not a fluke and all the signs are that before long he will win the first race for himself, for the newly-constituted Renault F1 and for Spain.
A Spanish Moss he could well be, but unlike the unlucky Englishman whose career ended prematurely because of an accident at Goodwood in the 1962 season, let us hope that Fernando Alonso will not go down in Formula One history as the best Spanish driver without winning a World Championship. Somehow I suspect that he is too young, too smart, too talented and too well connected for him not to achieve a World Drivers' Championship during a career that is only now just beginning.
And when he does win a title, he will not only be the first Spaniard to achieve that result but also, God bless him, the first (and probably the last!) Minardi driver to ever do so.
---
© 1995-2005 Kaizar.Com, Inc. . This service is provided under the Atlas F1
terms and conditions
.
Please
Contact Us
for permission to republish this or any other material from Atlas F1.