---
The Weekly Grapevine
---
By Tom Keeble, England
Atlas F1 Columnist
This week's Grapevine brings you
information fresh from the paddock on:

Engines on the Cheap
FOM Prepare for Hack-Attack

Engines on the Cheap
One of the big changes coming in 2004 is the change to run engines for a whole weekend. The idea behind this is that the manufacturers will benefit from a significant net saving in costs, based on the reduced requirement to three engines per weekend from the nine or more that teams typically take now. And some of that saving is due to be passed on by making cheap engines available to customer teams - at a cost of $10 million a season.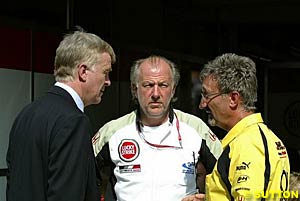 Arriving at this point has not been entirely trivial - Max Mosley has had to bully and cajole the teams into it, by mandating a bundle of rule changes, then trading off the ones he is not too concerned with in order to bring about the changes he really wants. Like, persuading manufacturers to supply customer engines on the cheap, in return for keeping traction control.
The funny thing is, it doesn't add up. The rule change means that the manufacturers need to put considerable work into redesigning their engines from the ground up in order to ensure the reliability to run for a whole weekend, without unduly compromising power. In order to supply customer teams then, the manufacturers will be compelled to either run them on the same units as their works team, or to offer the 2003 unit, detuned to the point where they'll run for a weekend. The former is more expensive than the price point, and the latter impracticable: several manufacturers having already considered the option, calculating that this would require around 1100-1300 rpm off the top end, and considerable maintenance besides. The net result would be 80-100bhp power reduction from the engine. Even for only $10 million, that represents a substantial power shortage against redesigned units, which should be generating power comparable to the start of this year.
Then there is the question of precisely what an 'engine' deal entails: Alain Prost's Ferrari engine came with the specification for a gearbox and whole rear suspension, whilst the different Ford deals offered to Jordan and Minardi carried a range of support and integration options. Clearly, this leaves the door open for Ferrari to claim the moral high ground by continuing to supply Sauber at $27 million per year - the engines themselves coming for a third of that, except they'll need to purchase specifications for gearbox, oil and water radiators and suspension, plus a full servicing contract for twice that. Ferrari's revenue stream is protected, Sauber get Ferrari engines, and the FIA are appeased.
Mercedes have agreed in principle to the idea, but so far, have not been forthcoming on what the deal would entail, or even if it would be feasible next year. They have concerns that a team that can only afford a $10 million engine program is likely to have a tyre contract that sees them racing on year-old rubber: the average race viewer not going to understand that, so the engine could be seen as a weak area.
Of the remaining manufacturers, only Ford is already geared to provide fully specified works engines to more than one team: at the very least, the others require more dynamometers in order to handle the running in time of race engines alongside development units - expensive equipment with a sizeable lead time. That isn't preventing them from considering gearing up for the task, but it does mean that most are not expecting to be ready to handle it before 2005, at the earliest.

FOM Prepare for Hack-Attack
After a television presenter inadvertently threw down the gauntlet to hackers during the live broadcast of the Spanish Grand Prix, Formula One Management (FOM) is bracing for a concerted attempt to break into their computer network during the next Grand Prix weekend.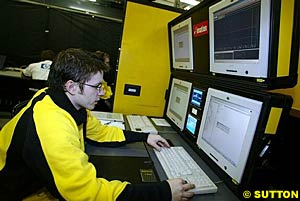 Information is immensely valuable. Industrial espionage is nothing new in business, and Formula One is no different. Despite protestations that this is a sport, the commercial reality of being able to outperform a competitor through knowing their fuel strategy is very real. The same information is even more valuable to bookmakers, who would adjust the odds they offer when a driver's performance is affected by his fuel load. Even television presenters are interested in this detail - it a far easier job to talk from knowledge than make an educated guess at what's going on.
The critical information that hackers would be after, of course, is the weights of the cars from Thursday's scrutineering and after qualifying. The difference will be the fuel load that the car ran through the qualifying session, revealing in absolute terms that car's first pit stop window for the race.
Of course, this isn't news to the holders of the information either; the scrutinisers are bound to secrecy, and take the role very seriously. Similarly, the tyre manufacturers, who are directly privy to strategy plans from their interactions with the teams, are close-lipped about what they know. And, of course, the teams themselves are very careful about who in the teams know the specifics, and whom they can tell. All have procedures in place to firewall the information - with directives ranging from not writing the details down, through to when and how computers can be networked. Most teams even prohibit taking written notes outside, as it has been demonstrated all too often that enterprising photographers can get an angle from the media centre to take high definition photographs.
Sadly for the FOM, a public indication that interesting documentation could be located somewhere on their network, along with an invitation to teenage hackers everywhere to try and dig it up, means that the network is almost certain to come under attack. The hacking community is a prideful, and loves to take up public challenges, so an attempt to isolate this data offers the computer underground a chance to earn significant kudos amongst themselves. Considering they will not know whether or not the scrutineering results from qualifying have actually been entered on to a computer, or whether that computer has been networked, until they have looked for the data, anyone who can even establish its whereabouts is in credit.
Ironically, the biggest issue of the weekend is not expected to be that the attacks are sufficiently sophisticated that data is stolen - it is the likelihood that frustrated, would-be hackers launch concurrent denial of service attacks when they can't find what they are looking for. That would be a headache.
---
© 1995-2005 Kaizar.Com, Inc. . This service is provided under the Atlas F1
terms and conditions
.
Please
Contact Us
for permission to republish this or any other material from Atlas F1.