Last Sunday's Spanish Grand Prix proved Renault, and young driver Fernando Alonso, can fight at the front. The Anglo-French team have hit the big time and, both inside and outside the team, everyone is predicting the first victory since their return as a constructor is only races away. Could this be the historic year for the veteran engine and carmaker?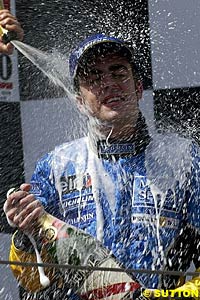 Young Spanish hot-shot Alonso's performance for the team, which saw him claim second place in front of his home crowd after hounding World Champion Michael Schumacher for the entire 65-lap race, suggested that they are almost there, getting closer in their long search for success.
The black and yellow days of Renault's original challenge for the Formula One World Championship - which began in 1977 - had ended in failure in 1985, after nine seasons spent chasing their goal. In 2000 they returned, in their current blue and yellow guise, eager to secure the ultimate glory. Now, after two self-admitted seasons of building for the future, they have risen towards the front of the grid and currently sit third in the Constructors' Championship standings, just 17 points behind leaders McLaren-Mercedes. And they are not even firing on all cylinders yet.
"We wanted to win the race," technical director Mike Gascoyne admitted in Barcelona, having watched Alonso's impressive performance after the Spaniard's Italian teammate Jarno Trulli had been knocked off the track at the start in a collision with Briton David Coulthard. "I am disappointed for Jarno because we could have got his car on the podium so you are always pleased and it was a fantastic result but I would have preferred to keep the 100 percent finishing record as well. But these things happen when you are racing at the front."
Alonso, who at 21 years of age has got tongues wagging in Formula One circles and whose name has even broken into the 'real world' as the man who will eventually topple five-time World Champion Schumacher, has collected all but nine of the team's 34 points.
His teammate Jarno Trulli who, like Alonso in 2001, made his debut with Minardi but arrived in Formula One four years earlier in 1997, may be the more experienced of the two but he has failed to fight at the front and has so far managed a best finish of only fifth place in the opening two races of the year. But it is Trulli's performance that may just indicate that Renault are not yet ready to reach the big time. They may still be one step away and, as the team's managing director Flavio Briatore said after Sunday's result: "Relax. We have not won anything yet."
Indeed they have not, but Alonso's three podium finishes in the last four races hints at a new performance level that is much higher than ever anticipated. He has also finished in the points in all five races so far this season. Many Formula One insiders, in fact, tipped the ambitious team to flounder this year even though they have a structure which points towards victory. Some seasoned observers thought that big-money Germany-based Japanese giants Toyota would shoot to the front of the grid this year at the expense of Renault, who would find repeating their successful season last year too great a challenge.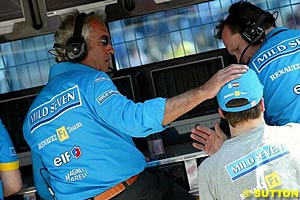 But with the way Renault work, there was never any question that they would go backwards. Their double-design system meant they were already working on this year's car before last year's had even hit the track and that is the way to win a title. The team worked on the concept of the R23 from the start of last year and they are already working on the concept designs for next year's car. It is a perpetual design system that is almost guaranteed to get results and it is already bearing fruits.
The combination of the Renault chassis, the Michelin tyres and the two drivers, Michelin boss Pierre Dupasquier believes, is ideal. It is just the engine that has been the problem, with some sources saying it is as much as 100 horsepower down on its rivals.
The departure of engine guru Jean-Jacques His this week, apparently as part of a "new direction" for the man who has been at Renault for around 20 years of his life, may in fact be a reaction to the team's failings in that department. And if they can get the engine up to power, Dupasquier believes they will be there. Spotted amidst a heated debate with Renault boss Briatore in the Barcelona paddock last Sunday, Dupasquier was later asked what the discussion was all about. He admitted: "He was just saying that if he had forty horsepower more he would win the race.
"I was trying to find out what the handicap was... If you assume that the Renault car is as good as the new Ferrari, the young Fernando is competing with two old timers with 200+ Grands Prix at the top behind them. It is a situation where he has been absolutely great doing the job. But if the chassis and aerodynamics are close then we should complement Renault because the bloody new Ferrari is very good. Knowing they are fighting head to head it means the Michelin tyre was worth so many horsepower, which is the difference between the two engines.
"Renault did a tremendous job, the car is very good and I would say it is our best result from the beginning of the season. Winning is one thing, but defeating our competitor is another and this is obvious."
The animated Dupasquier was clearly excited by the prospect of not only Michelin runners McLaren-Mercedes leading the Championship but Renault following close behind. And he could be spending more time in the crisp white surroundings of the Renault motorhomes in the near future.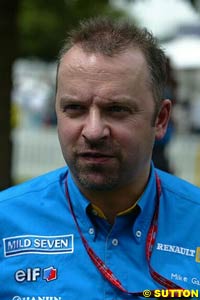 McLaren's disappointing showing in Barcelona meant he left the grey and cold metal surroundings of his current 'top' team to join Renault, who enjoyed all of their 15 wins in their 'black and yellow' spell on Michelin tyres, to celebrate at the end of the race. "To take advantage of such a position you have to be there and they are there," he added. "Ferrari will definitely improve, because it was the first outing of the car, but also it will be difficult. If, for example, there is a little piece of sand in the Ferrari..."
The men at Renault are just as confident but they are playing down their performances in the opening races and warning that there could be some bad news to come. And they could be right... Remember last year? Then, at Barcelona, Briton Jenson Button, who was driving alongside Trulli at the time, qualified in a season-best sixth place and promised that his team would not start a race outside the top ten for the rest of the season. At the next race, in Austria, he was 13th on the grid.
It is a lesson that Briatore et. al. will do well to remember and, after Alonso's latest post-race champagne spraying display on the podium, the first in 'normal' conditions, he said: "We are competitive, but we are still a young team. This is good because today was sunny, no bullshit. We had the same strategy as the top team we never tested in Barcelona because we are testing with the small teams at Grand Prix weekends. But I don't want to talk about the future too much. This was a great day for Renault and I'm very proud to have this kind of team with me."
One part of the future that Briatore will talk about, however, is Alonso. "He was brilliant," he said. "I was right to bring him in instead of Jenson Button. When the British [press] criticised me for doing that... I don't think Alonso made a mistake. He was fantastic. It would be better if he had passed Barrichello because at the beginning he lost a lot of time behind the Ferrari and this was a shame. He made a fantastic start but the straight was too long and as we know the Ferrari is much quicker in the straight.
"The battle between Alonso and Schumacher is great for Formula One. We need something like this in Formula One. Everyone was surprised when I decided to put Alonso in the car and now everyone is surprised how quick he is, but I'm not surprised. But you have to say Schumacher is Schumacher, Alonso is Alonso. Senna was Senna and it is always the same story. When we had Schumacher in Formula One it was always Senna, Senna. Schumacher is German, Alonso is Spanish, and they are different people."
Gascoyne, who backed the appointment of Alonso when it was announced in the middle of last season, believes Alonso is Alonso, too. And, like Briatore, he is certain that, whether there are troughs and peaks throughout the season, he will keep the team out in front.
"There will be circuits that won't be so good but places like Monaco we will be very competitive," said Gascoyne. "If we had given him a quicker car he would have got closer. I think we have been as quick as Ferrari all weekend. We split them in Friday qualifying and in the race that is where we were.
"I think we knew he always had it and that is why we put him in. I think it proves we made the right decision. Who wouldn't want him driving his car? We were racing Ferrari here and the first win is not far away... it could have been today."