---
Racers or Timeservers?
---
By Karl Ludvigsen, England
Atlas F1 Senior Writer
Despite the importance of its business-oriented side, Formula One is very much still about racing. That's why a Grand Prix team must be run by racers, not by men in suit, says Atlas F1's Karl Ludvigsen

Jaguar's problems with launch control reminded me of some recent comments by Gary Anderson about his time with the leaping cat. He said that he once saw something going wrong with the cars that he could sort out, thanks to his considerable experience in racing. The chain of command, however, required him to clear this with Jaguar's chief, Neil Ressler. Ressler brushed him aside, however, saying, "This isn't your problem, Gary. Let the system take care of it." By the next race (guess what) the system hadn't taken care of it, so Gary went down to the shop and sorted the problem in a few minutes.
With its new management structure Jaguar is now back to a "let the system take care of it" mentality, and with a vengeance. There can be no other explanation for the team's failure to get to grips with the launch-control failure that put both Antonio Pizzonia and Kimi Raikkonen out of the Spanish Grand Prix. After all, this is supposed to be a team absolutely stuffed with science and run by the head of Pi Research, famed for its applications of electronics to motor racing. And they've failed in precisely the area in which their expertise is supposed to be strongest.
Our conclusion? There's no substitute for racers in a racing team. Yes, technology is important, but racers are the ones who make the quick decisions, who concentrate on results rather than routine. All racing teams will have their share of timeservers, the by-the-book merchants who hide behind the system and its apparent demands. But even in this high-tech era it's clear that racing teams can't do without racers.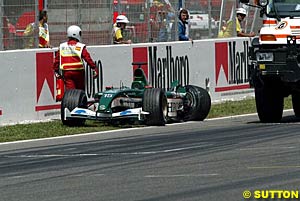 Nothing's worse, of course, than trying to run a racing team that's under the thumb of a company that doesn't understand the exigencies of the sport. That was the case with Renault in the turbo era, but not any more. "We have enough autonomy to run our team as a racing team," said Renault's Pat Symonds before Barcelona. "We don't conform to all of the rules and regulations that Renault have to. We don't run our team like a big industry and I really would say in our case - and we've made the transition recently - that it is a very positive thing."
I've mentioned that transition before: the recent takeover by Flavio Briatore of Renault's engine operation so that the whole team is under a single boss and geared to racing success. "Jean-Jacques His is a superb engineer," said Briatore about the man who's been leading Renault's engine effort so far, "but does that automatically make him a good manager? I don't want the best engine. For me it's enough to have one that wins races. Our people had lost direction. Too much technology for its own sake, not enough focus on the essential. We'd forgotten how to win races." Superb engineer or not, Flavio has decided that His is no longer needed as part of the Renault effort. Sounds like racers are required instead.
It's too soon to say that Fernando Alonso's superb performance in Spain was a result of this changed structure. It was achieved with Renault as it was, not as it will be. That makes Renault's challenge so far this season all the more impressive; there's more to come this year. Briatore has set mid-June as the target for steps forward by his engine men. "Up to the Grand Prix of Canada," he said, "there'll be something new in the car at every race. By then I also want to see power. In the second half of the season we should routinely be running at the front." Based on Barcelona, this is no idle forecast.
Canada's going to be a crunch race for some other people as well. It's the home event for Jacques Villeneuve, whose future in our sport could not possibly be more unclear. As he himself says, his World Championship now seems eons in the past. So too may be his big-money earning years after the expiration of his BAR contract at the end of this season. Jacques is likely to continue with BAR, with Geoff Willis now aboard and clearly able to pen an excellent chassis.
BAR's Honda engine could be in for the backing that it needs. Word has it that Honda's new President and Chief Executive Officer Takeo Fukui - only the sixth chief in his company's history - is a strong supporter of Formula One. His 34 years with Honda have included research and development, engineering, environmental technology and racing activities. Sounds like he's much more racer than timeserver, which is promising for the BAR-Honda effort. He'll be taking over at the end of June. If Fukui-san is in the pits at Montreal - as I expect him to be if he's a racer - that will be a strong positive sign for the BAR campaign and for the Formula One future of Jacques Villeneuve.
Canada's of great significance as well for McLaren-Mercedes, which may well introduce its new car there. In spite of its momentum in this year's early races, this is a team about which we can have certain concerns. What might be its ratio of racers to timeservers? No one can question Ron Dennis's racer credentials, but with the gradual infiltration of DaimlerChrysler executives and engineers into both McLaren International and Mercedes-Ilmor we have to fear the arrival of too many people who aren't racers at heart. Heavy investment in both companies by DaimlerChrysler is good for their security - and for Ron's bank balance - but it places the team's ratio of racers at risk. No trend could jeopardize its competitiveness more.
* * *
I was astonished to see that the Barcelona track still has gravel runoffs. Here's a track used heavily by all the teams for testing that should by now have caught up with the demonstrated superiority of paved runoff areas. How come this isn't a mandatory requirement for inclusion in the Formula One series? Bizarre.

About the author:
Long time columnist at Atlas F1, Karl Ludvigsen is an award-winning author and historian who managed racing programs for Fiat in America in the late 1970s and Ford of Europe in the early 1980s. He is the author of seven books about racing drivers and numerous books about classic racing cars and engines, all of which draw extensively on the many images in his Ludvigsen Library in Suffolk, England. This autumn will see publication of Karl's long-awaited work, the update of his epic Porsche - Excellence was Expected. It reveals for the first time details of the all-conquering McLaren-TAGs and the disastrous Footwork-Porsches. Information on the book and a pre-publication discount are available at the Robert Bentley website

---
© 1995-2005 Kaizar.Com, Inc. . This service is provided under the Atlas F1
terms and conditions
.
Please
Contact Us
for permission to republish this or any other material from Atlas F1.