---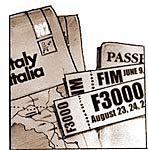 Elsewhere in Racing
Updates from the Rest of the Racing World
---
By Mark Alan Jones and David Wright, Australia
Atlas F1 Magazine Writers
Advice: The points tables for most series covered by Elsewhere In Racing are available here. Individual series are linked to their corresponding points table after each report.
CART
Bourdais Wins London Champ Car Trophy
Since pre-season testing began, Frenchman Sebastien Bourdais has shown blistering speed. The ability to finish a race though has not been there. Back on more familiar territory though, a circuit he'd driven and Paul Tracy had not, and Bourdais had the upper hand. Tracy was out of the race for the win before his engine expired, as Bourdais just outdrove him. And to make the NHR team's cup runneth over, Bruno Junqueira followed Bourdais home, while Mario Dominguez took his first podium without the assistance of weather.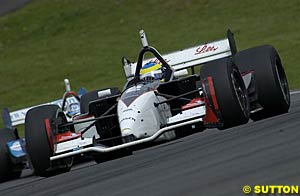 Tracy and Bourdais led the field around to the green at the second attempt. Bourdais slotted in behind Tracy with Junqueira, Alex Tagliani and Oriol Servia next while Vasser coasted in to retire. The top order settled in quickly around the tiny 'Indy' version of Brands Hatch. The first round of pitstops began on lap 49 with Tagliani leading in Tiago Monteiro and Rodolfo Lavin. That was the trigger for the field to start flooding in over the next few laps. Tracy pitted on lap 55 handing the lead to Bourdais. After being serviced a lap later the Newman-Haas team had their boy out in front with teammate Junqueira third ahead of Mario Dominguez and Servia.
The first Safety Car period was for Malaysian driver Alex Yoong who ploughed into the tyre barrier behind the pits. It was early for a second stop and only four drivers made the gamble, Tagliani amongst them. Patrick Lemarie would trigger the second cycle proper on lap 107. Tracy pitted, along with fourth placed Carpentier on lap 112. Everyone had started watching the Canadian's car, trying to see if it was leaking oil or not. Bourdais finally pitted on lap 117 allowing Tagliani through to lead. A lap later and Tracy was out with the suspect engine now expired. Now it was certain, there would be a different winner this race.
On lap 133 Tagliani made his third stop, a stop made neccessary by pitting out of sequence. The gamble had been a losing one and Bourdais now led Junqueira ahead of Dominguez, having the best race of his life. The lap record was still tumbling, as it had all race, and the delayed Adrian Fernandez made the final adjustment on lap 152. It was too late for the veteran Mexican however, as he was thirteenth and beyond reach of the points.
Bourdais took his debut CART victory ahead of Junqueira. Dominguez was ecstatic with his drive to third while Oriol Servia got his season back on track with a fourth. Tracy's points lead has been slashed to eleven points to Junqueira, who in turn holds a twelve point buffer over Michel Jourdain Jr. Fernandez leads the rest. Next up, the Lausitzring, and an emotional return for CART after the career-ending shunt of Alex Zanardi there two years ago.
Result of Champ Car World Series, Round 4 of 19, Brands Hatch, United Kingdom:

Pos  Driver                Car
 1   Sebastien Bourdais    Newman-Haas Racing Lola-Ford
 2.  Bruno Junqueira       Newman-Haas Racing Lola-Ford
 3.  Mario Dominguez       Herdez Competition Lola-Ford
 4.  Oriol Servia          Visteon/Patrick Racing Lola-Ford
 5.  Patrick Carpentier    Player's-Forsythe Racing Lola-Ford
 6.  Michel Jourdain Jr    Team Rahal Lola-Ford
 7.  Roberto Moreno        Herdez Competition Lola-Ford
 8.  Alex Tagliani         Rocketsports Racing Lola-Ford
 9.  Mario Haberfeld       Mi-Jack Conquest Racing Reynard-Ford
10.  Darren Manning        Walker Racing Reynard-Ford

Standings: Paul Tracy 65, Bruno Junqueira 54, Michel Jourdain Jr 42, Adrian Fernandez 29, Patrick Carpentier 28, Sebastien Bourdais 27, Mario Dominguez and Roberto Moreno 24, Alex Tagliani 22, Jimmy Vasser and Mario Haberfeld 20 etc.
V8 Supercar
Ambrose A Class Above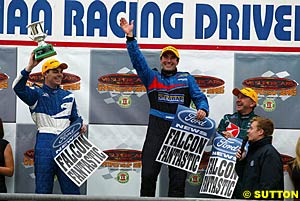 Marcos Ambrose showed his pace at the first two rounds was no fluke as he took an easy victory at Eastern Creek, leading home fellow Ford runners Craig Lowndes and Russell Ingall, Ford scoring a 1-2-3 for the first time since the Eastern Creek round in 1997! Mind you, the next nine cars were Holdens... Conversely, with Ford scoring a 1-2-3, it was one of the worst days for the Holden Racing Team in recent memory, both cars suffering flat tyres around one-third distance suspected to be related to new wheels they were running, before Todd Kelly retired after holing a radiator.
As it turned out, Mark Skaife's day wasn't much better, losing over a minute when he switched to wets and then back to slicks after light rain stopped instead of getting heavier. Despite losing places in the closing laps, Jason Bright's points lead is bigger, now holding a 45 point lead over Steven Richards with Greg Murphy three points further back. The new evenly spaced points system means that the three round winners so far this year sit fifth (Craig Lowndes), seventh (Mark Skaife) and ninth (Marcos Ambrose) in the points...
The event was another of the 300 km races scheduled this season, with a compulsory stop for tyres and a compulsory stop for fuel. Mark Skaife was clearly fastest in qualifying ahead of Marcos Ambrose, the rest of the field bunched closely together, with a second covering third to 22nd. However in the top ten shootout Ambrose took the top spot from Skaife, earning himself a $500 fine for standing on pitlane to celebrate the pole, while Todd Kelly, who was third fastest in the shootout, was dropped to tenth for being too late to the end of pitlane to begin his shootout attempt.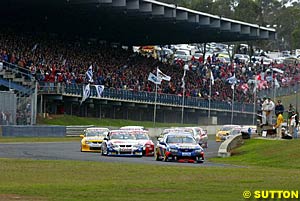 At the start Ambrose held onto the lead as an average start by Skaife saw him passed by Greg Murphy and then Craig Lowndes, with Jason Bright just behind Skaife. Meanwhile Skaife's teammate Todd Kelly made a great start and moved up to eighth, which became seventh when John Bowe and Garth Tander collided at the right hander at the bottom of Corporate Hill, Bowe spinning down to last place. More bad news came for Bowe soon after when he was given a drivethrough penalty for creeping at the start. Meanwhile it soon became clear that Ambrose wasn't just a one-lap wonder, as he steadily opened a gap at the front, while Murphy came under heavy pressure from Lowndes, who initially dropped off the Holdens of Skaife and Bright behind him, before they closed in as Murphy continued to hold up Lowndes, making it a four-car train.
Lowndes finally got the opportunity he had been working for as they began lap 13, taking second from Murphy into turn one after slipstreaming alongside down the pit straight. By this time Ambrose held a nearly ten second lead. There was soon a four car battle for third place as Todd Kelly joined the tail, having taken sixth from Tander on lap nine. Lap 19 saw a big cloud of dust at the start of pit straight when Dean Canto got inside and alongside Rodney Forbes in the corner, and as Canto began to nose ahead as they exited the corner, Forbes didn't want to give in and they both headed off the track into the grass, throwing up a cloud of dust in the process.
The first of the leaders to pit was Todd Kelly, who came in on lap 24 for tyres, but the stop was not exactly planned, as Kelly had a flat left front tyre. Ambrose was the next of the leaders to pit on lap 30 for fuel, having opened the gap to nearly 20 seconds over second placed Lowndes before the stop, resuming at the bottom of the top ten. Next lap saw Murphy and Mark Skaife pit, with Skaife suffering an almost identical problem to teammate Kelly, having a flat right tyre, although Skaife had to drive much further on the flat and lost many positions in the process. Murphy took fuel while Skaife had no choice but to take tyres. Lap 34 saw Bright take tyres, while three laps later Lowndes, who had led since Ambrose's stop, came in and also took tyres, Murphy doing the same one lap later as the pits became extremely busy.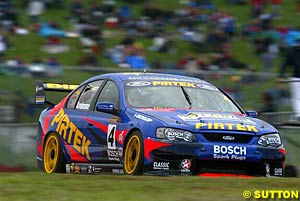 In the meantime, Kelly and Skaife had made their stops for fuel on lap 34 and 36 respectively, the team checking the front left wheel while he was there, but on lap 38 Kelly was back in, as more problems had seen him run off the road and damage the front of the car including the radiator, coolant leaking everywhere, ending his race. Ambrose was leading again after Lowndes made his tyre stop but not for long, taking tyres on lap 41, resuming in fourth place as Bright became the new leader, leading the way until pitting on lap 48 for fuel, Lowndes doing the same. Almost simultaneously with these stops, Greg Ritter ran wide in turn one and went off at around 200km/h, sliding sideways through a gravel trap but somehow emerging unscathed, apart from losing the front spoiler.
Following Bright's stop the order was Ambrose with a lead of over 20 seconds over Bright, followed by Lowndes, Murphy, Ingall and Tander, with Ingall making hay during the stops, having moved up from eighth before they began. Soon after this the safety car made an appearance after Brad Jones stopped, though his car was well away from the track itself and not in a particularly dangerous place. It was back to racing on lap 54, Ambrose pulling away once again as the others made their way through the traffic. At the same time, light rain was falling, and this saw Skaife and Glenn Seton gamble and pit for wets. It soon became clear that it was just a passing shower and they were back in for slicks just a couple of laps later, Skaife dropping from 12th before pitting for wets to 26th and a lap down after returning to slicks.
Ingall was now all over the back of fourth placed Murphy with Tander in close company as Lowndes closed in on Bright in second, moving quickly onto his tail. Lap 68 and Murphy locked up his right front into the right hander at the bottom of Corporate Hill and ran wide, allowing Ingall to get alongside him on the exit, and take the place from him as they ran down the following short straight. Up in second place Bright was having trouble with backmarkers as his rear tyres faded and this meant Lowndes was all over him. By lap 74 the dicing duo of Bright and Lowndes had fallen back to where Ingall was and so it was now a three way fight for second place.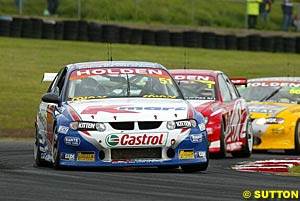 Bright was defending all around the track as his grip faded, Lowndes able to get alongside a couple of times but not able to complete the pass. Turn four on the penultimate lap and Bright ran wide on the entry, allowing Lowndes to move ahead before the second part of the esses turned to the left. Lowndes began to move away but Bright still had a Ford on his tail, Ingall looking for his way through, taking the place early on the last lap. Ambrose was well clear however and took the win by over 25 seconds, with Lowndes just beating Ingall for second, with Bright fourth, Murphy fifth and Tander sixth. Skaife moved up late in the race to finish in 19th place, one lap down.
Result of V8 Supercar Championship Series, Round 3 of 13, Eastern Creek, Australia:

Pos  Driver                Car
 1.  Marcos Ambrose        Ford Falcon BA
 2.  Craig Lowndes         Ford Falcon BA
 3.  Russell Ingall        Ford Falcon BA
 4.  Jason Bright          Holden Commodore VX
 5.  Greg Murphy           Holden Commodore VX
 6.  Garth Tander          Holden Commodore VY
 7.  Simon Wills           Holden Commodore VY
 8.  Steven Richards       Holden Commodore VX
 9.  Rick Kelly            Holden Commodore VX
10.  Paul Morris           Holden Commodore VY

Standings: Jason Bright 531, Steven Richards 486, Greg Murphy 483, Russell Ingall 459, Craig Lowndes 456, Garth Tander 450, Mark Skaife 435, Paul Weel 429, Marcos Ambrose 405, Paul Radisich 384 etc.
V8 Supercar points distribution
NASCAR
Nemechek's Night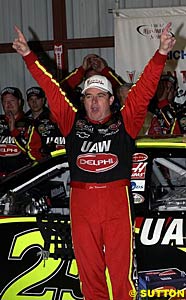 In a race that saw lots of green flag racing in the first 200 laps and lots of caution flags in the second '200' laps, Joe Nemechek was a consistent front runner and took the win. Nemechek took the win as the race came to a slightly premature end when the rain, which had threatened all night and fallen twice during the race, fell heavily enough that a dry track was too far away. Nemechek's win came on the same weekend one of the former drivers of the #25 car, Jerry Nadeau, crashed hard into the turn one wall, Nadeau being taken to hospital suffering head, lung and rib injuries and was in a critical condition.
Since then Nadeau's condition has been upgraded to serious but stable, Jason Keller making his first Winston Cup start as he substituted for Nadeau. Matt Kenseth now has only a twenty point lead over Dale Earnhardt Jr in the standings as they sit well clear of the rest of the field. Since the weekend's event at Richmond, during which Jeff Green criticised his teammate Kevin Harvick for his demise in the race, Jeff Green has been released from his drive at Richard Childress Racing. Over at Dale Earnhardt Incorporated, Steve Park, who for the second successive week brought out the first caution of the race, was released from his drive, with Jeff Green being announced as his interim replacement.
Terry Labonte sat on his first pole for three years, but he had to fight with his teammate Joe Nemechek at the start, the duo running side-by-side for a lap and a half before Nemechek took the lead, while just behind them Jeff Gordon moved up to third to make it a Hendrick 1-2-3 just before Nemechek ran wide and Labonte took the lead. Gordon was soon under seige however, and lost a place to Earnhardt Jr. Soon after Nemechek retook the lead and Earnhardt gained another place to take second from Labonte. Meanwhile Robby Gordon pitted early to correct an evil handling car. For the second week in a row, Steve Park brought out the first caution, this time on lap 45, when he spun into the turn two wall. Everyone headed for the pits.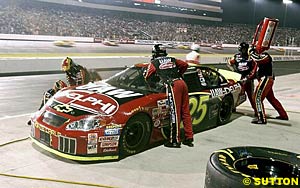 Lap 54 and it was back to green with Terry Labonte leading the field, but it was back to yellow on lap 64 when Kyle Petty tapped Jack Sprague into a spin on the frontstretch, Brett Bodine spinning as well. Lap 68 and Labonte led the field away, with Joe Nemechek, Dale Earnhardt and Ryan Newman right on his bumper, Newman taking the lead on lap 75 as Labonte drifted back to fourth in the next few laps. Newman's run at the front ended before lap 100 when he was black flagged for smoke coming out the rear end of his car. This gave the lead to Nemechek just ahead of Earnhardt Jr and Kurt Busch, Busch moving to second on lap 104. After some side-by-side racing Busch took the lead on lap 122. Lap 142 and it was caution time again after Jimmy Spencer's car went straight into the wall.
In came the field to the pits, with Bobby Labonte beating Rusty Wallace and Nemechek off pit road. Light rain delayed the restart, the race going green again on lap 158, Labonte moving away while Nemechek took second back on lap 165, the top three running close together for a fair while before Wallace began to fade, passed by Earnhardt Jr on lap 193 as he closed in on the leading duo. Lap 205 and Nemechek finally passed Labonte for the lead, just before the caution came out on lap 211 for rain on the track, with only cars towards the rear of the field making pit stops. The rain subsided quickly and the race resumed on lap 219 but it was quickly back to yellow again on lap 225 when Elliot Sadler hit the frontstretch wall after being clipped by John Andretti, while Tony Stewart hit the wall in turns one and two after running up high to avoid Sadler's spinning car.
Most of the leading cars pitted except for the leader himself initially, before Nemechek pitted and dropped to 25th, handing the lead to Jeff Gordon, one of the drivers to pit at the previous caution, with Mark Martin and Bill Elliott filling out the top three. The race went back to green on lap 231 but it was back to yellow the very next lap after Casey Mears bounced off Matt Kenseth and the wall in turn four. Back to green on lap 236, as Martin pushed Gordon hard for the lead before the caution lights flashed again on lap 251 after Larry Foyt got spun on the frontstretch. Lap 255 and it was back to green, Martin looking to take the lead from Gordon, finally doing so on lap 261 just before the yellow came out on lap 262 when Ricky Craven hit the turn two wall hard, after a couple of lighter taps earlier in the race.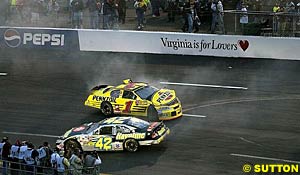 This yellow allowed Robby Gordon to get back on the lead lap after being more than three laps down earlier in the race. A few cars, including Jamie McMurray, Kurt Busch, Matt Kenseth and Robby Gordon pitted. The race restarted on lap 266 but was back to yellow on lap 269 when Kevin Harvick tapped teammate Jeff Green into a spin, Green hitting the wall, Rusty Wallace spinning Keller out and into the wall in the chaos. Only a few cars pitted but one of those who did was leader Martin who had a flat tyre. Lap 278 and Gordon led the field again, but was soon under attack from Elliott, who took the lead through turns one and two on lap 281 as he went in too deep inside Gordon and bumped Gordon sideways, costing Gordon two more places immediately.
Elliott was soon under pressure from Kevin Harvick and Bobby Labonte as further back Nemechek had worked his way up to tenth while teammate Jeff Gordon drifted back. Lap 287 saw Harvick take the lead with Labonte following past Elliott almost immediately afterwards. However Labonte passed Harvick for the lead just before the caution came out on lap 300 when Jack Sprague spun in turn four. In came most of the field for pit stops, but four cars on the lead lap didn't, meaning that Robby Gordon was now the leader of the race, as Joe Nemechek in fifth led the cars who pitted. Back to green on lap 304 and Gordon (Robby!) led comfortably, Nemechek working on Rudd for fourth for a long time before taking Rudd for fourth and Bodine for third less than a lap apart as Nemechek chased McMurray for second.
Another caution wasn't far away and it came out on lap 318 after Dale Jarrett tapped John Andretti into a spin. Most cars stayed out but a few cars towards the back pitted. Lap 322 and Robby Gordon led McMurray, Nemechek, Rudd, Bobby Labonte and Earnhardt Jr away at the restart but Nemechek was soon into second by lap 323 and quickly chased down Gordon for the lead. Lap 329 and Rudd dropped to sixth as Labonte and Earnhardt Jr both passed him. Lap 331 and Nemechek retook the lead from Gordon. Soon after McMurray began to fall back as his engine began to go sour, being passed by both Earnhardt Jr and Labonte as they closed in on Gordon for second place.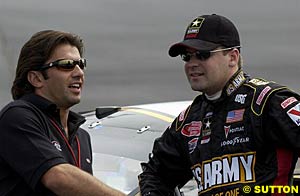 With about 45 laps to go the duo passed Gordon but Nemechek was still running in clear air. Before too much more happened the caution came out on lap 364 after Dale Jarrett got accidentally spun by another driver hard into the inside wall on the backstretch. Lap 368 and it was back to racing, but the race was back under yellow on lap 371 when Jimmie Johnson was tapped into a spin off turn two and into the wall. Green again on lap 375, Labonte looking for a way past Earnhardt Jr, taking the place on lap 377 as Nemechek eased away.
The track was back under yellow again on lap 381 when Ricky Rudd spun through turn three, hitting the turn four wall, only for his situation to be compounded when Mike Skinner duplicated his spin and run into his stationary car. Lap 389 and Nemechek led the field away once again but it was caution time once more on lap 391 after Jack Sprague was spun by Harvick when Sprague got very loose coming off turn four while Kenny Wallace spun into the inside wall in avoidance. Just when it looked like it would be a sprint to the finish, the rain began to fall as the race was about to be restarted. The cars were stopped out on the track as the race was red flagged for the rain. After a short delay it was determined that it would take too long to dry the track out and so the results were declared after 393 laps, Joe Nemechek taking the win from Bobby Labonte, Dale Earnhardt Jr, Robby Gordon and Mark Martin.
Result of NASCAR Winston Cup, Round 11 of 36, Richmond International Raceway, Virginia, United States:

Pos  Driver                Car
 1.  Joe Nemechek          Chevrolet Monte Carlo
 2.  Bobby Labonte         Chevrolet Monte Carlo
 3.  Dale Earnhardt Jr     Chevrolet Monte Carlo
 4.  Robby Gordon          Chevrolet Monte Carlo
 5.  Mark Martin           Ford Taurus
 6.  Kevin Harvick         Chevrolet Monte Carlo
 7.  Matt Kenseth          Ford Taurus
 8.  Kurt Busch            Ford Taurus
 9.  Jeff Burton           Ford Taurus
10.  Rusty Wallace         Dodge Intrepid

Standings: Matt Kenseth 1619, Dale Earnhardt Jr 1599, Kurt Busch 1452, Jeff Gordon 1441, Bobby Labonte 1376, Jimmie Johnson 1372, Michael Waltrip 1361, Kevin Harvick 1328, Rusty Wallace 1274, Sterling Marlin 1259 etc.
Rally
Burns Out To Win In Argentina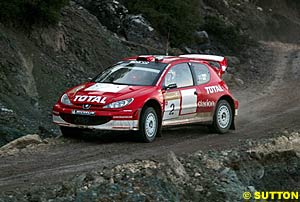 World championship leader Richard Burns aims to make up for last year's disappointment by winning the Rally of Argentina on Sunday. The Briton, who leads Peugeot teammate and defending champion Marcus Gronholm by six points, thought he had won the event last year but was disqualified for a technical irregularity.
"Rally Argentina has always been a good event for me and my aim is to be in the top two throughout," said Burns, who has not won a round of the championship since he took the title with Subaru in 2001.
"Obviously a win would be nice and I'll do my best to keep Marcus from winning another rally."
Gronholm was also disqualified last year for a service infringement. Peugeot will not be caught out by the post-event scrutineering again: "The new thing for Argentina is our flywheel. It will be the right weight," declared team boss Corrado Provera.
The fifth round of the season, on sandy gravel roads in the mountains around Argentina's second city of Cordoba with numerous high-speed water splashes, is again likely to favour the Peugeot drivers.
The champions lead stablemates Citroen, who are competing in their first full championship, by five points in the mnufacturers' standings. Citroen faltered in the last New Zealand round but Briton Colin McRae and Spain's Carlos Sainz, both champions, have won the event three times.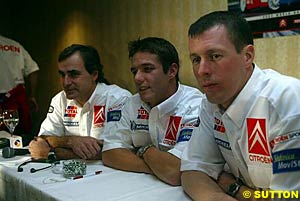 "There's really a bit of everything," said Sainz, whose teammate Sebastien Loeb of France is third overall ahead of him. Some stages are bumpy, others are fast while some can be quite rough and difficult.
"I don't see any reason why we shouldn't be competitive. I hope we will be involved in the fight for a podium finish and perhaps even for top spot."
Sainz won last year for Ford, after McRae triumphed in 2001, and Ford are chasing a hat-trick with Estonian Markko Martin in their new Focus.
The rally route has changed again this year to make a more compact event over 25 stages and 388.94 competitive km in a total distance of 1,379.61 km. The event starts ceremonially on Thursday evening with two runs at a super-special stage before Friday's action in the Punilla valley and Sierra Chicas and Sierra de Ischilin ranges.
Report provided by Reuters
Upcoming Events Calendar
May 8 - World Rally Championship, Round 5 of 14; Rally Argentina, Argentina
May 10 - FIA Sportscar Championship, Round 2 of 7; Lausitzring, Germany
May 11 - Champ Car World Series, Round 5 of 19; Lausitzring, Germany
May 11 - World Motorcycle Championship, Round 3 of 16; Jerez, Spain
May 11 - European Formula 3 Championship, Round 2 of 10; Adria, Italy
May 11 - British Formula 3 Championship, Rounds 7 and 8 of 24; Knockhill, United Kingdom
May 11 - European Formula 3000 Championship, Round 2 of 10; Magny-Cours, France
May 11 - Deutsche Tourenwagen Masters, Round 2 of 10; Adria, Italy
May 15 - Middle East Rally Championship, Round 2 of 6; Jordan International Rally
May 16 - European Rally Championship, Co-efficient 20 event; Tofas Rally, Turkey
May 17 - International Formula 3000 Championship, Round 3 of 10; A-1 Ring, Austria
May 17 - NASCAR Winston Cup, The Winston; Charlotte, North Carolina, Untied States
May 18 - World Series by Nissan, Round 3 of 9; Magny-Cours, France
May 18 - World Superbike Championship, Round 4 of 12; Monza, Italy
---
© 1995-2005 Kaizar.Com, Inc. . This service is provided under the Atlas F1
terms and conditions
.
Please
Contact Us
for permission to republish this or any other material from Atlas F1.